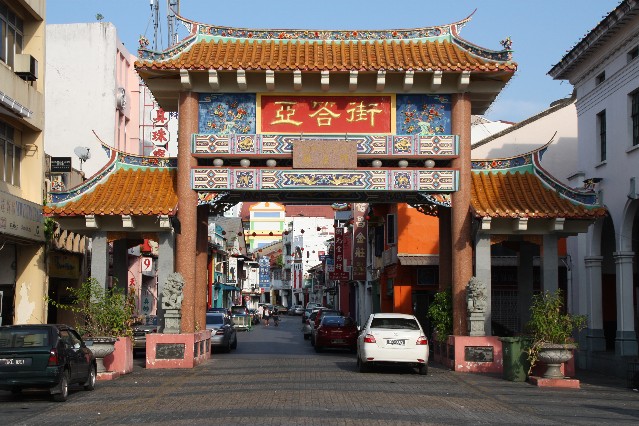 Kuching, the capital of Sarawak in East Malaysia, is known fondly as the Cat City as phonetically, its moniker is similar to the Malay word for felines. Living up to its sobriquet, the city is dotted with cat statues in varying sizes and there's even a museum showcasing all manners of cat paraphernalia.
While it is equipped with all the trappings of a modern city, it's also blessed with a laidback vibe that makes for a refreshing departure from the bustle of Kuala Lumpur, and is an ideal stopover for the traveller who wants to experience another side of Malaysia. Rich in a smorgasbord of attractions that run the gamut from cultural hot spots to historical landmarks and pristine beaches, Kuching has plenty to offer.
We would recommend a stay of at least a week in order to fully immerse in the best of Cat City but if time is of essence, make these five attractions your priority.
#1: Main Bazaar and Carpenter Street
Located next to the Sarawak River and part of the Kuching Heritage Trail, this strip is in the old Kuching town that dates back to the 19th century. Notable sights include the Tua Pek Kong Temple, just down the road from Hilton Hotel.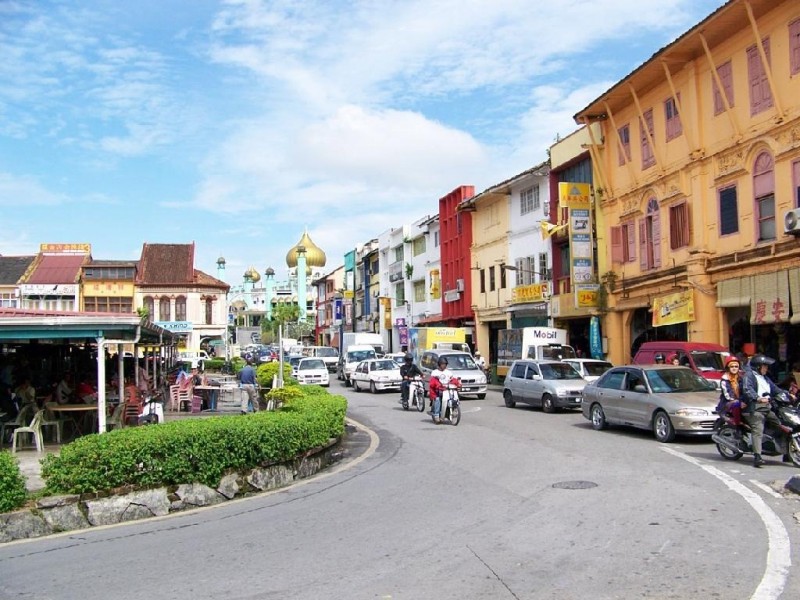 Back in the day, Carpenter Street was populated by opium dens and brothels run by the Chinese community. Today, it has traded its colourful past for more savoury offerings, hosting a mishmash of old coffee shops alongside trendy cafes and watering holes. It has also become a popular spot to sample a variety of local delights such as kueh chap (square rice sheets in a herbal broth with braised pork), pork satay, kolo mee (springy egg noodles topped with minced pork and Chinese barbecued pork, tossed in lard), and fishball noodle soup.
A short stroll from Carpenter Street is Main Bazaar, where colourful pre-war buildings house a variety of shops and boutique hotels, while traditional trades such as carpentry continue to do brisk business. The most popular shops here are the ones selling handicrafts and souvenirs. Some proprietors even offer air freight services should you need your purchases shipped home separately.
Lebuh Carpenter GPS coordinates: 1.558120, 110.346517; traditional Chinese coffeeshops operate from early morning until around 2pm but rest assured, food can be found at all hours on this street. Main Bazaar is on Jalan Main Bazaar, GPS coordinates: 1.558143, 110.348077; most shops will close by 6pm or 7pm.
#2: Satok Weekend Market
Previously located in the commercial area of Satok, hence its name, this bustling weekend market relocated to its current spot two years ago and continues to draw the crowds. You can find different types of food, clothes and most importantly, affordable fruits and vegetables along with fascinating jungle produce at this outdoor bazaar.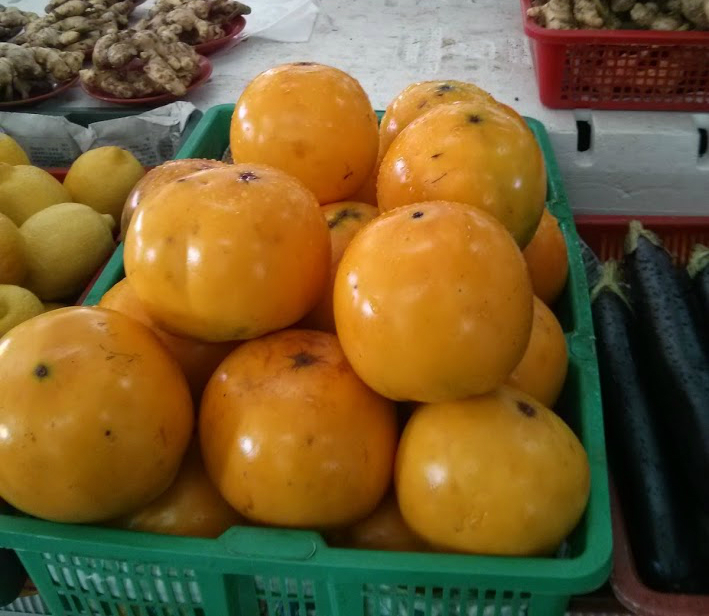 Well patronised by locals, it is also an ideal place for visitors to see and taste things you won't be able to find outside of Sarawak, such as terung asam (Sarawakian brinjal) and tepus (wild ginger shoot). Other than hot food and fresh produce, you can browse handmade crafts and if you're feeling really adventurous, meats such as snake and sago worms can be found here as well.
To get to this market, you can grab a 'van sewa' (rental van) from the Open Air Market on Jalan Power, GPS coordinates: 1.559127, 110.342449, or take a taxi and ask the driver to take you to Medan Niaga Satok. The market is open from Saturday morning till Sunday afternoon. Head there early on Sunday morning to sample the freshest produce and be entertained by buskers.
#3: Top Spot Seafood Centre
Since Kuching is less than an hour's drive to the seaside, seafood is easily available and is a must-have. Top Spot is well known for its wide variety of the freshest catches and the versatility of its chefs, who can wok them up in many delicious ways.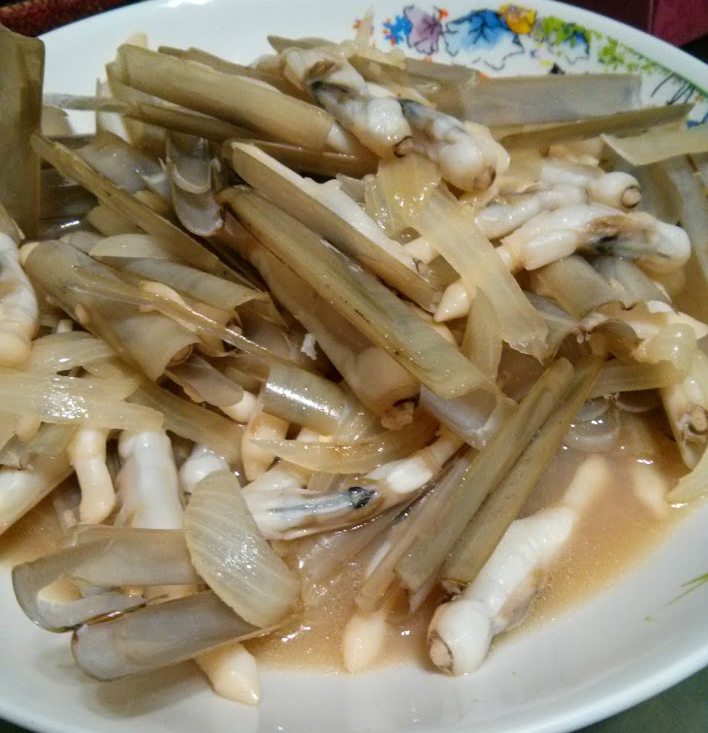 Bamboo clams are a firm favourite among regulars, best enjoyed in a curry or cooked in wine. The former pairs the natural sweetness of the clams with a salty, mildly spicy sauce to make for a mouthwatering dish that goes well with steamed rice. Cooked in wine, the sweetness of the clams is even more pronounced.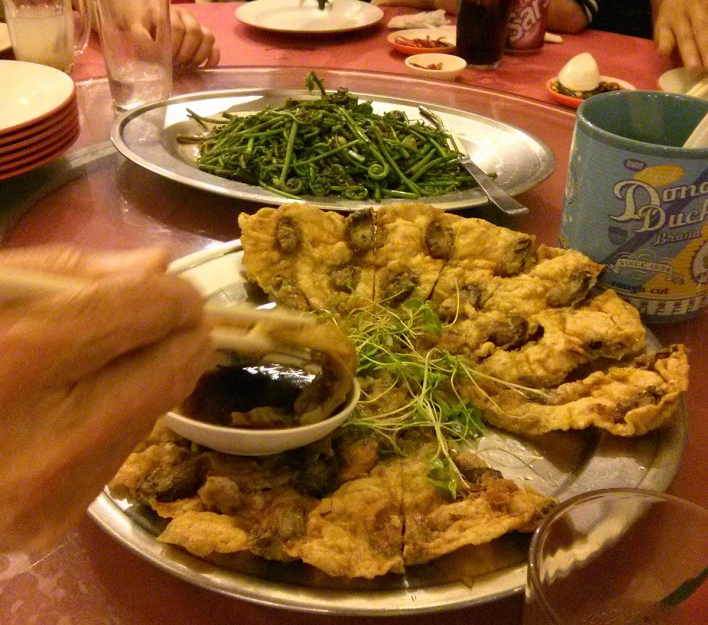 Top Spot also lists a number of local favourites on its menu, such as belacan midin, which is crunchy fiddle ferns stir fried with belacan (a fermented shrimp paste) and garlic. If you've tried orh chien (oyster omelette) in KL or Penang and loved it, the Kuching version delivers a surprise: Unlike the usual moist eggy omelette, here, it's served as a crispy, salty crepe dotted with the succulent molluscs.
Top Spot is on Jalan Bukit Mata Kuching, GPS coordinates: 1.556247, 110.352071; the food court opens by 5.30pm and starts to get crowded by 7pm.
 #4: Semenggoh Wildlife Centre
This wildlife centre is home to more than 1,000 species of mammals, birds and reptiles but is focused on orangutan rehabilitation. Here, the lovable primates roam semi-wild and are fed twice a day by forest rangers. Visitors are allowed to observe the feeding sessions (9am-10am and 3pm-3.30pm). Be there 15-20 minutes before feeding time begins to secure a good spot. It's best to go in the morning as it's cooler and there's a higher chance that you can catch the orangutan descending from the canopies to grab fruits.
Semenggoh is 24km from Kuching, and can be reached via Sarawak Transport Company bus no. 6, which will stop outside the main gate. The Wildlife Centre opens from 8am-5pm; visitors need to leave the centre by 4.45pm. Admission at the moment of writing, for Malaysians: RM5 (adults), RM3 (senior citizens), RM2 (children aged 6-18), free for children below the age of 6. Note If you're thinking of doing any professional photography at the park, a permit must be arranged with the National Parks Booking Office, Visitors Information Centre, Jalan Tun Abang Haji Openg Tel +6082 248 088
#5: Damai Beach
Want some respite from the city? Head to this seaside retreat, where Mount Santubong meets the South China Sea, and take your pick of idyllic resorts: One Hotel Santubong Kuching Resort, Damai Golf and Country Club, Damai Beach Resort, Damai Puri Resort and Spa, and Permai Rainforest Resort are all popular choices.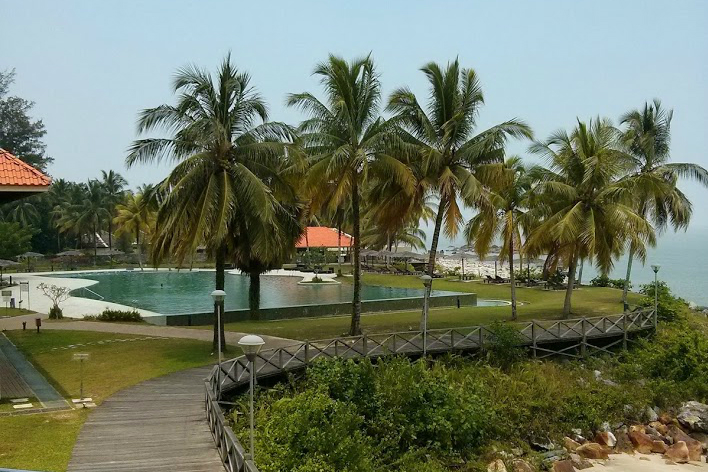 The latter is ideal if you're hankering for a more rustic stay. Well known as an adventurer's haven, the resort offers hiking trails and obstacle courses. Accommodation options include fully air-conditioned cabins nestled in the trees.
As the nearest public beach to Kuching, Damai also draws many day trippers on weekends. Take a romantic sunset stroll along the coastline and have a drink at Escobar, play beach football, go jungle trekking or if you're an adrenaline junkie, try climbing up Mount Santubong (guides can be arranged). For more information on activities available at Damai Beach, check out: www.damaibeachresort.com/activities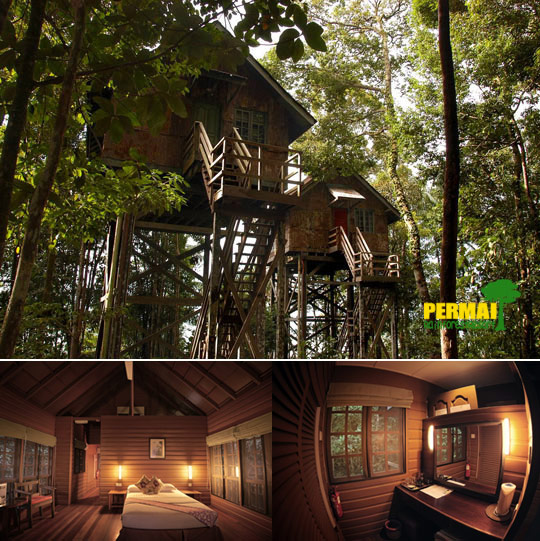 Damai is about 45 minutes to an hour from Kuching; A number of hotels provide shuttle services from the city. Note that the renowned Rainforest World Music Festival is held at the nearby Sarawak Cultural Village, usually in August every year. Resorts in Damai are typically booked out during this time, so if you're planning a visit, do make your reservations well in advance.
Getting to Kuching
Separated from Peninsular Malaysia by the South China Sea, Kuching is easily accessible via domestic flights out of KL International Airport (KLIA). Besides the national carrier, budget airlines Air Asia and Malindo Air offer flights to and from KLIA and Kuching International Airport several times a day. Each one-way journey takes 95 minutes, and it's important to note that Sarawak immigration laws state that all visitors – including Malaysians – entering the state must present a valid form of ID. Alternatively, check sites like Expedia for cheap flight, hotel and tours package deals to Kuching. 

Get all the latest travel updates from Zafigo. Follow us on Facebook, Twitter, and Instagram.