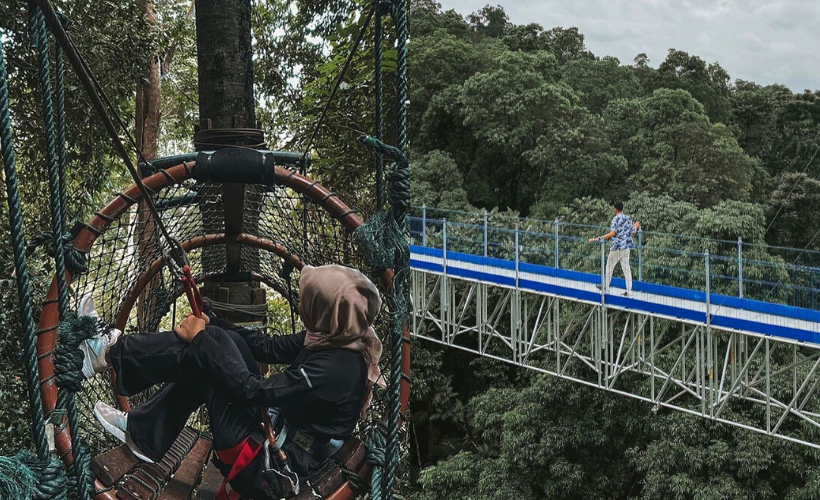 Being back under the CMCO means we've had lesser time to spend outdoors, and we miss it so. Here are some stunning parks around Selangor to visit once it's safe again. It's perfect for those who enjoy going hiking, ziplining through a majestic rainforest, wants to explore the Selangor River through white water rafting, and tubing, and more!
1. Forest Research Institute Malaysia (FRIM), Kepong
View this post on Instagram
Forest Research Institute Malaysia (FRIM) is the location to hike, camp, cycle, and have picnics at, and it's easy to understand why. Spread across ​​600 hectares, and surrounded by the Lagong Hill Forest Reserve, FRIM has plenty of room, and activities for you and your family. One of its latest attractions is the Skywalk, is 250 metres long and stands 50 metres over the forest floor, affording stunning views of the surrounding Klang Valley. There is an entrance fee of RM5, and an additional RM5 will be charged if you bring a camera to take pictures. Website
2. Kanching Eco Forest Park, Rawang
View this post on Instagram
This eco forest park has seven layers of 208-meter high beautiful waterfalls, and hiking trails of various levels of difficulties for the folks who enjoy spending their Saturday morning breaking a sweat. If that's not your idea of a good morning though, the park is also a great place to have a picnic. There is an entrance fee of RM1 (with a MyCard) on weekdays, RM2 (with a MyCard) on weekends, and RM5 for non-citizens. Website
3. Skytrex Sungai Chongkak, Hulu Langat
View this post on Instagram
'Trek the sky' atop the rainforest through various aerial activities at Skytrex Sungai Chongkak. Considered Malaysia's First Flying Fox park, this place prides itself in having zipline elements that are longer than their branches in Langkawi. There are currently three packages available for visitors to choose from, each one includes 25 different obstacles, and takes an hour to complete. The entrance fee for Skytrex Sungai Congkak ranges between RM50 to RM130. Website
4. Broga Hill, Hulu Langat
View this post on Instagram
Everyone who enjoys hiking has hiked Broga Hill, it's an easy-climb journey, and is only 400-meters high above sea level. Plus, the view at the top makes waking up at dawn all the more worthwhile, and there's a stall at the top of the hill that sells coconut water for hikers to cool down with. A fun fact about the location: if you climb Broga Hill ten times, it's the equivalent of climbing Mount Kinabalu.  Website
If you're down for a little cafe hunt in and around Kuala Lumpur, we've rounded up
a few of the most aesthetically-pleasing cafes for you to go to
.
5. White Water Rafting, Hulu Selangor
If feeling an adrenaline rush first thing on a weekend is your idea of a good time, then, this is the place to be. White water rafting at the Selangor River is a fun activity for all – whether you're single, a couple, families, a big group, or between the ages of eight to 88 years old. It's a great way to explore the outdoors, while creating memorable moments with those closest to you. The charging fee is between RM199 to RM800, with a minimum of 2 persons. Website
6. Water Tubing, Hulu Selangor
Water tubing, or tubing as its known, is another one of the popular water activities offered in Kuala Kubu Bharu aside from white water rafting. The activity is a more relaxing way to spend time with friends and family admiring the great outdoors. There's no paddling required, just follow the river currents. The fee for this activity is around RM30.  For more information, contact: rentasadventures@gmail.com or contact 011-11414674.
7. Taman Alam, Kuala Selangor
View this post on Instagram
Enjoy breathtaking views, and see some 150 species of birds from around the world, including ones that migrate from Siberia and Russia. There is also a mangrove swamp, and a four-kilometre route for visitors to explore the natural environment. An entrance fee of RM4 (adults), and RM1 (for those under 16 years old) is applicable.  Website
Browse through Selangor Travel here for more inspiration on where to go in Selangor. 
Follow Zafigo on Instagram, Facebook, and Twitter. Sign up to our bi-weekly newsletter and get your dose of travel tales, tips, updates, and inspiration to fuel your next adventure!
[zf_post_boxes widget_hide_desc="true" num_post="3″ post_id="39443, 38148, 25173″]