Chiang Mai's mountainous location ensures its climate is several degrees cooler than the Central Plains, making it Thailand's most liveable city, where life moves slower than the capital Bangkok. However, things have changed in Chiang Mai over the years. Visiting was a rite of passage for backpackers in the 1970s, but it has evolved into a destination that now appeals to a broader range of travellers. I've been to Chiang Mai several times over the years and have observed this transformation.
While venturing to colourful hill tribe communities is still possible, fewer travellers seek remote treks of several days' duration. Soft adventures like elephant riding (which we don't recommend), cycling, rafting, and zip-lining are now popular. Others come to enjoy the lifestyle that is essentially Thai but complemented by the good things of life, like coffee, craft beer, wine, wellness, shopping, and dining.
A typical Chiang Mai night could start with some late afternoon shopping, sundowner drinks, dinner, and then late-night cocktails or coffee in an atmospheric setting. Here are some suggestions for enjoying Chiang Mai after dark.
Market town
Located at a crossroads, Chiang Mai offers cultural elements from northern Thailand, Laos, Myanmar, and Yunnan. Its night market isn't only a place to dine, but shopping for jewellery, lacquerware, ceramics, and fabrics also appeals to many. These days, the markets are over-commercialised but still worth exploring.
There are also two 'walking street' markets offering more creative goods. The market extends along Wua Lai Road on Saturday night, while the Tha Phae Walking Street Market is more extensive on Sunday.
Cafe society
Drinking coffee is a round-the-clock activity; night owls will discover many options. Entrepreneurial coffee roasters use locally-sourced beans to entice consumers to concepts as diverse as mobile outlets on motorcycles, to those that operate from trishaws or others brewing beans from VW Kombi vans.
Meanwhile, local Thai coffee concepts like Doi Tung, Wawee, and Doi Chaang are more interesting than established international brands.
Food, glorious food
Food provides one of the great joys in any visit to Thailand. Local Chiang Mai dishes to enjoy in iconic restaurants such as Huen Phen include naem sausages and khao soi noodles. Lychee, durian, longan, pomelo, strawberries, and passionfruit thrive in the north and are sold fresh in markets, appear on menus and in iconic cocktails.
Many visitors gravitate to the night market as the sun sets behind Doi Sutep Mountain. Nearby, Galare Food has numerous stalls serving Thai, Chinese (including Yunnan specialities), and Indian delights. 'Halal Street' is the venue for several restaurants serving dishes that are popular with many Malaysians.
Nighttime in Nimman
Maya is the largest shopping mall in Nimman, and it's worth exploring, but the trendiest designer outlets are along the side streets. Restaurants and bars abound, and I suggest visiting here in the afternoon and continuing into the evening to make the most of its boutiques, spas, restaurants, cafés and bars.
Radiating from the main street are side lanes called soi in Thai, and the odd-numbered sois (1-11) are more interesting than the even-numbered ones on the other side of the main road. Venues such as The Sax Music House in One Nimman offer music on most nights, while White Market provides hawker food in bright surroundings next door.
Some other venues to visit are Cantina Wine Bar, a discrete outlet on Soi 7. Wine Barrel on Soi 3 is another interesting wine concept in that wine can be consumed here at retail prices, and food from adjoining restaurants can be ordered to complement the wines. Before Dawn is a contender for the city's hottest cocktail bar under the guidance of mixologist Parbun 'Earth' Bunragsatrakul.
The restaurant opposite Hotel Noir on Soi 5 specialises in khao soi. Hang and Craft Coffee on Soi 11 roasts its own beans, and Why Not? Italian Restaurant and Wine Bar is nearby. Serious beer drinkers will seek out Beer Lab in the Kantary Centre on the main road through Nimman.
Rise is a rooftop bar on the summit of the low-rise Ayra Manor design hotel. A petite glassed-in pool adds to the ambience, with swimmers replaced by drinkers as the sun sets. Try and arrive around 6pm to secure a spot to enjoy some refreshing cocktails, bar bites, and views of the sun setting behind Doi Suthep Mountain. The locally-produced Little Red Truck craft beers and signature cocktails, such as One Night in Chiang Mai (rum, Amaretto, Frangelico, honey, and fresh pineapple), are a must-try.
Atmospheric bars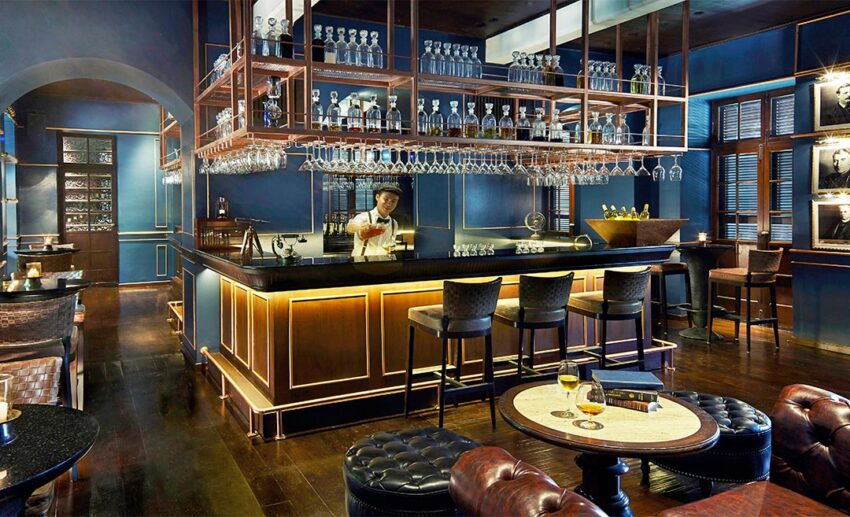 The Anantara Chiang Mai Resort includes the former home of the British Consulate that now accommodates The Service 1921 Restaurant and Brit Bar. Here, head mixologist Ben creates cocktails at the atmospheric colonial-style bar that extends onto the verandah overlooking the Zen-like ponds and gardens.
Most guests chose a comfortable lounge in the semi-open, although the British club-like interior, with plush leather Chesterfield lounges, appeals to those seeking air conditioning and/or televised sports. Those on the verandah can admire the statue of Queen Victoria and contemplate a bygone era when colonial enterprises such as the Borneo Company traded in Thailand.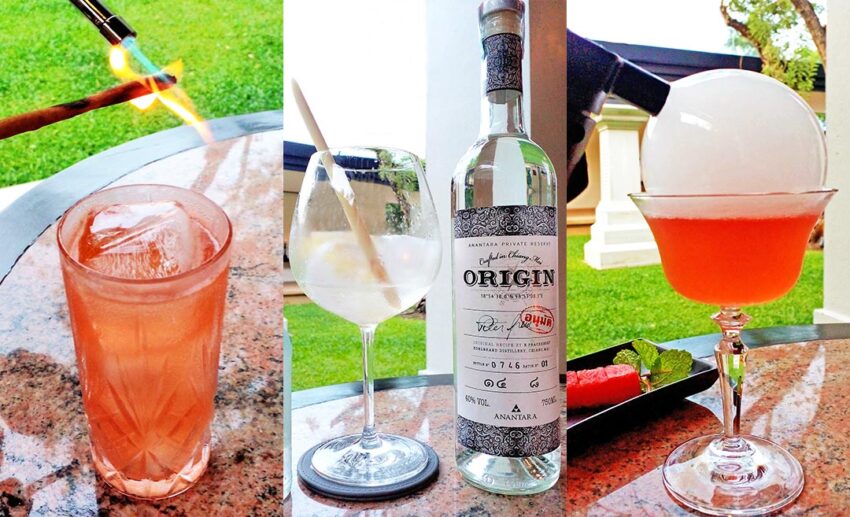 More likely, patrons will contemplate the cocktails on offer, with the bar team providing theatrics like smoke guns to entertain thirsty guests. I was a willing and eager enthusiast and can highly recommend classics such as gin and tonic. But this isn't just any G&T — instead, it's an original Chiang Mai Handcrafted Gin Anantara Private Reserve with Fentiman's Connoisseurs tonic water. A Man with the Golden Gun cocktail (cold-infused tequila, cranberry juice, Triple Sec, and basil leaves) was finished at the table with a flaming cinnamon stick. For something spicy, try Pixie Dust (cold-infused London gin, chilli, Triple Sec, watermelon syrup, lime juice, and maple syrup).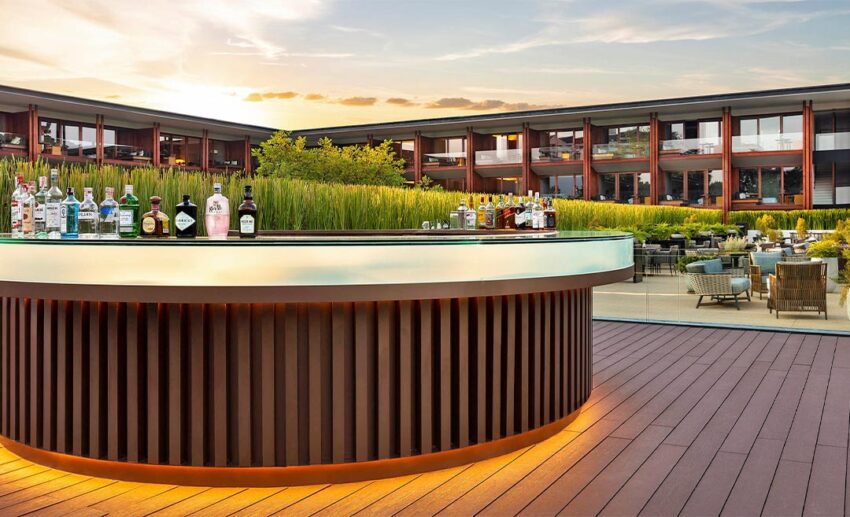 Across the lawn, overlooking the resort's lap pool, Bubbles is a relaxed, open-air bar for those seeking a night in the tropical air. Sparkling beverages dominate, but the cocktails are just as worthy.
Just across the river, Jack Bain's, located within 137 Pillars House Chiang Mai, is a bar worth making a reservation to ensure a table in this intimate and historic bar. The old teak building was once owned by the Borneo Company, which had timber leases in Sarawak and northern Thailand.
The bar appeals to those seeking a historical setting, period furniture, elegant seating, and historical memorabilia. A pianist plays in the adjoining reception area to add to the ambience. Seeking something a little different, I asked for a Pisco Passionfruit made using locally-grown passionfruit and can report the cocktail was a triumph for its flavour, tartness, and refinement.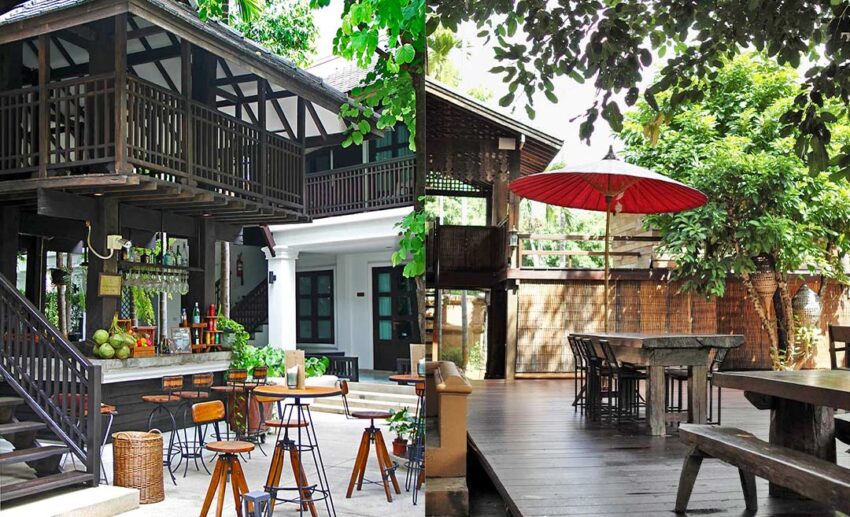 Some other bars include the Lanna Rice Barn and Pool Bar at Na Nirand Romantic Boutique Resort. Guests can pull up a stool and admire the pool, river views, and lush tropical landscaping over their beverage.
Stratospheric sky bar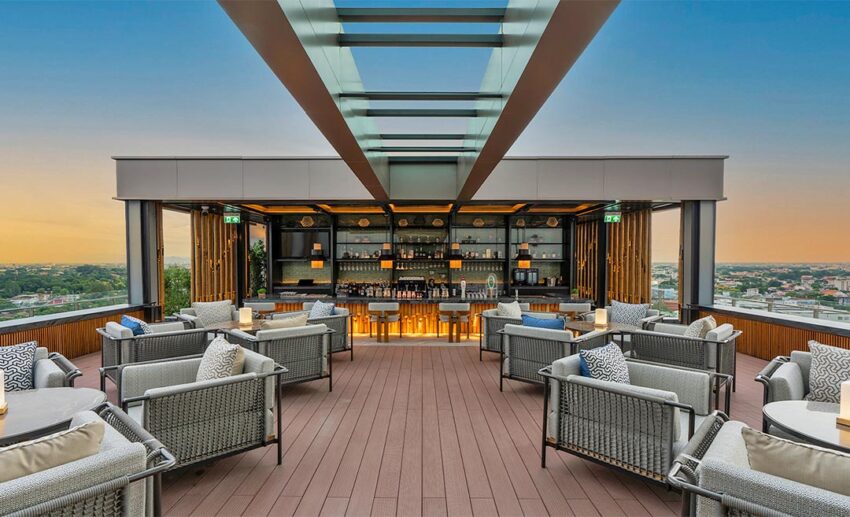 One of the most stylish outlets in the centre of the city is Mai The Sky at the top of the Meliá Hotel. It opens before dusk, and booking a table on the rooftop bar is a good idea.
Views over the river, the city, and towards the mountain from the 22-storey perch are without equal. Meliá's Spanish inspiration ensures European flair in cocktails like Flor do Sauco (gin, Triple Sec, cranberry juice, and elderflower).
Chiang Mai has many contrasting night activities, and the cooler, end-of-the-year weather makes it a destination to consider for your next travels.
Travel tips
Getting there: AirAsia flies direct to Chiang Mai on most days and twice daily on some days. The flight takes slightly over two hours, and Malaysians don't require a visa to travel to Thailand.
Getting about: There are various forms of city transport, including taxis, Grab, tuk-tuks and local songthaew. The latter are utility vehicles that can be hailed on the street to take you to many places for THB40 (roughly RM6).
Where to stay: Down by the river, stay at the Anantara Chiang Mai Resort. For something very special, historic, and truly romantic, 137 Pillars House Chiang Mai is ideal. For those travelling on a budget, choose to stay at ibis Chiang Mai.
Best time to visit: Visit the north in the cooler months of December to February. The downside is that it's peak season with few accommodation bargains.