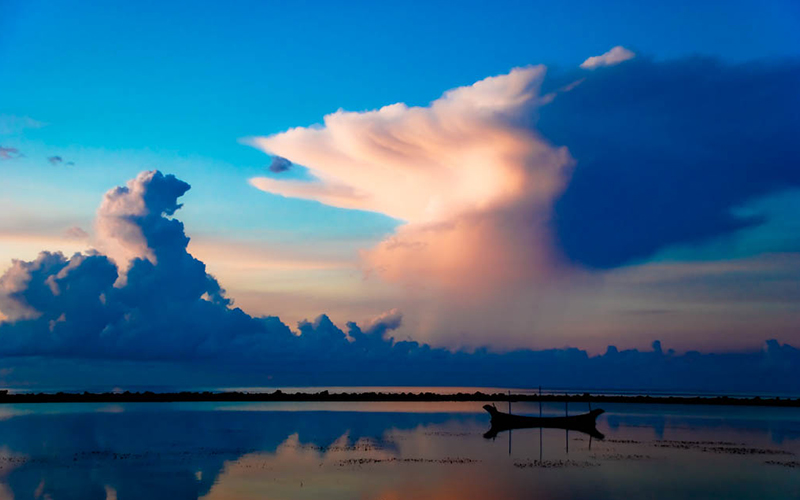 As much as the Land of Smiles is known for its pristine tropical beaches, it is also known for some of the best beach parties man can find. When we say 'man', we mean it quite literally. A lot of Thailand's beach destinations, such as Pattaya and Phuket's Patong beach are designed for men. Along the beach are loud go-go bars with Thai girls offering men alcohol and fun times. This writer once experienced culture shock in Patong when a male friend brought her to Suzy Wong bar and told her to (playfully) beat the half-naked dancers with a foam baton. That bar prides itself as "The Original Ass Smacking Fun Bar".
While some women enjoy the bar scene too, the blatant sex-for-sale on display can also be a turn-off. Those travelling alone (like this writer) might prefer the less raunchy beach scene and enjoy their holiday in peace and relaxation. Thankfully, Thailand's beach scene is diverse with plenty of quiet and family-oriented beaches. 
John Everingham from true-beachfront lists 8 women-friendly beaches in Thailand that are both safe and friendly for women in this article. In choosing the beaches, Everingham considered beaches that are relative safety in travelling to these beaches and the likelihood of dangers arising at the destination. Most of the beaches have a broad mix of single male and female visitors and have relatively inexpensive accommodation. 
Here are Everingham's top choices: 
1. Sairee Beach, Koh Tao
Sairee Beach on Koh Tao was placed right at the top of our list of female-friendly beaches in Thailand, then in 2014 it suffered the horrific double murder of a young British couple. It just shows how unpredictable things can be, and how our attempts to identify safe havens can go wrong. But there was a good rationale behind this choice, and we have not removed it from the list.
Sairee is a laid-back beach with budget accommodations that attract the younger and backpacker sets. Koh Tao is about as safe an island as one can find in Thailand, with a large part of that due to the fact the island was completely uninhabited before tourism landed on the island. Every person living on the island today makes a living from the tourist trade, directly or indirectly. Unlike other long-inhabited destinations recently invaded by tourism, the locals here seem to really like tourists, the more of them the better. The community do not resent the invasion of tourists and as such, you will certainly feel welcomed on Koh Tao. 
The beach parties here take shape as beach bars and restaurants lay mats, cushions and low tables on the sand. There is a hidden disco in the village where young revellers go dancing through the night. Yet, it has no raunchy bars and no obvious commercial sex. Sairee Beach is as easy a place to meet people as any in Thailand, and one of the most relaxed, friendly and natural. It is top of our recommendations for female friendliness and safety.
2. Lonely Beach (Ta Nam Beach), Koh Chang 
Lonely Beach on Koh Chang, locally known as Ta Nam Beach, is no longer 'lonely', but neither is it really crowded. The people here are generally young, from diverse parts of the world, and single. There are a few social hotspots where people gather at sunset to meet and chat. Each evening, at the south end of the beach is an open-air, in-the-sand dance party. It's definitely a young-people-meet-people scene.
The long journey to Koh Chang is somewhat of a trek, which has discouraged most mainstream tourists and made it a quiet haven. As with Koh Tao, there were no locals living near this beach before the arrival of foreign beach-seekers. It means that the new, very small community here is 100% dependent on tourists' money. Not surprisingly, these people are all very welcoming to foreigners. It helps make this a relatively safe place for all foreigner visitors, something that females travelling alone or in pairs can appreciate. And the scene on the sand at Lonely beach is relaxed, young, casual, friendly and very international.
3. Koh Phayam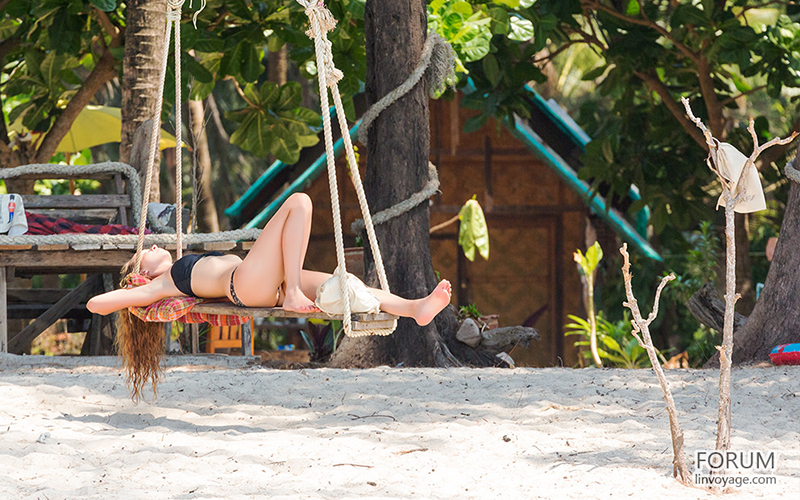 Here's a beautiful, scarcely-known beach that offers a little adventure and a big escape, all in relative safety. Even in Thailand, few people have heard of Koh Phayam, though it is definitely on the international backpackers' trail. While most accommodation is cheap and basic (some without electricity), more comfortable resorts have recently arrived. There is not a single car on the island, and all transport is carried out with motorcycles. The long trek to the island and the basic accommodations will scare off many, but there is a small, thriving beach scene at which young travellers from around the world congregate in the high season months.
Koh Phayam's young, fun party scene is small and extremely laid-back at the north end of the southern beach, Ao Yai. Young people with a sense of adventure make up most of the visitors here. Needless to say, the eclectic, youthful mix of visitors from around the world results in some link-ups. However, those who don't fall into the tropical rendezvous they dream of can be sure they'll definitely find relaxation in one of Thailand's most delightful beach environments.This island's small population of Thai Buddhist farmers and fishermen is distinctly friendly, helping make it about as safe a place as one can find in today's wild world.
4. Chaweng Beach, Koh Samui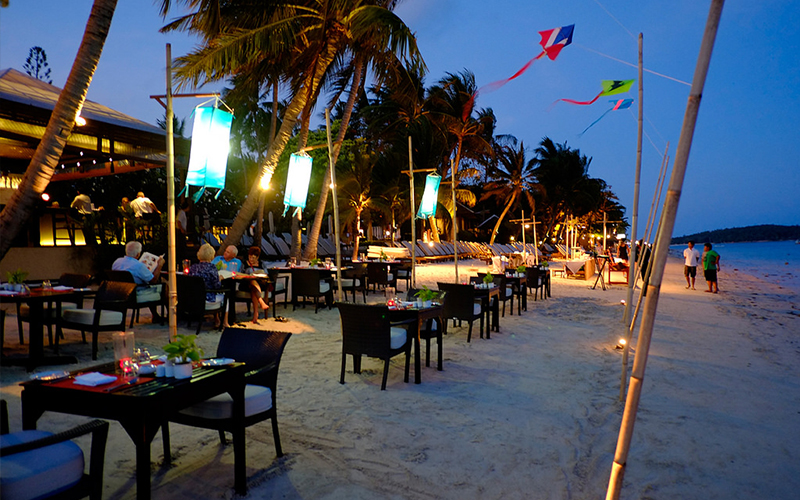 Despite that there has been some crime against tourists on this famous island in Thailand's gulf, it is still statistically as safe as any tourist destination in the world – and safer than many. We have included the famous Chaweng on the female-friendly list because of the heady mix of beach relaxation and all-night partying that many young people of both sexes enjoy here.
Chaweng is for those really looking for a beach holiday by day and party by night. There is a small commercial sex business here targeting foreign males that can be easily ignored. It is important that women travelling here understand the difference between Chaweng's bars by the sand and those running along the main road about 200 metres to the back – this has a strip of beer bars with hostesses and local bar girls on the hunt. The bars along the beach are entirely different for here is an international party zone aimed largely at the younger crowd.
Chaweng is relatively safe for single women and girls, though they should take normal precautions, particularly if drinking a lot. In Thailand, it is quite rare for foreign women to be accosted aggressively by local men. Single women drinking late at night need to be just as wary of other foreign tourists as the locals, for over the years men from diverse countries have been responsible for a number of cases of violence against women.
5. Koh Lanta
Klong Khong Beach joins our list of 'Thailand's Top 10 Female-friendly Beaches' for a number of reasons. The whole of Koh Lanta is relatively safe for girls or ladies travelling alone and several other beaches on this quiet, laid-back island could also be considered good candidates. For example, Klong Dao, the first and largest beach on Koh Lanta attract lots of families with young children. If you're looking for a tranquil spot to chill out alone, any of the beaches towards the south end of the island might do quite well, like beautiful Kan Tiang Beach. Klong Khong beach, however, is our candidate for the young-at-heart female looking for a youthful, energetic scene. 
Klong Khong Beach on the central west of Koh Lanta holds the last hangovers from the island's youthful backpacker years. During the day it's a laid-back, read-a-book type place, interrupted by the occasional swim at high tide. There's not a lot to do here on Klong Khong till the end of the day, and the swaying of the coconuts is the major activity till those sunset mats come out onto the beach. There is a group of little bungalows and beach bars here where young travellers and tourists still gather, sometimes to dance and party the night away. With this being a small scene, it becomes quiet very quickly outside the peak seasons from December to February. But it is certainly a great place to feel far from the crowds and to chill out in.
6. Koh Phi Phi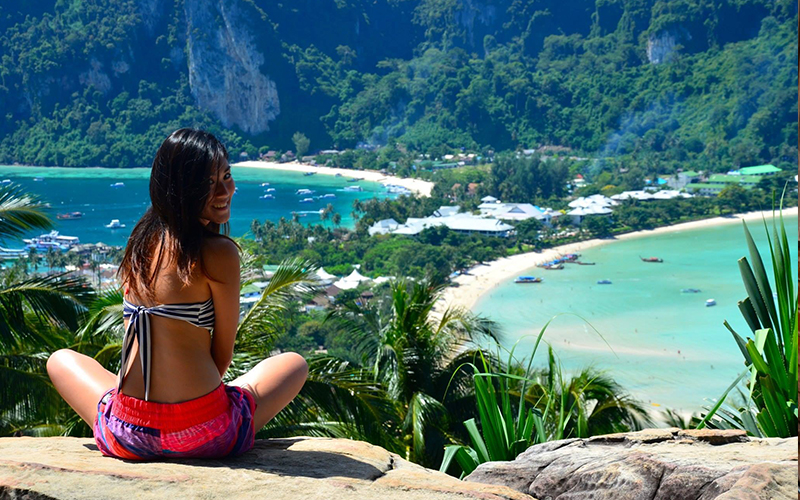 By day the Phi Phi Islands are overrun by throngs of tourists – a few thousand on day-trips from Phuket and hundreds of others transiting via ferries between Krabi, Lanta and Phuket. Come sundown and Phi Phi suddenly fall quiet – or it does in most parts. The little tourist village at Ton Sai keeps buzzing, then disco music blares across the bay later in the evening. The youthful party scene strikes up on the back beach around sunset each day, and ratchets up into party mode as the hours, beers and joints go by. The noise here can sometimes be ear-shattering for those trying to sleep nearby. Many visitors stay on quiet outer beaches from which they can join the evening party at Ton Sai, and return in the early hours. 
Away from all the noise, Long Beach offers an excellent, quieter though more distant choice of bungalows, both cheap and more upmarket. This beach is at the east end of Ton Sai Bay, about one-and-a-half kilometres away. It's a delightful walk during the day, but should not be tried in the dark as it's rough in places. If you're returning to Long Beach in the wee hours of the morning, hire a long-tail boat and travel with friends. Make return boat arrangements in advance – a boat driver will wait till any hour if he is certain there is fare to be had. Again, unaccompanied females using such boats late in the night should practice extreme caution, especially if they have been drinking alcohol.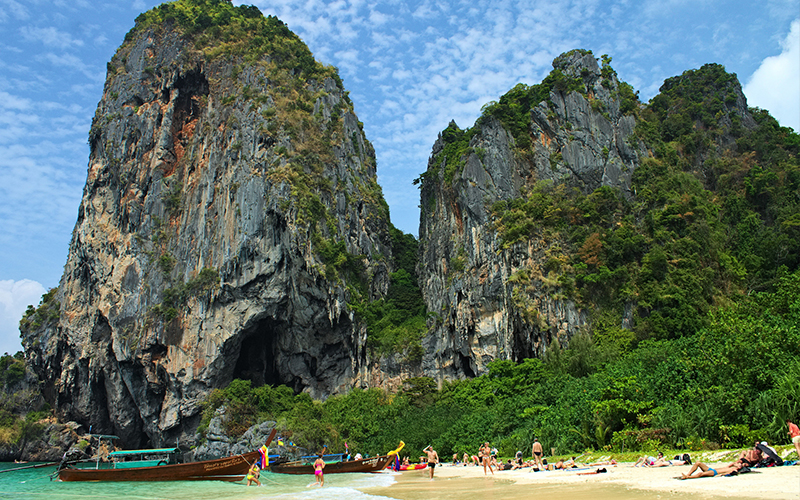 Railay Beach in Krabi is often called Thailand's most beautiful beach, and its fame draws large numbers of people each day. However, just before sunset there is a huge exodus as people staying in hotels at Ao Nang or other beaches catch the last boats out. There is no road into this peninsula, and, in the high season, there is simply not enough accommodation on Railay to house everyone. 
Railay is completely cut off from the rest of Krabi with no road access. Boat is the only means to get around the amazing, vertical walls of rock to find Railay peninsula and its three amazing beaches. In the day, the beach is famed for its rock climbing and kayaking. By sunset, the mood on Railay transforms remarkably. It's incredibly atmospheric in the shadow of the towering peaks and rock walls. Many people continue to hang out on the beach in the dark. And later in the evening, on the back beach, a fun scene develops in the little bars. But the fun, youthful scene with rock climbers from around the globe is changing. In peak season the demand for rooms in Railay and the high prices keeps out many who used to party here in earlier years.
8. Full Moon Party on Koh Phangan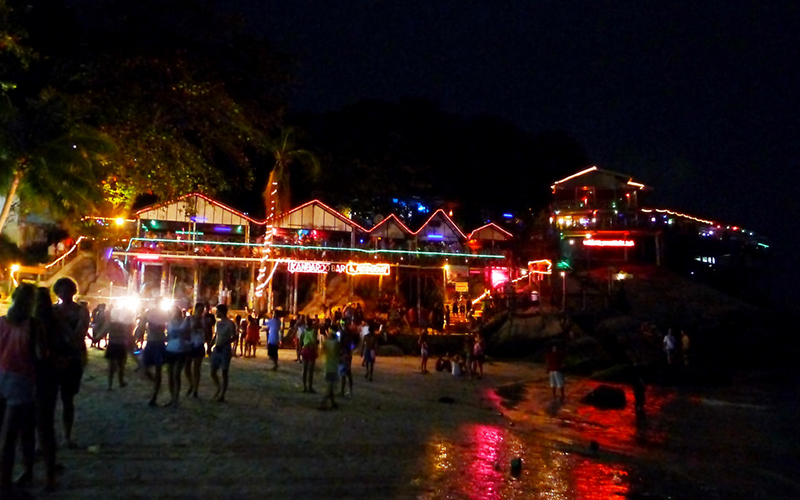 We include Koh Phangan with its Full Moon Party with trepidation – first because it is so well-known it hardly needs an introduction, and secondly because we remain a little uncertain about its safety. Statistically, it is indeed safe for there have been few major incidents reported despite the hundreds of thousands of party goers passing through here over the years. But how many incidents happen but go unreported?
This wild monthly gathering of up to 10,000 young revellers is by far the most famous beach party or carnival in the world. Wild party scenes like The Full Moon Party, and the vision of lots of drunk foreign girls, could attract all kinds of strange or unsavoury people. And among the ranks of thousands of male party goers from around the planet, there will always be a certain percent of predators.Whether or not an event famed for its excesses in alcohol, drugs and sex is to one's liking, we have to list it among Thailand's beaches that are safe and friendly to foreign female travellers.
Koh Phangan is a relatively safe place for single women – except perhaps, for those who get drugged out or wildly drunk, and there are clearly plenty of opportunities for that. Here's one bit of safety advice for women travelling to the party without a male friend; get to Haad Rin early enough (days in advance) to find accommodation within easy walking distance of the party beach. Single females can indeed attend this party in relative safety – but of course it is only natural that they should go with a heightened sense of caution.
For more detailed overviews of each beach, check out the full article on true-beachfront.