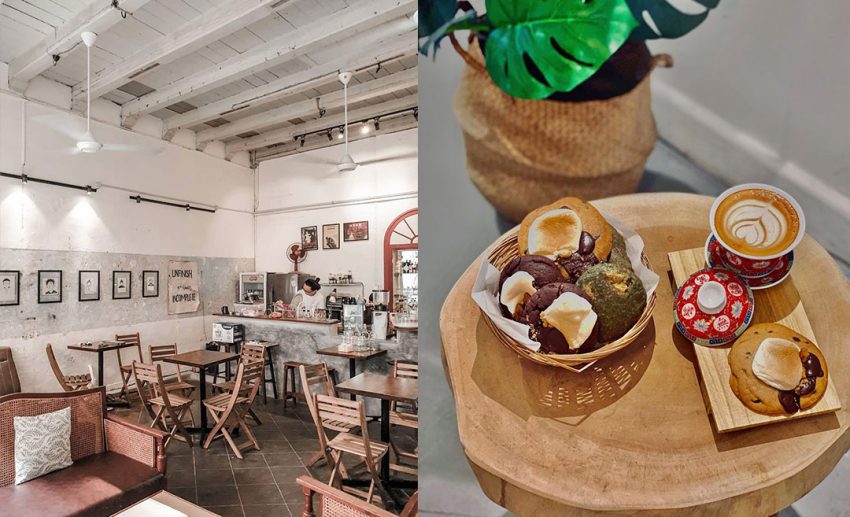 Subscribe to our new 
Telegram
 channel for the latest updates.
With restrictions easing and even local travel on the horizon (having started with Langkawi), we're finally free again! Well, sort of. At the very least, fully vaccinated individuals are now allowed to dine-in, meaning that we can resume our cafe-hopping ways.
However, even with this newfound freedom, you're still going to want to avoid the crowd. That's where tiny, hidden cafes come in handy. A café that is hard to find and also brings about a whole new experience you won't be able to get in a trendy, popular café brimming with people.
Now you're probably wondering, where on earth can I find cafes that are unique and kept hidden? Well, that's why we're here — these quaint spots can be found from Kuala Lumpur (KL) to Johor Bahru. Read on for eight tiny, unique, and hidden cafes you can head to for a comforting piping hot cup of coffee:
1. Kue Street Café, Melaka
Tucked in a neighbourhood in Melaka, Kue Street Cafe is a quaint coffee joint that never fails to disappoint. Apart from a variety of bold and smooth coffees, their cakes and food is pretty impressive, too. Treat yourself to their highly-raved signature salted coffee and waffles as well as the newest addition to the menu — buttermilk chicken with rice.
Address J5599 KM25, Jalan Muar – Tangkak, 77300, Melaka
Opening hours Tuesday to Sunday, 12:30pm to 6:30pm (Closed on Mondays)
Phone 017-6203736
2. 100 Houz Coffee & Breakfast, Selangor
100 Houz, previously known as Made Kitchen, is a 70s era refurbished house lot café located at Jalan Reko, opposite the Kajang MRT station. It is a lovely little café with a little frontyard. They serve a variety of food and drinks, including sandwiches, scones, pasta, all day breakfast, authentic coffee and healthy smoothies. Try the special honeycomb coffee for a sweet fix and their crispy chicken sandwich for a guaranteed happy tummy!
Address Jalan Reko, Taman Hijau, 43000 Kajang, Selangor
Opening hours Tuesday to Sunday, 8:30am to 3pm (Closed on Mondays)
Phone 016-603 0813
3. Tiny Garden Café, KL
Hidden in a sleepy residential street in Wangsa Melawati, Tiny Garden Café offers a welcoming green escape from hectic city life. Owners Shirley and Raymond added a weekend café to their bed and breakfast business after retirement. Raymond made all of the furniture by hand including a cool barista bar. Green-thumb Shirley fills the space with a jungle of plants and plates of "mama food," and adding the final touch, daughter Carmen operates the coffee machine and takes care of the baked goodies.
Your first order at Tiny Garden Café must be a Confee! It's a latte served in a cone cup layered with thick melty layers of chocolate. And if you're game, try the Petai Pasta. Tiny Garden Café will always be there as a haven from the busy-ness of life, a green space filled with comfort food, good coffee, and the warmth of family love.
Address 25 Jalan Wangsa Murni 7, Wangsa Melawati, 53300 Kuala Lumpur, Malaysia
Opening hours Monday to Saturday, 8am to 10pm (Closed on Sundays)
Phone 012 392 9282
4. Kaffeinted Fish, Johor Bahru
This garden café in Johor serving speciality coffee, desserts, and savoury sandwiches kinda remind us of our #cafehopping days in Seoul! That featured white wall and the beautiful contrasting cactus plants make for a perfect #OOTD spot. Try Kaffeinted Fish's famous cold brew milk coffee and wholemeal sandwiches that are to die for! For those of you who have a sweet tooth, savour their chiffon cake with cream cheese!
Address 2, Jalan Roda 2, Skudai 81300, Johor Bahru, Johor
Opening hours Thursday to Tuesday, 10am to 4pm (Closed on Wednesdays)
Phone 017-684 2457
5. Biasa, Perak
Biasa is a small stall that sells coffee and specialty lattes in Seri Manjung, a tiny town in Perak. However, don't be misled by the simple aesthetics, this coffee stall is known for their cold brew coffee, matcha latte, and taro latte. Only available to-go, you can quickly grab your coffee fix without worrying about the crowd. Remember, good days start with coffee!
Address 46, Jalan SM 5a/16, Seri Manjung, Perak
Opening hours Wednesday to Monday, 10:30am to 8pm (Closed on Tuesdays)
Phone 019-516 7200
6. Alley No.5 Café, Melaka
Alley No.5 is a retro joint serving amazing brew and cheesecakes in a hidden alley, located within the quieter streets of Jonker walk. Bonus: you'll be greeted by cats when you enter the café. It's an Instagram-worthy place with a balanced mix of old rustic charm and chill background music.
Usually, there aren't many visitors, so you can take your time to enjoy the quiet ambience. Patrons of the café love their Onde-onde Cheesecake and omelette ham croissant, so be sure to give it a try when you're there!
Address No.7 Jalan Kampung Kuli, 75200, Melaka
Opening hours Sunday to Wednesday, 12pm to 9pm; Friday and Saturday, 12pm to 12am (Closed on Thursdays)
Phone 016-415 5097
7. Pause Café, KL
Pause Café is well worth a stop, transforming a decades-old Kampung Attap apartment into an inviting space that feels as much a home as an eatery. Once you step in, you are welcomed by a bright white, minimalist interior, lightly adorned with potted plants, neon signs, framed picture, chic ceiling lamps, and the like to liven up the entire place.
While the food menu isn't extensive, it's fuelled by time-honoured nostalgia. The beverages, on the other hand, showcase modern flair! Meal choices include Pork Lard Rice, Spaghetti Bolognese, Linguine Carbonara, Prawn Aglio Olio, Ginger Spring Onion Pork Rice, Hua Diao Chicken Rice, and Stir Fried Spicy Chicken Rice. For drinks, apart from filter coffee, try their playful but very capably executed Sober Tonic and YinYang-Taichi!
Address 140, Jalan Choo Cheng Khay, Kampung Attap, 50460, KL
Opening hours Tuesday to Sunday, 11am to 8pm (Closed on Mondays)
Phone 03-28572071
8. Sepinggan Semangkuk
Like something out of a steampunk universe at first glance with its bare beams and exposed brick facade, it's a different, artsy world when you step into Sepinggan Semangkuk. Describing themselves as a place where food meets art, expect hearty dishes such as grilled chicken with fried rice, hot wings, and a Seafood Pasta Balado, all lovingly served on their own ceramics. As for drinks, you can also expect a good cup of joe. From classics like Cappuccinos to Matcha Cafe Lattes, there are also some special additions like the Peanut Butter Cafe Latte that you simply must try.
Address Lot 1402, Jalan Sijangkang, Kampung Sijangkang, 42500, Telok Panglima Garang, Selangor
Opening hours Friday to Wednesday, 12pm to 10pm (Closed on Thursdays)
Phone 019- 394 4643