Many people are becoming increasingly interested in ordering wine with their chicken rice or nasi goreng. In many Western countries, wine is an important part of dining and is becoming more commonly consumed in Asia.
I grew up in a wine-producing nation where wine was freely available, so invariably, I too, enjoyed a glass of wine with many meals. Malaysia doesn't have vineyards, so wines aren't part of the culture, although things are changing.
Wine lists can be a minefield to understand and negotiate, and ordering wine can be intimidating for many. However, fear not; read on to understand the basics and gain confidence in negotiating the wonderful world of wines.
White wine rules!
Some people make a profession out of drinking wine. Just as you don't need to be a chef to appreciate food, you don't need to be a wine professional to appreciate wines. Yes, there are many 'rules' for connoisseurs; however, for those who just want to enjoy a glass of wine, the first rule is, there are no rules. These 'rules' will fall into place as you become more interested in wines, but early on, ask a lot of questions and be guided by recommendations from those who know more than you.
Good wine lists offer wine by the glass and bottle, so ordering it by the glass makes good sense. Wines are commonly classified as sparkling (Champagne and other styles), red, white, Rosé (pronounced rose-eh and basically a white wine with a hint of red to create its brilliant allure), sweet dessert wine, and fortified wines (Ports and Tokays).
Most will begin their wine journey with red or white table wine. With over 3,000 different grape varieties used to make wine, knowing which one to order can be difficult. However, most wine drinkers will only consume about 20 common red and white varieties in their lives. Some countries (primarily European) name their wines by the region and not the grape variety, so that adds greater complexity.
Many European wines are made to accompany food, with the basic understanding that white wines pair with poultry and fish, and red wines with red meats (we've got a guide to pairing red wine with Malaysian fare here).
In the beginning, drink sparkling wines to celebrate a special occasion like a birthday or the New Year. Use this understanding as initial guiding principles, but be prepared to make up rules that best suit your palate.
Malaysian dishes can be difficult to pair with wines because of the spices. However, this merely adds to the excitement of trying to find the wine or wines that you like best with each dish. Food friendliness is a term used for pairing wine with food, and here are five white wines I have paired with five popular Malaysian dishes.
Five wines, five dishes
Riesling – royal pudding
This classic white grape variety has an excellent balance of fruitiness and acid. Other varieties like Sauvignon Blanc and Chardonnay are trendier, but Rieslings are food-friendly. They are known for purity, smoothness, and power and can be made from dry to very sweet.
Dr Loosen Riesling Qualitatswein, from the steep slopes of Germany's Mosel Valley, is typical of Germany's sweeter and fruitier wines. Winemaker Ernst Loosen has championed German Rieslings around the globe, claiming they are ideal for consumption with spicy Asian food because they cool the palate. Its low alcohol content of 8.5% (most wines are 12% to 15%) makes it easy to drink, especially when well chilled.
While not a true dessert wine, its fruitiness makes it a good accompaniment to not only spicy food, but also desserts such as ais kacang, fresh fruit, mango and pulut, or, when in Pahang, the famed royal pudding (jala mas, or golden threads, with bananas, prunes, cherries, and cashews).
German Rieslings differ significantly from the dry styles produced in Australia, like Wirra Wirra Lost Watch Riesling from the Adelaide Hills.
Sauvignon Blanc – Hainanese chicken rice
Sauvignon Blanc is most people's go-to white wine, and chances are, it will be from New Zealand. However, the variety is grown around the world, with some of my personal favourites produced in Styria, southern Austria. Villa Maria Private Bin Sauvignon Blanc is one of New Zealand's most respected white wines.
It's brimming with citrus, passionfruit, and melon flavours, and no doubt; this makes it popular as an aperitif or for pairing with seafood (ikan bakar) or poultry. Steamed or roasted chicken rice are a good match, with the chicken's neutrality enabling the wine's tropical fruit flavours to come to the fore.
Chardonnay – chicken satay
Chardonnay can be opulent and produced in oaked or unoaked styles. The former is matured in oak barrels to impart a slightly woody finish with buttery elements. These wines pair well with Western dishes that incorporate cream and dairy products. Fresh, clean and unoaked styles are a better match with Asian spices.
The crispness of Chardonnay combines well with the light spices and caramelised crispness of chicken satay. Leeuwin Estate Prelude Vineyard Margaret River Chardonnay is a premium Chardonnay from one of Australia's premium wine regions.
Champagne – dim sum
Of the five wines here, Champagne is the most delicate, with subtle flavours that can be easily overpowered by spices. For this reason, it's a wine I mostly prefer to drink without food. However, the numerous dishes served in dim sum restaurants provide many excellent Champagne pairings.
Champagne is a sparkling wine produced in the French region of the same name, but there are many other sparkling wines produced in other wine regions around the globe. Most Champagnes, such as Nicholas Feuillatte Réserve Exclusive Brut, are pricey and should be reserved for a celebration. In this reference, 'brut' means dry (other Champagnes can be sweeter and listed as sec and demi-sec).
Gewürztraminer – wantan mee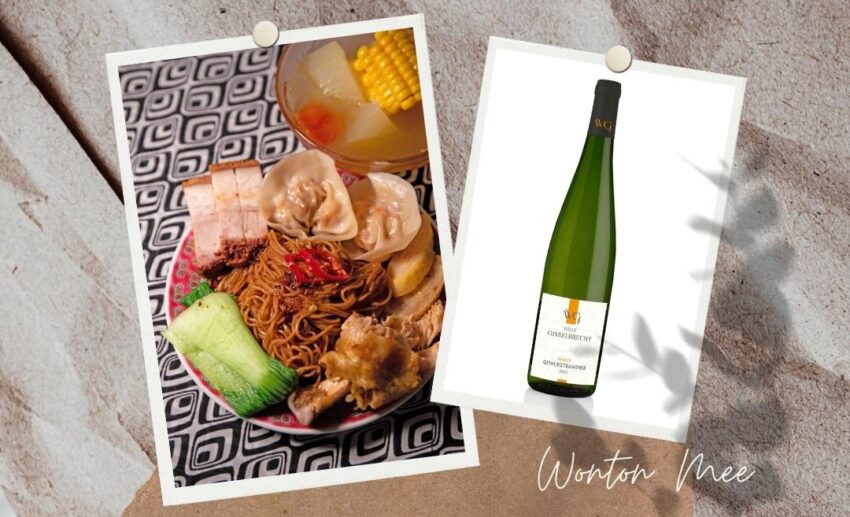 This aromatic wine with fresh floral aromas is another wonderful wine to accompany spicy dishes. Its name may be a mouthful (ger-vurtz-tra-mee-ner) but don't let that put you off buying a bottle. Those produced in the Alsace region of northeast France, adjacent to the German border, are most impressive. The region's Germanic heritage is reflected in the grape style, with the W. Gisselbrecht Gewürztraminer representative of wines produced in Alsace.
When pairing Gewürztraminer with food, consider the wine's floral aromas. Its crisp acidity balances the oyster sauce and shallots tossed with wantan mee noodles. Piping hot broth with wontons doesn't fight with the wine's flavours, nor does the sliced char siu that completes this hawker stall favourite. Simply sublime!