We're almost at the end of the year, and it's time to start brewing plans to ring in the year to come. So, why not do it right and make the vibrant city of Kuala Lumpur (KL) the backdrop of your New Year celebrations? Ring in the New Year at a stunning rooftop bar with an unbelievable view and a delicious cocktail in hand.
Gather your friends and head to some of the best rooftop bars in the city for the countdown.
WET Deck at W Kuala Lumpur
We are starting this list strong with the WET Deck at W Kuala Lumpur. The moment you enter, your jaw will drop at the immaculate view of the Petronas Twin Towers – trust us, it's unbelievable! To add to the amazing location, the rooftop bar offers delectable cocktails, including their very own Kuala Loco cocktail, which gives off some serious tropical vibes.
Prices for cocktails start at RM45, and the food menu has a wide selection of yummy treats, including vegetarian options, such as Soybean Nachos and Plant Based Sliders. Check this place out, and your Instagram will be grateful for not only the stunning backdrop, but the gorgeous purple lighting of the bar.
Address: Level 12, W, 121, Jalan Ampang, 50450 Kuala Lumpur
Contact: +6012 347 9088
Vertigo at Banyan Tree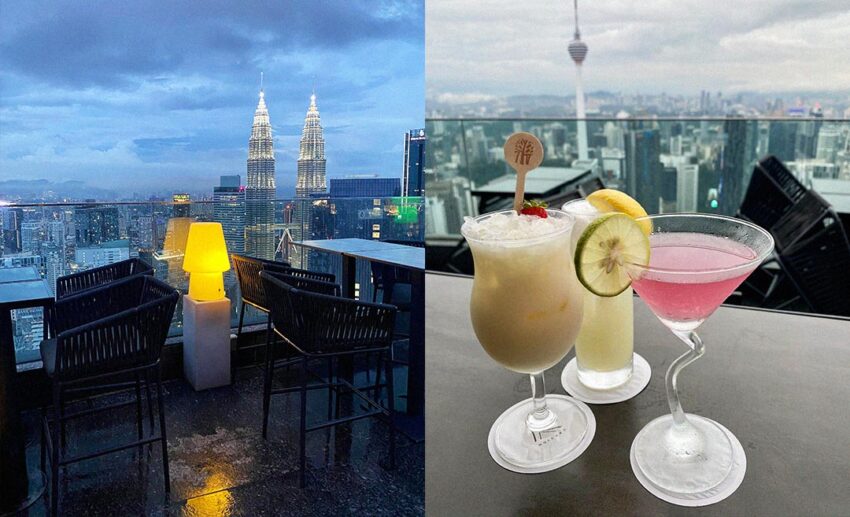 Located at the Banyan Tree, Vertigo serves up personalised cocktails by talented mixologists to be enjoyed in a stylish and modern bar overlooking the city. Being the highest rooftop bar in all of KL, you may feel like you are floating in the clouds – which is quite magical!
Vegetarian bar snacks are limited to one option, Eggplant Parmigiana Croquettes; however, there are ample cocktails to choose from starting at RM51. Get dressed up and get ready to cheers the New Year up high with the Petronas Twin Towers in sight!
Address: Level 59, Banyan Tree Kuala Lumpur, No. 2, Jalan Conlay, 50450 Kuala Lumpur, Wilayah Persekutuan
Contact: +603 2113 1888
Vogue Lounge
Feeling a little fancy? Get dressed up to the nines and check out Vogue Lounge in Bangsar South to enjoy sophisticated dining and a cheeky drink (or more) – all while appreciating a view of the KL skyline. You know this bar is special when you step out of the elevator and onto an LED-lit floor before being led into a room decorated with twinkling lights!
To match the mesmerising entrance are the friendly bartenders, who serve up beautiful cocktails – we suggest the French Martini, and you'll see why! Unfortunately, if it's a rainy day, the rooftop will be closed, but you are welcome to sit by the bar and still enjoy the view from inside.
Address: Level 38, Menara SuezCap 1, KL Gateway, Jalan Kerinchi, 59200 Kuala Lumpur
Contact: +603 2771 1530
Mantra Rooftop Bar & Lounge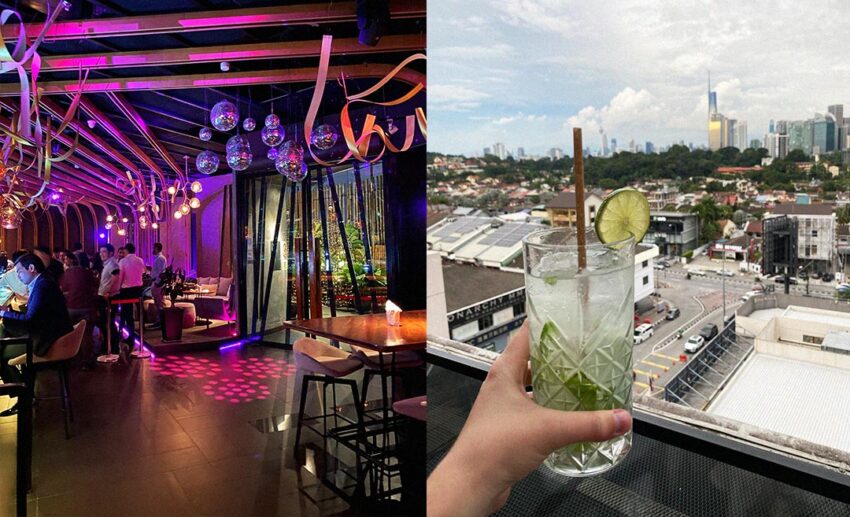 Perched above Bangsar Village II, Mantra Rooftop Bar and Lounge showcases the KL city skyline from a unique spot with plenty of plants, fairy lights, and disco balls! Rain, hail, or shine, you can make the most of your night at Mantra with the roofed balcony. Get started with happy hour specials on drinks and vegetarian-friendly snacks until 7pm to warm up for the New Year's countdown!
Address: Bangsar Village II, Jalan Telawi 1, 59100 Kuala Lumpur
Contact: +6017 344 8299
Heli Lounge Bar
Bar on a helicopter pad in the heart of KL, how could you not? It feels surreal being up here; it's almost as if you are one with the skyline. Come and check out this place to kick off the New Year right with uninterrupted spectacular views of KL while having plenty of food options and drinks to match.
Entry is RM100, including two drinks you must choose before you make your way up to the roof, so be prepared. However, do note that the Heli Lounge rooftop will be closed if it's raining or has been raining.
Address: 34 Menara KH, Jalan Sultan Ismail, Bukit Bintang, 50450, Kuala Lumpur
Contact: +603 2389 8861
Marini's on 57
You can't go wrong with Marini's on 57; this rooftop bar is the place to be in KL. Enjoy signature cocktails and exclusive wines while taking in some of the best views of the city through architecturally designed floor-to-ceiling windows.
Besides killer views, the bar also offers Sunset Hours specials on drinks. To start your night off with a bang from 5pm to 9pm, a Pinky Promise cocktail is only priced at RM35. While there, also check out the Italian restaurant for a fine dining experience or the Whiskey Lounge for old-world Italian charm. There is something for everyone!
Address: Petronas, Level 57, Menara 3, Persiaran KLCC, 50088 Kuala Lumpur
Contact: +603 2386 6030
Blue at EQ
At Blue, you'll create a night you won't forget at this Instagrammable sky bar with panoramic views of KL and delicious snacks paired with unique cocktails. But for vegetarians and vegans, we'll just stick to enjoying the drinks here! It'll be well worthwhile, with the twinkling fairy lights, red neon lighting, and the Petronas Twin Towers as your night's backdrop.
Your friends at home will be flooded with Instagram stories and jealousy! Be sure to dress to impress, as I am sure you will be on New Year's, as a dress code does apply.
Address: Level 51, EQ, Equatorial Plaza, Jalan Sultan Ismail, 50250 Kuala Lumpur
Contact: +603 2789 7800
DEEP BLUE at The FACE Suites
DEEP BLUE at The FACE Suites offers the ultimate nightlife experience in KL with a daily happy hour from 3pm to 10pm. The rooftop bar is also something to see with its stylish 80s-inspired decor. Enjoy an international meal here, offering Western and Malaysian food to satisfy everyone and a signature cocktail or two. Then watch the sunset over the city and dance the night away to a diverse range of music from R&B to techno.
Address: Level 51, THE FACE Suites (Sky Deck), 1020, Jalan Sultan Ismail, Kampung Baru, 50250 Kuala Lumpur
Contact: +603 2168 1671
SkyBar Kuala Lumpur
Located in Traders Hotel KL, SkyBar is an iconic upscale cocktail bar with views spanning over the city. This rooftop bar hosts DJs nightly, to be enjoyed dancing or from one of its cosy cabana booths with a creative cocktail in hand.
Why not try SkyBar's signature cocktail? The Bonnie & Clyde is a couple's drink, where the ladies get a lychee liqueur cocktail with vodka, and the gentlemen receive an orange bitter with whiskey creation for RM100. Also, enjoy plenty of food options which cater to all diets and requirements.
Address: Traders Hotel, Kuala Lumpur Convention Centre, Stall 7, Jalan Pinang, 50088 Kuala Lumpur
Contact: +603 2332 9888
You can't go wrong with this list of rooftop bars in KL to celebrate New Year's and start 2023 right! Merry Christmas and have a very happy New Year!