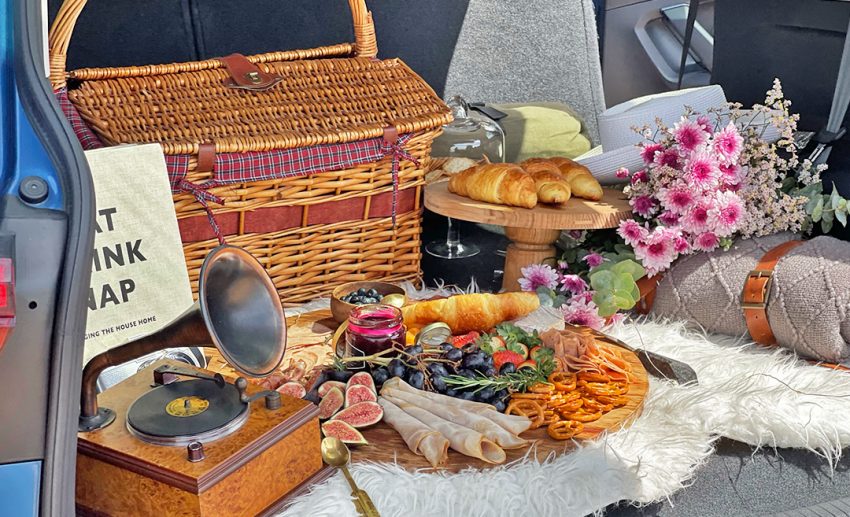 Disclaimer: This advertorial was shot and produced before MCO 2.0. Please adhere to all SOPs set by the government, and avoid any unnecessary travel and outdoor gatherings in the meantime.
We all know the makings of a great picnic – good food, good drinks, and good company. But what if you wanted to turn that relaxed picnic in the sun into one of the most epic day trips you could possibly take with your gal pals? It's not difficult at all, and if you've got the right set of wheels, it gets a whole lot easier!
Enter the new Volkswagen Tiguan Allspace Highline – because when three women are travelling out-of-state for the day, you're going to need all the space you can get. Right before this Movement Control Order (MCO) 2.0, the team at Zafigo, including yours truly, got to put this new ride to the test while embarking on the ultimate car boot picnic in sunny Port Dickson (PD). Here, we list the ways the new Tiguan Allspace Highline caters to our (extremely) different personalities and tastes, and how it helped make the beachfront car boot picnic of dreams a reality. But first, introductions. 

The planning stages
Once you've rounded up your gal pals and are deciding on making a trip out of your picnic, it's time to start the most important stage of making magic happen – planning! When it comes to putting together the perfect picnic, everything comes down to the planning stage, really. When everything's pre-arranged down to the tee, you can focus on having fun. We've put together a checklist to help guide you through the process. Just keep in mind that you'll need to delegate roles and split the load (of buying things, packing props, and driving):
1. Decide where to go
Depending on where you're all based, it's a good idea not to venture too far away from home if you just want a day trip. Of course, not all car boot picnics need to be had beachside. You can also opt for a space with lush gardens (like one of these six beautiful parks to picnic at around Kuala Lumpur) or perhaps by a meandering stream or hilltop (like in Janda Baik). We opted to head to PD, because being only a little over an hour from Kuala Lumpur (KL), it gave us the chance to get a dose of 'vitamin sea' and still be home before sundown.
2. Decide when to go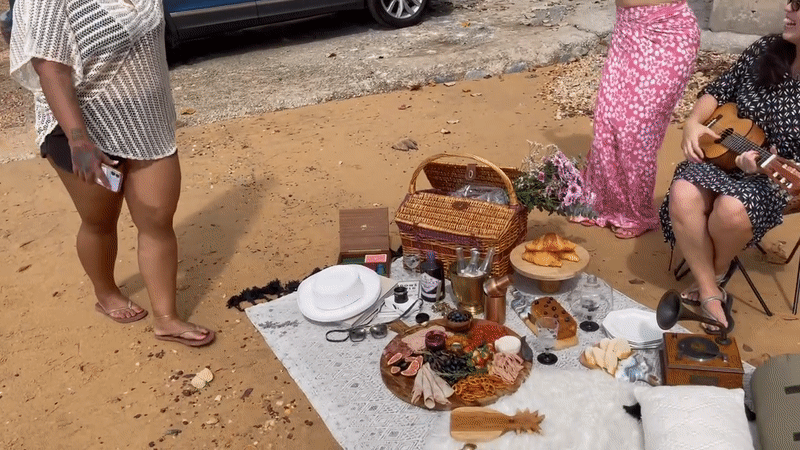 The weather is everything when it comes to planning any outdoor activity as it can make or break your day out. So, check weather updates regularly before you go (things can turn in a matter of minutes), and if you can, always have a plan B. In addition to the weather, if you're headed to a beach, then be sure to also check the tide times to ensure safety.
3. Decide what to bring
Seeing as to how you'll likely be left to your own devices, trim the fat and focus on bringing the essentials – cutlery, servingware, food (stick to bite-sized and finger food that's easy to clean up), drink, wet wipes, and lots of SPF! If you've got extra trunk space (like we did), then go ahead and pack the beautiful accoutrements too to make it an Insta-worthy day. 
Hitting the road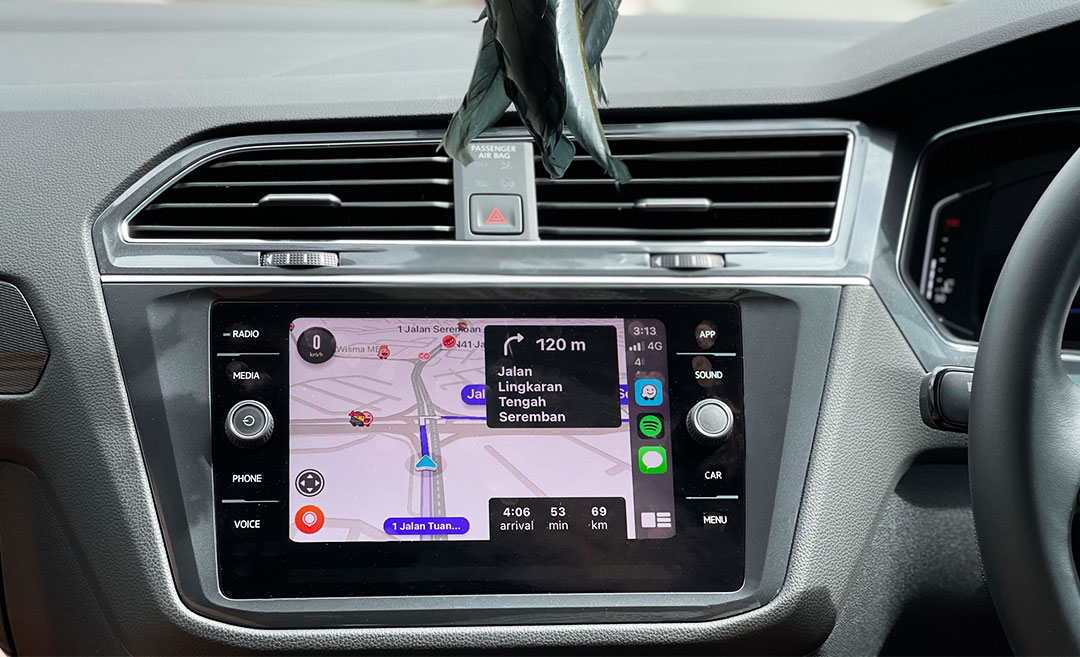 Now that the nitty-gritty's down pat, it's time to get going! Heading from KL to PD is an enjoyable drive, as we cruised along highways flanked by plantation estates, lush rainforest, and a few charming towns along the way.
Navigation was a breeze as we were able to cast our phone's Waze directly onto the in-car infotainment screen via the convenient App-Connect feature which makes for ultra-safe hands-free control. This infotainment system also allowed us to jam to our favourite tunes on Spotify. Our pilot, Eliza, was able to effortlessly keep an eye on our speed and mileage with the car's high-resolution customisable digital cockpit.
The screen, she said, wasn't distracting, and its immense clarity made it really easy to read while on the road. She was also DJ of the day and able to control our playlists at the touch of a button without ever having to take her hands off the wheel. And with a whopping eight speakers boasting surround sound capabilities, our little karaoke party started as soon as we all got into the car.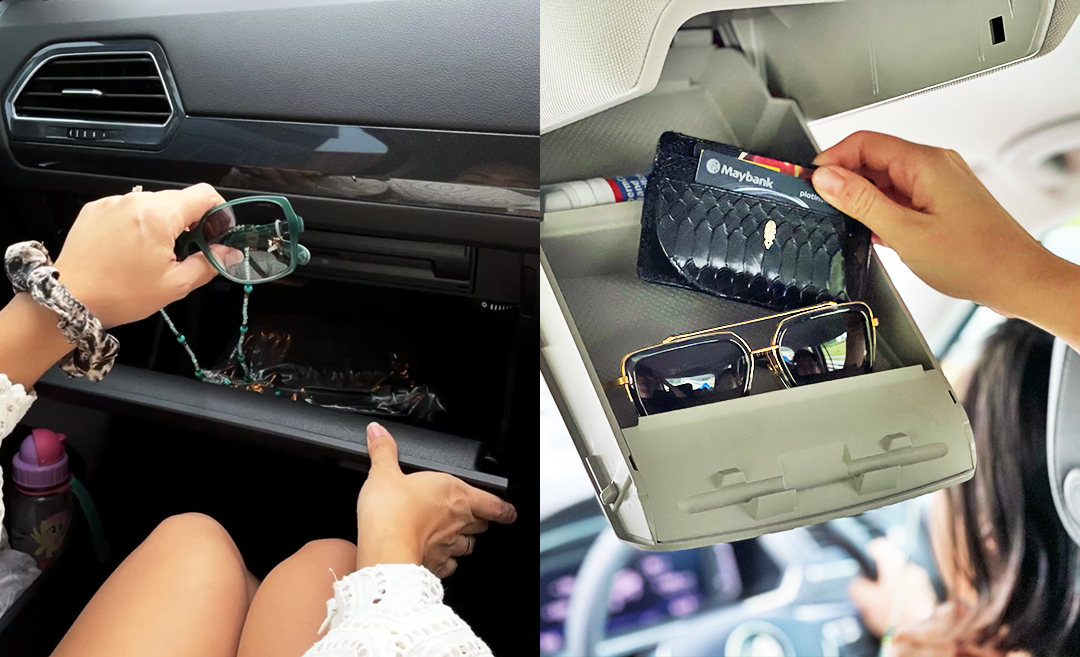 Xin was as snug as a bug in a rug in the back seat and managed to catch some Z's. Adding to our comfort levels was the car itself. With plenty of legroom for all three of us as everything fit in the boot with ease, we got to fully relish in the car's plush interiors and high quality finish. Eliza, being the driver, was spoiled the most with her 12-way electric seat adjustment, powered lumbar support, and massage function. Leather seats ergonomically cradled all of us to and from PD while plenty of storage compartments freed the over-packer in me of the guilt of bringing along three pairs of sunnies for a day trip.
As co-pilot, I too had my turn in the driver's seat. Zipping past, the first thing you'll notice about getting behind the wheel of the new Tiguan Allspace Highline is that despite having a 1.4 litre engine, it isn't at all underpowered like you'd expect. This is thanks to the turbocharged TSI engine, of course, with 250Nm of torque (the 'oomph' that basically gives the car the power it needs to launch) and a direct shift gearbox for faster acceleration and seamless driving. When not packed to the brim with picnic gear (or perhaps the kids and the many things that come along with them), you might even be able to have some speedy little fun with this compact SUV whose handling is more car-like. 
Frolicking on the beach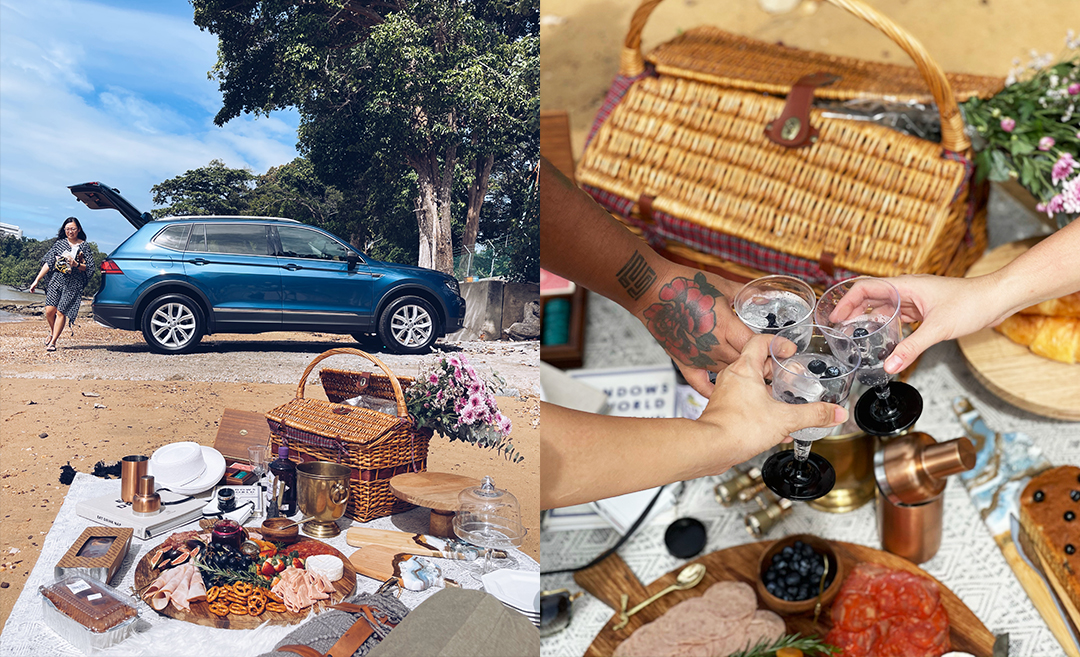 Once at our destination, we were greeted with sunny weather and gentle lapping waves. This was when we really put the new Tiguan Allspace Highline to the test by bringing the car onto a beach. With the vehicle's high ground clearance, we drove onto the beach without any problems. Did it perform? Short answer – yes! Despite having rained the day before, there were no issues veering off the road, down a steep slope, and onto our pretty little picnic spot.
After our initial tipple, song and dance session, quick dip in the ocean, and snacking on the charcuterie board we pulled together, the sun became too much of a good thing. Luckily for us, we were able to convert our ride's trunk space into a picnic table, thus making it the ultimate car boot picnic with shade, our food and drinks nicely laid out with room to spare, music blaring through, and great company overlooking the Strait of Malacca.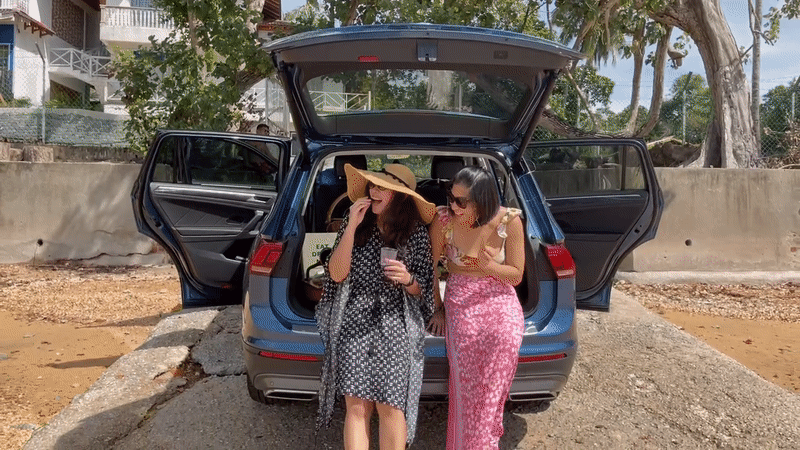 The biggest sell of the new Tiguan Allspace Highline and what sets it apart from Tiguans of the past is that this new edition is a seven-seater. Besides being able to fit in more friends should you wish for it to do so, this longer and taller rendition of the Tiguan gives you unprecedented trunk space. When you push down the middle and last rows, you get a whopping 1,775 litres of space – more than enough real estate to throw a car boot picnic! 
Heading home
Sadly, all good things must come to an end. As expected, the drive home to KL was as pleasurable as the drive to PD. After hours spent in the sun, the 3-Zone Climatronic air-conditioning system was a cooling welcome respite from the heat. Another welcomed convenience were the USB ports throughout the car's interior that allowed us to recharge our phone's batteries while we recharged in the car's aforementioned ergonomic interior.
Technology abounds in safety aspects too. Our worrywart didn't need to worry at all, really (and not once did she). With six airbags, ISOFIX anchors for your child's car seats, Anti-lock Brake Systems, Brake Assist, and the Electronic Stability Control, the Tiguan Allspace Highline gives you peace of mind when you're on the road.
By the time we'd all reached home, we realised that we'd also barely put a dent in the full tank of petrol. Running at 7.3 km/l with a 60-litre tank capacity, this car can take you from Penang to Johor Bahru on a single tank. In other words, when you're not towing a trunk full of food and furniture, you can definitely expect this ride to take you far.
Like Volkswagen Tiguans of the past, this sweet new city SUV offers countless features that make it a great drive. What sets the Tiguan Allspace Highline apart is that it gives you more than enough space without the bulky appearance and doesn't compromise on the driving experience. What this also means is that although you're behind the wheel of an SUV, the Tiguan Allspace Highline will still allow you to weave your way in between city traffic with ease. It's the best of both worlds.
To put it succinctly, the new Tiguan Allspace Highline really is all space, all adventure! Watch our full adventure in the Volkswagen Tiguan Allspace Highline here: