Love it or hate it, the colour pink is here to glow up your holiday with much pomp and chromatic splendour. There's a reason why millions throng Japan and South Korea during cherry blossom season, and visit Lombok's Tangsi Beach in Indonesia, one of the region's most picturesque beaches famed for its salmon-hued sands.
Pink is soothing, pretty, and a whole lot of fun — as these absolutely dreamy attractions around Asia can attest to.
Tan Dinh Church, Vietnam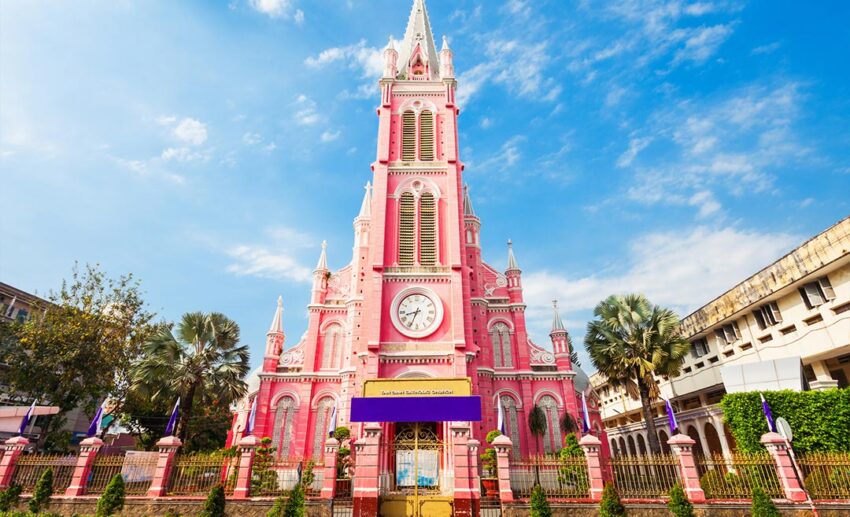 Tan Dinh Church, a 147-year-old Roman Catholic house of worship nestled in Ho Chi Minh City's bustling District 3, is a sight to behold in flamingo pink. Featuring a mix of Romanesque, Gothic, and Renaissance elements, the church is anchored by a 52-metre high tower crowned with a steeple cross.
The interiors are equally breathtaking. The pillars, arches, and ceiling are painted strawberry and cream, leading up to a high altar crafted out of exquisite Italian marble.
Red Hill MRT Station, Singapore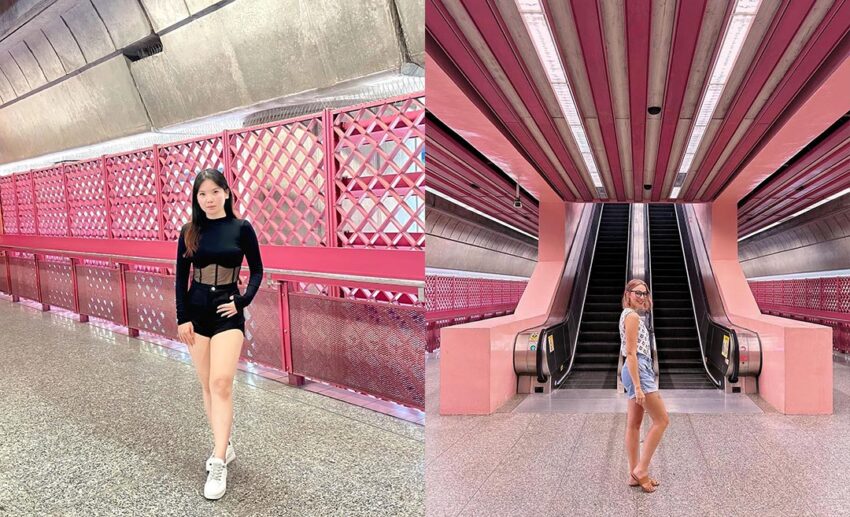 If this all-pink, uber-modern commuter train station looks familiar, it's because you've probably seen it in Blackpink's 'As If It Were Your Last' music video. The music video was shot in a studio but you can visit its inspiration, which is Redhill MRT station in Singapore. Made for Instagram dreams (or Wednesday Addams' nightmares), the station is covered in various shades of pink from rose and taffy to millennial pink.
The elevated station, which connects Changi Airport and Tuas Link via the East-West Line, was opened to the public in 1988. It's located in Bukit Merah (literally, 'red soil'), so named after the laterite soil found in the area centuries back.
Hawa Mahal, India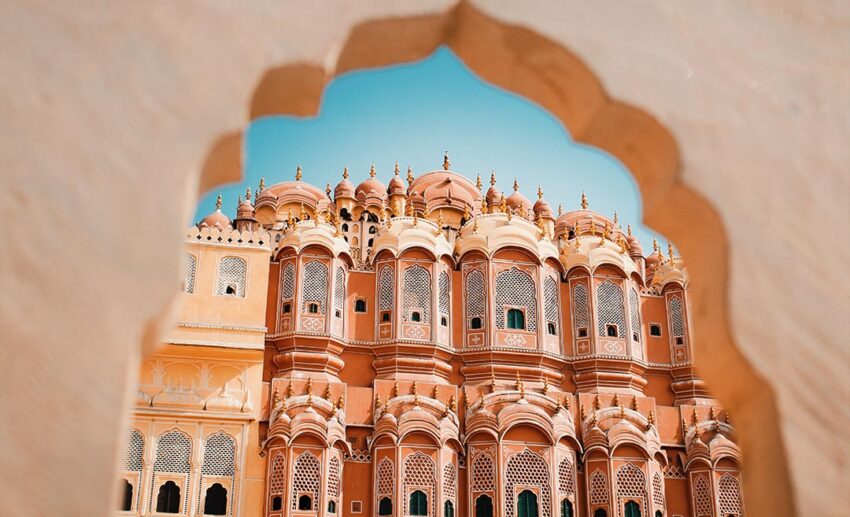 Constructed out of red and pink sandstone, Hawa Mahal or 'Palace of the Winds' was commissioned by Maharaja Sawai Pratap Singh as an extension of Jaipur City Palace. The complex, completed in 1799, features a mix of Rajput and Mughal styles and boasts an open courtyard with a water fountain and colonnades –– a clever design feature that maximises ventilation during the scorching summers.
The defining feature, however, is the coral-tinged, honeycomb-shaped back structure, which has since become an icon of the Pink City. The five-storey women's chamber is fitted with 953 jharokhas (windows) embellished with latticework, domes, and finials. It was through these windows that the ladies in court got to observe daily life and festive processions along the main road.
Mikimoto Ginza, Japan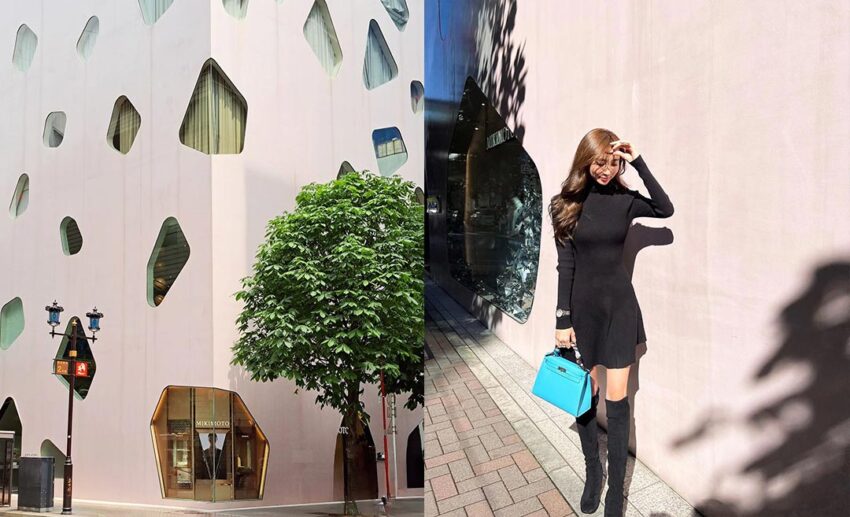 With its trademark Swiss cheese-like appearance, Pritzker Prize winner Toyo Ito's Mikimoto building is a stand-out in Tokyo's ultra-chic Ginza — home to some of the coolest luxury stores in Asia. The sleek, 48-metre high tower for the Japanese pearl cultivator is a pretty sight with its pearl-hued, concrete, and steel plate exterior punctuated by irregularly shaped windows.
Inside, on the first two floors, you can peruse Mikimoto's finest earrings and necklaces, including their signature cultured Akoya pearl necklaces, which can cost up to USD246,000 (roughly RM1.14 million).
Portland Street Rest Garden, Hong Kong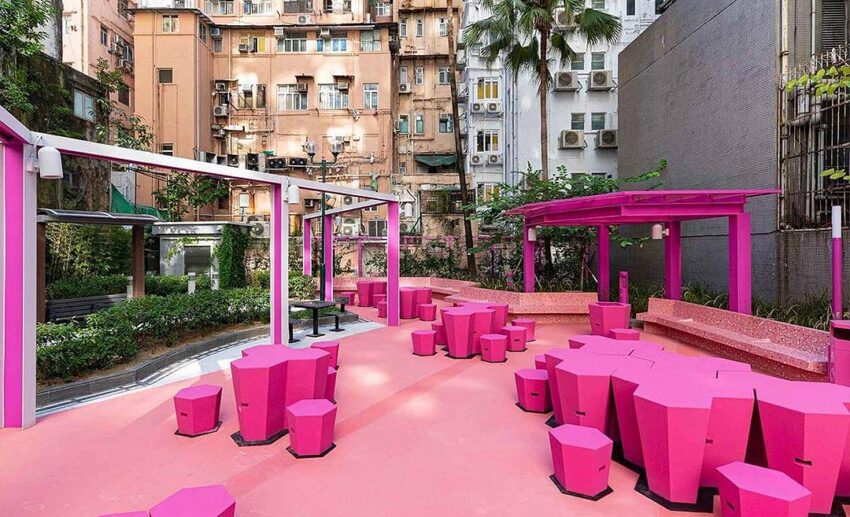 Anne Hathaway isn't the only person who can deliver bright pink effortlessly. Come check out Portland Street Garden Park, a 376-square metre urban sanctuary in notoriously crammed Kowloon. The park, unveiled in September 2021, is kitted in all things fuchsia, including the tables and stools, recycle bins, and a water-filling station.
There are also zig-zagging terrazzo benches rimmed with beds of bougainvillea, shrubbery, and palm trees. Portland Street Garden Park is one of four micro parks under the 'Play is for the People' initiative by Design Trust, a grant-sharing platform that supports creative projects benefitting local communities in Hong Kong.
Putra Mosque, Malaysia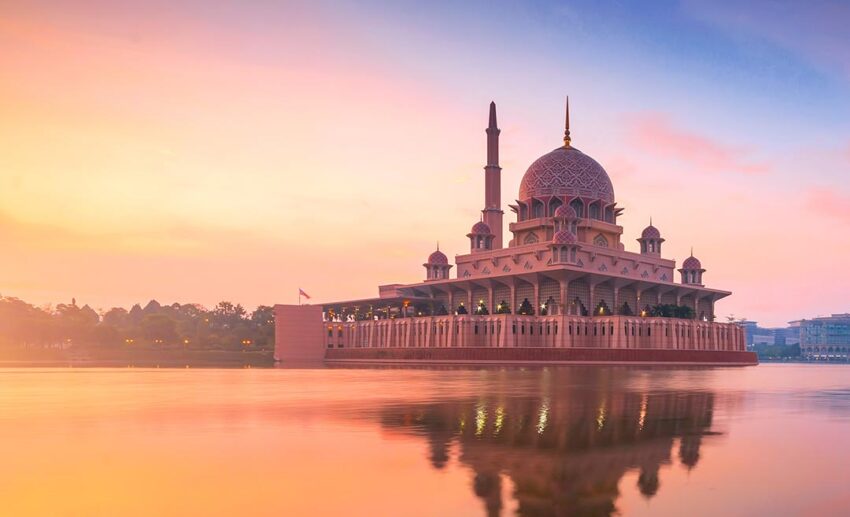 Perched along the banks of Putrajaya Lake, Putra Mosque, built in 1999, is one of the many attractions you can visit around the Malaysian administrative capital. The design was inspired by the architecture of ancient Persia's Safavid empire and features a grand dome and 116-metre high minaret clad in rose and beige granite mosaic tiles.
Completed at the cost of RM250 million, the mosque, which accommodates up to 15,000 worshippers, was named after Malaysia's first prime minister, Tunku Abdul Rahman Putra Al-Haj.
Pink Hotels, Indonesia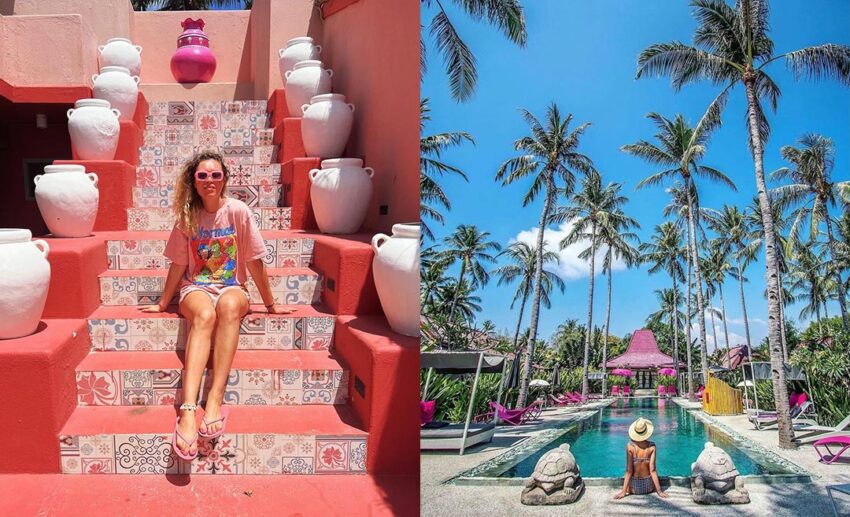 If a tropical pink paradise is what you're looking for, look no further than Pink Hotels, which has four properties around Bali and Lombok. Located a short walk from Bali's iconic Padang Padang Beach is PinkCoco Uluwatu, which boasts 28 stylish rooms, a spa, a tapas restaurant, and a freeform pool fringed by pink sun beds with matching Balinese umbrellas.
A more intimate getaway awaits at PinkCoco Gili Air, where you can check into one of the many bohemian chic cottages or villas peppering this beachfront property, which even comes with a hot pink beach swing. Hop on a pink bicycle to explore Gili Air at your own pace, splash around in the pool, or hop on a pink speed boat that will whisk you off for a day of island-hopping and snorkelling.
Book your stay at PinkCoco Uluwatu here.
V-Train, South Korea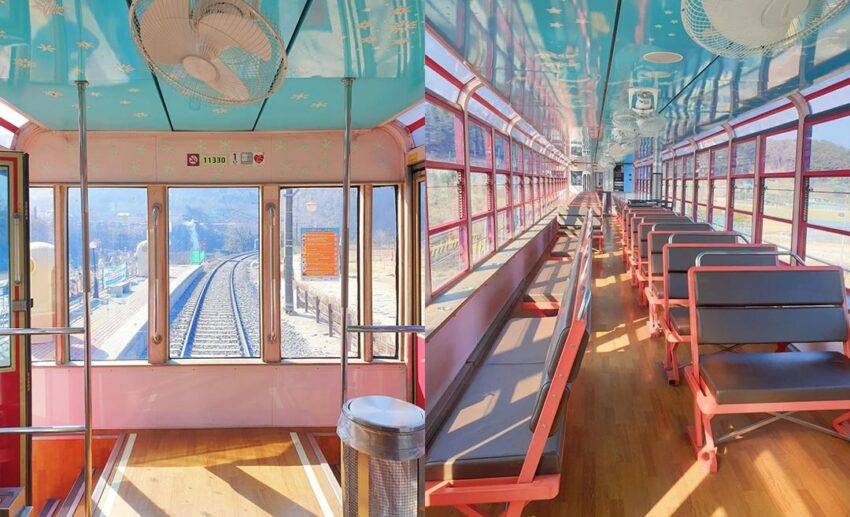 Does the romance of old school locomotives excite you? Hop on South Korea's sightseeing V-Train, which chugs along the valleys of Baekdudaegan, otherwise known as the spine of the Korean peninsula.
Launched in 2013, the service features a bubblegum pink livery with retro-chic interior, including incandescent lamps, propeller fans, a charcoal stove and 185 passenger seats in eye-popping blue, green, and orange.
While the V in the name stands for 'valley', the train is sometimes called Baby Baekho train, courtesy of the front carriage that is painted in black and white tiger stripes (baekho is Korean for 'white tiger').
Ahsan Manzil, Bangladesh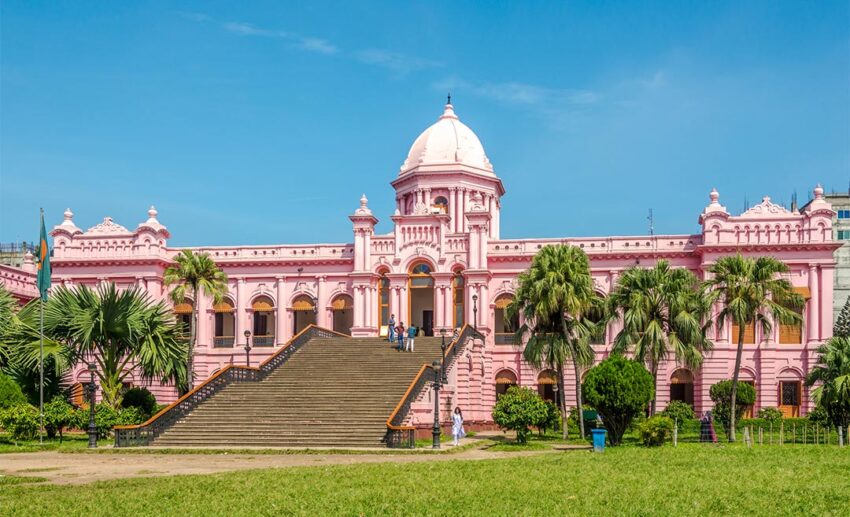 The ultimate Barbie palace is located in the Bangladeshi capital of Dhaka, and it's called Ahsan Mazil or simply known as the Pink Palace. The two-storey Indo-Saracenic complex, which boasts an expansive garden overlooking the Buriganga River, was built in 1872 during the British colonial era.
For decades, it served as the seat of the Nawabs of Dhaka, and in 1901, became the first building in Bangladesh to be fitted with electricity. After a period of abandonment following the dissolution of the Nawabs, the pink palace became a museum in 1992, giving visitors a peek into the lifestyles of Bengal's upper crust in the olden days.
This story was originally published on AirAsia. Zafigo republished this story in full with permission from the publisher, simply because good stories should be read by as many people as possible! If you have stories that will be of interest and useful to women travellers, especially in Asia, please get in touch with us at info@zafigo.com.