Are you thinking of travelling the pink city of Rajasthan, otherwise known as Jaipur? Well, you ought to, as it's one of the most beautiful and visited cities in India and the capital of Rajasthan. Also one of the oldest and most populous cities in India, Jaipur is teeming with history, culture, and modernity.
These days, visiting India is easy, and heading to Jaipur is even easier, thanks to tour operators like Royal Adventure Tours that offer the best Jaipur tour packages.
Jaipur is famous for its ancient palace, forts, shopping malls, and street bazaars. So, if you're a shopaholic who loves to haggle her way to a great deal and enjoy a bit of history, then Jaipur's perfect. Here's where to go:
1. Palace of the Winds or Hawa Mahal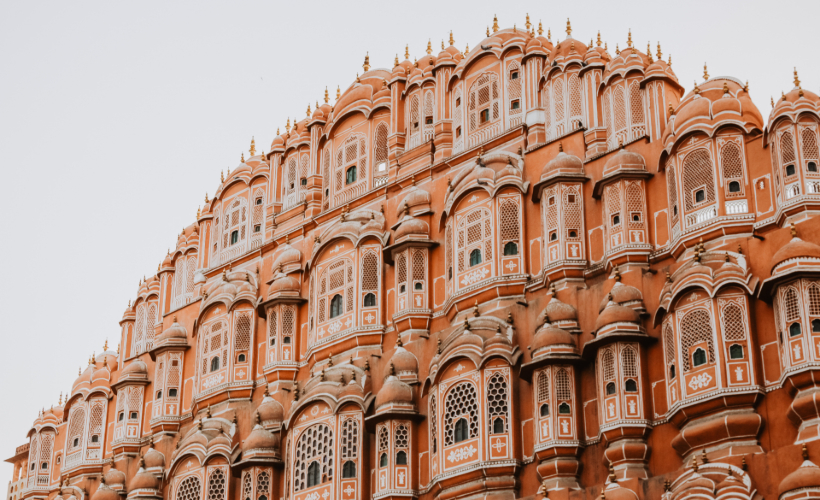 Easily one of Jaipur's most iconic sites. I'm sure you'd have seen the photos before coming here, but nothing beats seeing it for yourself. This stunning building made from pink and red sandstone is built with numerous little windows to allow women of the royal family to easily watch the street's activities in private. Constructed in 1799, Hawa Mahal's form resembles a peacock, although it was designed to imitate the crown of Lord Krishna. Also, visit the very top of the building for some spectacular views.
2. City Palace
Now a museum, this royal property was first built in 1727 by Maharaja Sawai Jai Sing II who first moved his court here from the Amber Palace. Fashioned in Mughal architecture, this palatial home was more than a residence. It was a centre for the arts and learning and continues this royal patronage today. The City Palace also houses several temples within its complex, including the Shri Govind Temple. A tour here will allow you to explore the Chandra Mahal – the seven-storeyed primary residence of the Maharajas of Jaipur – and other apartments like the ornate Sri Niwas and superbly decorated Shoba Niwas where the royal family still celebrate Diwali.
3. Jantar Mantar Observatory
The Jantar Mantar Observatory is one of five observatories built by Maharaja Sawai Jai Singh of India, who was a big fan of astronomy. Jantar Mantar itself is a jaw-dropping collection of 19 architectural astronomical instruments. The monument was completed in 1734 and was used to more accurately determine the locations of celestial objects.
4. Minaret Iswari Minar Swarga Sal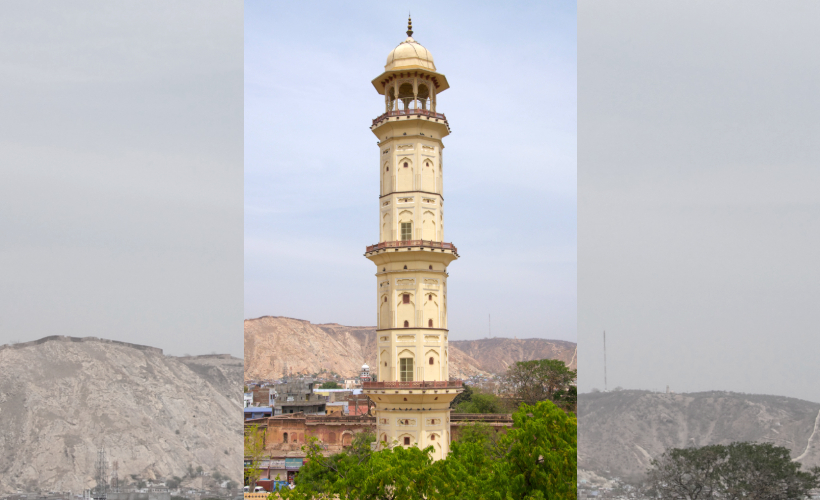 Located next to one of the Pink City's gates, a quick climb to the top of this minaret will reward you with some pretty amazing views of Jaipur. Although only 43 metres tall, it pierces the sky and offers what's arguably the best in-city views of Jaipur. Interestingly enough, its entrance is around the back of a row of shops.
5. Shopping bazaars
If you're looking to procure items such as fabrics, bangles, and the like, there are several bazaars worth visiting. They include Bapu Bazaar that's famous for traditional clothing, Johari Bazaar that's best for traditional jewellery shopping, Tripolia Bazar that's popular for handicrafts and a wide assortment of products, and Kishanpole Bazaar for its wooden sculptures and souvenirs.
6. Amber Palace or Amer Fort
Located in a tiny town just a stone's throw away from Jaipur (11 kilometres to be exact), the Amber Palace was built in 1592 on a forested hill. Besides its immense size and regal Mughal architecture, the bottom part of this grand palace that juts out over Maota Lake is what really makes it beautiful. Be sure to explore the Diwan-i-Khas, Diwan-i-Aam, Sheesh Mahal, and Sukh Niwas to marvel at some impressive latticework and ornate pavilions.
7. Nahargarh Fort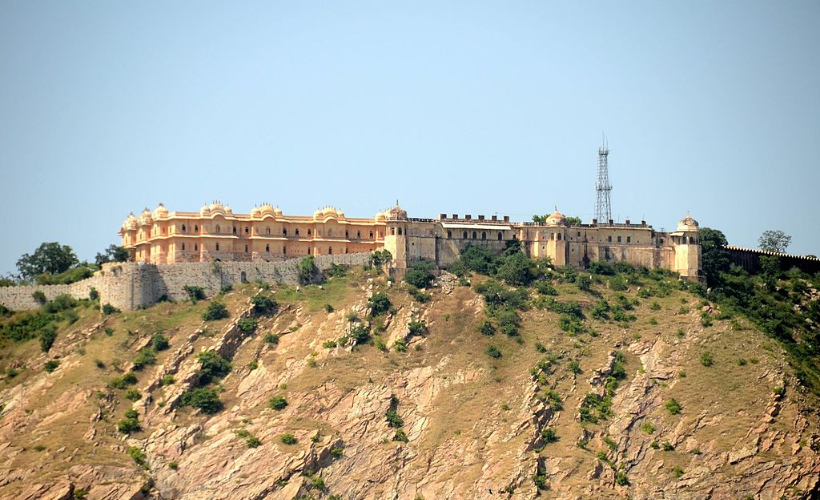 Teetering on the edge of the Aravalli Hills, you'll get phenomenal views of Jaipur and Amer from here, especially when dining in Padao Restaurant. The meaning of Nahargarh is 'abode of tigers', and legend says that the fort was named after the spirit of a Rathore – Rajputs who claim they're descended from mythical Suryavansha. History aside, Nahargarh Fort is a popular hangout spot among Jaipur locals and is now home to a wax museum and glass palace.
8. Jal Mahal
A palace in the middle of Man Sagar Lake, Jal Mahal is hard to miss. Its name translates to 'water palace' and is easily ones of the most unique and beautiful palaces in all of Rajasthan. This five-story palace was constructed in the Rajput style of architecture. Interestingly enough, the bottom four floors of this palace remain underwater when the lake is full, with only the top floor exposed.
9. Albert Hall Museum
Functioning as the state museum, the Abert Hall Museum is the oldest in Rajasthan. It was built in the 19th century by Sir Samuel Jacob. Although originally intended to be a town hall, it opened as a museum in 1887 to showcase an impressive collection of artefacts that include paintings, jewellery, ivory, metal sculptures, and even an Egyptian mummy.
10. Galta Ji
Surrounded by mountainous green on all sides, Galta Ji is a series of temples built into a narrow crevice of the Aravalli Hills. The complex is built around a natural spring that flows downwards into seven pools with the main temple made of pink stone. A mere 10 kilometres away from Jaipur, many Hindus make the pilgrimage to this holy site to bathe in one of its seven sacred kunds (water tanks). Galta Ji is the temple of many gods including Lords Brahma, Surya, and Vishnu.
[zf_post_boxes widget_hide_desc="true" num_post="3″ post_id="29603, 29179, 28494″]
Get all the latest travel stories from Zafigo. Follow us on Facebook, Twitter, and Instagram.