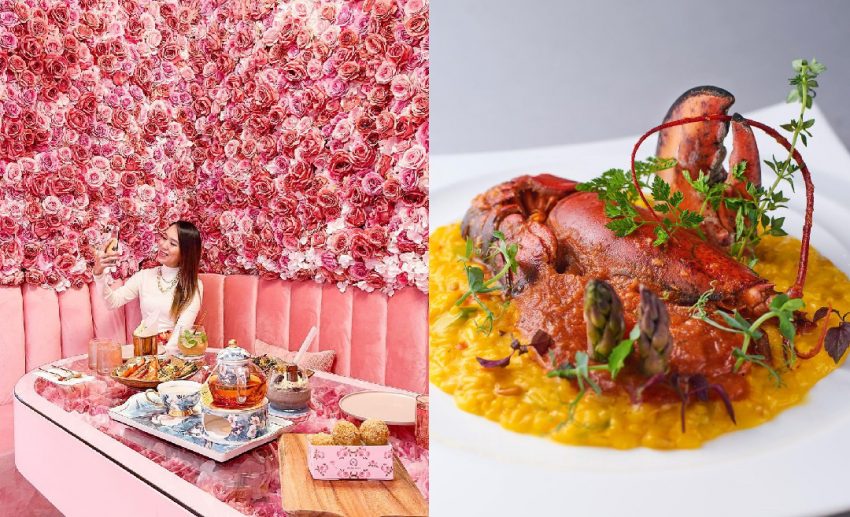 Subscribe to our new

Telegram

channel for the latest updates.
Missed out on your birthday and need to make up for it? Or are you one of the lucky ones who actually managed a birthday celebration in lockdown? Perhaps you've got some delayed celebrating to do. Whatever your reason to go fancy, there are heaps of restaurants in and around Kuala Lumpur (KL) that are so over the top you'll want to head there for no reason at all.
Although, truth be told, you don't really need a reason to go boujie, do you? Having spent so much time dining at home the past few months, we don't blame you if you want to go big or go home. Here are 12 locations to inspire — or influence — your next dine-in decision. Of course, you can count on the food being sublime too. Don't believe us? Feast your eyes before you feast your palate…
Arte By Thomas Chan
Looking for some major Emily in Paris vibes for your next night out or high tea with the girls? Then you're looking at the right place. Imbued with Baroque-style interiors, Arte by Thomas Chan screams 'Paris' with dazzling effect!
Mary Jane
Booth after booth of floor-to-ceiling roses? Yes, please! If you'd like your Instagram to be pretty in pink, then Mary Jane is your best bet. You'll also be able to 'feed' your Instagram some good food — like this delectable French Toast that's stuffed with Nutella and accompanied by banana, coconut cream, and honey.
The Curiosity Iron River
Okay, so while The Curiosity Iron River may not be over the top in the plush and luxurious kind of way, it's pretty extra in the plant and animal department. Expect to find heaps of foliage, chickens scampering about, and the odd bunny or two hopping between tables as you chug down some great craft beer and bites.
Open House
Like stepping into a billionaire's finely-styled kampung house, Open House is a homage to Malaysian tradition of well, keeping their homes open and feeding anyone and everyone. Except, here, the dining is fine and the interiors are even finer.
Yun House
You win some, and then you dim sum. Another house we'd be more than happy to dine at, Yun House at the Four Seasons KL. Delight in traditional Cantonese favourites in a space filled with heaps of natural light, intricately-designed wallpapers, and crystal details — trust that your Sunday dim sum brunches won't get any fancier. Insider tip: the fried eggplant with cereal is TO DIE FOR.
Ruma Puteh
Although minimalist in aesthetic, Ruma Puteh is still OTT in that it has countless IG-worthy photo-taking spots. Because, let's face it, when we choose a pretty place, it's really for the 'Gram. Can we just pause for a second and also appreciate how stunning their archway is? Food-wise, expect local favourites cooked with equal parts expertise and heart.
The Secret Garden
A truly unique dinner joint, The Secret Garden oozes romance with hanging flowers and a ceiling adorned by the sparkle of fairy lights. There's also a large water feature that meanders all throughout the restaurant, and if you're wondering, yes, there are fish in there. The Secret Garden also prides itself with a diverse Western menu that's pork-free.
Ame Soeur
Another one for all you Francophiles, Ame Soeur is a lovely little neighbourhood cafe in Bukit Jalil that envelopes its patrons with vintage charm and a Renaissance feel; right down to the teacups. Meanwhile, the fare isn't limited to French cuisine. Along with buttery pastries and cakes, expect to find heavy hitters like a perfectly-roasted beef wellington on the menu.
Jio, The Roof
Drinks, anyone? Indulge your senses at this mystical jungle in the sky! Jio towers at Level 30 of First Avenue in Bandar Utama, and is a wine bar that gives you spectacular 180o views of the surrounding neighbourhood and city. It happens to be Malaysia's first-ever wine concierge, and you won't be left wanting with their gastronomical offerings that range from full-course meals to tapas.
Hoshun Sushi Kaiseki
Who knew an aesthetic so calm and Zen, could also be so extra? Replete with origami cranes, a stunning wall mural, and a mirror reminiscent of a Japanese moon gate at the end of the bar, Hoshun Sushi Kaiseki keeps things clean and classy while still injecting whimsy to their decor. The food doesn't disappoint either, as their omakase menu delivers perfection every time.
Hoshun also has a special collaboration with Playte, that serves as a marriage between Japanese and contemporary dining, so you can expect to find Wagyu brisket burgers and cold capellini topped with Hokkaido scallop on their end too.
Willow
Not your conventional dining experience, trust the good people of W Kuala Lumpur to take things to another level with Willow. Fashioned with whimsy, you'll be dining under a canopy of bright, beautiful blooms as subtle art deco stylings also imbue the space. As Willow invites you to stop and smell the roses, we suggest you stop and indulge in their fine dining menu that's just as considered as their interiors.
Favola
Take yourself — and your palate — on a trip to Tuscany with a meal at Favola. The restaurant describes itself as an award-winning fine dining homage to classic Italian cuisine. And it's got the interiors to match (you can't go wrong with the feature wall replete with Venetian masquerade masks).

*Note: Temporarily closed. Follow their socials to be the first to know about their reopening.
The Deceased, Jalan Sultan
Slightly scary and pretty macabre, The Deceased in downtown KL would be an interesting place to gather at if dark thematics are more your thing. While the setup is haunting, the food is straight out of hell (ironically still good). Expect to find 'maggots' in your cocktails and the likes of 'ghost hair' fries on the menu. Fun, right? Oh, and if you find yourself at the doors of darkness one day, the key to enter is the most suey code imaginable in Chinese culture.
Hello Kitty Gourmet Cafe, Sunway Pyramid
Step into the saccharine-sweet world of Hello Kitty at Malaysia's first Hello Kitty Gourmet Cafe! One for the kids — or even the overgrown ones who still love themselves some Hello Kitty — this family-friendly restaurant is riddled with pink trimmings, character murals, and a candy-like Parisian vibe. Food-wise, you'll be able to find savoury eats and desserts all fashioned after the iconic character — like Hello Kitty-shaped sandwiches and cakes with that signature pink or red bow.
Editor's note: This article was originally published on 8 October 2021 and has since been updated to include more locations.
Follow Zafigo on Instagram, Facebook, and Twitter. Sign up for our bi-weekly newsletter and get your dose of travel tales, tips, updates, and inspiration to fuel your next adventure!