Staring at a mountain of laundry was the catalyst to this whirlwind, unplanned trip. On a whim I reached for my phone and opened up the Traveloka app — a platform that promises a world of exciting travel at discount prices. My best friend Ewa is ever-ready to travel, and Aenea (my daughter) loves maps and figuring out foreign currency. All I needed was a destination. I looked at the map of Asia and weighed my options. I had to consider the following:
Short flight times as it was only a short four-day weekend.
Cheap and cheerful to visit.
Lots of food options (including halal options for Ewa).
Relatively safe for women and children travellers.
Ding! Ding! Ding! We have a winner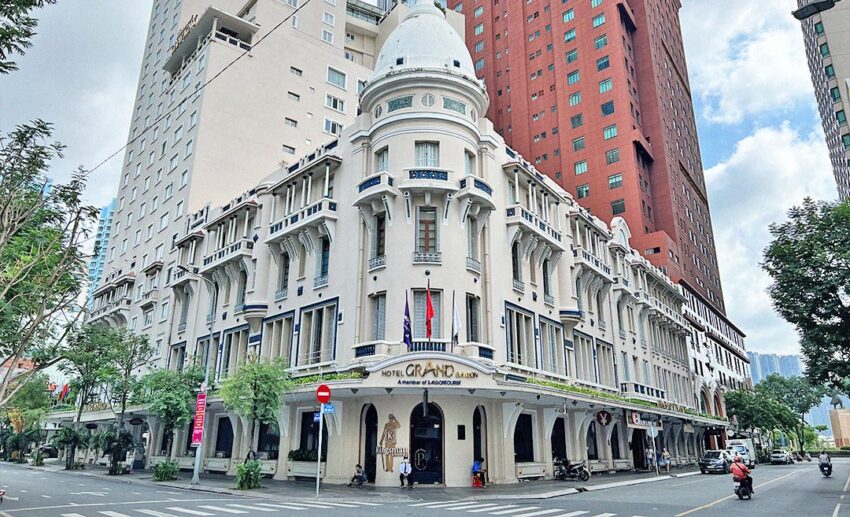 Ho Chi Minh City, formerly known as Saigon, in Vietnam caught my attention, and the Traveloka app provided the best itinerary based on our small budget of RM1,000 per person. Vietnam Airlines operates a two-hour direct flight to Ho Chi Minh City from Kuala Lumpur (KL), which includes 23kg of checked-in baggage (plus 12kg of cabin baggage, what a steal!) and a meal, for just RM480!
Ewa and I looked at the itinerary — midday flight on Friday, in the city by 2pm, no visas required for us Malaysians, (free) arrival snacks at the hotel followed by a stroll in the city at night, two full days of tourist look-see time, followed by an early flight home on Monday morning that would get us back to KL in time to rest for school and work the next day.
The plan sounded crazy, but doable! I dawdled for two more days detailing all the pros and cons of such a spur of the moment, last minute trip:
Cons: The husband didn't want to go, travelling with a tight budget, and a 10-year-old, fear of getting lost, would it turn out to be expensive?
Pros: I can read a map, it's a safe place to visit since so many Malaysians travel there regularly, food is plentiful, and also because us three girls can do anything!
I finally committed to the plan to go on Wednesday morning — a mere two days before the flight! Aenea was overjoyed at the prospect of her favourite Aunty Ewa going with us on a girl's trip — what could possibly go wrong? We were ecstatic! A quick study of the downtown Ho Chi Minh City map helped us decide to stay at the Silverland Yen Hotel in District 1, which is the tourist quarter where most of the attractions are situated.
Jet-set, go!
Friday morning came and we were off! The three of us were still in a state of disbelief as we went through KLIA immigration checkpoints. Our Vietnam Airlines flight was punctual, the plane was clean, the food was delicious, and soon we began our descent into Tan Son Nhat International Airport in Ho Chi Minh City.
We had purchased roaming packages from our respective telcos so we had no problems connecting with data. The Grab app worked wonders here — we managed to get a ride to our hotel for RM21. The first comment Aenea makes is, "Mum, I don't understand a single street sign or storefront sign!"
Day one — first impressions
At first glance, HCMC felt like a dusty, warm, and humid version of a Parisian suburb. Wide boulevards flanked by tree-lined pedestrian pathways, old cafes lining the streets interspersed with juice shops and dark stairwells. Hundreds of mopeds zip along ferrying children, livestock, and bags of vegetables in a strangely accident-free two-wheeled choreography of chaos. Crossing the street the first time was nerve-wracking. We quickly learned that the 'power of the hand' that guides Malaysian pedestrians across the streets back home do not work in Vietnam!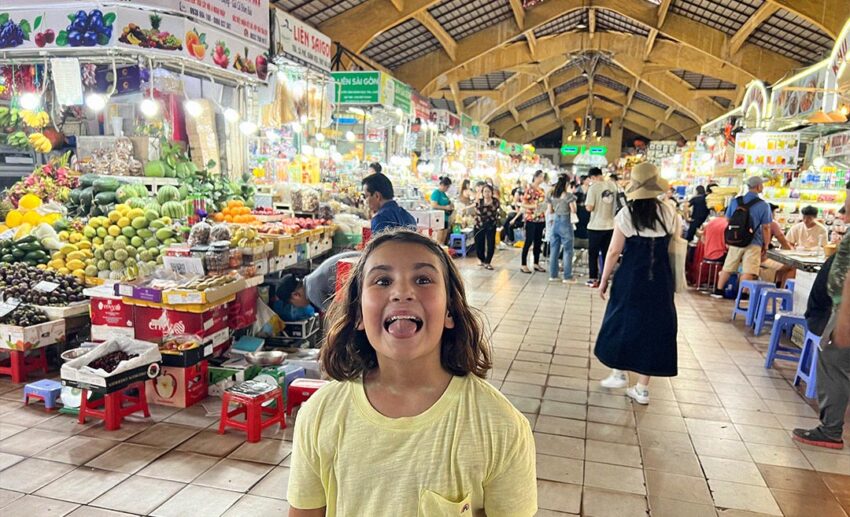 Our first stop after checking into the hotel was the Ben Tanh Market in District 1 of the city. The market is housed in a 100-year-old building with hundreds of shops selling Vietnamese coffee, banh mi, dried fruit, souvenirs, t-shirts, fresh fruit juices, and everything else a tourist in Ho Chi Minh City could ask for. At the far end of the market were shops selling Muslim prayer essentials like tudung and telekung, as well as tailors ever ready to whip up a baju kurung in under two hours. Needless to say, this market is extremely popular with Malaysians, as even the wily Vietnamese vendors spoke Bahasa Malaysia and knew what the Dong to Ringgit exchange rate was (we divided everything by 5000)!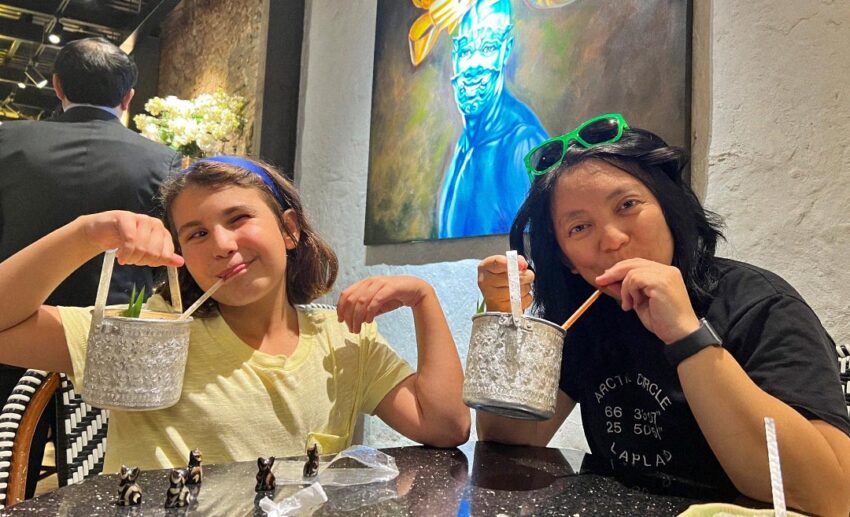 The Asian heatwave was well and truly felt in the city, so multiple juice and tea stops were necessary in order to stay hydrated. Temperatures were a humid 34°C and even in the early evening (the sun set at 6:30pm) it was sticky and warm. Buckets of iced lychee tea in air conditioned Thai restaurants were a welcome respite from the heat haze outside.
The relaxed vibe in the early evening gave way to an exuberant night-time cafe and restaurant scene, with beer bars and pho restaurants jostling for business alongside Indian curry houses and ice cream parlours.
Beauty salons also seemed to do a lot of business at night, offering foot massages and back rubs to weary tourists wanting to rest their tired bodies. We settled for a relaxing foot rub for RM60 each, before we called it a night.
Day two — a day on the town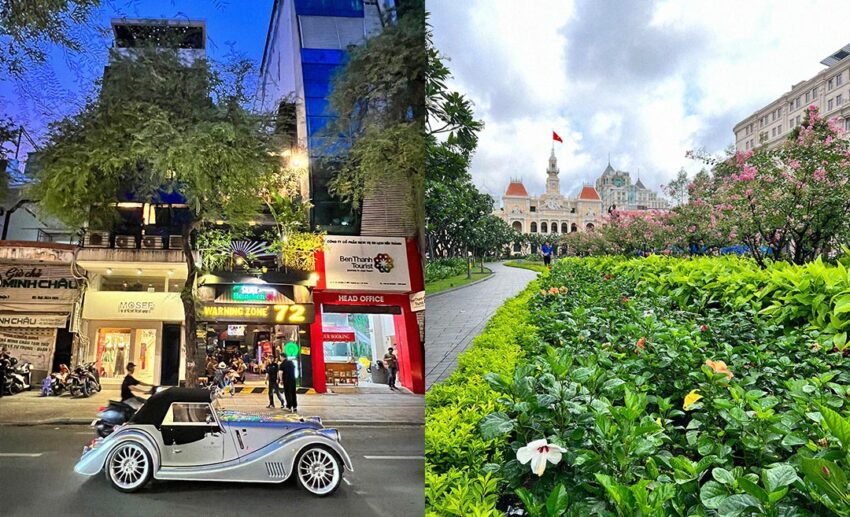 The next morning, we set off on foot to explore District 1 of Ho Chi Minh. This is the heart of the tourist trail, as most of the buildings here were left over from the 19th century when the French were in town. Being intrepid travellers on a tight budget, District 1 was a hit with us because many of the tourist attractions were free to enter.
Wandering around the city allowed us to find weird and wonderful places to have meals at. Our first stop was for breakfast at the Insta-famous Cafe Apartments, a city apartment block where many many little cafes have sprouted to create a vertical restaurant haven. Finding one that was open at 8am was tricky, but we settled on Cafe Good Day for some coffee and views of the sprawling Ho Chi Minh City boulevard. We then made our way through the streets taking in the sights of beautiful French architecture while stopping for Sprite and coconut water at regular intervals. We used Maps.me, a free, handy offline walking map app to navigate the city and made Aenea chief of 'finding food and things'!
We made our way to the Saigon Post Office, which was built in the late 19th century with Renaissance, Gothic, and French influences in its stunning architecture. We wandered into its beautiful interior, flanked both sides at the entrance by tourist souvenir stands, and marvelled at how magnificent the structure was on the inside. This building reminded me of the Paris Gare du Nord station, with its wide arched ceilings and ornate skylights. The atmosphere outside the post office was festive, with drink stands, postcard sellers, and a halal ice cream man. The Notre Dame of Saigon cathedral was right across the road from the post office, but was sadly closed for restoration work during our visit.
We went back to the hotel for a shower before our nighttime event — a traditional Vietnamese water puppet show, priced at VND300,000 VND (roughly RM60). The art of water puppetry was born in the Red River delta 1000 years ago as a way to celebrate the end of the rice harvesting season. The theatre is set to look like the Mekong River delta, where puppeteers commandeer their puppets from behind green blinds as they dance to the retelling of Vietnamese folk tales. The show is entirely in Vietnamese, so we sat in the audience making up our own stories to each of the tales presented. There were fire-spitting dragons, dancing chickens, and a parade of puppet Kings and their entourage, all performing in the water. Overall, it was a pleasant way to end a wonderful day of sightseeing!
Day three — getting the adrenaline pumping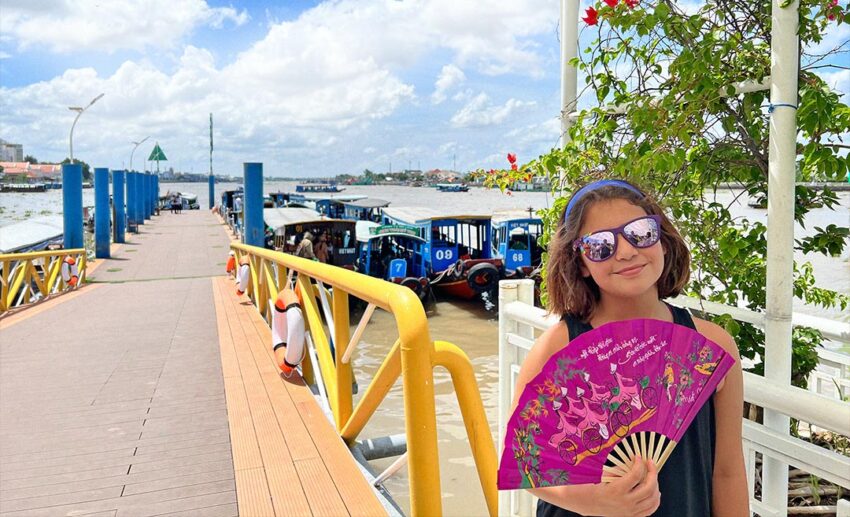 Our last full day in Vietnam was our most adventurous. We booked ourselves a tour to the Mekong Delta with one of the many travel agents in town. It cost RM165 per person for a day-long tour to the delta, allowed us a taste of the Vietnamese countryside. We were picked up at the hotel by our luxury VIP van at 8:15am, and two hours later, we found ourselves at the jetty where our barge awaited to take us to Unicorn Island. It was a bright blue-sky sunny day. Sunglasses and sunscreen were a must.
On the island across the river, boats and ferries jostled for jetty space as hundreds of tourists descended into the local village. The first village we visited had a bee farm that produced local honey. After a delicious sampling of hot honey lime tea, banana crisps, and sugared ginger slices, we moved on to another part of the island on a purple golf buggy.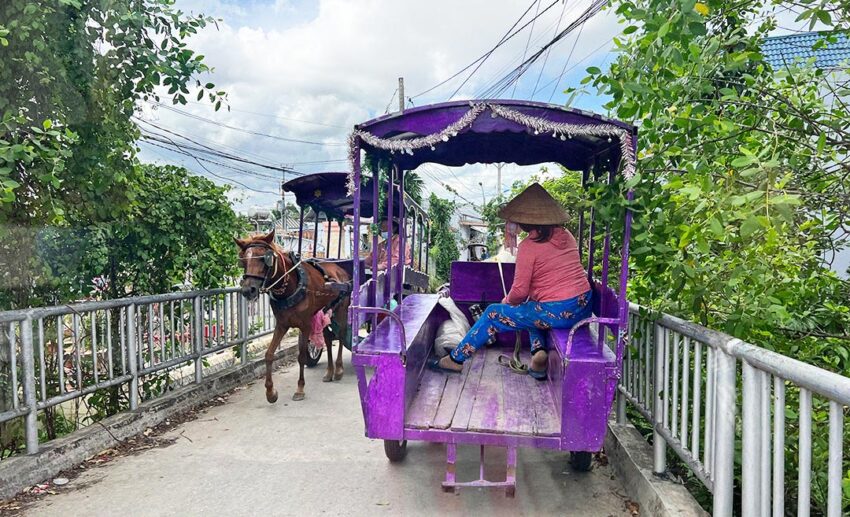 There was a traffic jam on the island as there were hundreds of buggies and horse-drawn carriages on narrow roads ferrying tourists around. The next stop was a tropical fruit farm where a myriad of local fruits were served for our little entourage to enjoy, while listening to the local singers entertain us with lively folk music. We had mangoes, pineapples, guava, papayas, and watermelon along with some chilli salt. It was a delicious pit-stop.
The highlight of the day trip was the boat ride through the mangrove swamp that bisected the island. So very many little boats were lined up at the makeshift jetty to take each tour group to the other side of the island. The boat itself was rickety, the ladies handling the boat were rather demanding for tips, and the traffic jam on the watery highway was a sight rarely seen by us city folk!
Soon, it was time to head back to the main ferry terminal and head to the hotel. Everyone fell asleep promptly in the cool AC of the van, and arrived back at the hotel in the early evening.
Day four — wrapping things up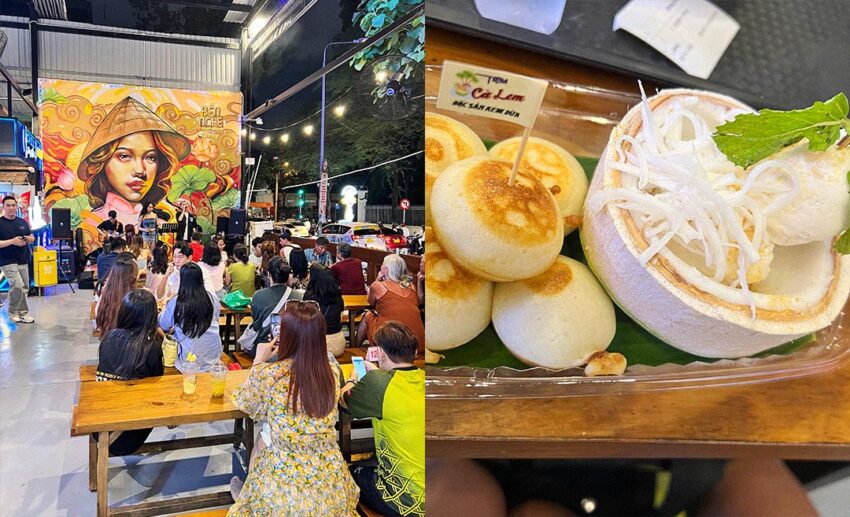 Our trip would not have been complete without one last stop at the Ben Nghe food market that sold the absolute best coconut ice cream and mini pancakes. We ended our trip to Vietnam with some live music and walked back to the hotel, and then called it a night early as we had an 8am flight out of Ho Chi Minh city the next morning. The trip back went smoothly, and we were home in KL by 1pm.
The total cost per person for this trip including flights, accommodation, the luxury tour, food, Grab rides, and some souvenirs came up to roughly RM1,000 per person for a four-day, three-night trip. Not bad at all!
What a wonderful vacation this turned out to be. Aenea and Ewa are already planning the next trip, destination unknown. It really is true when people say that the best laid plans are the ones unplanned!
*All images courtesy of author.