You've probably heard this so many times, but Turkey is simply magnificent. A country that straddles both Europe and Asia, the country's culture is a marriage of Eastern and Western elements. Just look at the country's bustling capital – Istanbul – whose highlights include gothic castles and resplendent mosques.
However, nestled in the semi-arid central region of Turkey is Cappadocia, a beautiful and historical region that's hot on the radar of traveller's in the know. When venturing here for yourself, here are six Cappadocia highlights you simply cannot miss: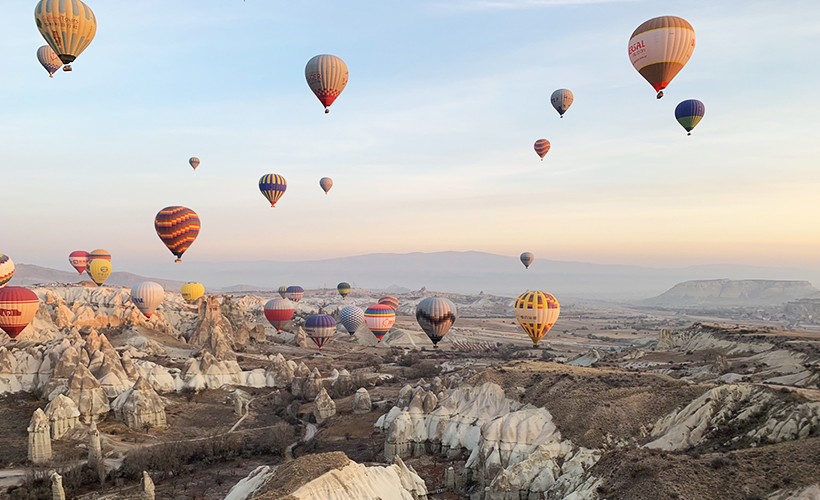 1. Riding high
The most exciting, and easily the most popular highlight of Cappadocia has got to be riding in the hot air balloons. Honestly, there are so many air balloon companies to choose from, with so many different packages available. Even if you don't get to ride one, they all fill up the sky at sunrise, putting on quite a show. That said, you can choose to either catch a ride during either sunrise or sunset, the length of duration of your ride, or even the places you would like to hover over.
Be sure to bring along a camera and a pair of binoculars if you can to properly enjoy witnessing the sun rise over Cappadocia's famous 'fairy chimneys' – tall, cone-shaped rock formations in Monks Valley. It can get cold sometimes when your about 400 metres above ground, so there's no harm in bringing some thick clothing too.
At the end of the balloon ride, most air balloon companies do offer a complimentary glass of champagne, partly to relive the tradition after the world first air balloon flight in France in the 1780s. For my acrophobic friends, you can still enjoy a breath-taking view by heading to one of the many rooftop terraces at the cave hotels found around Cappadocia for breakfast. As mentioned, before you'll still get to enjoy the beautiful scenery of balloons like no other.
2. Exploring the Red Valley
For a dose of adventure, hike along the Red Valley trail. In fact, you can even hire a quad bike and zoom through it; or opt to travel by horseback. However you choose to get to Red Valley, you'll be rewarded with stunning views at the sunset viewpoint. There are a number of trails, and unless you're a seasoned hiker, stick to the moderately easy Meskendir Trail. A hike in Red Valley can take an entire afternoon, so be sure to carry bottles of water and some snacks.
Along the way to the Red Valley, you'll come across unique rock formations with buildings carved into these rocks, which used to house people during ancient times. You'll be surprised to know some of these ancient dwellings are currently on sale! There are also rock-cut churches, now converted to mosques that still function on a weekly basis. You will be amazed at how intricate the designs and paintings are on the wall are.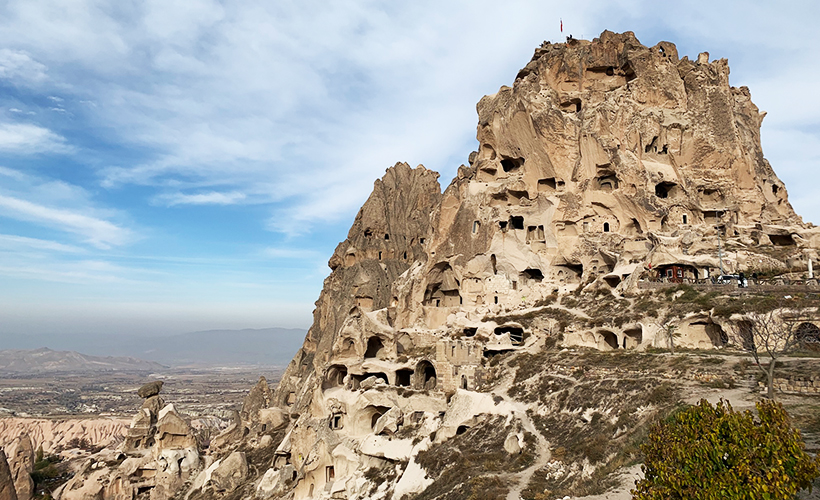 3. History carved in stone
If you enjoy history as I do, head down to Uchisar Castle. This 200-foot tall rock castle's perched atop a rocky spur and was built during the Byzantine era in the 7th century AD. It housed almost 1000 people in its glory days. Uchisar Castle also once had many tunnels and passageways, unfortunately, almost all of them have either collapsed or are impassable.
So what's there left to see? Well, you can actually climb this massif all the way to the top and catch a glimpse of the scenic views that extend far beyond the human eye can see. Take this opportunity to look east towards the valley of dovecotes, formally known as Pigeon Valley. Pigeons, as you will learn when you eventually visit this place, played an important role during ancient times. Droppings from these pigeons served as fertiliser for crops and plants alike. Eggshells were also used in painting most of the wall art that covers important monuments such as citadels and churches.
---
Turkey's unique position gives birth to a culture that reflects both the West and the East:
---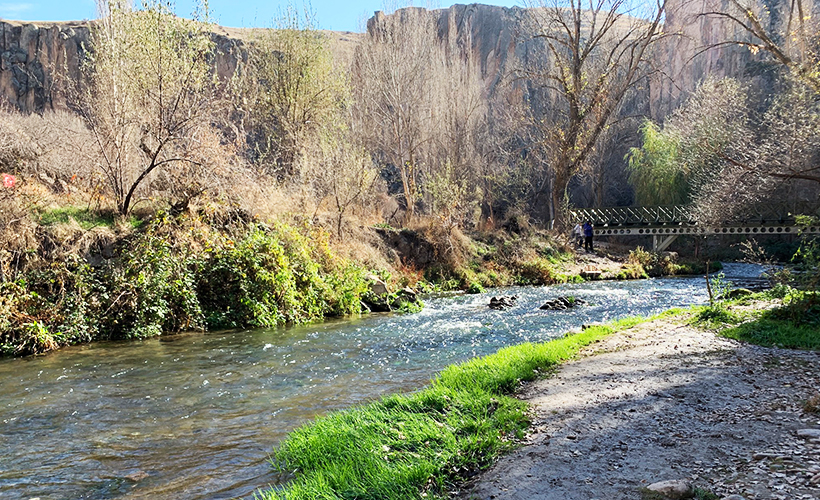 4. Stroll through Ihlara Valley
This little township is worth the day trip. Stroll around Ihlara Valley and you'll come to appreciate nature's beauty that the region has to offer. Ihlara Valley is a canyon about 15 kilometres long and almost 500 feet deep, with the Melendiz Stream running below it. It was formed as a result of volcanic eruptions at Mount Hasan during the 3rd Geological Era. Get to witness the rock-cut architecture as you walk along the river, stumbling along villages along the way, such as the Belisirma and Selime.
There are over 40 rock-cut churches and houses here which were built during ancient times with remedial tools, and yet, the end result is truly jaw-dropping. This valley was used as a hermitage by monks after the 4th century. It was thought that spreading Christianity was difficult due to the low rate of literacy and knowledge of Latin. As a result, many important topics in the Bible and religious accounts were represented via illustrations on the walls of these churches. Built with prayer rooms, altars, and even burial sites, these churches served as an important role during the spread of Christianity during these times. Most of the churches facades still stand, and what a sight it is.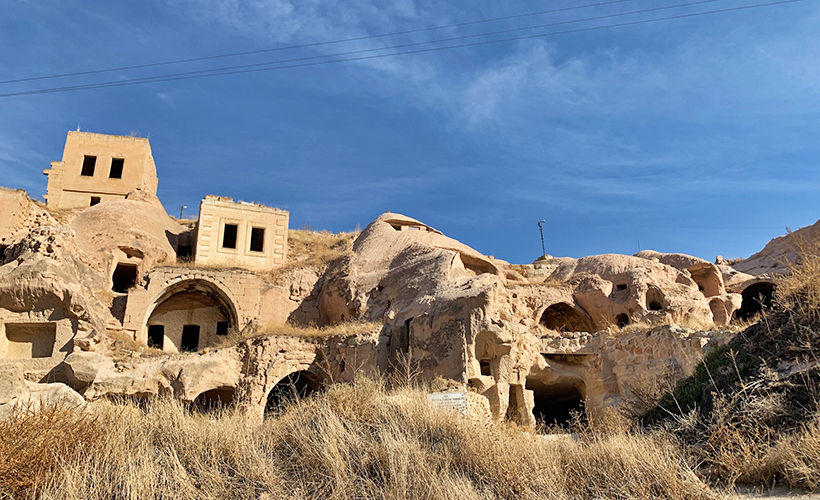 5. Learn about life in ancient times
Just at the very end of the Ihlara valley stands the Selime Monastery, possibly the largest religious structure in all of Cappadocia. Carved into rock, this monastery dates back to the 8th century and is considered one of the region's most culturally and religiously significant sites.
It once served as a church during Byzantine times and doubled as a rest house for weary travellers travelling along the Silk Road. Prior to that, it served as a safe haven for those who were believed to be Pagans and sought refuge here from the persecution of Roman Catholics.
Made mainly from rocks and tuff, it too has several churches with unique architecture as well as paintings depicting the life of Jesus Christ. It also has kitchens, stables for mules, as well as quarters for monks and clergies. You can actually take a tour of this monastery and witness how people used to live in harsh conditions like this during ancient times.
6. Wander around the Göreme Open-Air Museum
While Luxor, Egypt may be considered the world's largest open-air museum, it doesn't quite compare to this. Another monastic complex not to be missed is the Göreme Open-Air Museum. At the end of the 2nd century, there was a large Christian community in Cappadocia, and by the 3rd century, priests had transformed this region into a lively centre of Christian activity. With over a hundred different places to see within this complex, this open-air museum will never fail to impress anyone who has an inclination towards art and history.
You needn't worry if you think you need a tour guide for this, for there are audio guide devices available for rent at the ticket booth. Take a stroll down the cobbled pathway and be marvelled by the sheer number of rock-cut churches, chapels, and monasteries. Be mesmerised by the different carvings and paintings that adorn the walls of the churches and dwellings throughout this UNESCO World Heritage Site
Of all of them though, the most famous attraction here is the Dark Church (which costs a little extra to enter). A fine example best example of negative architecture, simply because it was created by removing then adding, this church was built without any windows, which was also the reason why many of the vivid colours in the church are still well-preserved. The walls in this church are covered with Biblical depictions of the life of Christ. You'll also see that the edifice and frescoes in it are so well-preserved, enabling you to visualise what life would have been like a thousand years ago.
So there you have it – a rather succinct list of the places to visit in Cappadocia. The region's architecture combined with its artistic features can rival some of the top ancient buildings on the world stage. Just go ahead and book a trip to Cappadocia to see it all for yourself; you can thank me later.
*All photos courtesy of the author.
Get all the latest travel stories from Zafigo. Follow us on Facebook, Twitter, and Instagram