If you've read my previous hotel review, you'll know I'm quite the hermit. This time, this said hermit has ventured out of their little cave to explore Club Med Cherating on a Media Reunion trip. Not knowing what to expect, as this was my first time experiencing a Club Med resort, I set out expecting nothing less than excellent customer service and well-maintained facilities. Read on to find out if those expectations were met on this three-day-two-night adventure!
First impressions and the first meal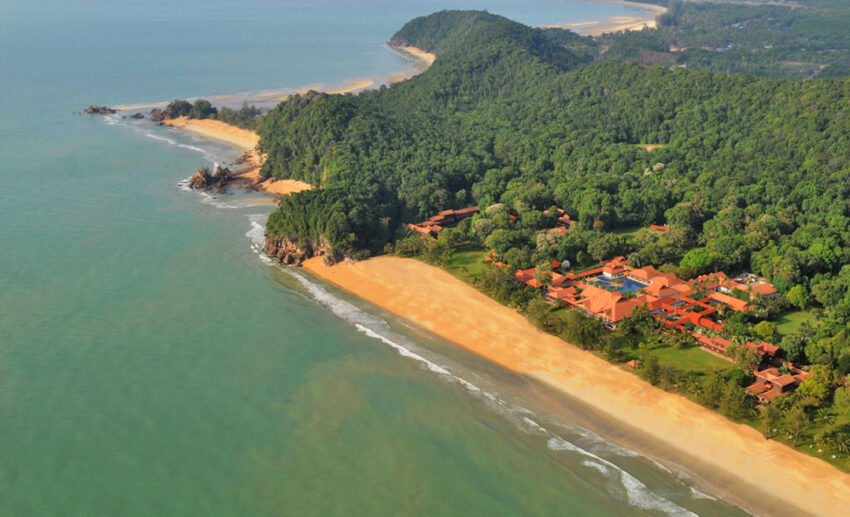 The bus ride took us about four hours, which for me, paired with entertainment, was a breeze. At the resort's main gate, the sight of grass and sand stretching along the coast signified our arrival at Cherating beach. Located in the heart of an 80-hectare forest, Club Med Cherating (CMC) is accessed through a three-minute drive from the main gate, with the lush forest surrounding us on both sides.
As the bus approached the welcome gazebo, the hosts of CMC were waving and welcoming us in their striking yellow polo tees. The alphabets G.O. are sewn onto their right shirt sleeves, which I later learned meant Gentil Organisateur. When translated from French, it means 'Gracious Organiser' — and this applies to all Club Med hosts worldwide!
We were greeted warmly by the GOs and helped with our luggage before being whisked away to lunch which closes at 2pm. The Mutiara, where we'll be having most of our meals, is located near the welcome gazebo in a central location. The interior is locally inspired, with touches of wood and rattan, much like the rest of the resort. There's a terrace seating area overlooking the pool, but beware of the monkeys! More on that later.
I've had my fair share of average-tasting hotel buffets, and I've got to say, Mutiara's buffet meals are above average. As you walk through the buffet corners here, you'll realise you're truly spoiled for choice. A selection of different cuisines awaits you, from Chinese, Malay, Italian, Japanese, Indian, and Korean, to dishes prepared with a French touch.
And to think, this is all-inclusive, for all three main meals throughout your stay! Although, if you ever have a hankering for a late breakfast, late lunch, or late dinner, The Enak restaurant has got you covered. You'll be well fed and hydrated without extra cost here at the CMC, with their full-board feasting and open bars.
Anyway, for lunch, I decided on a plate of pan-fried fish paired with mashed peas, chickpea patty, and long beans, topped with a light cream sauce. Apart from the chickpea patty, which was a little dense and tough, everything else worked well together.
The Club Med brand & resort tour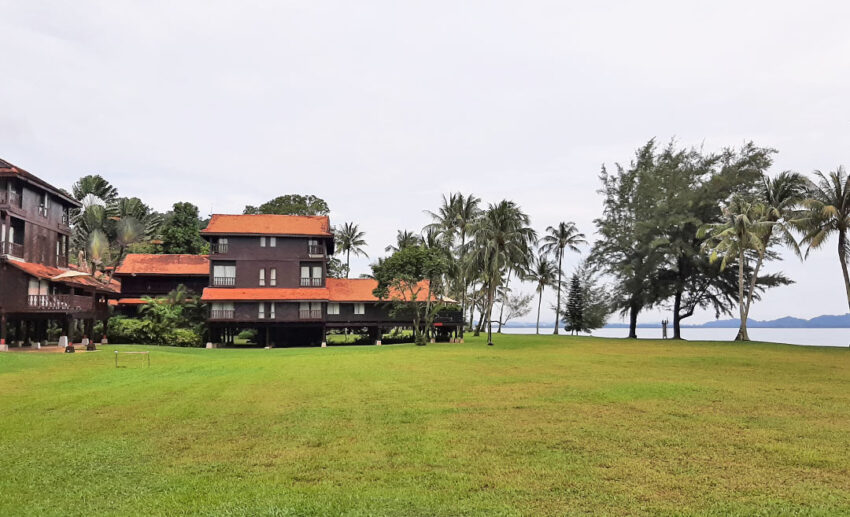 As lunch ended, us media folks were ushered to a conference room, where Mr Olivier Monceau, the new General Manager of Club Med Singapore and Malaysia, and Mr Maxime Debled, Resort General Manager of Club Med Cherating, welcomed us with a Club Med brand immersion session.
We learnt that according to Club Med's recent consumer travel survey, 80% of Malaysian guests choose Club Med Cherating for its all-inclusive vacation concept because of the hassle-free experience. "93% of them want to come back to Club Med resorts after their stay here," says Mr Olivier Monceau. We shall see about that!
He also revealed that Kota Kinabalu, Sabah, will have its first large-scale sustainably-built beach resort in 2024! We were then given a Bucket List Challenge, which alluded to the many activities available to us at the resort.
Enthused, we went on a tour of the resort village facilitated by the GOs. Here's a non-exhaustive list of what's available to you at CMC:
Three restaurants to dine at (The Mutiara, The Enak, and The Rembulan)
Three open bars (The Orchid/Main Bar, The Bayou, and The Zen Bar)
A train shuttle that takes you to Pantai Beach, the southern part of the resort
More than 20 activities for you to discover (sports, water activities, rock climbing, yoga, nature walk, and more.)
Club Med Spa by Mandara
Two pools (Main Pool and Zen Pool)
Four tiers of Kids Clubs catering to different age groups from 0 to 17 years
Room tour & primate alert
After the tour, I went to check out my room. The rooms at CMC are designed in the longhouse architectural style, which looks stunning on the exterior. My room was in block J, a five-minute walk from the reception, but my luggage was already sent to the room earlier, so I was all set on that front.
Do expect some wear and tear in the rooms, as the resort has been around for more than 40 years. Overall it was a comfortable stay, and I only spent the most time in my room at night, while my day was occupied with lots of fun activities. My only grievance would be the hot water for my shower.
Unfortunately, I had cold showers throughout my stay, as there was a boiler issue in my room. Although I reported the problem to reception on my second morning here, it wasn't resolved when I returned to my room in the evening. A maintenance guy looked into the issue and turned the boiler back on, but sadly, even after dinner, there still wasn't hot water. I was due to leave the following day, so regrettably, the issue wasn't resolved during my stay.
Also, beware of the monkeys! Keep your balcony doors closed at all times because if they can enter it, these primates WILL have a party in your room. I saw it with my own eyes as they emptied a plastic bag on the roof of a room with the balcony unlocked. When we arrived, the GOs warned us about it, so do listen to them!
Cocktails, dinner, & party!
Before the sun started setting, we gathered at the Yoga Terrace (yes, you can join daily yoga sessions!) for drinks and canapés before dinner. There were pre-dinner cocktail sessions catered specially for the media folks on our two nights here, and I thoroughly enjoyed getting to know everyone whilst gorging my face with beautifully garnished canapés. (Note: You won't have this if you're here on vacation, but remember, The Orchid Bar/Main Bar is open all day long for you!)
Dinner was, again, an amazing buffet spread. I decided to give the lamb roast a go, and oof, it was divine. By the way, GOs may ask to have dinner with you, and it's a great way to make new friends. The media team, of course, had a special guest at our table. Mr Olivier was a pleasure to chat with, as he shared stories about Club Med and his experience in Malaysia so far.
Club Med folks know how to have fun, and it shows every night! When the sun sets, the GO team puts on a series of performances, from dancing to trapezing to circus acts. We were seated in the theatre for The Reef Show, and it felt like my stay here at CMC had finally begun.
After the show, we were guided to the main stage for the Crazy Sign Party. GOs and Club Med staff danced the Crazy Sign Dance on stage while everyone mimicked their moves on the dance floor. This usually signifies the night culminating, but if you think the night is still young, you're welcome to party till you drop!
Day 2 shenanigans: Turtles, nature walk, & rock climbing
Time for second-day shenanigans! I won't bore you with my breakfast and lunch details because today is all about having fun. We started the morning with the Turtle Conservation Society (TCS) in the theatre. I learnt an important lesson from Dr Chen Pelf Nyok, the co-founder and Executive Director of TCS, which I feel compelled to share.
Do you remember seeing those cute turtles with red stripes next to their eyes in pet shops? These terrapins are called red-eared sliders and are not native to Malaysia. Although they may make cute pets, they're a highly invasive turtle species. This means that if you were to put them in a pond or body of water, these red-eared sliders will compete aggressively (with their long claws) for food and other resources, giving our native turtles a very slim chance of survival. So, if you already have one as a pet, never release them into the wild! Read more here.
We also made some soaps in an effort to cultivate low-waste habits!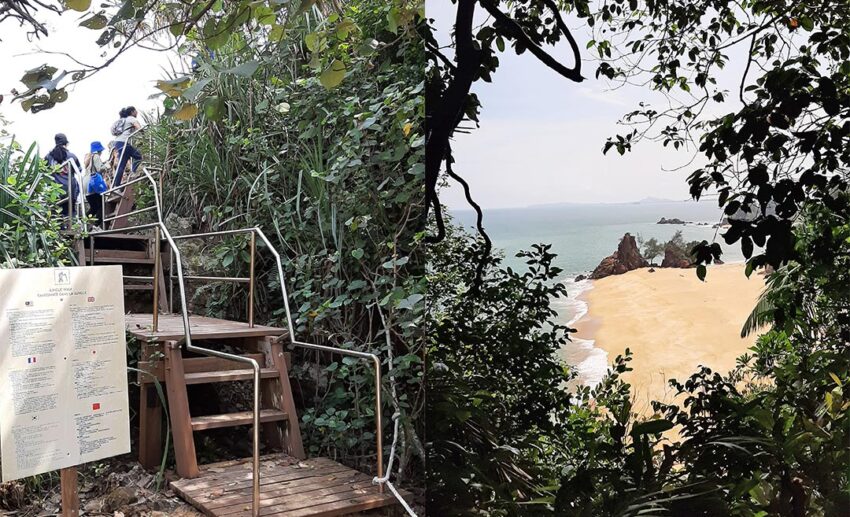 I had a light lunch as I was anticipating a medium-intensity afternoon filled with jungle and beach activities. We were given free rein for the afternoon, so along with my newfound media friends, we headed off on our first adventure, the Nature Walk. Typically, GOs will guide you through the trail at 3:30pm daily, but the hike is marked with ropes and barriers along the way, so we decided to take it on ourselves!
The hike was steep in some parts, but not the kind of steep where you'll need a stick or something to grab on. Most of the trail was easy-going and beginner-friendly, with a few spots offering breathtaking views of the beach. If you love hiking and the smell of fresh air, you have to try this. The trail begins at Main Beach and ends at Pantai Beach, where we'll spend the rest of the afternoon.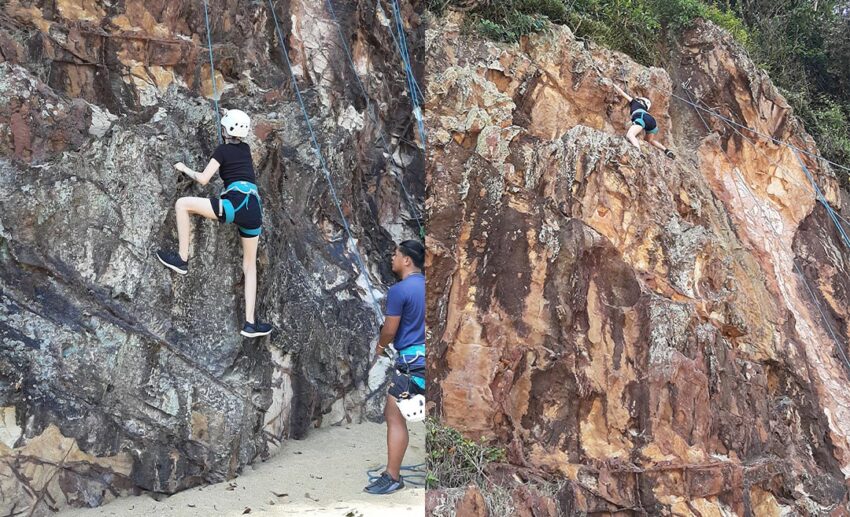 Next up was rock climbing! No, this isn't your standard bouldering or indoor rock climbing gym. We'll be climbing an actual rock formation by the beach. Although it may seem daunting, you've got to trust that the GOs at the rock climbing station will have your back. The GOs helped us into our safety gear and gave us a safety briefing before the climb.
The climb was absolutely exhilarating! The GO guiding me helped every step of the way (literally), and I couldn't believe it when I made it to the top. For the adventurous, you have to give this a try. Listen to your GO's advice, and you'll be fine.
Dinner at The Rembulan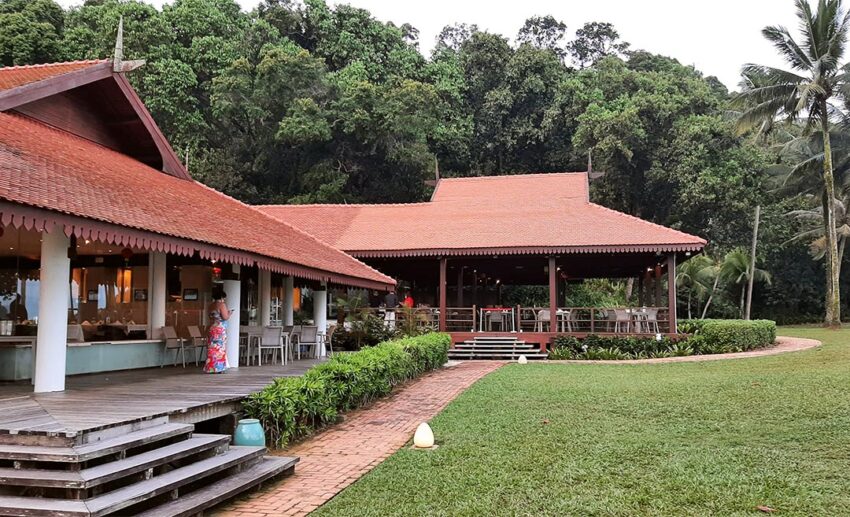 After all that sweating, it was time to freshen up and indulge at dinner! Tonight, we'll be dining at The Rembulan instead. Reservations are required for dinner here, where you'll be ordering from an a la carte menu.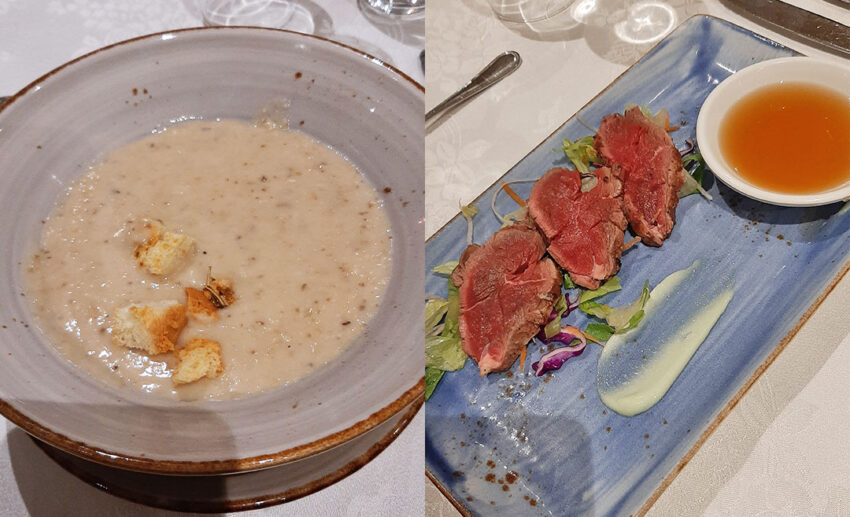 Our dining experience started with a soup of the day, which was a Creamy Wild Mushroom Soup served with crunchy herbs crouton. This was good — a simple, creamy soup. There was a selection of three starters, and I went with the Traditional Cut Beef Tataki, served with curly, crunchy vegetables and a soy ponzu sauce. I didn't particularly enjoy this, as the beef was chewy. Other folks who ordered the Salmon and Tuna Sashimi starter seemed to enjoy themselves.
For the main course, out of a selection of three, I had the Seafood Tagliatelle. This was, unfortunately, under-seasoned. However, my counterparts who ordered the Grilled Beef Tenderloin served with potato pave and miso brown butter sauce gave it high praise. Out of four, I gave the BOH Earl Grey Creme Brulee with Spiced Poached Pear a go for dessert. The spiced poached pear added a nice touch, but the creme brûlée lacked depth.
Lion dance & nostalgia
As the evening draws to a close, nightlife begins at Club Med Cherating. When we arrived at the resort's central area, a lion dance performance had already begun. The troupe performed a spectacular show, garnering cheers with every skilful jump and playful head tilt. Just when the performance ended, and I thought the night was over, I turned around to realise the entire central area had become a traditional games arena.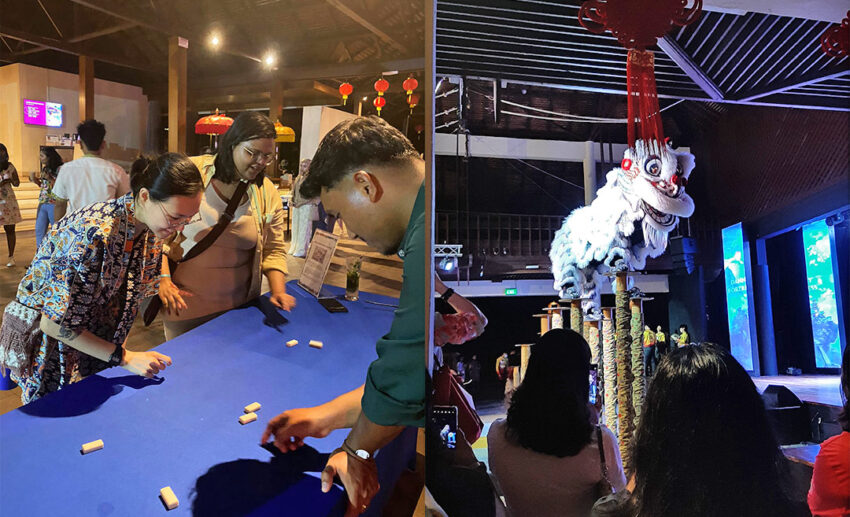 Walking through the set-up, you can see people playing batu Seremban, mahjong, trying out Chinese calligraphy, congkak, ketupat weaving, folks dancing the magunatip (Sabah traditional bamboo dance), henna stations, and even the nostalgic eraser fight! Of course, I had to participate in the eraser fight, and I won! It was a spectacle to behold, seeing people from all walks of life coming together, playing games, and enjoying local activities.
Batik painting & saying goodbye
Before leaving the resort, I wanted to do something relaxing. I opted for a batik painting session at the creative workshop. This is an on-demand activity, which isn't included in the all-inclusive cost of your stay. Ayam, the guy who runs the workshop, is a jovial character who will guide you if you're unsure where to begin. It was a relaxing experience for me, and I cherish the piece of artwork I made.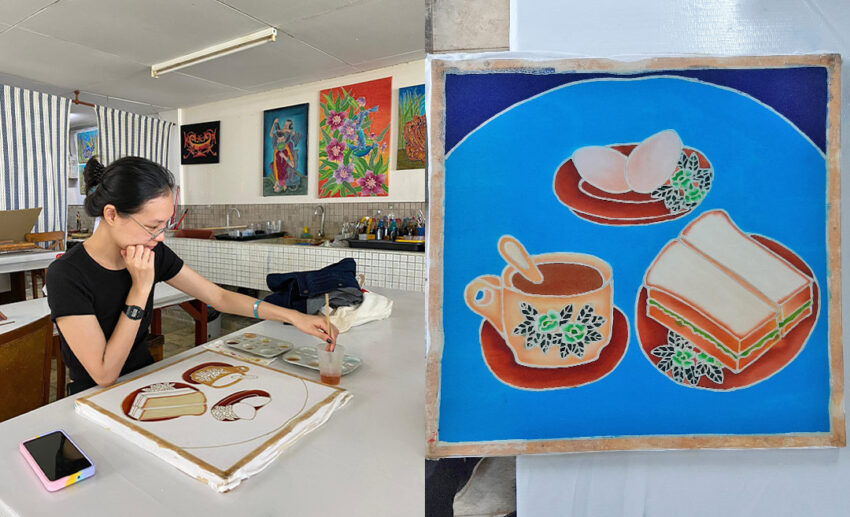 After lunch, our luggage was brought to the welcome gazebo, and we waited for our bus to arrive. The GOs gave us snack packs for the road, and like the way we came, they waved us goodbye in their matching coloured polo tees.
It felt like we were leaving this village of people behind, the ones who were like family during our stay here. Will I be returning? Yes. But I'll be checking on the hot water situation first! Jokes aside, if you're looking for luxury, this is not the property. But, if you're looking for a happy place filled with fun, sun, and lots of activities, and must I reiterate, all-inclusive, give Club Med Cherating a go.
Address: Hvom 29th miles Jalan Kuantan – Kemaman Pahang Darul Makmur, Jalan Kuantan Sungai Lembing, 26080 Kuantan, Pahang
Contact: +609 581 9133
*All images by author unless stated otherwise.