In recent years, omakase dining has become increasingly popular in Malaysia, and the whole experience is ideal for a romantic date or special night out. But just what is omakase? The term omakase means "I'll leave it up to you," which is basically not ordering from the menu (okonomi) and entrusting the chef to surprise you with specially curated specialities that are often seasonal.
Most of the time, true fans of Japanese cuisine savour seasonal produce that many may not have come across before. And in Kuala Lumpur (KL), you're spoiled for choice with several top Japanese omakase restaurants scattered in and around the city.
To make things easier, and help you decide for the next time you're craving a rich Japanese dining experience, we've narrowed it down to 10 – ranging from relatively cheap (in terms of omakase pricing) to very expensive.
While the omakase dining experience is usually not a cheap affair, because of all that sashimi, sushi, meat cuts, and more, it's worth being on your bucket list to try at least once in your life.
Price Range: $
1. Sou Omakase Dining, Kuala Lumpur
Part of KL's Yuzu family of mall-based restaurants, Sou Omakase Dining specialises exclusively in the art of omakase, as there is no a la carte menu.
Patrons of this restaurant entrust their dining experience to Yokohama-born executive Chef Fukuchi and his team to prepare set lunches and dinners that bring you through a complete journey through Japanese cooking.
We love Sou because omakase dining is reasonably priced: lunch starts from RM158 for a five-course meal, while dinner is priced at RM308 for six courses.
Address: Lot G247, Ground Floor, The Gardens, Mid Valley City, Lingkaran Syed Putra, 59200 Kuala Lumpur
Operating hours: Daily, 11:30 am to 2.30pm & 6pm to 9:30pm
Price Range: $$
2. Hagi Japanese Cuisine, Kuala Lumpur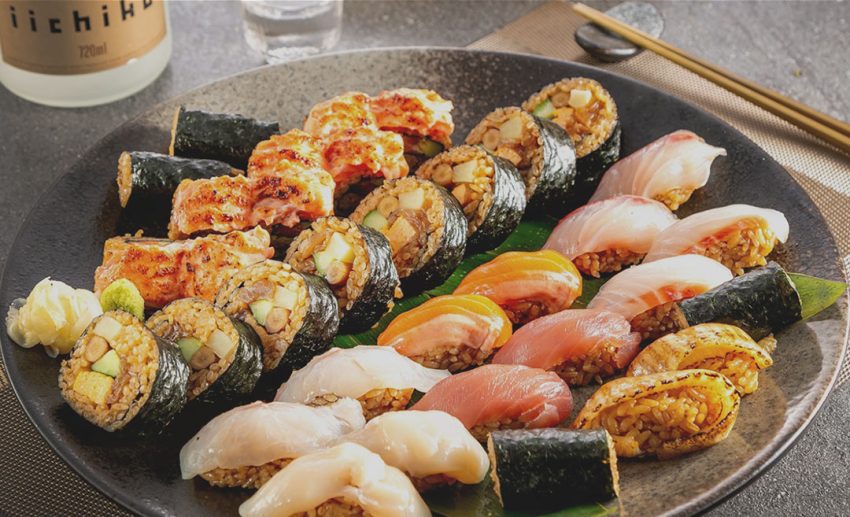 Hagi is named after the Japanese fall flower, snd aims to evoke the essence of traditional Japanese dining, emphasising the freshness that comes from every cut served.
Every dish in Hagi is curated by the Head Chef, who has over a decade of Japanese culinary craft experience. The lunch menu is priced at RM200 and includes a seasonal appetiser, chawanmushi (savoury Japanese egg custard), a seven-pieced chef's selection of nigiri sushi, soup of the day, and homemade dessert.
All we can say is, what a steal! By omakase standards, at least.
Address: 18, Lorong Datuk Sulaiman 1, Taman Tun Dr Ismail, 60000 Kuala Lumpur
Operating hours: Tuesday to Sunday, 12pm to 3pm & 6pm to 10pm; Closed on Mondays
3. Hanaya Japanese Dining, Kuala Lumpur
Located in the prestigious Grand Millennium Kuala Lumpur, Hanaya Japanese Dining is one of the longest-standing Japanese restaurants in the city. The restaurant is headed by Chef Hinonari Ooba, known for his unique story-telling presentation of sushi and respect for traditional Japanese fare.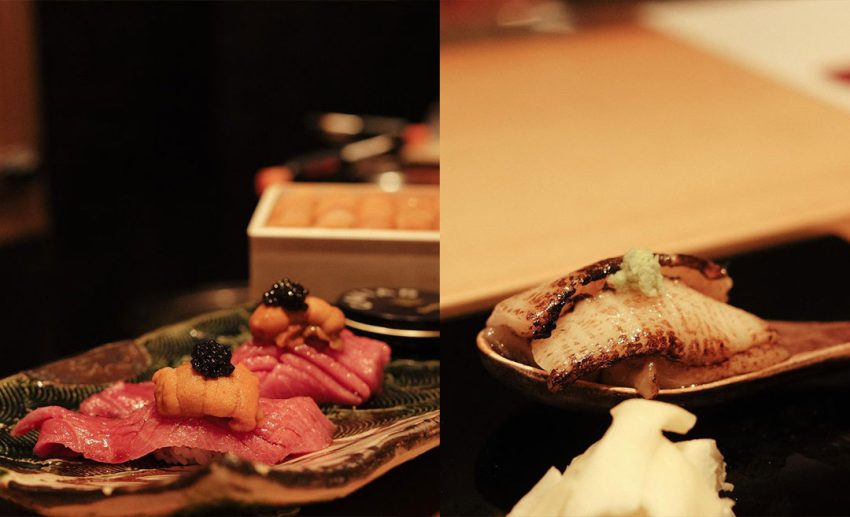 The restaurant's omakase experience is highlighted by its trademark omotenashi – meaning the art of selfless hospitality. A light course of omakase costs RM330, while an entire course requires just another RM60 top-up. Prepare to indulge yourself!
Address: Lobby Floor, Grand Millennium Kuala Lumpur, 160 Jalan Bukit Bintang, 55100 Kuala Lumpur
Operating hours: Tuesday to Sunday, 11:30 am to 8pm; Closed on Mondays
Price Range: $$$
4. Sushi Azabu, Kuala Lumpur
Sushi Azabu is the Malaysian branch of the world-renowned Michelin-starred Sushi Azabu in New York City. Located within ISETAN at the Japan Store in LOT 10, Sushi Azabu is under the helm of Chef Toshihide Terado, who has been praised for his commitment to authenticity through precision and masterful finesse in the art of sushi.
Seafood is flown directly from Japan twice a week, and the restaurant is also famed for using Akitakomachi rice from the Akita prefecture in Northern Japan. Omakase courses here begin at RM210 (a six-course meal) and are available for lunch or dinner.
Address: Lot 10 Shopping Centre, 50 Jalan Sultan Ismail, 50250 Kuala Lumpur
Operating hours: Tuesday to Sunday, 12pm to 3pm & 6pm to 10pm
5. Sushi Ten Omakase, Petaling Jaya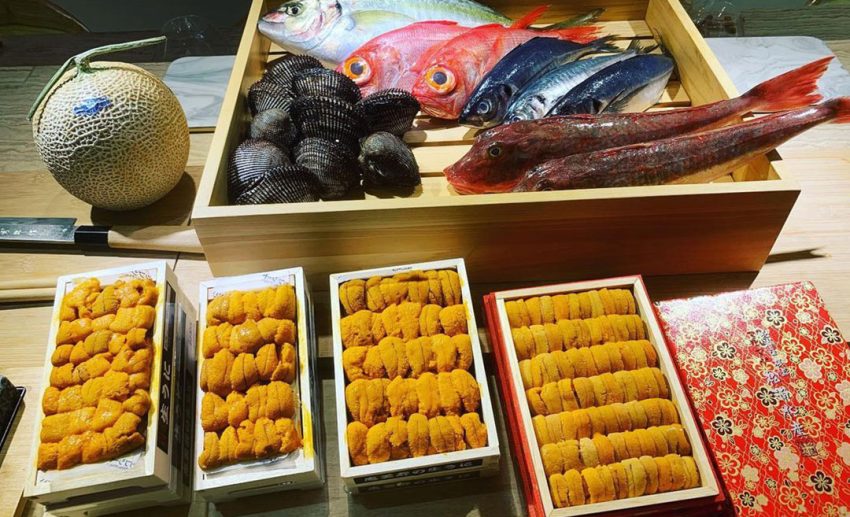 Sushi Ten Omakase uses only the finest and freshest seasonal ingredients, specialising in omakase dining, which sources fresh seafood from Japan every week. The menu evolves from month to month so that customers can expect different courses of speciality sushi.
The preset omakase menu starts from RM298 for a whopping nine-course meal, and diners can also have the freedom to let the chef know how much they would like to spend and leave it to him to create a tasting menu for you!
Address: G-89I, Tower H, No.8 Jalan Damansara, PJU8, Empire City, 47820 Petaling Jaya, Selangor
Operating hours: Daily, 11am to 9:30pm
6. Okaju, Starhill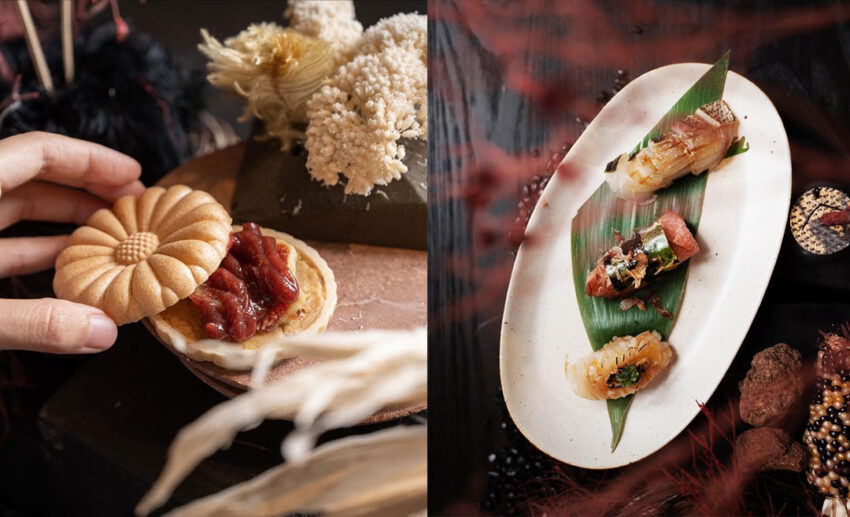 A fairly new kid on the block, Okaju first opened its doors mid last year, and the seasonally-driven omakase doesn't disappoint. That said, expect plot twists to your menu, as the chef serves up traditional Japanese fare with hints of local flavour and the stylings of French flair. Confused? Well, it takes dining here to get it — it's really unlike any other omakase we've had before.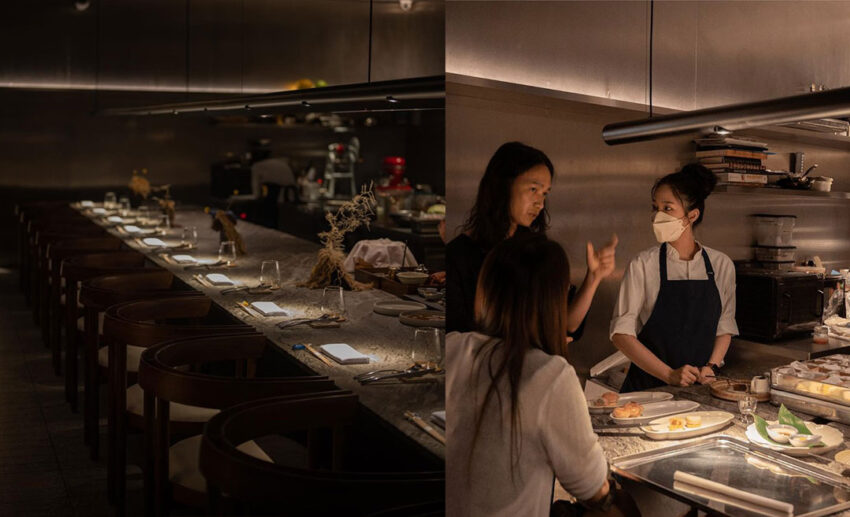 Dinner here, priced reasonably at roughly RM500 per head (not including drinks), is a delight from start to finish, using the freshest ingredients locally and abroad. The standouts for us? The Japanese snapper prepared with ulam curry leaf oil and the ultra-cheesy koji soufflé. Decadent!
Address: G30&G31, Ground Floor, Starhill Gallery, 181, Jalan Bukit Bintang, 55100 Kuala Lumpur
Contact: +6012-419 3090
Operating hours: Daily, 12pm to 2pm & 6pm to 10pm
7. Sushi Oribe, Kuala Lumpur
As the only restaurant in Malaysia appointed Japanese Cuisine Goodwill Ambassador by the Japanese government, Sushi Oribe is a cosy, laid-back restaurant opened in 2014 by Master Chef Hideaki Oritsuki. Among the dishes, you'll get a chance to savour, including Hokkaido uni, Hiroshima oysters, plus other delicacies, depending on the seasonalities in Japan.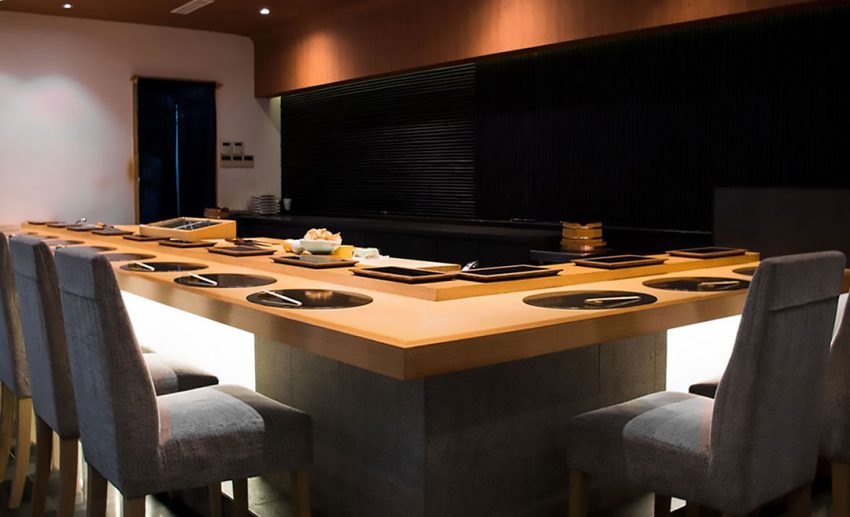 Unlike most other omakase restaurants, their seafood is sourced from Osaka and Kyushu Island. The omakase courses start from RM380 per pax, and you can even opt for a unique course if you're keen on being served only special seasonal plates of higher quality!
Address: Vipod Residences, Ground Floor, Block C-1, 6 Jalan Kia Peng, 50450 Kuala Lumpur
Operating hours: Tuesday to Sunday, 12pm to 3pm & 6pm to 10pm; Closed on Mondays
Price Range: $$$$
8. Sushi Ryu, Kuala Lumpur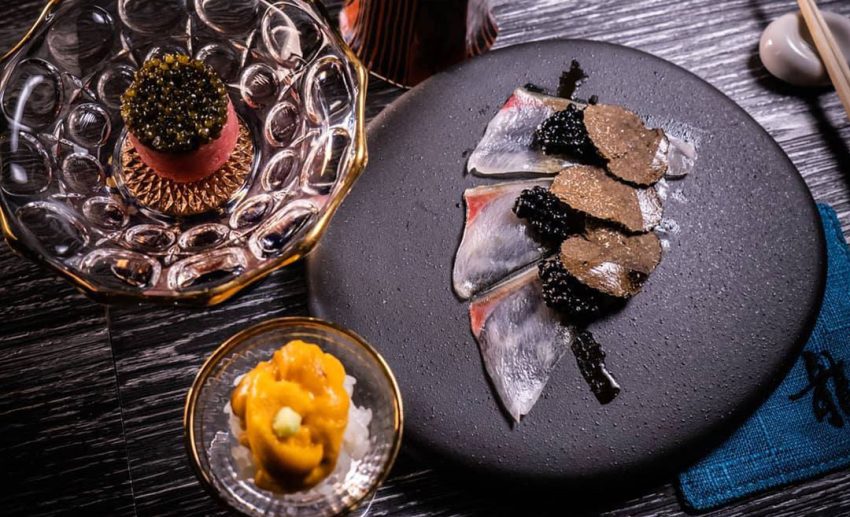 Sushi Ryu's omakase set may just hit the spot if you want to try something more adventurous apart from the traditional omakase. The chef blends some fusion elements in their dishes: chopped otoro with caviar, white fish sashimi drizzled with truffled soy, and cold noodles with uni and caviar, all of which have never before been seen in KL.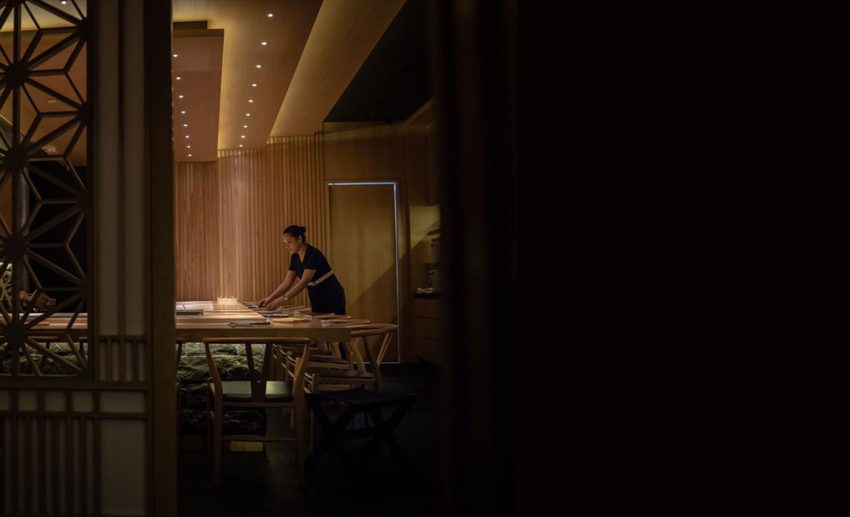 Omakase courses are priced in the mid to high range from RM279 per pax for lunch, while dinner will set you back RM579.
Address: Platinum Park, Persiaran KLCC, Kuala Lumpur City Centre, 50088 Kuala Lumpur
Operating hours: Daily, 12pm to 3pm & 6pm to 10pm
9. Umi Omakase, Kuala Lumpur
The name Umi translates to 'ocean' in Japanese, encapsulating the restaurant's vision and promise to deliver paramount freshness and quality in each bite. With 31 years of experience in Japanese omakase, Chef Shiga is a well-known omakase chef who is regularly invited to other Asian countries to coach the art of this particular cuisine.
At Umi Omakase, the dining experience consists of fresh ingredients flown from Japan and incorporates a relaxing zen-inspired space where you can immerse yourself in the moment. Omakase set lunches start from RM280 for mainly five pieces of nigiri sushi, while set dinners start from RM680 and includes nigiri sushi and donburi (rice bowls topped with sashimi or other meat).
Address: G Floor, Tower 11, Avenue 5, Bangsar South, 8 Jalan Kerinchi, 59200 Kuala Lumpur
Operating hours: Tuesday to Sunday, 12pm to 3 pm, 6pm – 10:30pm; Closed on Mondays
10. Sushi Mew, Bukit Bintang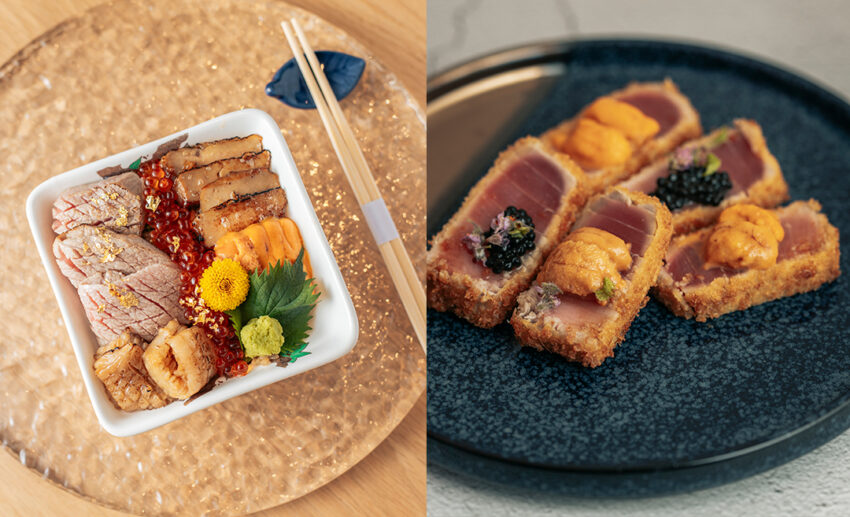 Amongst KL's newest omakase haunts (and there have been quite a few opening up in the last few months), Sushi Mew is unique in that it's a franchise with an international presence in Hong Kong and Singapore. Whichever Sushi Mew you visit, you can bet on indulging in a revolutionary fusion of classic and modern Japanese haute cuisine.
There were many surprises along the way throughout our dining experience, but our favourite stop throughout the journey of umami was when Chef 'burned' the 'unwanted' tuna belly fat allowing the melted fat to cascade over an otoro nigiri (tuna belly) for a mind-blowing fat-on-fat experience. Anyone can tell you that fat is flavour, and this single course is a flavour bomb in every sense of the word.
Of course, other courses excited the palate with perfectly sliced and tantalising rounds of cooked and raw dishes. The sweetness of the amaebi sashimi (prawn) is also a standout, as are the more indulgent courses, such as the marriage between caviar, uni, and wagyu — the triumvirate of culinary luxury. Oh wait — there was a foie gras course too! The decadence is on full steam ahead at Sushi Mew.
In terms of pricing, Sushi Mew covers both ends of the spectrum with two affordable set lunches to choose from and three dinner menus. If you can, go for the Mew (RM800 per head and seven days pre-order) to get the full experience. However, if you can't, the Yu (RM488 per head) won't leave you wanting; and you'll still get that amazing fat-on-fat morsel of deliciousness.
Address: 199, The Westin KL, Jalan Bukit Bintang, 55100 Kuala Lumpur
Contact: +6010-303 1133
Operating hours: Daily, 12pm to 2pm & 6pm to 10pm
11. Sushi Yoshi, Kuala Lumpur
Located in LaLaport Bukit Bintang, Sushi Yoshi is KL's most distinctive new destination for omakase, where patrons can embark on the most unforgettable journey to the best Japanese culinary delights.
Sushi Yoshi serves various multi-course menus, combining the freshest and best quality ingredients such as uni, truffle, foie gras, Matsusaka beef, and more. The lunch menu starts at RM298 and goes up to RM498, which includes an appetiser, seasonal sashimi, seasonal dish, a steamed dish, seven pieces of nigiri sushi, soup, and dessert.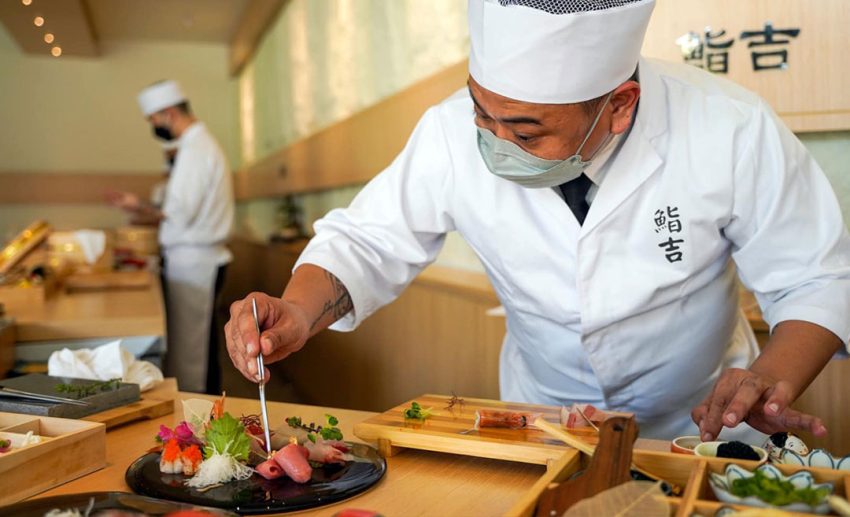 Meanwhile, the dinner omakase ranges from RM398 and can go up to a staggering RM998 for the Omakase Michi. But, if you really feel like splurging, go for the Omakase Takumi — a special menu that requires at least five to six days of advanced booking. Oh, and it'll set you back RM1298 per person.
Address: G01 & G02, Lalaport Bukit Bintang City Center, 2 Jalan Hang Tuah, 55100 Kuala Lumpur
Operating hours: Daily, 11pm to 3pm & 6pm to 10pm
Price Range: $$$$$
12. Taka By Sushi Saito, Kuala Lumpur
Famously brought to you by Tokyo's youngest sushi chef to be awarded three Michelin stars, Takashi Saito, Taka is one of KL's most premium Japanese omakase restaurants.
Here, you'll experience a once-in-a-lifetime dining experience in an intimate setting at the 300-year-old Hinoki wood 16-seater counter, while being served sushi using the finest and freshest seasonal ingredients flown in from Japan. All chefs have also been trained personally by Chef Takashi.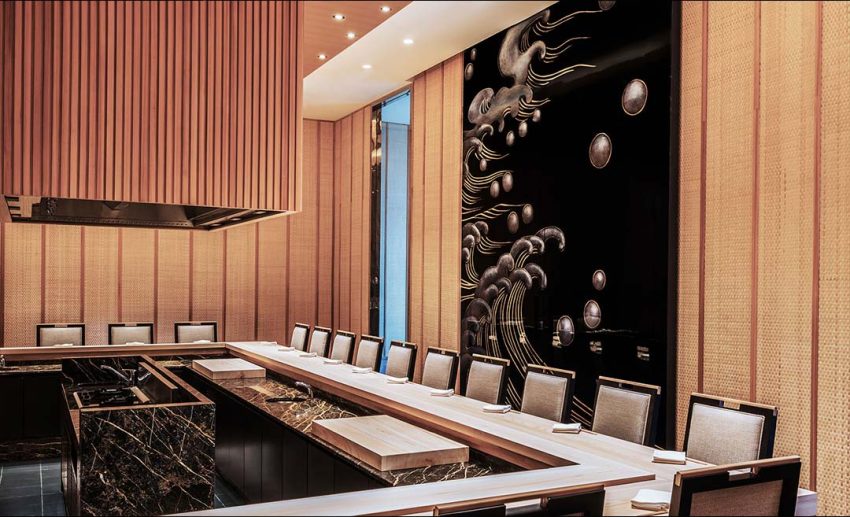 The price for the omakase courses at Taka is definitely on the higher end starting from RM900 per pax for dinner. The dinner menu peaks at RM1400 per person for the Taka Omakase that highlights only the most premium ingredients and is inclusive of six appetisers, one grilled fish, 10 sushi, and a sushi roll.
The omakase dining experience comes with the option of sake pairing for a genuinely authentic Japanese fine dining experience. Chin-chin!
Address: Level 3A, The St. Regis Kuala Lumpur, Jalan Stesen Sentral 2, Kuala Lumpur Sentral, 50470 Kuala Lumpur
Operating hours: Daily, 12pm to 2:30pm & 6:30pm to 9:30pm