Tropical jungle, wild monkeys, beautiful sandy beaches, enthusiastic GOs (Gentil Organisateur) are just some of the things you can look forward to at Club Med Cherating in Kuantan, about 3.5 hours' drive from Kuala Lumpur. This Malaysian edition of the world-famous vacation club has consistently delivered what holiday-goers, particularly city folks, seek: An escape from the hustle and bustle of urban living, and a chance to slip into tranquility while feeding one's sense of adventure. I signed up for a quick getaway last month, and here's my day-to-day account.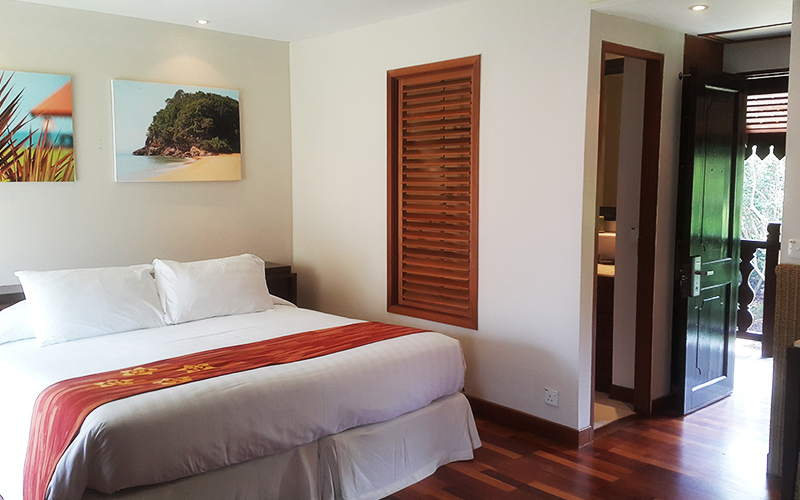 Day 1: Hello, home!
First impressions
As our transfer entered the driveway, I could see a group of smiling GOs waiting for us at the entrance, waving enthusiastically to welcome our arrival. We sipped welcomed drinks while they checked us in, and were whisked off to our rooms to freshen up.
I stayed in the Club Room, which had a beautiful sea view. The room is not very big but I didn't mind as most of the time, I would be out of it, participating in various activities and enjoying the facilities. The room and en suite bathroom are quite well equipped – although you have to request for dental kits should you need them. If you're travelling in a group, you can request for connecting units.
There are 297 rooms altogether, spread out over 15 three-storey buildings constructed of luxurious teak wood and boasting local architectural styles. Depending on where your room is located, it can be quite a walk to the rest of the property – or what they refer to as the Village. At night, it can be quite creepy walking back to the room on your own as the paths are dimly lit.
As the Club is surrounded by forest, you will often cross paths with a diversity of wildlife including birds, tree shrews, monitor lizards, and monkeys – we were advised to always keep our windows and doors shut to prevent monkeys from entering and ransacking the room for food! There's also a cave inhabited by bats at Pantai Beach, which I planned to explore the next day.
Food and drinks fit for a King
For now, let's get lunch out of the way first. I was happy to see a wide array of international food, and some dishes were plated fine-dining style so they were very appetizing to look at. I also liked that there was a long salad bar with various ingredients and dressings that let me create various mixes. Most buffet salad spreads are quite limited so this was a refreshing offering.
They also serve snacks in between lunch and dinner time so there's no chance of going hungry. Or thirsty – the bar serves free flow of both alcoholic and non-alcoholic drinks. You can get your fill of beer, wine, juices, cocktails and mocktails. Note that the cocktails have very little amount of alcohol so you're better off choosing the beer or wine.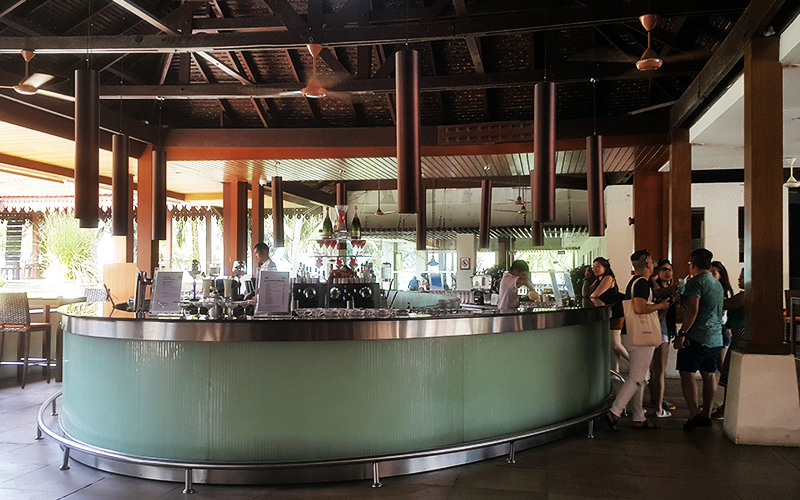 My hunger pangs taken care of, I went to check out the Club's private beaches, which are well kept and very clean. From Cherating Beach, you'll be able to take a jungle walk which takes approximately 40 minutes, and you have a choice between a difficult and easy route. To get to Pantai Beach, which is about 365 metres long, there's a cute shuttle that looks like a train which comes every 30 minutes. If not, you can leg it on the walkway for about 20 minutes. This is also where the Zen Space is, a beautiful quiet place with an infinity pool overlooking the sea. Children below 18 are not allowed here so it's ideal for couples as it's really quiet, relaxing and romantic. For families and children, there are more suitable pools next to Mutiara restaurant.
Day 2: Get physical!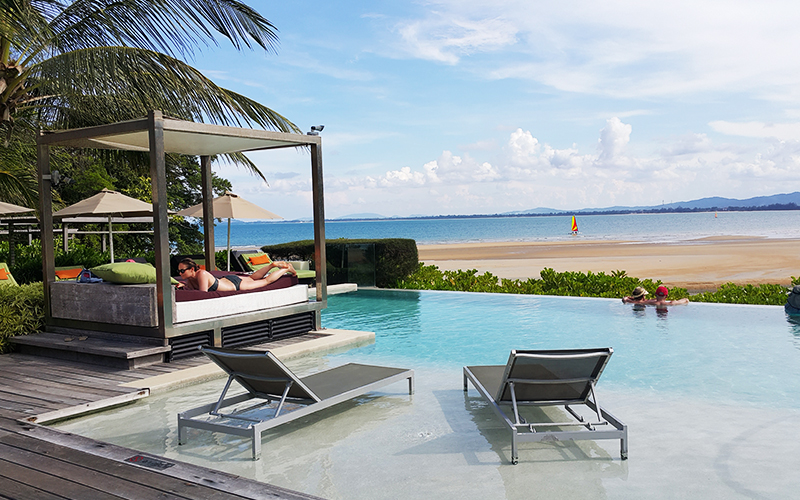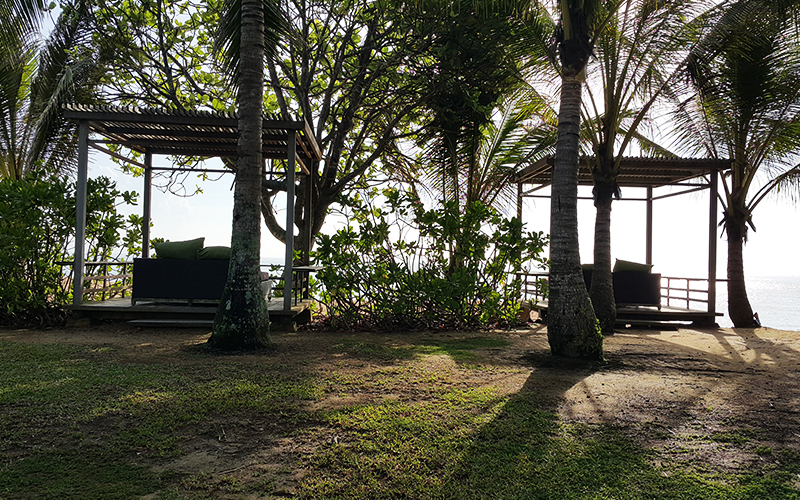 Activities from day to night 
You're spoilt for choice with the myriad activities available – you'll need about four days to fully enjoy everything without rushing. I started my morning with cycling in the gym, followed by sunrise yoga at the terrace. The view from there is amazing: Imagine doing yoga while admiring and listening to the sound of waves lapping the golden beach.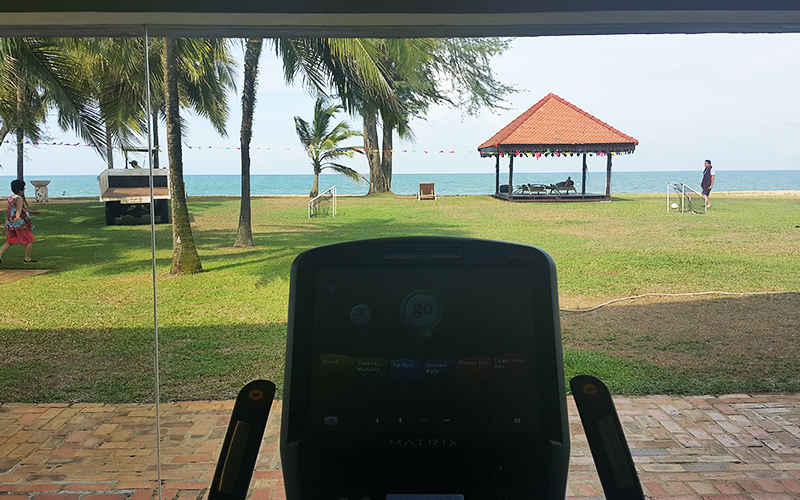 After breakfast, I gave archery a shot and then attempted the tree top challenge. The latter was quite enjoyable – although I felt it was not high enough for a real thrill – and involved five different tasks, ranging from tightropes to Flying Fox.
I then moved on to rock climbing, one of my all-time favourite activities although I have only done indoor climbing. I got a lot of scratches and bruises from it, but I had a great time. On hindsight, maybe I should've worn long pants!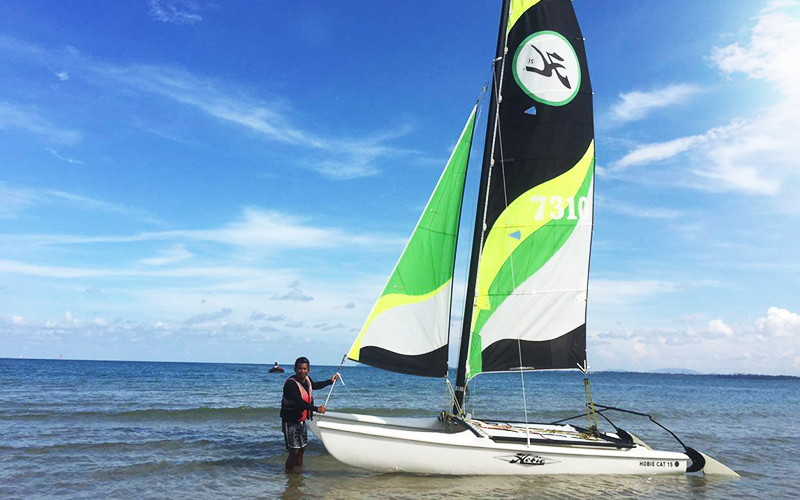 Next on my itinerary was sailing, which was fun although the session was quite short. While waiting for the boat to be ready, I had time to enjoy a cocktail – yes, this is the life!
Speaking of life, I also joined Club Med's Green Globe initiatives – they are the first Eco Nature Village by Club Med, with a Green Globe certification – and released adorable baby green turtles that were just one to three days old into the sea. These green turtles are named so after the colour of their flesh.
I then moved on to the Circus School and had a swinging good time on the trapeze, which was really exciting. As I stood below waiting for my turn and watching others, it didn't look that scary. But when I got to the top, suddenly everything took on a new perspective. The platform seemed quite high and the swing went faster than I expected. But it was definitely an exhilarating experience not to be missed.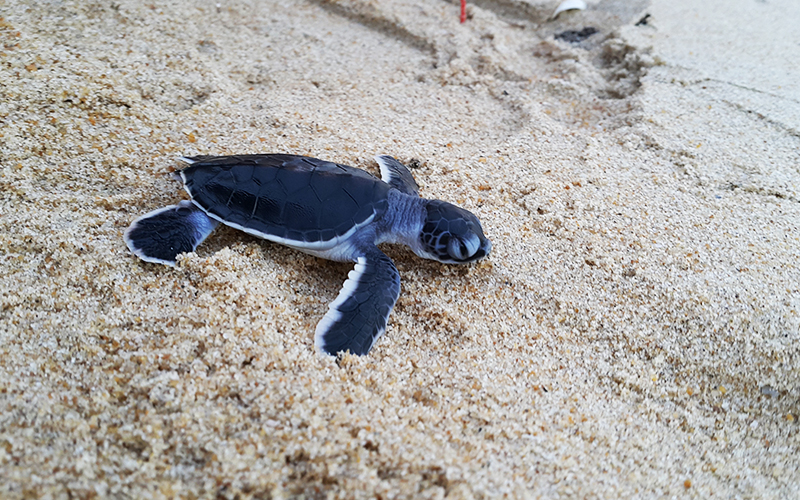 At night, they have dance parties where you can compete for the best dancing couple award. It was fun but as far as a party goes, rather mild compared to the ones in the city.
Day 3: Winding down
Pamper me silly 
I wrapped up my trip with a Balinese massage at the Mandara Spa. The individual treatment room comes with a private shower and changing room. I surrendered to the deft hands of the masseuse while taking in beautiful forest view, a symphony of birds singing, crickets chirping and the occasional lizards clicking.
I found the prices to be quite high – it's RM320 for a 50-minute session, or RM465 for a 100-minute session. Likewise the Club's overall rates; I would pay for getaway at Club Med if they are having promotional rates but if it's full price, I'd rather go overseas. Another point to note is that the WiFi signal around the resort is fairly poor but they are planning to upgrade to fibre optic soon.
All in all, I'd say that Club Med Cherating is a great place for couples and families looking for a fuss-free and worry-free getaway as everything is prepared and planned for you. There are also activities that children can participate in without parental guidance.

Read Next: