I'm not a hiker, let alone a climber. So, honestly, I don't know what I was thinking saying yes to climbing Mount Kinabalu this October. Have I gone mad? Perhaps. Will I regret my decision, though? Most definitely not. Ultimately, I'd like to have the bragging rights to say I made it to the top (fingers and toes crossed) of Malaysia's highest mountain. It's the kind of story I'd like to be able to tell. I'd also like to think of the expedition as one that's very carpe diem as opposed to YOLO — I'm not that kind of millennial.
If you, like me, are a complete mountaineering noob but intend to scale Southeast Asia's highest peak outside of the Himalayan range, then read on!
Mind over matter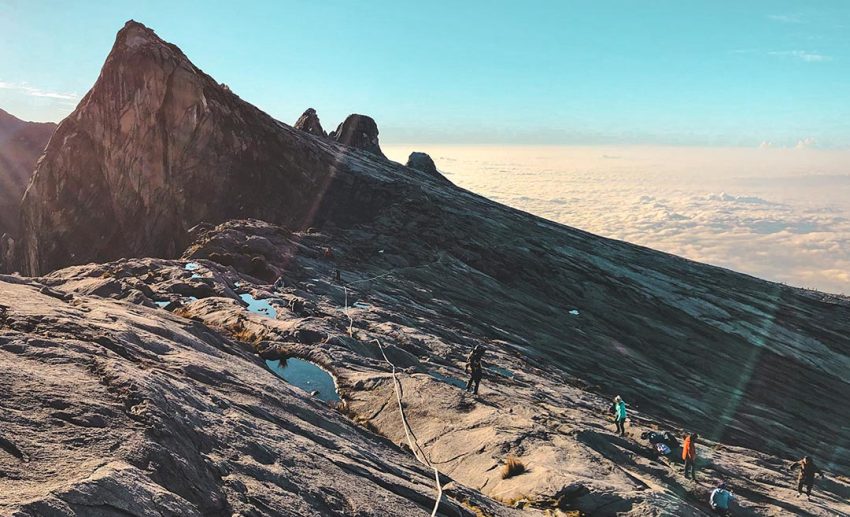 Okay, so first things first. It's been about four or so months since I've begun my so-called 'training'. If there's one thing I've realised during my preparations for this climb, the ascent is about mental endurance as much as it is about physical endurance.
Our group leader for this climb is a septuagenarian (this is going to be his 69th climb up Kinabalu), while the majority of our 50-strong group of climbers are sexagenarians and a lone octogenarian. Suffice to say, as someone who's just turned 35, I'm one of the youngest members of the group. So, what I'm trying to say is this — choose your climbing buddies wisely.
The group you surround yourself with is important. We all keep tabs on each other's training and progress with weekly hikes (sometimes together, but usually in our own smaller groups) and workouts. Our group leader — clearly an experienced climber — is also sure to remind us that climbing up Kinabalu is a humbling experience. It's also an experience you want to enjoy. Remember, the climb will be a marathon and not a race. So be sure to mentally prepare yourself for a long-drawn-out journey that you need to respect and take your time on.
To help you get your head in the game, talk to people. If you haven't a group like mine, join a Facebook group. There are several out there, like Beautiful Mount Kinabalu, that will help you gain insight into what the climb will be like. You can also consider joining pages such as Amazing Hiking — Malaysia for ideas on where to go for training hikes before hitting Kinabalu's slopes.
Upping the fitness levels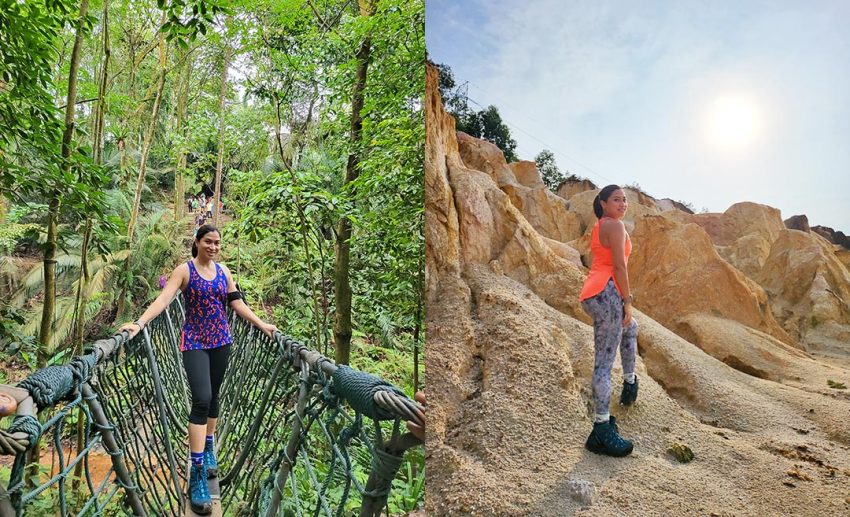 From what I've been told by other experienced Kinabalu climbers, as long as you can cover 3 km in under 30 minutes, you're fit enough to climb Mount Kinabalu. For a runner like myself, that's easy peasy, as I can hit 3 km in 17 minutes (hills included). Despite that, I've also heard of marathon runners and otherwise ultra-fit folks barely making it to the summit, so my fitness isn't something I'm going to take for granted.
I do some easy hikes every week besides my regular runs (that I only do about twice a week). If you live in the Klang Valley area, below are some of the best places for an easy climb that'll still serve as a good workout and good practice:
Bukit Gasing, Petaling Jaya
Bukit Ketumbar, Cheras
Bukit Sri Bintang, Kepong
Bukit Saga, Cheras
Sungai Chilling, Kuala Kubu Bharu (temporarily closed)
Bukit Wawasan, Puchong
Bukit Kiara, Kuala Lumpur (KL)
Of course, there are many others, so go forth and explore! Change it up every week, so you don't hit a rut. Keep your training exciting with different trails, so you see it through.
Do plan some big-ish hikes in between too. There are heaps of amazing day hikes near KL, so make a day out of it. Or heck, turn it into a holiday!
For one of my 'bigger' practice climbs, we decided to hike the Lata Medang trail in Kuala Kubu Bharu (KKB) while staying up in Fraser's Hill for the weekend (which also has several trails to hike). It's much closer, so we didn't need to wake up as early, and it was nice just to have a hiking holiday. Another option is to drive over to Ipoh and hike up Bukit Kledang. Or turn your beach escape in Penang into a full wellness weekend by hiking up Penang Hill.
Here's an extra tip, courtesy of our KKB guide: Hike up Bukit Batu Pahat (in KKB) if you'd like to get a taste of what your ascent up Mount Kinabalu is going to be like.
Try doing a back-to-back as well. As in, go on a hike for two or three days in a row. Think of it as good practice for your actual climb, which will happen over two or three days.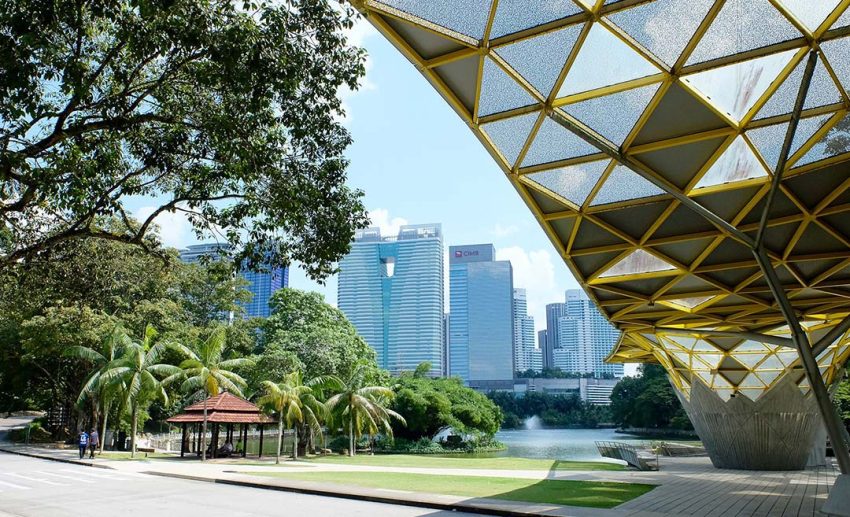 When all else fails, if you reside in KL, there's always the Perdana Botanical Gardens. Now, I know what you're thinking — there's no hill to hike. But hear me out. Right by the park's iconic Laman Perdana, there's a really tall flight of stairs (we counted, and it's about 170 steps up). Go up and down 10 to 15 times non-stop. You're guaranteed to work up a sweat.
Use tech to your advantage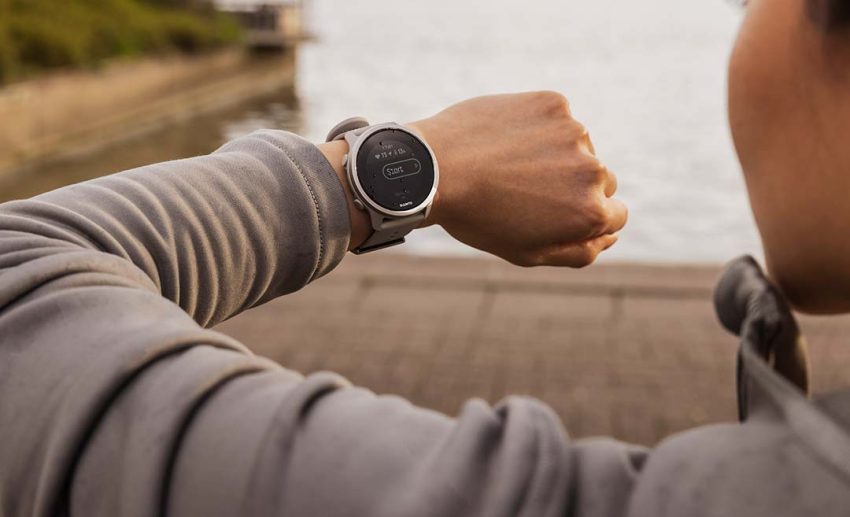 There are myriad tools out there to help you with your ascent. With all the tech available to us nowadays, it's a great time to be alive and climb. While I'd initially had two minds about what smartwatch-cum-fitness tracker to procure to keep tabs on my fitness and climbing progress, I'd finally settled on a proper mountaineering watch that's more fitness device than a smartwatch — the Suunto 5 Peak.
What's important to know about this innovative timepiece compared to all the other fitness trackers out there is that this one's designed for mountaineering. While you'll be able to track over 60 different types of workouts — from yoga to diving to weight training to running — hiking is when it shines best.
Thanks to a built-in GPS, the Breadcrumb feature gives you turn-by-turn navigation to keep you safe on your route without worrying about going off the path or getting lost — perfect for the noob hiker like myself who keeps wandering off on various paths. Couple this feature with the Suunto app on your mobile, and you'll also be able to spot popular trails to try, thanks to its 3D and heat maps. Once you're all done with your outdoor adventure — be it a bike ride, run, or hike — you'll be able to play it back on your app. In terms of durability, this watch was made to take a beating and is water-resistant up to 30 metres for you divers out there.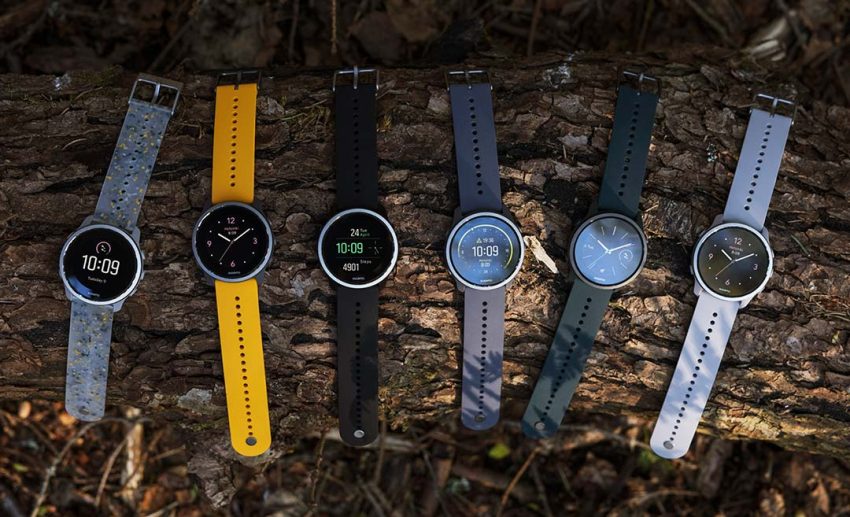 The Suunto app also syncs with over 25 other partner services (like UA MapMyRun, Strava, and Wikiloc), so you won't need to run several apps at once — the Suunto app will feed your information and progress to your other apps.
Besides the hiking-specific perks of using the Suunto 5 Peak, thanks to its insane battery life of 100 hours (I legit only charge it once every several days), you'll be able to gain valuable insight into other health aspects of your life. The watch also tracks your sleep, determining the quality of your slumber while also tracking your steps, how many kilocalories and calories you've burned throughout the day, your heart rate, and your stress levels. All valuable information if you'd like to lead a better, healthier, and stress-free life.
Of course, as any noteworthy accoutrement would do, the Suunto 5 Peak also allows you to music and phone notification controls. So, really, the only thing I can fault this watch on is the lack of a Find my iPhone feature — which it doesn't have for obvious reasons. But most important of all — it looks good and was created with sustainability in mind (the watch is made on 100% renewable energy in Finland).
Getting kitted out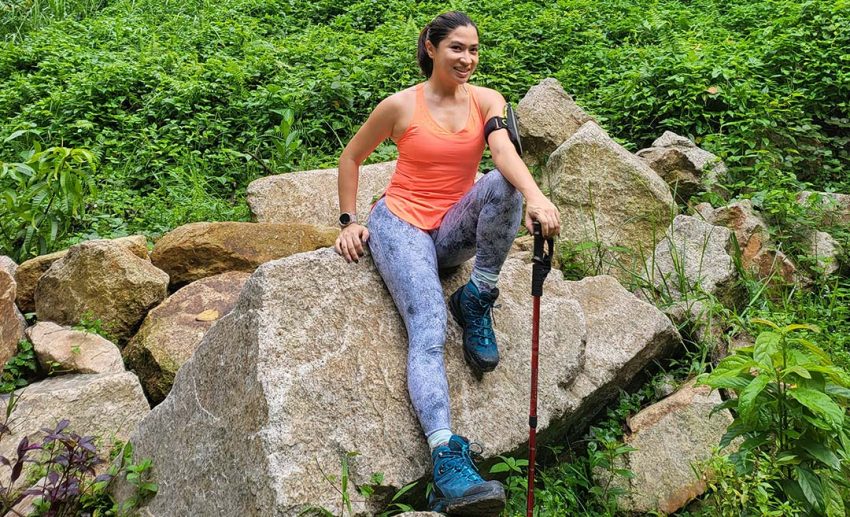 Finally, if you're anything like me, shopping will be the most fun part of your training. Head to Decathlon for bare essentials — water packs, mosquito-proof hiking trousers, headlamps, and a rain poncho. It's cheap and cheerful, and they have everything. When it comes to the gear that'll really take a beating, invest, invest, invest. Especially in your hiking boots and jacket. These are the things that'll help you on your climb.
For now, I'm breaking in my Salomon hiking boots, and compared to practice hiking in my trainers, they've been a dream (the grip is impressive). There's also less worry about them 'crocodile-ing' while you climb. As for climbing jackets, it's hard to go wrong with any of the Lifewear from Uniqlo. The parkas are lightweight yet utilitarian, so you have all the functionality of a heavy-duty hiking jacket but none of the bulk (or weight — which is super important).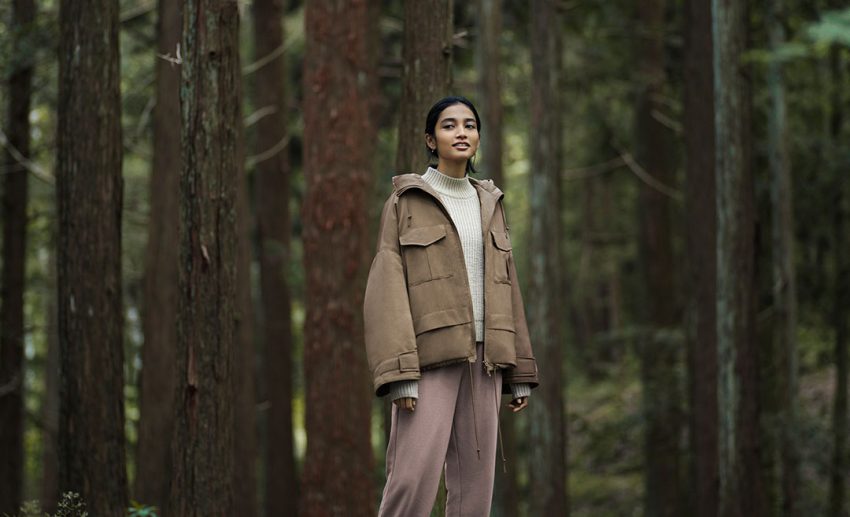 But while a parka may suffice on your first leg of the climb, the top of Mount Kinabalu is cold — so opt for one of their (again, ultra-lightweight) down jackets instead to take you through comfortably. It comes in eight really nice shades, so you know you can also make the climb look good while being IG-ready once you hit Lowe's Peak.
And that's really it. Comfort is critical when you embark on such an arduous climb (why am I doing this, again?).
So, besides the little tools and trinkets, another thing to make sure you have on you (besides food and water) is insect repellant. As someone who's highly allergic to mosquito bites and extremely prone to getting them — there always has to be that one person in the group, and that's me — I've tried them all. My personal favourite? The Fumakilla Vape Nobite Personal Repellant! I rarely (if at all) get bitten when I use it, and it smells pleasant.
And there you have it. My personal, completely noobish guide to prepping for a climb up Mount Kinabalu. For those of you who've done it, share some of your tips below (I welcome it), and if you're also a first-time climber like me, I hope this starter guide has helped some. Happy climbing!