As parents, my husband and I find time to ourselves very limited, and understandably so, as we have two very energetic girls that take up whatever 'sit down' moments we can have. So, when Anantara Desaru Coast Resort & Villas extended an invitation, I accepted gracefully (and gleefully). I thought, "This would be just the kind of mid-week break these two parents need." We are no strangers to Anantara, having been there before, and were excited to head back to one of Malaysia's most luxurious hotels.
I won't bore you with tales about the drive because, as we all know, it's a long straight road from Kuala Lumpur to Desaru Coast, and what made it even duller was us travelling during monsoon season, which equalled constant showers on the highway. See, I'm boring you already; let's move along.
Our goal at Anantara was to relax, switch off, and eat. What would Malaysians be if we didn't revolve our getaways around food? And if you're wondering, is it worth going to for those in desperate need of a quick escape for two? The answer is yes, a thousand times yes. Don't believe me? Then read on.
Checking in and the room
I'm going to get straight into it — check-in to the hotel was as smooth as one would expect at a 5-star luxury resort, and the staff walked us through where and what we could do while leading us to the room. There are a total of 104 rooms, villas, and residences at this luxurious resort, and we got one on the third floor, which gave us a fantastic view of the rest of the resort and the sea, all from our expansive balcony.
The room was spacious, clean, and equipped with more than enough amenities to make our stay enjoyable. I'm such a caffeine head, so seeing a Nespresso machine excited me even more. Have you ever slept on clouds? Neither have I, but I presume that sleeping on them is much like sleeping on the beds at Anantara. The fact that it didn't come with a toddler ready to kick me in the face or kidneys throughout the night was already a major plus point. After settling in and a quick nap on the (extremely comfortable and plush) bed, which has to be in my top three best hotel beds in Malaysia, we set out for dinner.
What to eat
Seafood and steak galore
Their signature, Sea.Fire.Salt, known for serving fresh seafood and steaks, was where we began our night of feasting. Nestled right by the shores of Desaru Coast, guests can enjoy a calming view of the ocean while indulging in fine dining. Nearby was a pool that looked inviting all day long, even at night, as we dined beside it. And starting us off easy was a humble bread platter consisting of warm buns and breadsticks with three spreads to complement these delicious carbs — hummus, seaweed, and charcoal butter, all of which were so flavourful that my eyes widened with delight and my entire body did a little dance. A favourite? The hummus, by far. Though, I am still having fond flashbacks of the charcoal butter too.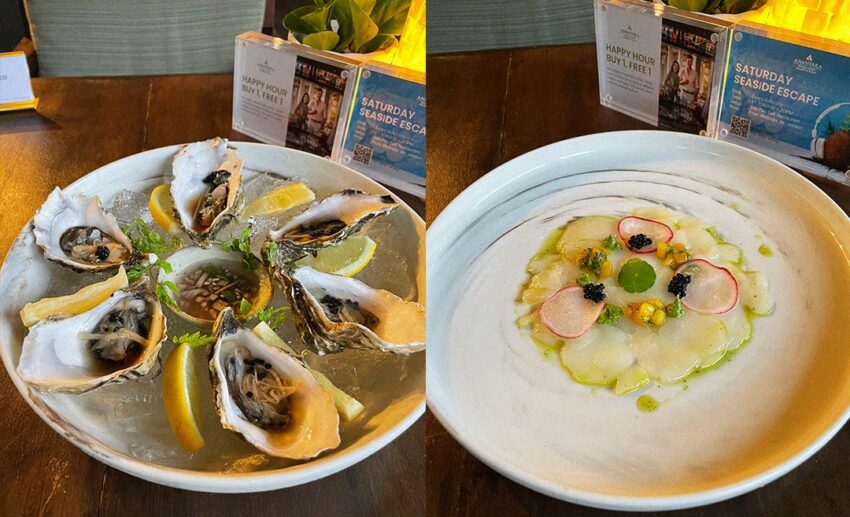 You're not going to be a luxury resort by the sea and not serve the freshest seafood, are you? After all, this is what Sea.Fire.Salt was known for, so that's what our starters were — oysters and scallops so exquisitely fresh and probably the best I've ever tasted. Presented so beautifully, I dove straight in, and all two plates were for me because I made the mistake of travelling with someone who doesn't eat seafood. Has he ever tried? No. Exactly, it doesn't make sense, but after 12 years of being together, I no longer question this nonsense. Sorry, I digress.
The Rock Oysters were served with homemade ponzu, salmon roe, and pickled ginger, and let me tell you, with a splash of fresh lemon juice, all the robust flavours did a medley in my mouth. There were six on the plate; I ate them all, but such fresh oysters are to be chewed with romance, so I took my time. I even drizzled a little Tabasco to add heat to this starter. I then moved on to the other starter — Scallop Carpaccio, plated with mango salsa, radish, gremolata, and caviar! A dance of flavours that truly delighted the foodie in me and something I would recommend to any seafood lover.
Up next was our main course, straight from their charcoal grill. While I was preempted on what was to be served — Sea.Fire.Salt Platter Himalayan Salt Brick and Angus Rib Eye — I certainly didn't anticipate the sheer size of the meals were going to come in. Was I up for the challenge? Hell yes! Would I succeed? No, but it was worth trying, and what a fun experience it was.
The Sea.Fire.Salt Platter Himalayan Salt Brick is basically a seafood platter, as the name suggests. Grilled rock lobster, prawns, scallops, sea bass, calamari, and soft shell crab are laid out on a massive pink Himalayan salt brick. Everything is grilled to perfection and tastes as fresh as you would imagine and even better than they look. Each bite is tender and flavourful, especially when dipped in the lemon-butter sauce. To accompany this opulent marriage of seafood is a side plate of truffle fries and a Mesclun Salad, elevated even further with their house Wagamama dressing.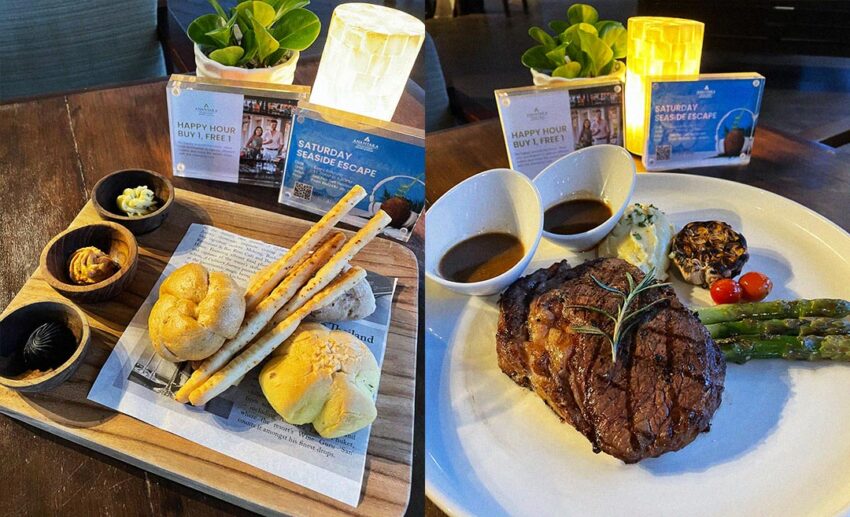 As I tried to pace myself, my counterpart and non-seafood eater tucked into this slab of juicy Angus Rib Eye in medium doneness. The proper carnivorous dish is completed with truffle mashed potato, asparagus (and we're not talking about the skinny ones), and sautéed mushrooms. So much truffle, and honestly, we're not complaining. The steak, prepared in (my opinion) to perfect doneness, was a melt-in-your-mouth experience. As if I wasn't full enough from my own seafood platter, I had to have a taste of the Angus Rib Eye to attest for myself.
While I failed in ploughing through my main course, I was pretty pleased with being spoiled with such a selection of seafood, and as dessert came, I realised the spoiling wasn't over.
To end the day on a sweet note, we had the Mont Blanc, a plate of Manjari Log, Mango Brûlée (so divine, I could write a Haiku), and the Cinnamon Gelato. It comes highly recommended by someone with a sweet tooth! While the Mango Brûlée grabbed our attention, the pillowy soft, perfectly sweet Manjari Log stole our hearts (and stomachs).
All day dining at Turmeric
For our second day, we had quite the relaxing itinerary planned, which included a couple's massage at Anantara Spa, a cooking class at Spice Spoons, and Beachlife & Tidepool Discovery, all of which I will dive into in the later part of this write-up. But first, let's talk about the most important meal of the day — breakfast.
Located on the resort's ground floor, Turmeric is the go-to place for all-day dining and has both indoor and outdoor seating. The al fresco area guarantees a landscaped view of the pool area, which is breathtaking. With monsoon season persisting, we opted to stay indoors, even though the outdoor area was covered.
Breakfast at Anantara's Turmeric restaurant is what you would expect out of most hotels. Served buffet style, guests can take their pick from Western to Asian and a selection of pastries. What stood out most for me at breakfast was their offering of fresh fruits and the bircher muesli. Being a person who hardly ever eats breakfast, it was hard for me to get excited about a full-blown buffet, but I was all in once I had my plate of nasi dagang.
You can even do some shots if you dare, and we're not talking about tequila. Propped right by the roti station are bottles of a homemade concoction known as the Health Booster — made up of apple cider vinegar, turmeric, ginger, black pepper, and garlic.
For dinner, guests at Anantara can enjoy the best from a carefully curated selection of Thai and Malaysian cuisines. Most nights, it's only cooked-to-order dishes, but an impressive buffet spread of Thailaysian (Thai and Malaysian) cuisine is available on Tuesday and Thursday nights. Lucky for us, we were there on a Thursday night and could experience what it means to dine buffet-style truly.
They pulled out all the stops with fresh seafood on display, ready to be devoured; there were also various Malay and Thai dishes like Ayam Masak Lemak Chilli Kampung, Rendang, Pad Thai, you name it, the dishes were there. For dessert, guests can choose from a selection of kuih-muih and cakes (eep, I spotted Lamingtons!), and there was even a chocolate fountain!
Things to do at the resort
Treat yourself to an award-winning spa day
A trip to Anantara Desaru Coast would be a complete waste if one didn't try the resort's award-winning spa, where six treatment rooms await guests who want to massage life's busyness away from their bodies. No ordinary self-care spot, the Anantara Spa offers more than just massage services, but also a personalised serene experience that truly sets you in the mood for a relaxing holiday.
Each treatment room has an en suite bathroom equipped with shower facilities, though your masseuse will encourage you to refrain from washing the oil off your body for at least an hour post-massage.
For the day, we chose the Anantara Signature Massage, a 60-minute treatment combining both Eastern and Western techniques, paired with their in-house oil blends that promote deep relaxation. The entire experience is bespoke, and the ritual kicked off with a couple of glasses of cold rose petal and chrysanthemum tea, and lavender-soaked cold towels to help us feel refreshed.
Up next, we were walked through the spa's oil blend choices, and there are four to choose from: Smooth, Spice, Sweet, and Splash. Each one features its own benefits, and we opted for Splash, which helped with deep relaxation — precisely what the doctor ordered! When I say the entire experience is personalised, I truly mean it, and you can choose the little details down to the playlist too! Take your pick from different spa sounds to set the mood — Chill Out, Grounding Element, Eastern Harmony, Dream State, or Soothing Spa Rhythms.
After picking Dream State as the soundtrack to our relaxation experience, our massage therapists walked us to our treatment room, which felt more like a villa; that is how spacious and luxurious the entire spa was. Once we settled onto our respective massage beds, our masseuses got straight into it and put the calming sounds together with medium-pressure massage strokes on my body. I was out like a light.
Our experience ended with a warm ginger tea. Suffice to say, we came out of the spa feeling rejuvenated, rested, and wanting more. But we opted for a bicycle ride along the property instead, which was just what our body needed to feel even more relaxed, believe it or not.
For a full list of what the spa offers, click here.
Cooking lessons at Spice Spoons
Another one of the many fun things adults (and bigger kids) can do at Anantara Desaru Coast is signing up for cooking classes at Spice Spoons. Led by Chef Azwan, who is patient and friendly, he took us through an easy three-course cooking lesson. The cuisine of the day? Thai food, and it happens to be Chef Azwan's speciality!
On the menu, for starters, was goong sarong, large juicy prawns traditionally wrapped in vermicelli noodles and deep-fried to perfection. This simple but delicious starter dish looks more complicated than it is, and with Chef Azwan leading us, we felt like pros within minutes. For our main course dish, we cooked up a tasty chicken tom yum, and it was easier than I thought it would be, especially with the ingredients laid out for you.
For dessert, Chef Azwan handed the baton over to the pastry chef at Anantara, Chef Amirul, who taught us to make the much-beloved Mango Sticky Rice. He even showed us the intricate process the rice goes through before it's coated with its usual sauce and oil. The ingredients required to make this decadent dessert were simple: rice, oil, sugar, coconut milk, and mango. By the end of the cooking lesson, we felt like seasoned chefs and were excited to take our newfound knowledge of Thai food back home.
Checking out
While the cooking class we had at Spice Spoons was a memorable experience, it may not be for everyone, and Anantara Desaru Coast knows this. There are plenty of other daily activities to get busy with. For the early birds, there is Sunrise Dong Stick, Yoga By The Beach, Desaru Beachlife & Tidepool Discovery, and a Morning Nature Walk. For those who prefer to do something later in the day, you can do fun things like birdwatching or an Evening Nature Walk.
Whatever the occasion, a special birthday, a couple's weekday respite, or a full-blown family getaway, Anantara Desaru Coast is easily one of the best destinations in Malaysia. Shortly after leaving the resort, we decided very quickly to come back next year but with the kids in tow. How could we not? With impeccable service, beautiful landscapes, delicious food, and pristine beaches, Anantara Desaru Coast is easily one of the gems of Desaru Coast worth splurging on.
Address: Persiaran Pantai, Desaru Coast, 81930 Bandar Penawar, Johor
Tel: +607 828 0888
*All images by author.