Since the arrival of COVID-19, so much of our lives' routines have changed, including the way we work. The pandemic taught everyone to pivot and do away with the need to be in a working space, but at the same time remain as productive as ever, if not more.
Gone are the days of wasted time commuting to the office or sitting in a dreary cubicle, and with COVID-19 looking as though it's here to stay, most companies are adapting. One of those companies, Zafigo, also encourages remote working, and our Marketing and Development Lead calls Cherating her home and office.
So, what is it like working remotely, especially when it's not in a co-working space or a home office? Is it as glamorous as it sounds? Theresa tells us what a typical working day is like.
A day in the life
"I used to spend whatever free time I had and many weekends driving up to Cherating, Pahang to soak in some vitamin sea. It dawned on me that I wanted to be living by the beach permanently. So, I made the big move – packed up my things and drove to Cherating to live there. It's been a few months since then, and I am still loving it.
Living life as a digital nomad was something I had always read or heard about, but it didn't occur to me that I would one day be able to do and love every single moment. I've traded the city noise for the sounds of nature, which is a pretty good trade in my books. I've gotten used to living the simple life – no air-conditioning but only a small table fan to keep me cool. On a cold night, which is almost every night (perhaps due to the monsoon season), all I need is a fleece blanket, an oversized t-shirt, and a cardigan.
Like clockwork, the sound of roosters crowing and dogs scuffling around wakes me up to let me know to start my day. I proceed with the usual – begin by making my bed, getting myself 'ready' for work, and making my hot coffee cup. I then open up my laptop and start with my work tasks for the day, which comes from the three jobs I have – mainly in Business Development and Digital Marketing.
I spend a lot of my days working on my balcony, which faces the garden and the beach, and also at Ombok Cafe in Cherating – not only because of its strong Wi-Fi connection, though that certainly helps when you're working remotely. The food there is delicious and is always freshly prepared, the coffee is brewed to perfection, and of course, the vibe at this cafe is unparalleled.
Digital nomad life is beautiful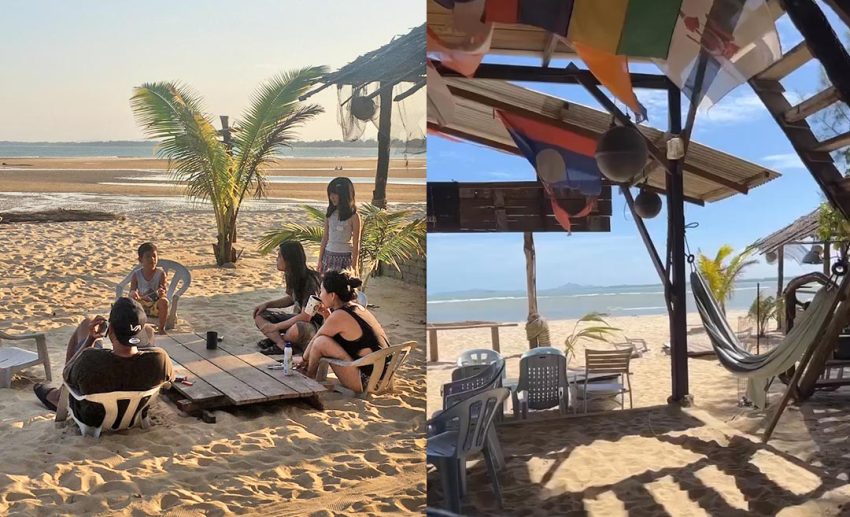 Once all the 'office work' is complete (and they usually take up a big chunk of my day), I head to my fourth gig – bartending at the Cherating Beach Bar. A typical evening at the bar involves cleaning up, stocking up, cutting lime (for the tequila shots and cocktails), amongst other things; and all that is done in time for the beach-goers and tourists to come in and make their orders, which happens to be my favourite part about this job. The biggest perk that comes with working at the bar is meeting new people, which is always fun.
I have heard many stories and formed plenty of great friendships through these new connections. When I tell people what I do, the replies are usually, "That's so nice that you get to do this" or "I love what you're doing!" And to be truth be told, I'm one of the lucky few who have this as my pandemic reality. Many others lost their jobs, and I am grateful to have mine and at a preferred location – the beach! Say goodbye to the old 9-to-5 desk job!
Several hours into my fourth gig, my second-favourite part of the job happens – dinner time! Cherating is such a small and close-knit community that I constantly get offered delicious home-cooked food or barbecued meat freshly grilled by the beach. The night then continues as the bar team and I help our new and old friends with their drinks for the night.
By 12am, the bar closes, and my shift's over. Time to head back and rest in bed because tomorrow is another day at work by the beach. Though my working hours are long, I really cannot complain, and probably will never complain!
Drawing the line
So, when do I get a day off? Mondays! On the day when I have no work responsibilities, I explore neighbouring beaches, waterfalls, and the local food scene. I call this day my adventure day! When I am feeling up for it, I rent a surfboard and paddle my way into the ocean. While I'm no pro-surfer, I do love riding the waves. I end up paddling or getting wiped out, but I love it anyway. The ocean brings me a sense of calmness and peace, and I always feel refreshed for the day after some time spent in the sea.
My lifestyle choice has invited many remarks, and sometimes they haven't been the nicest, because let's face it, I'm living an unconventional lifestyle that doesn't fit the box. But I've realised that I chart how my life should be, and so long as I am content with my life choices, everything else is just gravy. While I am tired most of the time, I go to bed at night feeling more fulfilled and happier than I ever was when living in the city."
*All images courtesy of Theresa Teh.