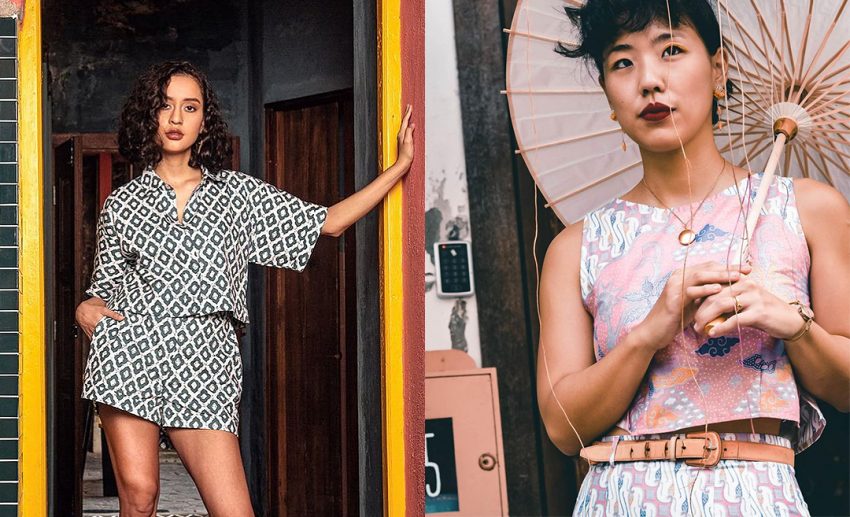 Typically synonymous with sarongs, the traditional art form of batik has recently been rediscovered, revived, and modernised as trendy wardrobe pieces fit for the 21st century woman. From blazers and jumpsuits to headbands and earrings, every single piece has been designed and handcrafted with contemporary flair while showcasing the striking beauty of this treasured textile. 
Not only do the following brands strive to preserve the rich tradition of batik, but these sustainable labels incorporate ecological practices from ethical local sourcing and fair trade to reducing and upcycling textile waste. #Sapotlokal has never looked this good (and super OOTD-worthy).
Check out these 18 home-grown batik brands to cop some staples now: 
R•Y•O• Roll Your Own
View this post on Instagram
Hailing from the beautiful island of Langkawi, ethically conscious R.Y.O Roll Your Own aims to place the olden tradition of batik amongst the trendy through their reinvention of eccentrically-tailored pieces – such as jumpsuits, dresses, swimwear, bomber jackets, wide-leg pants, pleated skirts, and so much more. 
Better yet, the collections are made through ethical means, in small quantities by local tailors using local artwork designs, and hand-picked fabrics that can only be found on Langkawi Island. Also, most of their clothes are reversible, so talk about getting a bang for your buck with two-in-one styles!
Nyonya Kain
View this post on Instagram
Founded by Dayana Reza back in 2018, Nyonya Kain cleverly infuses the rich cultures of Peranakan and Malay Archipelago cultures into their eye-catching batik creations. With a zero waste concept in place, they've experimented with batik clothing by playing with kimono silhouettes and straight-cut trousers to handmade accessories like scrunchies, headbands, and bandanas. Apart from face masks, the brand has released everyday lifestyle pieces like pouches, wallets, tote bags, lanyards, hand fans, and metal straw sets.
Website | Instagram | Facebook
Oh Dayang
View this post on Instagram
In search of vivid statement accessories as your go-to 'wow' factor? With the colourful and Insta-friendly pieces handmade by Oh Dayang, you can amp up your casual or dressy looks with their popular stainless steel, wrapped hoop earrings that kicked off the entire brand. 
Feel free to go a step further with your ensemble, courtesy of their expanded releases of layered necklaces, bangles, and studs! If you'd like to present them as gifts, we suggest getting your hands on their batik gift wraps which also comes with the box (large or medium) and strings.
INNAI & Co
View this post on Instagram
With the perfect mix of luxury and easy elegance along with a familial appreciation for batik and urban aesthetics comes INNAI & Co, founded by Creative Director Izrin Ismail's mother, Aishah Saleh. From establishing back in 2004 to launching INNAI RED (that focuses on sophisticated, couture-esque traditional evening wear), the brand has released feminine-yet-artful silhouettes and designs that still embody local influences like their recent Wildflowers, One & Only, and Chinatown collections that are simply to-die-for. Think Malaysian edition of Gossip Girl and you may get the gist. 
Website | Instagram | Facebook
betterthanblouses
View this post on Instagram
Tenaciously inspiring jack-of-all-trades, Pei Shern, evoked her love for vintage items and family connection through betterthanblouses. True to the name, the unconventional mix of crop (or regular) tops and batik fabric does stand out from typical blouses. And these lightweight, handmade pieces can easily match your basic high-waisted trousers for an everyday look. If you're feeling even bolder, wear it with their batik pencil or A-line skirts to stand out in style. You can even mismatch their prints or purchase their pretty pastel or achromatic co-ord sets. 
Website | Instagram | Facebook
Knot Just Headbands
View this post on Instagram
With the return of headbands into the fashion scene comes the perfect time to pick up your own batik version presented by Knot Just Headbands. What's more, this one-size-fits-all is multifunctional as you can also use them as a chic mini scarf, wristband, or handbag accessory. 
As a social enterprise striving to make a positive impact amongst Malaysia's lower income communities, they employ single mothers, refugees, housewives, self-funding students, and the underprivileged to help hand-sew these beauties apart from sourcing the material from Kelantan block batik factories. Recently, they've added in charming copper metal straw and bag sets along with scrunchies made from leftover batik pieces. 
Gérson Batik
View this post on Instagram
Sprouting from a home tailoring business with three sisters in Klang to a successful Instagram shop 30 years later, it's clear that batik ensembles have been an unwavering passion shared among the founding family of Gérson Batik. Starting out with custom-made batik tops and dresses for women within their first year, they quickly responded to demand with other pieces, together with an expansion to men's shirts, neckties, pocket squares, as well as children's attire. 
Eventually, the brand added in a limited collection of ready-made batik women's tops that are truly unique, as there's only one item per design – never worry about someone else sporting a replica! Did we mention that they've just released a Chinese New Year 2021 ready-to-wear collection too?
Website | Instagram | Facebook
Brava Batik
View this post on Instagram
In need of an easy-fitting dress for all occasions that still accentuates the waist and can be worn to office meetings, BFF brunches, and date nights? With Brava Batik, your all-in-one, fuss-free dress is just a few clicks away. In addition, you can choose to wear either their above- or below-the-knee options if modesty is a concern.
If you need more convincing when it comes to the versatility of this outfit, know that all their dresses are reversible in a front-to-back manner, instead of the typical inside to outside! Not only will you get an extra batik pattern to strut around with, but there's also the option of choosing v-necks or boat necks depending on which side is flipped in front. 
CHEALC
View this post on Instagram
Rooted in Kota Kinabalu, CHEALC by CM has flourished with their own release of batik tops (including our personal favourite bandana tops), cardigans, and skirts. With an ideal to strive to create exclusive pieces for its customers, the label sticks to the "new collection, new designs" concept, so be sure to quickly grab the ones that catch your eye before they're gone. Pair their tops with a loose fitting fit with your go-to skinny jeans or tuck them into a high-waisted skirt and you're all set to paint the town red. 
MaryamBayam
View this post on Instagram
Thinking of experimenting with a bohemian-chic look? With the ambition to preserve the culture of traditional batik through contemporary design, Maryam Bayam zoomed in on creating updated batik versions of the timeless designs seen in your everyday accessories. 
Handmade in Kampung Chelet over in Nilai with the forethought to utilise and reinvent scrap fabrics, the brand has created popular items such as earrings, headbands (reversible, knotted, and twisted), shorties, chokers, scrunchies, as well as your 2021 must-have face masks. Recently, they've also introduced the first release from their Batik Clothing Collection known as the Instant Batik Pareo.
Website | Instagram | Facebook
FERN
View this post on Instagram
Aspiring to rediscover and revive the beloved ancient art form of batik is design house FERN established by Fern Chua back in 2015. Conceptualising visuals skewed towards simple and versatile yet utterly elegant lifestyle resort wear, the meticulously handcrafted pieces of clothing and accessories are produced by in-house artisans using the finest all-natural materials around to give you the best that local luxury has to offer. 
With eight key collections (each inspired by unique elements of nature) under their belt, there's definitely something for everyone from bold, vivid-hued patterns to muted, watercolour pastel designs. Moreover, they've expanded into an artisanal collective that includes ethical handmade jewellery, accessories, and home decór items made by global artisans.
Website | Instagram | Facebook
Kanoe
View this post on Instagram
Integrating tropical-inspired designs with colourful hand block prints and hand-embroidered floral details, Kanoe has produced beautiful batik apparel such as skirts, tops, jumpsuits, kimonos, pants, dresses, and co-ord sets as well as accessories sewn by refugees (who also sew most of their batik collections). 
Based in the urban tropics of Kuala Lumpur, the sustainable company also adheres to fair trade and zero waste practices. Just so you know, you still have a chance to get your hands on their popular off-shoulder batik tops with pom-pom sleeves going on sale right now!
Website | Instagram | Facebook
Batik Boutique
View this post on Instagram
Back in 2009, the blossoming friendship between Amy and Ana led to the creation of home-grown sustainable brand Batik Boutique. Offering everything under the sun from women's and men's apparel (including jewellery and handbags) to homeware and gift sets, this is the perfect stop to get everything you need — with batik motifs, of course. 
Speaking of gift sets, feel free to pass along their recently released MCO-friendly gift sets to your loved ones this Chinese New Year, with the touch of having handwritten notes or gift wrapping added in if desired. From Ox motif batik face masks and elegant table runners to crispy almond cookies and cooking sauces, these heart-warming beauties will surely bring comfort to anyone. Best of all, your purchases will support local batik artisans and seamstresses from low-income communities.
Website | Instagram | Facebook
Niah + Co
View this post on Instagram
From apparel and accessories to household and personal care items, batik has become the running theme coursing through them all thanks to Niah + Co. Created by Ruby with the aim to imbue a sense of culture and heritage into the little moments of everyday life, you can upgrade your wardrobe with her earrings, pinafore dress, button-up skirt, crop tops, and scrunchies or add in reusable face towels and cotton pads into your daily beauty regimen. To all the mums with newborns, check out the Little Niah Collection to grab the batik nursing cover, baby bib, and burp towel for your baby needs. 
Website | Instagram | Facebook
Batik by Nell
View this post on Instagram
Thanks to the Nyonya mama and daughter duo behind Batik by Nell, pretty batik pieces have continually been stitched up and sent to many delighted faces. With affectionately known Nellie Pop as the only tailor on board (with over 30 years of experience in her resume) and assistant Ann Jee, there's nothing this powerhouse can't sew. From dresses and crop tops (off-shoulder and lace-up) to wrapped skirts and reversible co-ord sets, each piece is carefully crafted with love. Additionally, they've made some men's apparel along with accessories like tote bags and hairbands to complete the look.
Sridewi.batik
View this post on Instagram
Spice up your workplace outfit in an ultra-voguish-yet-appropriate manner with the help of Sridewi.batik by Nik Noor Amira Nik Najib. Bored with her plain Jane office wardrobe, she had a light bulb moment with the idea of stitching batik material into a trendy pencil skirt in lieu of her drab, grey one. 
Launching in September 2019, the success of her line of pencil skirts led to the creation of blazers, dresses, and co-ord sets that'll definitely get people murmuring around the water cooler. The best part? They're body size-friendly with size charts ranging from XS to XXL. By the way, they've literally just released a Junior collection for the little ones to join in too.
Bonus: For the men
The Gentlemen's Bar
View this post on Instagram
In search of the perfect blend of modern sophistication and tradition for the men in your life? Admiring the quirky-yet-dapper styles seen in the UK men's fashion market and noticing the lack of it over here, Tan Ee Fei roped in her tailoring expert mother to create The Gentlemen's Bar in 2016. Perfect for any formal occasion, check out their batik bowties, pocket squares, and neckties to add in an extra flair to the look.
Website | Instagram | Facebook
Kapten Batik
View this post on Instagram
Offering a more tailored approach to men's batik for casual wear, Kuala Lumpur-based Kapten Batik launched in 2017 to normalise batik-wearing that's typically been reserved for formal occasions. From geometrical and floral themes to vivid and muted tones and patterns, there truly is something for every man in the room – as well as the boys thanks to their adorable Junior collection. 
Website | Instagram | Facebook
Follow Zafigo on Instagram, Facebook, and Twitter. Sign up to our bi-weekly newsletter and get your dose of travel tales, tips, updates, and inspiration to fuel your next adventure! 
[vc_row][vc_column][zf_post_boxes widget_hide_desc="true" num_post="3″ post_id="40651, 39400, 36946″][/vc_column][/vc_row]