Relaxing with a cocktail in hand is one of the finest ways to unwind after a long day, whether at home or at a bar. The best way is, of course, after you jet off to a warm and sunny destination, check into a hotel, raise a glass and feel that sense of "Aaah…"
Whether you prefer your drinks straight up, chilled, on the rocks, or virgin, the mixologists and bartenders across Hilton hotels are ready to whip up something delicious for you. The following are just a few of the most anticipated cocktails at Hilton Asia Pacific hotels this season. Oh, and the recipe for how to make it yourself if you wish to imbibe at home or relive your holidays:
Monday Negroni from Hilton Goa Resort
At Hilton Goa Resort, bartender Rasikta Kamble has noticed that even the most ardent cocktail lovers are shifting their focus to zero-proof spirits since they give the same degree of craft creation without any compromise in taste. This summer, Kamble anticipates that this updated Monday Negroni will be in high demand.
Ingredients:
2 oz (60 ml) Sakura Fresh Negroni
2 dashes Sakura Fresh Better than Bitters
Garnish: star anise
Directions:
Fill a mixing glass with ice and add Sakura Fresh Negroni and Better than Bitters. Stir for 10 seconds.
Light the star anise with a cigar lighter and capture the smoke into the mixing glass for a few seconds.
Fill an old-fashioned glass with fresh ice and strain the stirred cocktail over.
Garnish with the torched star anise and serve.
Illusion from Waldorf Astoria Bangkok
During the hot months in Thailand, mixologists at The Loft of Waldorf Astoria Bangkok recommend the Illusion as a refreshing beverage. The Illusion, named for its duality, has a light appearance but packs a powerful punch in taste and alcohol content, making it the perfect refresher for the coming warmer months.
Ingredients:
45 ml Hendrick's Gin
5 ml peach liqueur
10 ml Silpin Thai lemongrass syrup
20 ml clarified lime juice
90 ml house-made vanilla, ginger and Pandan soda
Garnish: lemon twist, edible flower
Directions:
Fill a mixing glass with ice and combine all of the above ingredients.
Stir and strain into an oak Chardonnay glass.
Finish with a block of ice, edible flower and lemon twist.
Snow White from Hilton Adelaide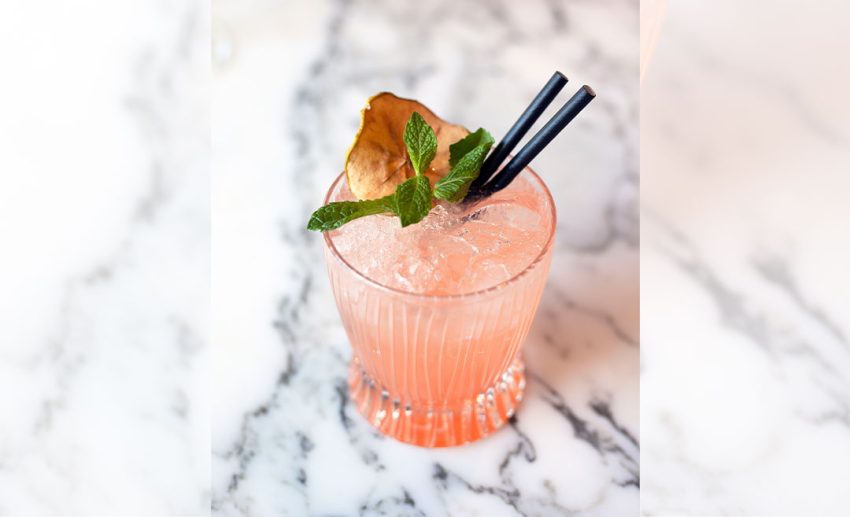 A special blend of South Australian gins is used in Snow White from The Collins Bar at the Hilton Adelaide, and they are swirled rather than shaken to preserve their distinct flavours. This vibrant drink, which is reminiscent of a mini vacation, is the ideal thirst-quencher for hot summer days.
Ingredients:
30 ml (1 oz) Four Pillars Bloody Shiraz gin
15 ml (0.5 oz) 36 Short Blood Orange gin
15 ml (0.5 oz) 78° Sunset gin
1 teaspoon yuzu juice (or lime juice)
15 ml (0.5 oz) honey syrup
Directions:
Place all ingredients into a mixing glass and stir until combined.
Strain into a rocks glass over fresh ice.
Garnish with dried apple and a sprig of mint.
Cook's Note
Honey Syrup Directions:
In a saucepan over low heat, combine ½ cup honey and ½ cup water. Simmer until the honey dissolves then remove from heat. Let the syrup cool and pour into an airtight container.
Non-Alcoholic Espresso Martini from DoubleTree by Hilton Perth Waterfront
When it comes to the iconic Doubletree Espresso Martini, this non-alcoholic version from 18 Knots Rooftop Bar, DoubleTree by Hilton Perth Waterfront takes the alcoholic component and replaces it with Seedlip Spice. So you get all of the fun with none of the kick!
Ingredients:
45 ml (1.5 oz) Seedlip Spice
60 ml (2 oz) Mr Blacks cold drip coffee
15 ml (0.5 oz) Monin salted caramel syrup
chocolate powder and coffee beans for garnish
Directions:
Add all ingredients into a shaker, shake over ice, and then double strain into a martini glass.
Garnish with a line of chocolate powder and three coffee beans
Peakedness of Wuyi from Waldorf Astoria Xiamen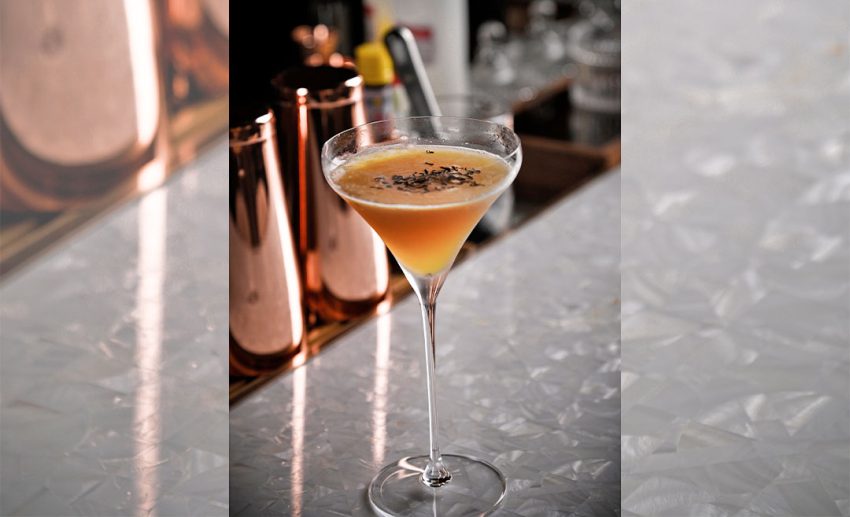 The Peakedness of Wuyi from Peacock Alley at Waldorf Astoria Xiamen is a twist of the classic Bee's Knees that combines rock tea-infused gin with lemon juice and honey to create a refreshing and light cocktail. A simple drink to savour the sweetness of summer while getting a little tipsy.
Ingredients:
60 ml (2 oz) rock tea-infused Gin
25 ml (0.85 oz) lemon juice
25 ml (0.85 oz) honey
dry lapsang souchong for garnish
Directions:
Add all the ingredients into a shaker. Double shake.
Double strain into a martini glass, and garnish with dry lapsang souchong
Bageechaa (Sustainability Garden) from Hilton Maldives Amingiri Resort & Spa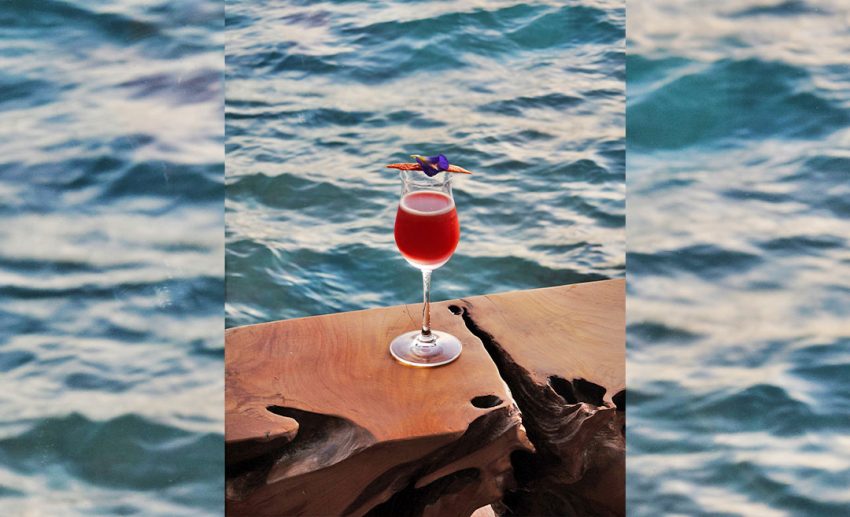 At Hilton Maldives Amingiri Resort & Spa, Aura Pool Bar & Drink Lab's new Bageechaa cocktail is based on the zero-waste philosophy of utilising every component to the fullest. Aura's rendition extracts juice from the blood orange's centre and uses the skin to make the oleo and garnish.
Ingredients:
2 wedges of peeled fresh blood orange (peel used for garnish)
15 ml (0.5 oz) blood orange oleo (made out of leftover skin)
10 ml (0.33 oz) homemade rhubarb shrub
10 ml (0.33 oz) lime juice
10 ml (0.33 oz) elderflower liqueur
50 ml (1.7 oz) The Botanist gin
3 fresh basil leaves
Directions:
Chill a coupe glass.
Add blood orange chunks into shaker and muddle.
Add fresh basil into shaker and press the basil gently.
Add blood orange oleo, rhubarb shrub, lime juice, elderflower liqueur and The Botanist gin.
Fill shaker with ice and shake well. Fine strain into chilled coupe glass.
Finish with the garnish – place a nice and clean blood orange peel on top of the glass and place the flower on the peel.
Cook's Note
Blood Orange Oleo – makes 300 ml (10 oz)
Ingredients:
Skins of three blood oranges
400 grams caster sugar
pinch of salt
1 zip bag
Directions:
Cut the skins into 2-inch pieces.
Place the skins inside a zip bag, add sugar and mix it properly with the skins and add salt.
Remove all the air from the bag and let it rest for 24 hours.
If there's any leftover sugar inside, give it a five-minute hot water bath.
Rhubarb Shrub – makes 1 Liter (35 oz)
Ingredients:
1 fresh rhubarb
2 lemons (lemon skins)
300 grams sugar
2 kaffir lime leaves
900 ml (30 oz) water
80 ml (2.7 oz) white balsamic
Directions:
Place water into pan and cook on low heat, add sugar and all the ingredients.
Simmer it for 40 minutes, let it sit and rest for about four hours in a chiller.
Strain through a v60 filter.