On a special day or simply whenever you're feeling fancy, look for a restaurant to suit the vibe. After all, with dining-in finally allowed for those who are fully vaccinated, you're going to want to go big or go home. And by this, we mean to opt to go sky dining. While good food is always expected, a great view is a bonus — especially for the 'Gram. Here we've curated a list of the 10 best rooftop spots in Malaysia just for you.
1. Fuego at Troika Sky Dining, KL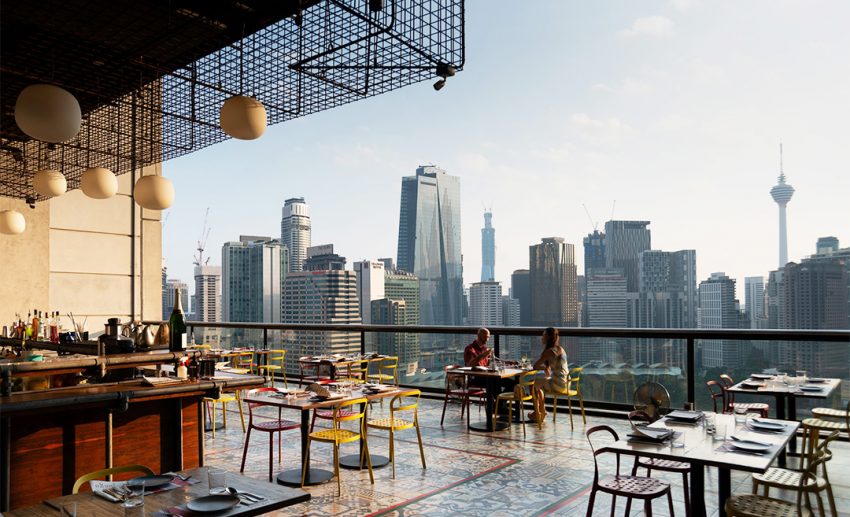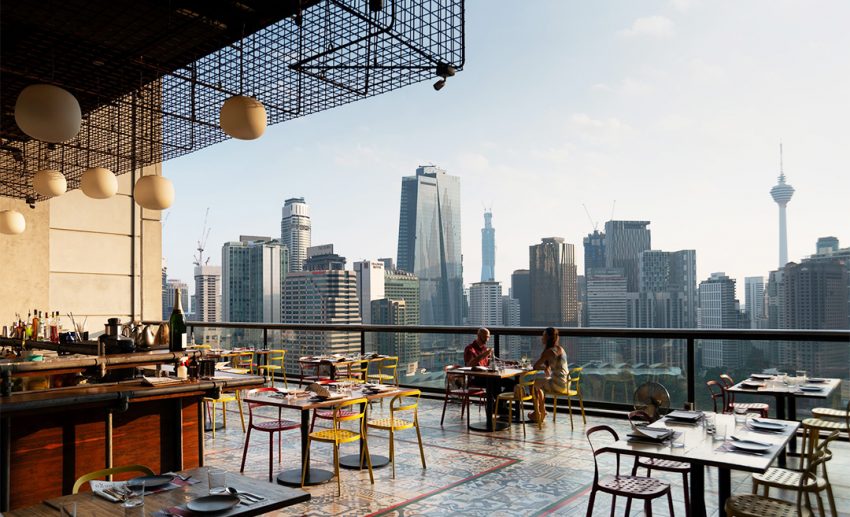 For a dose of amazing Mexican fare, head over to Fuego at Troika Sky Dining right at the heart of Kuala Lumpur (KL). The bar and restaurant offers a spectacular view of the city. Towering KLCC looks massive and is just a stone's throw away from Fuego. It's the perfect setting, really — scrumptious food, fancy beverage in hand, Berries Pavlova for dessert, and the Twin Towers glittering in all their resplendent glory.
A must-try and personal favourite dish here would have to be their fall-off-the-bone lamb ribs that's the perfect marriage of sweet and savoury. Of course, you need to have it with their sides of signature guacamole and pressed potatoes, creating a whole party in your mouth.
2. Cielo, KL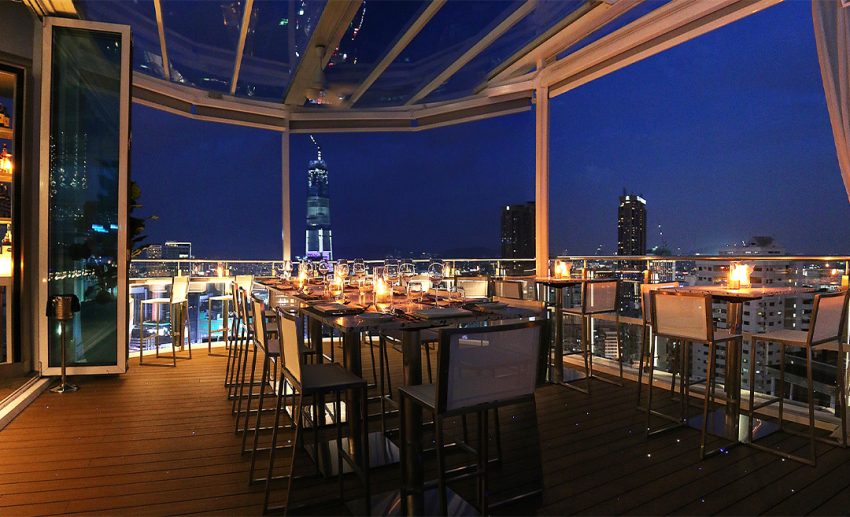 Nestled high atop the Vida Bukit Ceylon Residence is arguably the best charcoal grill restaurant in the city. Cielo KL offers all kinds of cuisine, steaks, and seafood, ranging from Japanese tuna to Patagonian toothfish.
You'll also get to enjoy a bird's eye view of KL unfold before you as you sip on some cocktails, engage in fun chatter with the ladies, and indulge in their sumptuous food. We also recommend arriving at sunset for a perfect start to the evening.
3. Envi Skydining, KL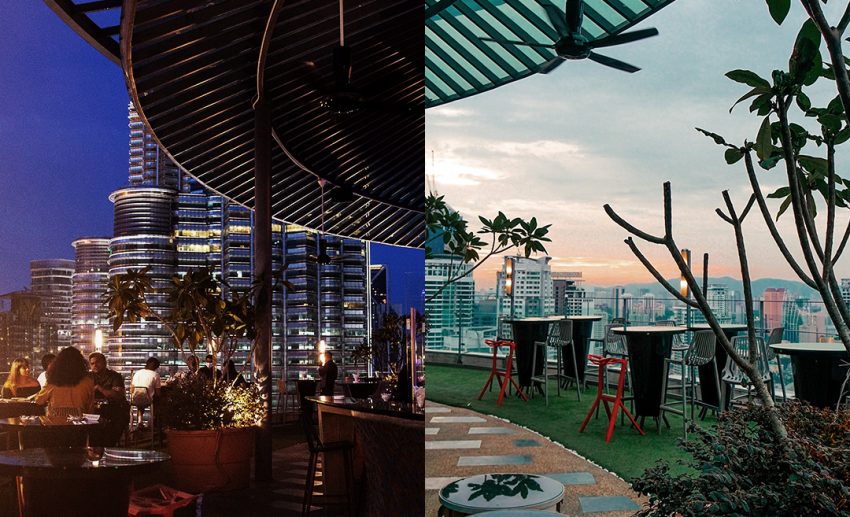 Feed the void in your tummy with Mediterranean cuisine, and your eyesight with KL's beautiful vista at Envi Skydining. Sitting at 36 floors high with the Petronas Twin Towers appearing to be within your reach you can unwind in the sky as the city continues bustling below you. Of course, it doesn't hurt to devour a Greek platter, some Italian pizzas and bruschetta, while you're taking in the view.
4. Dinner In The Sky, KL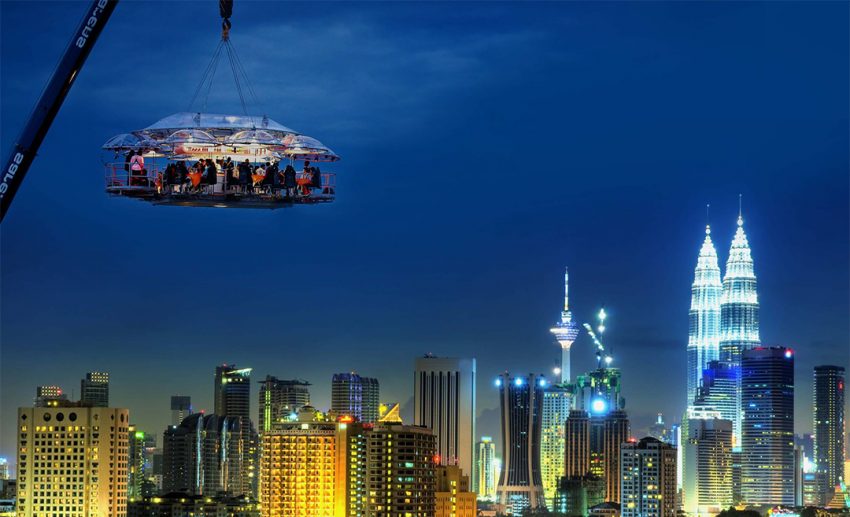 A unique dining concept where you're strapped to your seats together with the dining table, elevated high into the air by a crane as a stunning view of the city heaves into sight. Dinner In The Sky is an experience unlike any other, and we'll go so far as to say it's pretty magical.
Even if you suffer from acrophobia, it's still recommended as you'll be safely secured to your seat. All meals served are specially curated by a top-rated chef in KL and (hopefully) will make you forget about your fears.
5. THIRTY8 by Grand Hyatt, KL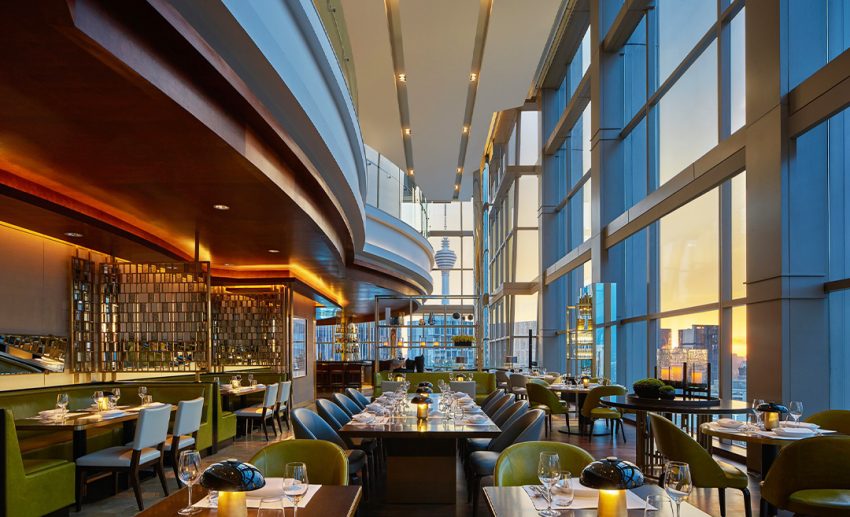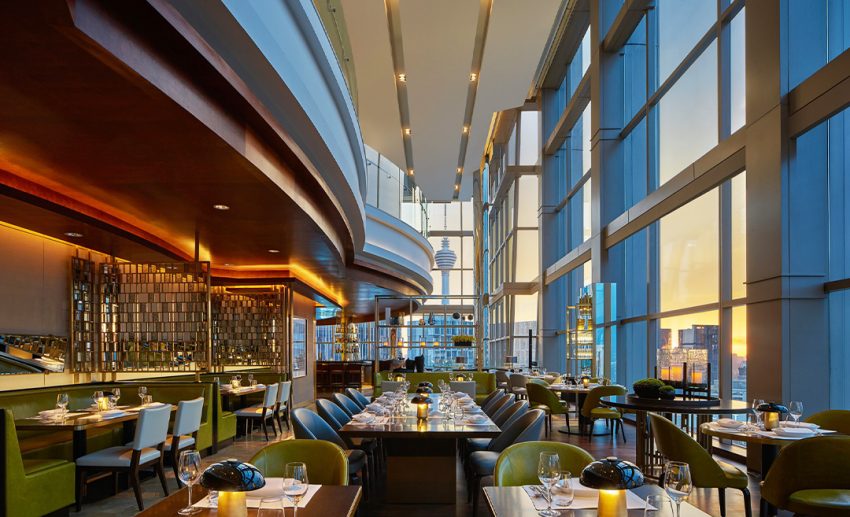 The blocked ears and anxiety-inducing elevator ride to the 38th floor of KL's Grand Hyatt will pay off once you reach the restaurant because your only reaction will be a dropped jaw. As soon as the elevator doors open, you'll be greeted to the most ravishing cityscape and opulent décor of THIRTY8.
The top-notch service and location is made even better with an amazing offering of Japanese, Chinese, and Western fare for you to choose from. It's also a great place for an afternoon tea with the ladies if you don't choose to come by for dinner.
6. Marini's on 57, KL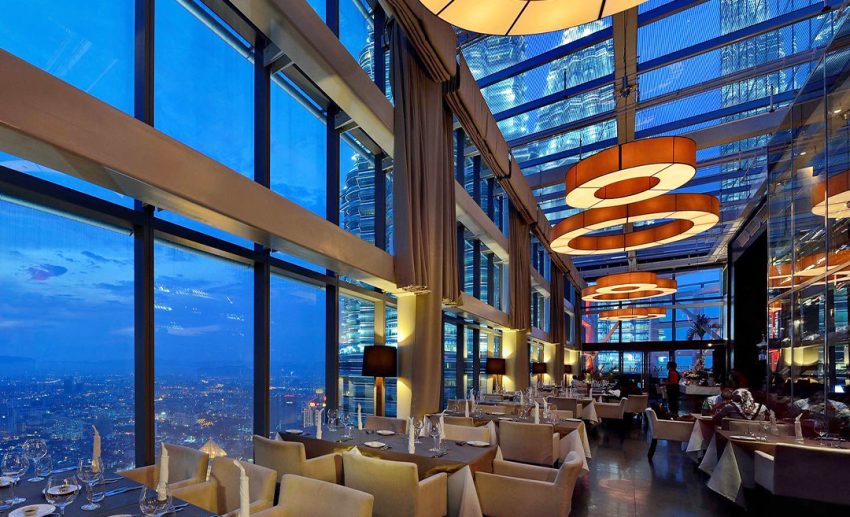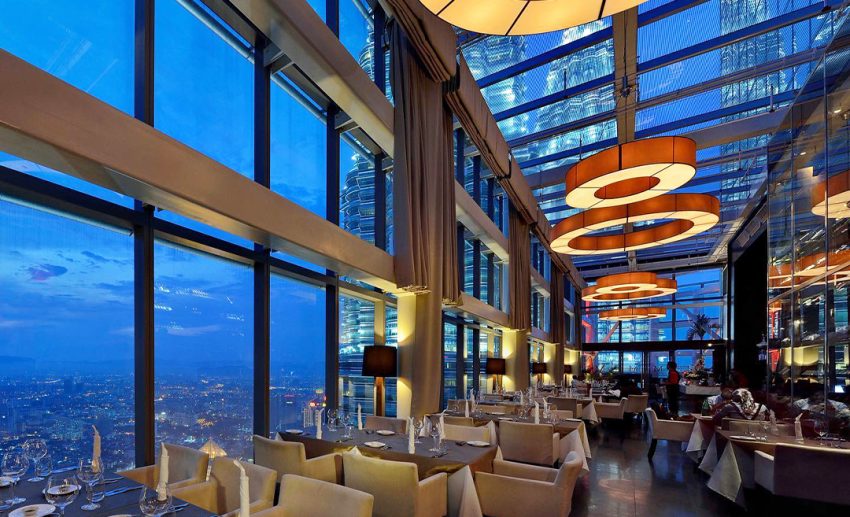 Marini's on 57 is at your service to serve your Italian cravings. Its stellar fine dining experience has also bagged a sky-high reputation among Malaysians as well as tourists. Luxuriate in the elegant interior, authentic Italian cuisine, and most importantly, the unsurpassed scenery through the floor-to-ceiling glass windows — perfect to celebrate any occasion and make it an unforgettable evening.
7. JEN Johor Puteri Harbour by Shangri-La, Johor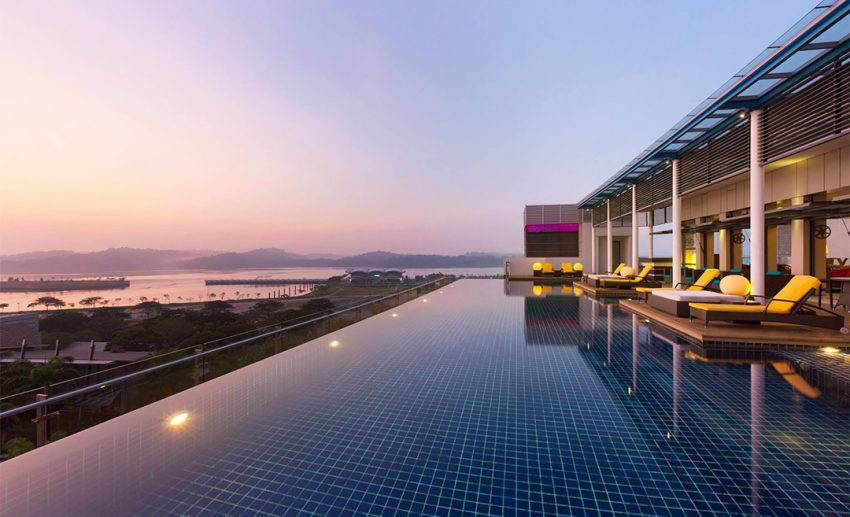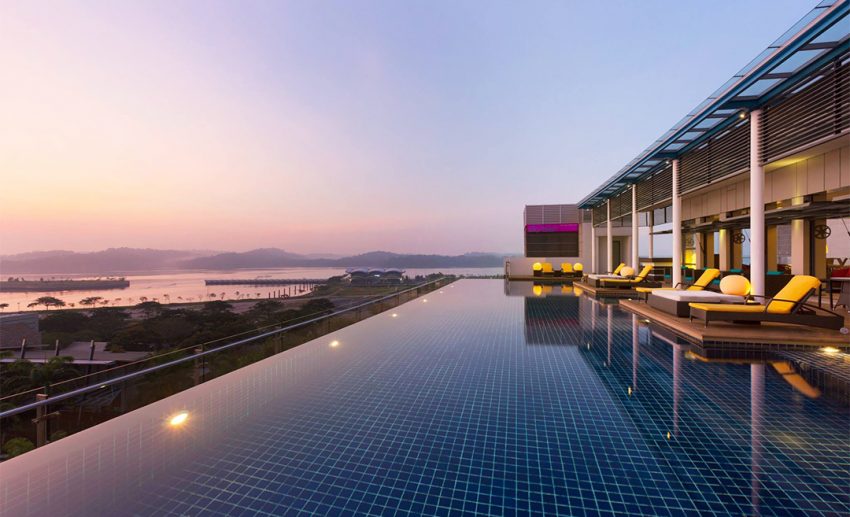 Don't miss out on the far-reaching panorama of the Straits of Johor if ever you're in town, because it is astounding. Picture dining in Malaysia's weather at its finest — warm and windy — while the faint blue skies slowly turn redder and softer just as the sun bids good night. We recommend dropping by JEN Johor Puteri Harbour during sunset hour to enjoy this magical time by the poolside, overlooking the many moored boats and yachts in the harbour.
8. Pampas Sky Dining, Melaka
Moving down south from KL, the famous steakhouse, Pampas, settles comfortably on level 41 of Swiss Residence in central Melaka. Pampas Sky Dining features a wide and unobstructed 360o view of the city, so you'll get to catch sight of the eminent Melaka River while you gorge on their juicy and succulent steaks.
9. Three Sixty Revolving Restaurant Skybar, Penang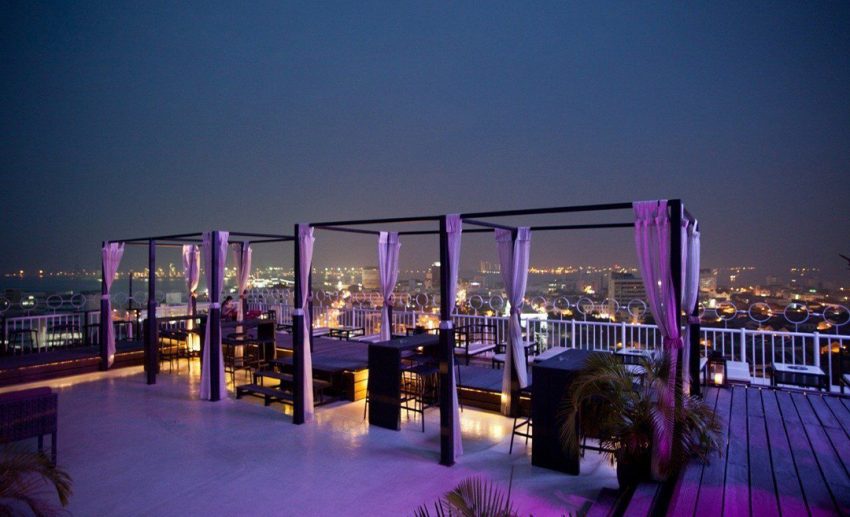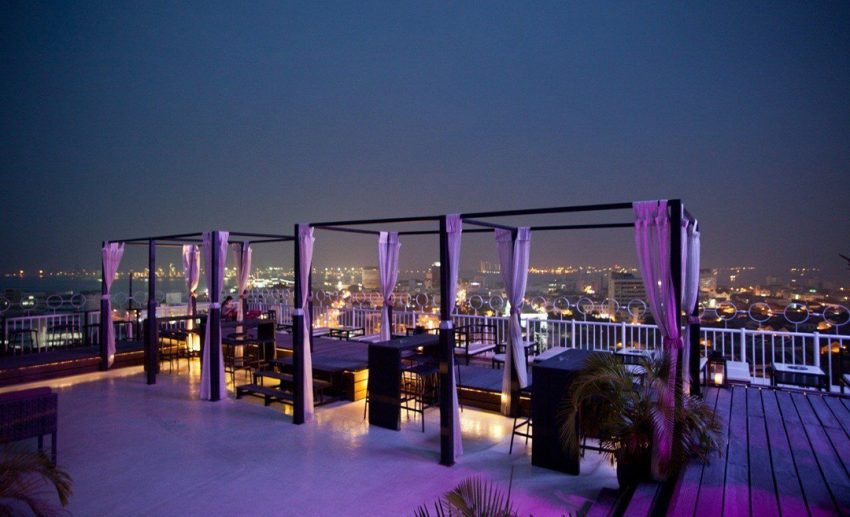 If dining at a revolving restaurant that shows you the scenic George Town UNESCO World Heritage City and her port piques your interest, you're going to love this. The Three Sixty Revolving Restaurant Skybar is the only revolving rooftop restaurant and bar on the island, and the best buffet dinner in Penang, putting together authentic Peranakan dishes. While you take delight in the Nyonya and local delicacies, you also get to bask in the breathtaking panoramic prospect of Penang and soak up the cooling tropical sea breeze.
10. Skybar by The Banjaran, Perak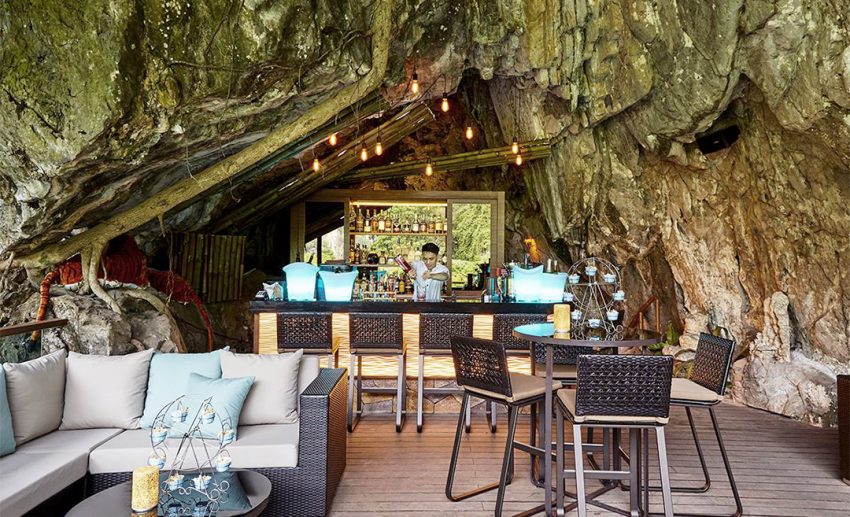 Up north and isolated from the town centre is Skybar by the luxurious Banjaran Hotsprings in Perak. The view it offers is vastly different from the usual concrete jungle of tall buildings, offering you nothing but lush greenery. Skybar's views are a sight for sore eyes as it's located in a 30-foot high terrace above the Steam Cave, in the midst of seemingly boundless caves, miraculous limestone hills, and hot springs. Instead of the sounds of busy streets, you'll also be serenaded by the sounds of nature as you enjoy thirst-quenching cocktails and mocktails, or even some tea for soothing.
11. Horizon Grill at Banyan Tree, KL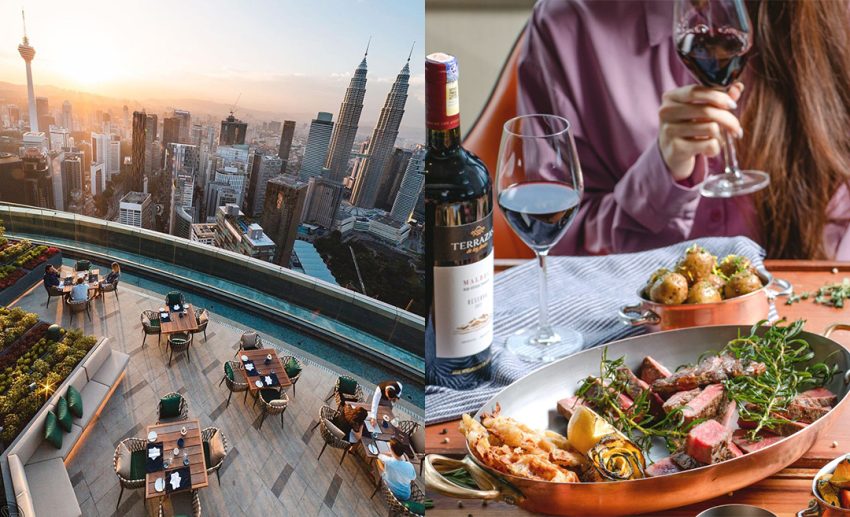 Located 58 floors above ground at the Banyan Tree Kuala Lumpur, the Horizon Grill offers a magnificent view of our beloved city. Sample their exquisite menu of premium steaks and fresh seafood while you dine on their al fresco rooftop terrace or indoors dining hall with large windows overlooking KL.
12. Blackbyrd, KL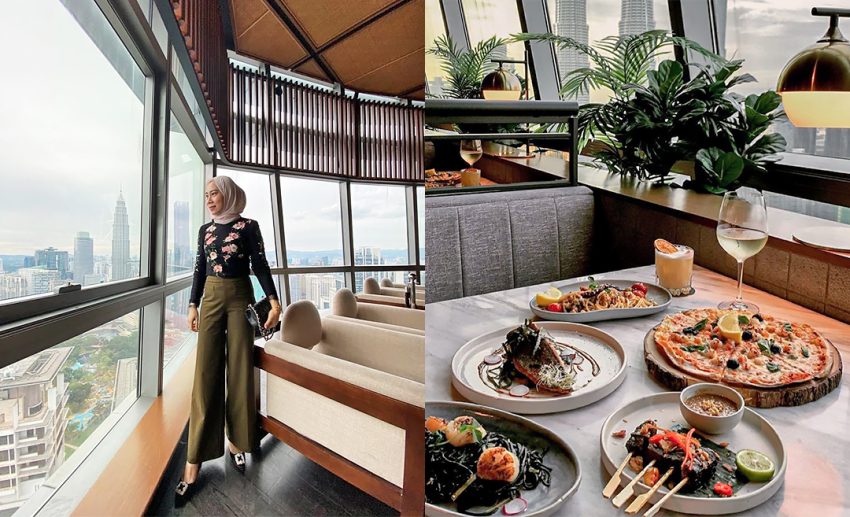 Enjoy a central KL view with the Blackbyrd at the 50th floor of Naza Tower, along Persiaran KLCC. They offer you signatures like Wagyu Beef Satay, Soft Shell Crab Burger, and Chilean Seabass with Saffron Butter Sauce with a casual dining concept.
13. Rimba Restaurant at Ambong Pool Villas, Langkawi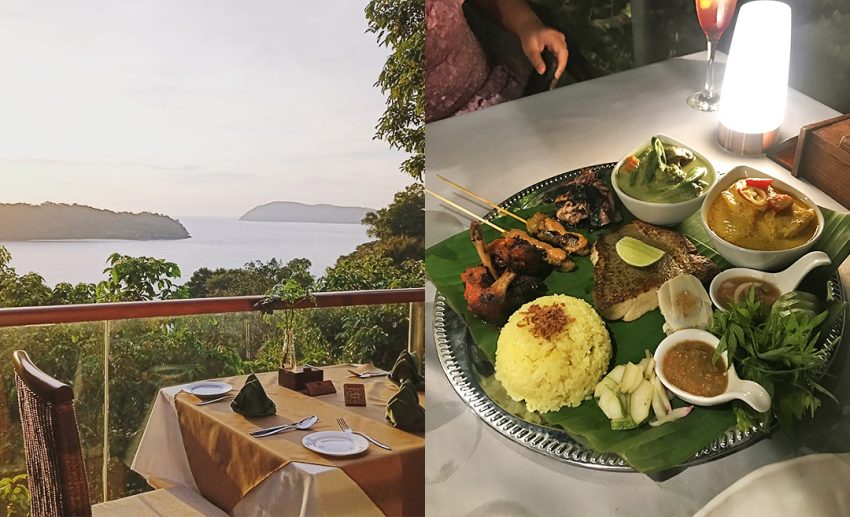 Sick of the city and in need of nature therapy? Picture this: A roof terrace overlooking lush green forest canopies with a view of Tepor Island. Rimba Restaurant at Ambong Pool Villas offers you just that! Pair a getaway vacation with a feast of Malay, Nyonya, and Thai influences while watching an absolutely stunning sunset over the horizon.
Editor's note: This article was originally published on 8 September 2021 and updated on 21 December 2021 to include more restaurants.