Okay, so first things first, here's a little disclaimer. I don't particularly like staycations. There, I've said it. As much as I love going on a full-blown holiday, I'm honestly perfectly happy at home too, despite being a big city-dweller. But this is where I tell you that going on a weekend-long datecation with my three-year-old daughter has completely changed my mind. Well, about checking into the Shangri-La Kuala Lumpur (KL), at least.
Of course, I know many others who love embarking on the occasional staycation. I certainly see its appeal — a change of scenery, all the amenities you could desire, room service at all hours, and a turndown service that even Princess Winnifred the Woebegone (the princess from The Princess and the Pea, for those wondering) would approve of. While I may be preaching to the choir, let me also tell you that this review is for you — regardless of whether or not you have little ones in tow. You could very well be on a datecation with your beau, and the Shangri-La KL is still a fine choice.
Here are all the reasons why.
Staying comfortable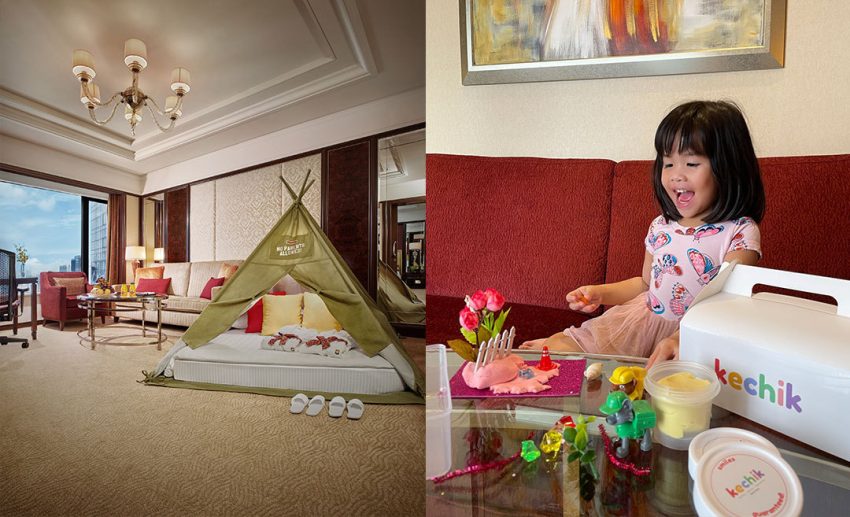 So, first things first. After the near-contactless check-in at the front desk, we were quickly whisked up to our family suite to settle in. A spacious abode, it features a king-sized bed and master bathroom furnished with amenities for both the little kids and big (overgrown) kids. Oh, and a family of rubber duckies we'd accidentally stolen at the end of the stay (please don't keep the duckies).
This master bedroom area is closed off from the rest of the suite, that's equipped with a living room area, dining area, study table, mini bar, and guest water closet. Out here is where the property can fit an additional bed should you be staying with more than one child. The suite comfortably fits a family of four — so it was perfect for us.
Of course, the devil is in the details, and when checked into the Family Premier Suite, you'll quickly realise that the kids are the VIP guests here. Besides their own set of toiletries, the usual welcome fruit basket is accompanied by an array of chocolates and freshly-squeeze orange juice. It's also hard to top the kids' tent set up in the living room area.
And because a sliding door cordons off the master bedroom, it allows the adults to relax and lounge about even after the little ones have gone to sleep. The ability to separate after lights out is one that any parent will tell you is a necessity when travelling with kids.
Staying entertained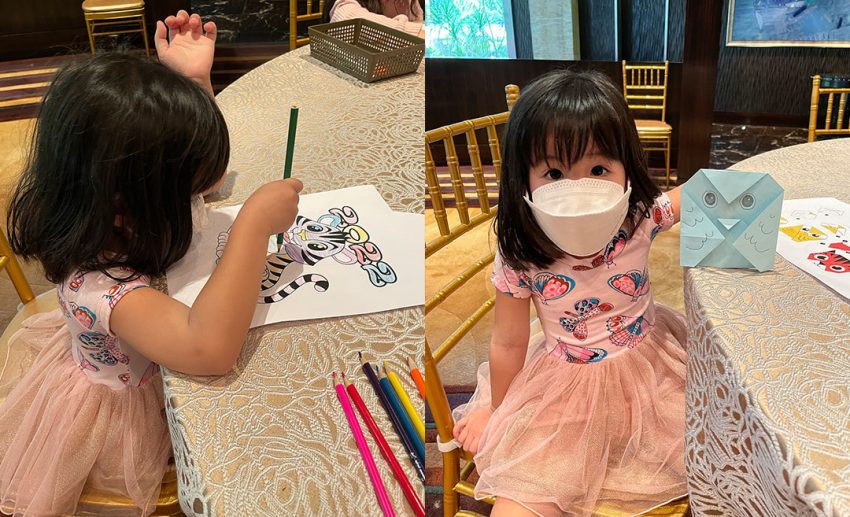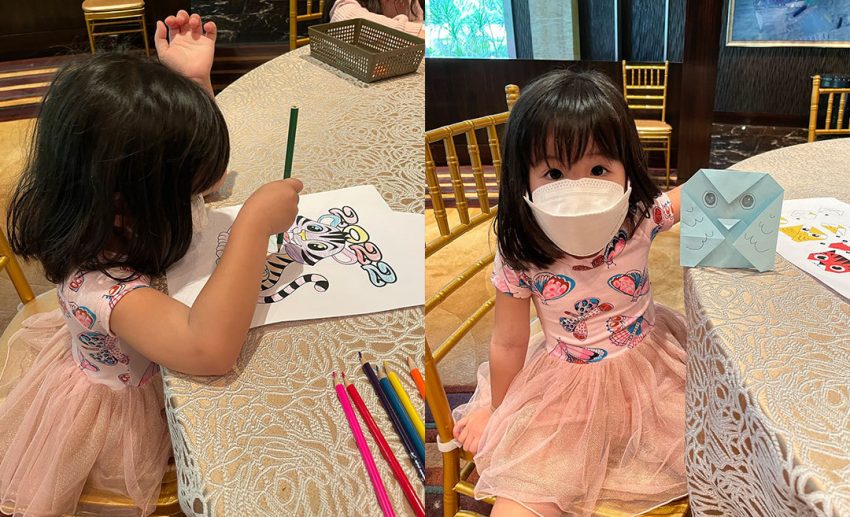 The little one and I (along with the nanny in tow and husband, who joined the next day) spent the weekend experiencing the Shangri-La KL's Family Staycation. What's so unique about this package is that the entire weekend is lined up with things for the little ones to enjoy. And any parent will readily tell you that keeping a child entertained is a sure-fire way of maintaining one's sanity while on a family getaway.
Packed onto my toddler's weekend schedule were wonderful things like Arts & Craft Workshops, Maze Garden Treasure Hunts in the hotel's beautifully-landscaped garden, Movie Time, Family Yoga, SLKL Junior Chef sessions, and Bingo Time. All I needed to do was register her by scanning the timetable's QR code.
The best part? All these activities are free for in-house guests! They also take place throughout the day, with many sessions to choose from, so no one needs FOMO. Of the myriad activities on offer, it was definitely the treasure hunt that came with a prize at the end that proved to be most popular with the little one.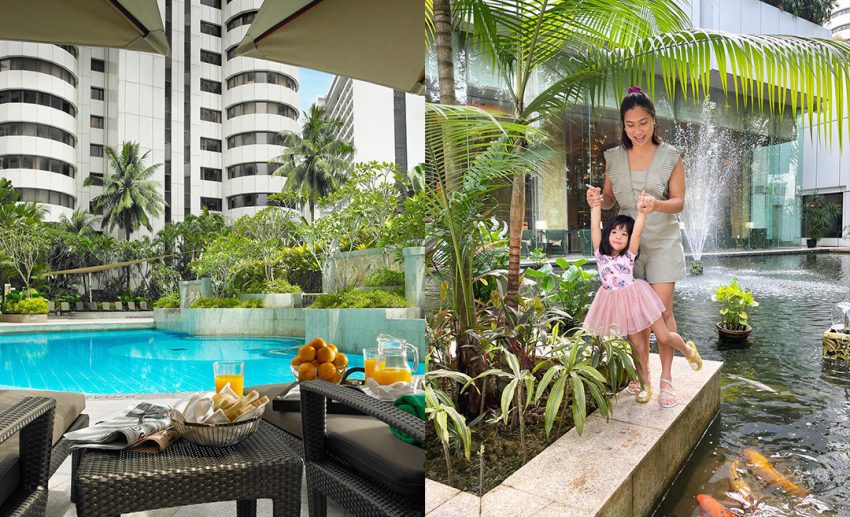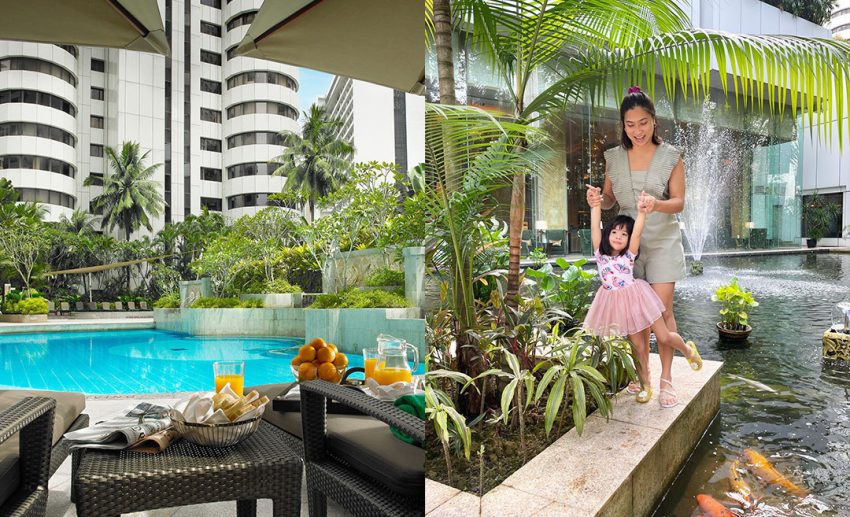 In between your child's busy schedule at the Shangri-La, there's one other activity that you can do anytime throughout the day — Fish Feeding. Situated in the picturesque outdoor koi pond and garden (replete with a pretty impressive fountain), you can feed the hungry fishies as a filler activity of sorts. Just get a tub (or two or three) of fish food from the concierge.
On the weekend we were checked in, it just so happened that Kechik had a pop-up shop and sensory play area just by the lobby and maze garden. Kid-friendly pop-ups are something you can expect on occasion, so do keep an eye out for that.
Speaking of kid-friendly, there are two pit-stops that your little ones simply can't miss out on — The ShuShu & Sassy Store and Jeong Family Atelier. The former is a retail outlet that stocks up on body, skin, hair care, and cosmetics. What makes it unique is that all the products are sustainably-made, kid-safe, and mother approved!
However, what takes the cake is the kiddy spa day on offer at the Jeong family Atelier. Using the Shu She & Sassy products, my little one got a 90-minute spa treat (the treat for me was watching her, really) that started with a bubbly banana foot soak and sheet mask. Then, it was over to the manicure counter, where she could get her digits done with some non-toxic peel-off polish.
The penultimate station saw her playing dress up! First, by selecting her gown and blingy footwear of choice, a tiara, and which makeup look she wanted to go for. I personally loved that the cosmetics have more of a skincare element to them, so the 'foundation' is really sunscreen while the 'lipstick' is really a nourishing lip balm.
Once she was all decked out, it was off to the final spa station for her, where she got to work on an arts and crafts activity (for us, it was decorating a music box as a cake) while having a snack of OJ and handmade biscuits made especially for the Jeong Family Atelier.
The spa session for little ones is a one-of-a-kind treat indeed. And it's something I look forward to letting her do again. Perhaps next time with some of her other gal pals instead of mummy, though.
Staying full
If there's one thing we can count on when it comes to the Shangri-La KL, the food is always on point. No lie, visits to Shang Palace for dim sum lunches are a regular family ritual, but staying at the hotel allowed me the time to get to try the other dining destinations on the property.
One place in particular where we'd spent a lot of time during our stay was the Horizon Club Lounge. After an afternoon spent at the pool and blazing through myriad activities, we got to wind down for hi-tea here. It included a lovely spread of savoury morsels and sweet treats — the chocolate lollies are toddler-approved! Come evening, and it's cocktail hour at the club. We're talking a free flow of beverages — a particularly good perk for those who imbibe. Naturally, the cocktail hour comes with a buffet spread, and a rather hefty one at that, with a selection of mains, finger foods, and desserts.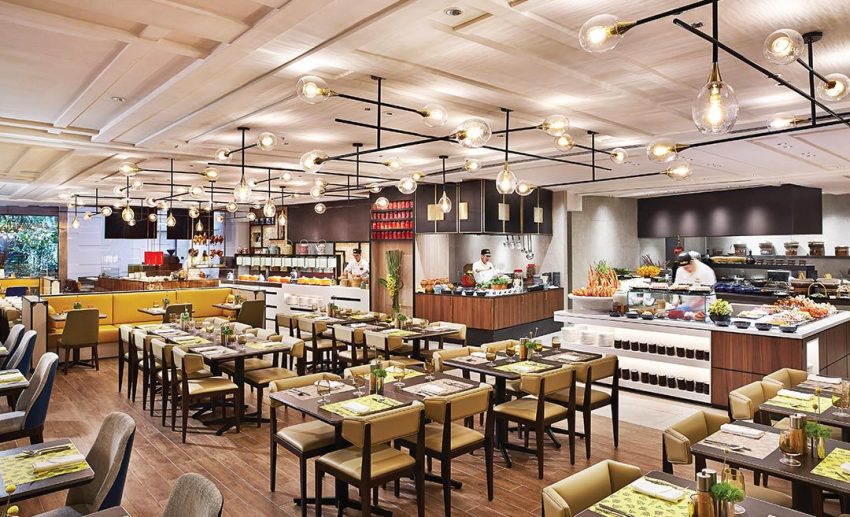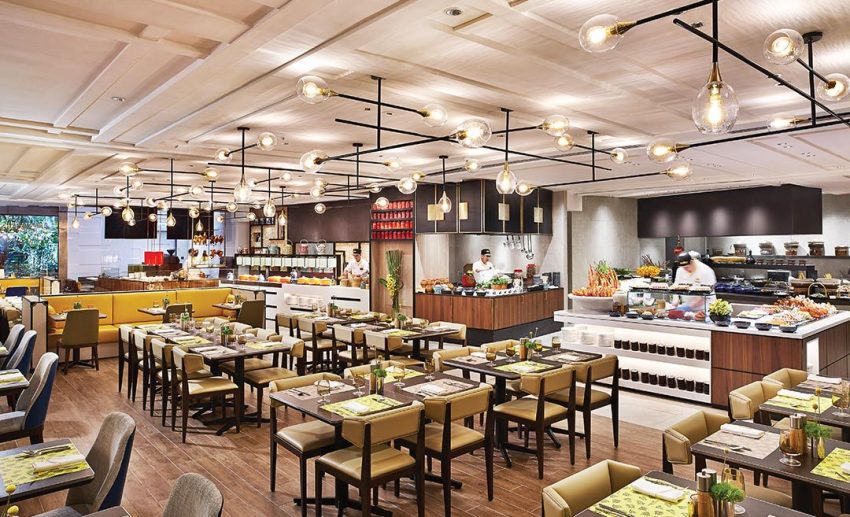 I've also always felt that when it comes to buffets in general, the Shangri-La KL is hard to beat. I've devoured my fair share of buffets at KL hotels, and the one at Lemon Garden certainly comes up tops. While dinner is always a treat, even the Lemon Garden's breakfast buffet (complimentary when you book a Family Staycation package) offers you all your favourites in one place — be it local or international cuisine. Insider tip: The mee Mamak is to-die-for!
If you're more inclined to dining fine, then Zipangu may be your dining destination of choice. With expertly-created traditional Japanese fare by Chef Takeshita, you can enjoy an assortment of freshly-flown in premium sashimi, the crispiest tempuras, and our favourites — the foie gras chawanmushi and cod grilled to perfection then glazed with teriyaki sauce.
So, I suppose you could say that while the little one was more than engaged throughout the day, after hours is when Mummy and Daddy got their fair share of entertainment afterwards for dinner at Zipangu. We also ended the day with a nightcap at Arthur's Bar & Grill. A Manhattan-style bar boasting a menu of "potently delicious" cocktails. I highly recommend the Sherry Cobbler — it's the bar's most complex beverage and takes the longest to mix — and it's equal parts potent and delectable, just like they promised.
If you're wondering what the little one was up to while Mummy and Daddy were off on their in-hotel date night, room service is a short answer! While you'll be able to find your usual suspects like burgers and nasi lemak on the menu, there's also a nutritionist-approved wellness menu that any mom would approve of. It's especially great for guests prone to food allergies or gastrointestinal issues and perfect for picky eaters who like to eat 'clean' (like my mini).
Staying true: The verdict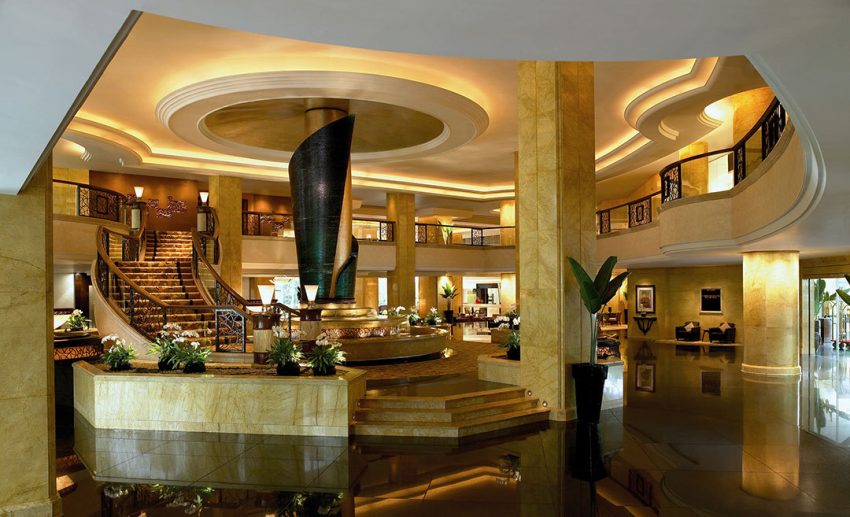 Suffice to say, the Shangri-La KL is a winner in my books, especially when it comes to checking in with little ones. And honestly, I'd love nothing more than to spend another weekend there bonding with my mini-me.
But ultimately, her opinion (obviously) is what matters. And this is what she has to say: "Mommy, you go home. I'm going to live here in the Shangri-La."
So there you have it, folks. Truer words have never been spoken — toddlers are agreeable to living the suite life. When we swing by for our dim sum lunches these days, there's always a glimmer of hope and bated anticipation in her eyes that we'll be checking in instead. If the wishful stare of a three-year-old doesn't convince you that staying here is a treat, then I don't know what will.
Address: 11, Jalan Sultan Ismail, 50250 Kuala Lumpur.