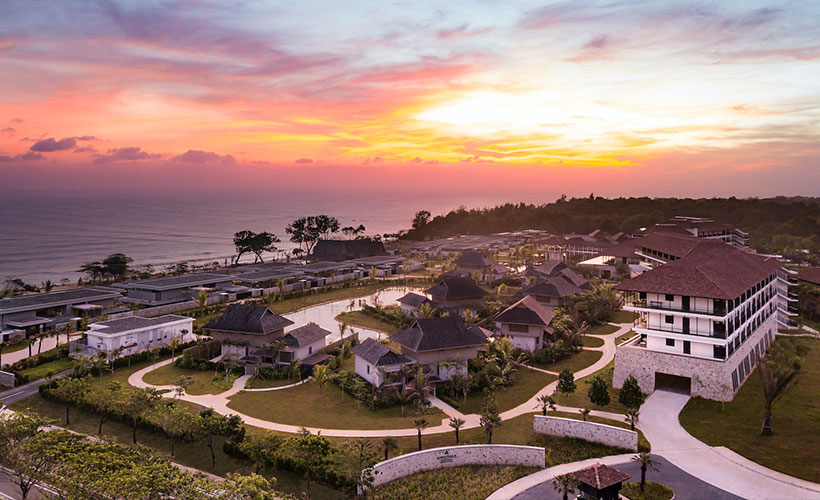 Located in the southeastern tip of Malaysia, particularly in the state of Johor, is the brand new, 3,900-acre Desaru Coast. Designed as a premium integrated destination resort, it features a golf course, conference centre, themed water park, retail village, and some amazing resorts.
One of the resorts along the coast's 17-kilometre beachfront is the luxurious Anantara Desaru Coast Resort & Villas that opened on 1 December 2019. The resort is a four-hour drive from the capital city Kuala Lumpur, a 45-minute journey from Johor's Senai International Airport, and a short two-hour road trip from Singapore. Visitors coming from across the causeway can also reach Desaru Coast via ferry followed by a short drive.
Our arrival to Anantara Desaru Coast Resort & Villas was punctuated by a welcome ritual performed by friendly staff. After being served a cool, refreshing drink, and a traditional preparation of betel leaf with areca nut paste, we were shown to our accommodation for the weekend – a beautiful one-bedroom pool villa.
The villa
A comfortable living area opens up to a private deck complete with gazebo and – as the villa's name suggests – a personal plunge pool. There's a pretty flower garden that extends past the deck and leads into a small lagoon.
Upstairs houses the breathtaking bedroom that's incredibly romantic. A local touch is apparent in the design of the space, combining traditional Malay elements with modern luxury. The island in the middle of the room is an uber-plush king-sized bed facing floor-to-ceiling windows that look out over the pool and pond.
It's safe to say that the one-bedroom pool villa is the perfect space for an intimate weekend for couples, but if you have a kid or two in tow and don't want to share the king bed, the sofa in the living area doubles as an extra bed for them.
The bathroom in the villa is just as spacious and luxurious as the bedroom, with a freestanding bathtub, his-and-hers sinks, vanity space, separate shower stall, and water closet. Luxury amenities – including three different types of bath soak salts – are included in the bathroom for your pampering pleasure.
This villa is one of the 123 keys that Anantara Desaru Coast Resort & Villas has to offer. The other spaces include 90 deluxe guest rooms in low-rise buildings overlooking the beach, gardens, and lagoon, 13 one- and two-bedroom pool villas, and 20 three- and four-bedroom residences that include an infinity pool, full kitchen, as well as chef and butler services.
The food
When it comes to food, guests at Anantara Desaru Coast Resort & Villas are spoilt for choice. There are two restaurants – Sea.Fire.Salt for seafood and steaks, and Turmeric for an Asian spread. For a mid-day tipple or even a nightcap, take your pick of one of the three bars at the resort – Infinity Bar, Observatory Bar, and the Lagoon Pool Bar.
Guests can enjoy tea, coffee, and cakes at The Lounge, or even indulge in a bespoke culinary experience on the beach. If you'd like a quick lesson in the art of Malay and Thai cuisine, a master chef is ready at Spice Spoons to guide you in the kitchen. You can then enjoy your self-made dishes in a feast by the sea.
For the uninitiated, glamping is, quite simply, luxurious camping. And we've compiled a list of locations where you can get your glamp on once the global situation betters: 10 Must-Visit Glamping Spots In Malaysia
The amenities
The big, twinkling blue ocean in the background is the first thing you notice when you walk into the resort. Not many people can say no to some sun, sea and sand, but should you want an alternative, there are two swimming pools on the property where you can lounge 'til the sun goes down.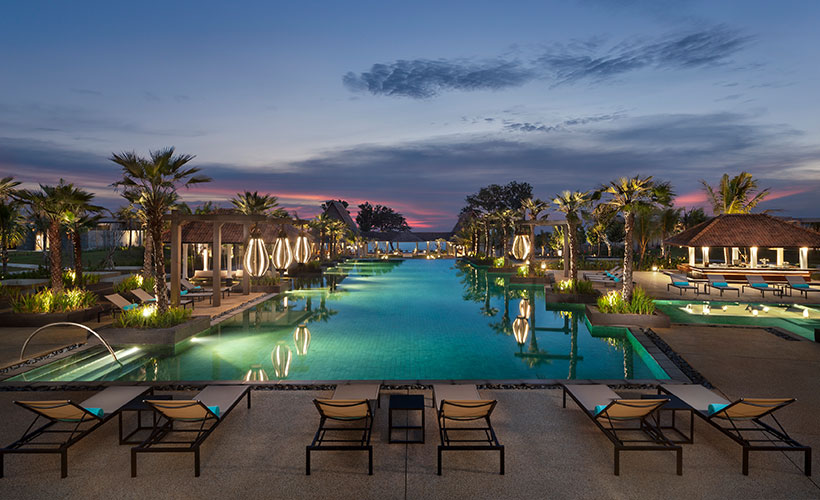 If you're looking for further relaxation, the resort's Spa By The Coast gives you an astounding experience with some signature Thai and Malay treatments that help relax and rejuvenate you through and through. Don't worry about keeping your children occupied while you idle the day away. There are clubs to occupy both kids and teenagers that house the latest games and other cultural activities.
The area
Should you want to venture out of the resort and check out the surrounding area, there are some fun activities for you to partake in solo or even as a family. Golfers can tee off at the Els Club with its 27-hole course designed by golf champion Ernie Els, and an 18-hole course designed in collaboration with golf champion Vijay Singh.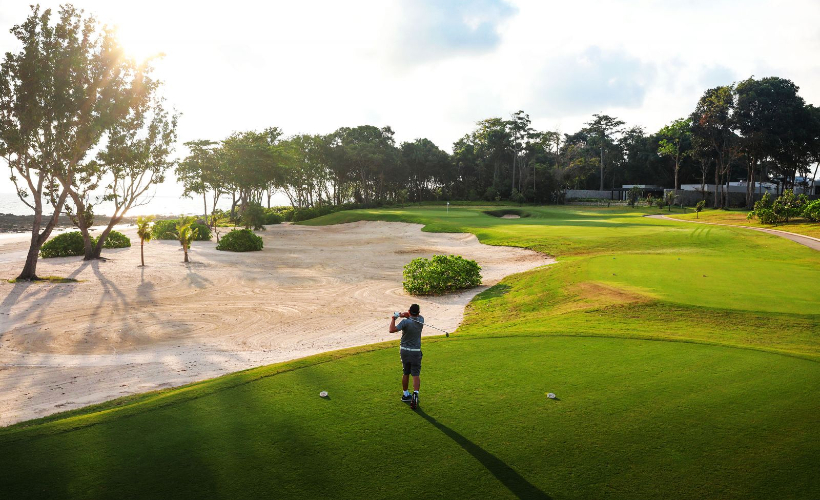 The whole family can gear up for an adrenaline-fuelled day with the rides at Adventure Waterpark, and should you want to indulge in a little retail therapy, the waterfront retail village will give you good reason to shop till you drop.
One thing #teamZafigo definitely recommends is that you do go on an eco-tour of the Belungkor Mangroves in Johor Lama. The hotel works together with a local nature conservation group to give you an experiential and educational day on the river. You'll get to cruise along the river in a speed-boat, learn about the mangroves and its conservation. If you're lucky you might even see the otters that make the river their home. Part of the tour includes meeting the warm and friendly people who live on the river and on tiny neighbouring islands, and also immersing yourself in their culture and way of life. While you're at it, you can plant your very own mangrove shoots, try their unique sea holly tea with honey and lime, and then dig in to a sumptuous, mouth-watering seafood lunch prepared by the local women.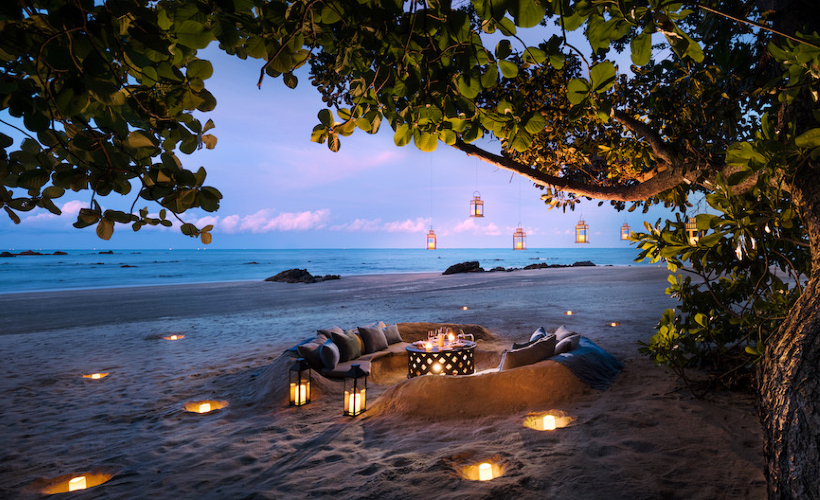 Checking out
Top-notch amenities aside, the staff and their unparalleled service is what truly makes your stay a memorable one. From check-in to check-out, you're taken care of with a smile and so much sincerity. It's comfort, beauty, and luxury all rolled into one – a night or three at the Anantara Desaru Coast Resort & Villas is definitely worth the splurge!
**All photos courtesy of Anantara Desaru Coast Resort & Villas unless stated otherwise
Get all the latest travel stories from Zafigo. Follow us on Facebook, Twitter, and Instagram