[vc_column_text]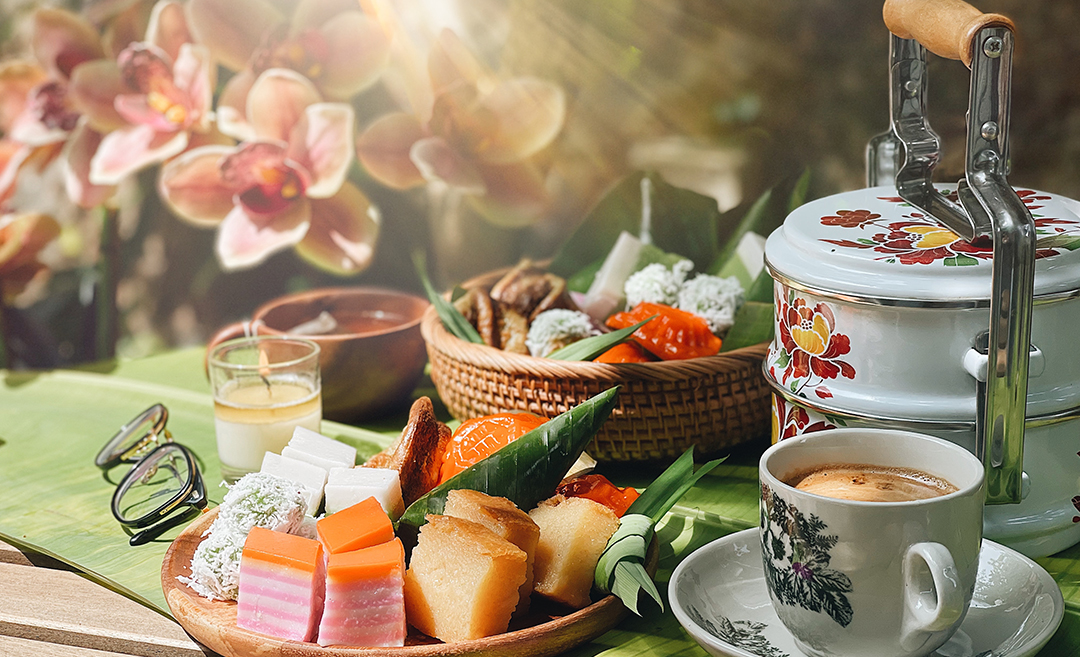 Subscribe to our new 

Telegram

 channel for the latest updates.
Let's all collectively admit that Malaysia's national pastime is eating. No matter the occasion, there's always room for good food. Earlier this month, the Zafigo team hosted a tea party to celebrate our love for Malaysia's kuih culture (kuihs are small traditional cakes), and each team member reflected on the memories and experiences that tie in with their favourite kuihs.
State pride
They say that while you can take a Kelantanese out of Kelantan, you can never take the Kelantan out of the Kelantanese. This rings true for everything – the language, the loudness, the audacity, and above all, the food. Having been born and (occasionally) bred in the bustling town of Kota Bharu, it's only natural that my choice for favourite kuih is one that hails from my home state. 
Akok is a sweet and smoky dessert made of flour, eggs, santan (coconut milk), pandan (screwpine), and a generous heap of sugar that's best devoured while still warm. Truth be told, I've never eaten a 'foreign' akok – as long as it's not from Kelantan or Terengganu, it's foreign. Why? Because home is where the best food is, and like any self-respecting Kelantanese, we don't do things by halves.
– Tengku Zai, Content Manager & Sub-editor
Banana lovin'
I love anything with bananas in them. I love banana cake, banana milkshake, bananas in my cereal. I even made a chocolate banana upside-down cake that has been quite popular with my friends, even if they're on a diet.
When it comes to traditional foods, I naturally always pick the ones with bananas in them. My favourite kuih are cekodok and lepat pisang. Both are nostalgic reminders of teatime in my childhood in Alor Setar. Lepat pisang is essentially bananas mashed with gula Melaka (coconut palm sugar), regular sugar, flour, and cornflour and then wrapped in banana leaves and steamed. While cekodok are small greasy and crunchy balls of fried bananas and flour, lepat pisang is sticky and chewy and fills that gap between lunch and dinner so satisfyingly. 
The best place to look for lepat pisang are the food bazaars that will spring up this month as Ramadan begins.
– Marina Mahathir, Founder
Snacking on rainbows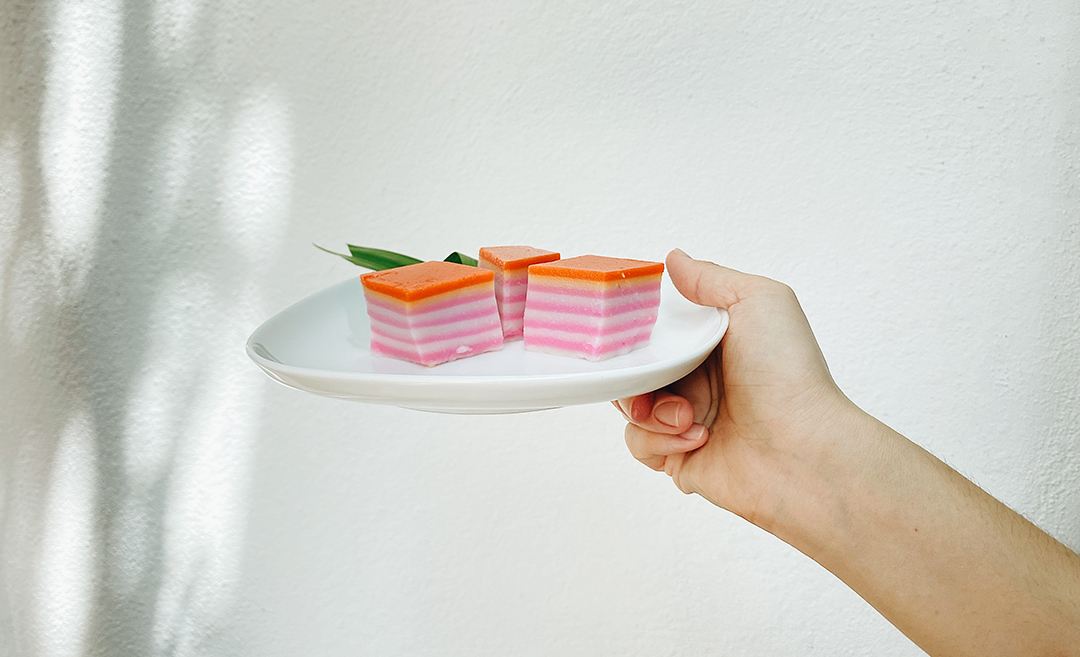 If I were a kuih, I'd be a kuih lapis – a sweet, colourful, multi-layered, and soft-hearted rainbow child! My grandma, who is of Peranakan descent, used to make these for me when I was growing up.
This is a much-loved childhood comfort snack, made of steamed colourful layers with soft rice flour pudding. Said to be of colonial links from the Netherlands, this sticky and chewy treat has a bouncy gelatine-like texture, usually made with pandan flavouring.
I remember sitting in front of the telly watching my favourite cartoon shows, peeling off the layers of kuih lapis, with a glass of Ribena. That was my tea-time treat if I behaved long enough through the day. While I don't indulge myself in this snack much these days, you'll be able to find it at most Peranakan restaurants and Chinese hawker stores. A piece of nostalgia awaits at the end of the rainbow!
– Tercia Goh, Head of Content Marketing
Coconuts about gula Melaka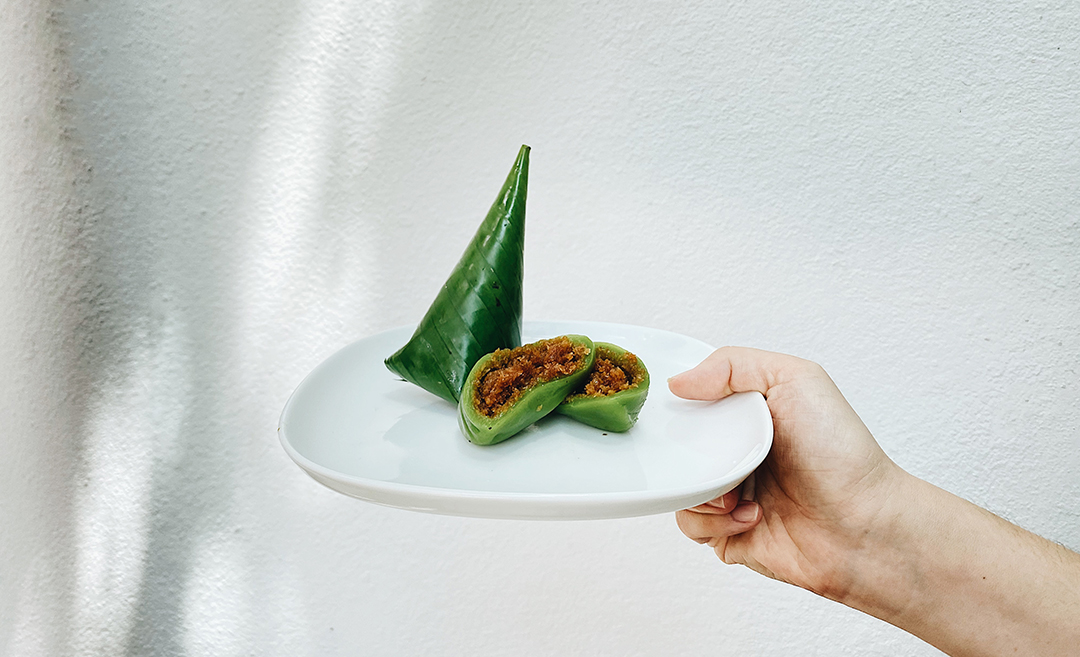 Kuih koci is one of the few Peranakan kuihs that I love. The outer layer is made out of glutinous rice flour which makes it soft and slightly chewy. Inside, you'll find grated coconut cooked and infused with gula Melaka. In all, a delicious little parcel. 
There are a few types of kuih koci fillings – pandan, pulut hitam (black glutinous rice), with and without the extra santan coating. I especially like the pulut hitam variant with the santan coating as the savoury santan flavour balances out the sweet coconut filling, creating a satisfying symphony of flavours.
– Xin Xin Lee, Head of Design
You are the onde one for me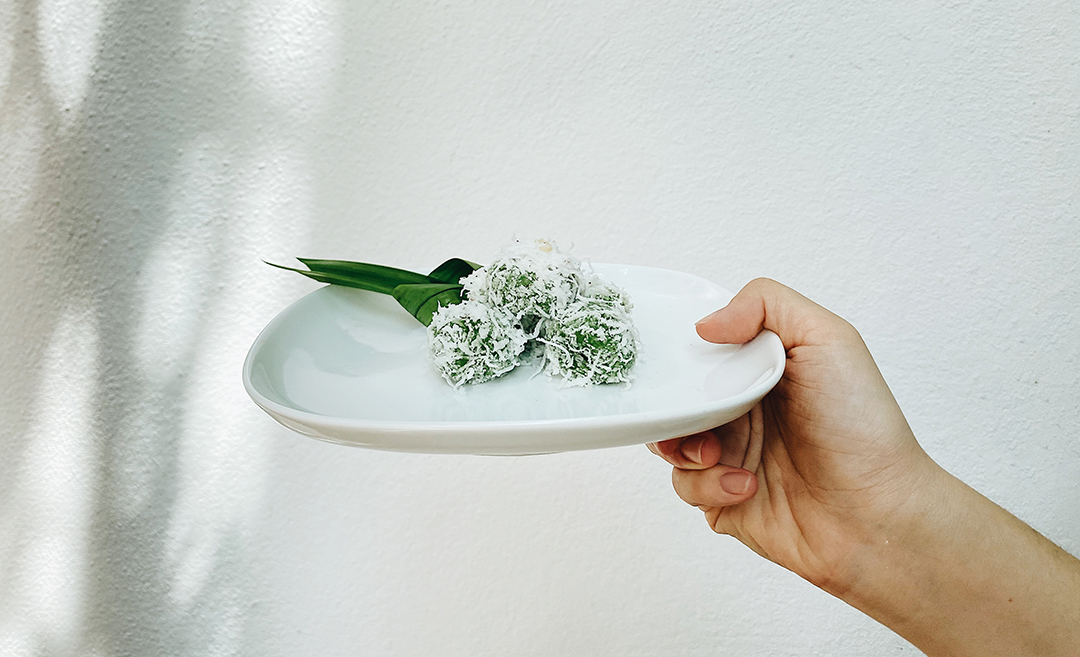 The first time I had onde-onde, I was mystified by how quickly it disappeared. Where did it go? Did I seriously inhale an entire packet on my own? Not possible, I thought. I'd have to be mad – and indeed I was. Madly in love with it. I'm always in a good mood after having onde-onde, maybe because I tend to have it after stuffing my face with Malay food, or maybe it's that the secret to a dessert's success is if it includes grated coconut soaked in palm sugar stuffed in glutinous rice balls. You can't go wrong. Unless you have too many… but that's a different story. Buy yourself a packet from Ali, Muthu and Ah Hock today.
– Rathika Sheila, Content & Marketing Manager
Ang ku kuih supremacy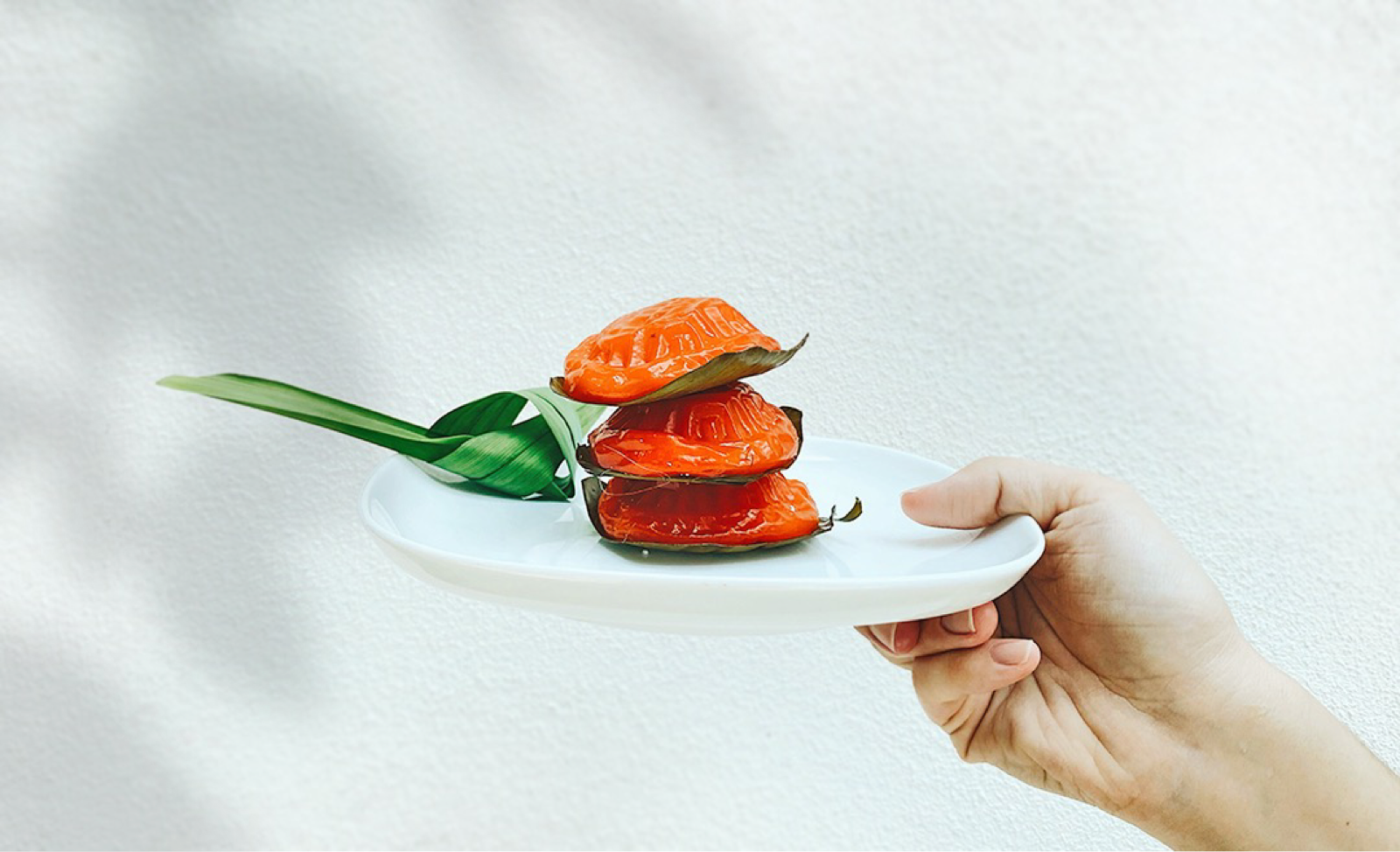 Ang ku kuih, or red tortoise cake, consists of a soft and smooth golden mung bean filling wrapped in a chewy glutinous rice flour skin. This delicious goodness sits on top of a small piece of banana leaf throne like the queen she is. The colourful tea time snack comes in myriad forms too – be it round, flat, tortoiseshell; red, green, or pink. If there exists royalty amongst all kuihs, ang ku kuih would reign supreme.
Coming from a Chinese family, I remember this as one of the must-have offerings during prayers to the Gods and ancestors. I would get really excited as it's a post-prayer treat for me. On school days, my mum would pack me different kuihs for lunch, and ang ku kuih would be one of them. My mother knows best! As an adult, I don't really eat them as often. But when I do, I get my cravings fixed from Little Penang.
– Theresa Teh, Marketing & Development Lead
Twinning in tapioca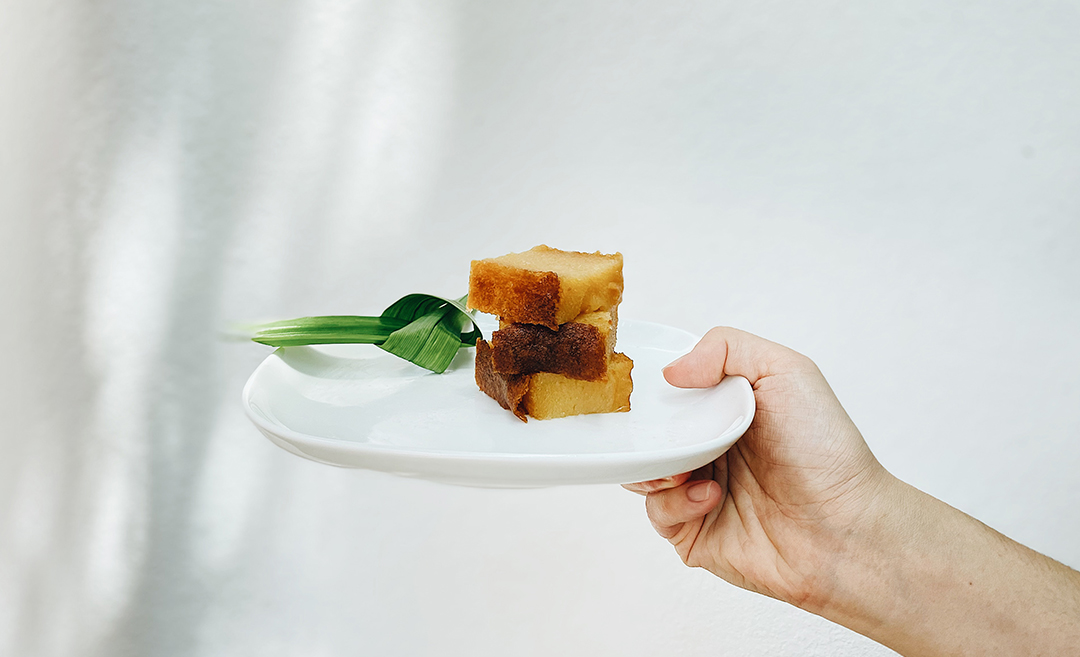 My love for kuih bingka is directly influenced by my mum – she absolutely loves this Peranakan snack. Made with tapioca, flour, pandan, santan, and eggs, this kuih features a caramelised crust (the best part!) and a springy texture when you bite into it. 
When I was growing up, I only ever liked eating kuih talam or seri muka; I didn't know how to enjoy the flavour of kuih bingka. To some, kuih bingka might taste bland, and if not done right, it can become too dry. 
Ever since my mother introduced me to kuih bingka from A'Han Nyonya Kuih, I've been hooked! As it's also a kuih that both my mother and I enjoy, it's become a tradition for the both of us to taste test them at any gerai or kopitiam that sells them. In a way, our love for kuih bingka allowed us to deepen our mother-daughter bond.
– Sue Ee Teh, Junior Content Creator
Sharing is caring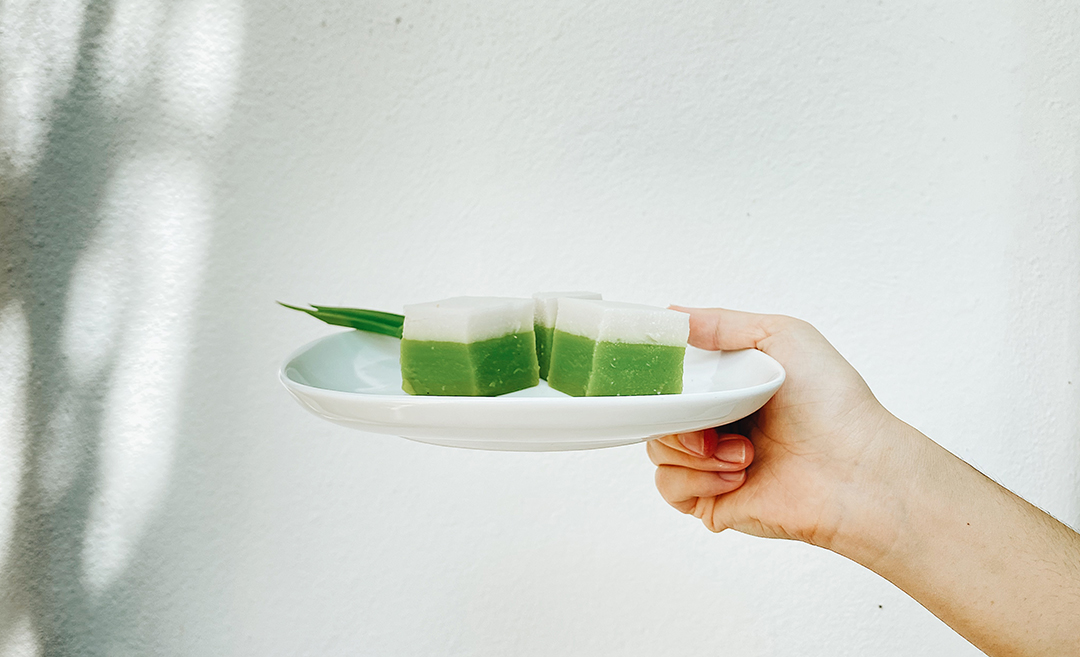 Kuih talam is named after its cooking method of using a container to steam the batter. The batter consists of two layers; the green bottom made from pandan juice extract, mung bean and rice flour, while the white top is made from lightly salted santan. This blend of sweet and salty gives this classic Peranakan mid-day snack its lovely flavour. Sometimes, you'll also find the pandan layer replaced with other flavours like pumpkin, sweet corn, or palm sugar.
This kuih is a great mid-day snack as I fondly remember having them with my sister on our way home after school. A kuih seller would set up her stall just outside the school gate in the afternoon, and it would be our meeting point before our walk home. As kids, we never carried much money with us, so quite often so we'd buy just one thing, often this item was kuih talam, and split the white and green layers.
Kuih talam is difficult to get wrong, and I've yet to have a version of it that I don't like, so it's difficult to recommend just one place. However, I do suggest buying these kuihs from your local pasar malam or mom-and-pop eateries. Somehow, they just end up tasting more authentic.
– Maggie de Souza, Head of Events
Follow Zafigo on Instagram, Facebook, and Twitter. Sign up for our bi-weekly newsletter and get your dose of travel tales, tips, updates, and inspiration to fuel your next adventure! 
[/vc_column_text][vc_column_text css=".vc_custom_1618888549097{margin-bottom: 10px !important;}"]
Read More:
[/vc_column_text][vc_column_text][related_posts_by_tax post_types="post" posts_per_page="3″ format="thumbnails" image_size="medium" title="" taxonomies="category,post_tag" order="RAND"][/vc_column_text]