Do you ever get that feeling where you walk into a space, and you're immediately transported to a specific time and place in your memory? Food, music, architecture, landscapes, and even scent can take us to entirely new places in our minds. And we live in a Southeast Asian cultural mosaic that boasts several locales able to transport you to places outside of Malaysia.
So, don't worry about travelling far or the need to do expensive tests and quarantine, because we've put together a list of some of the best places to have the ultimate Malaysian holiday.
Japamala By Samadhi, Tioman Island
Looks like: The Maldives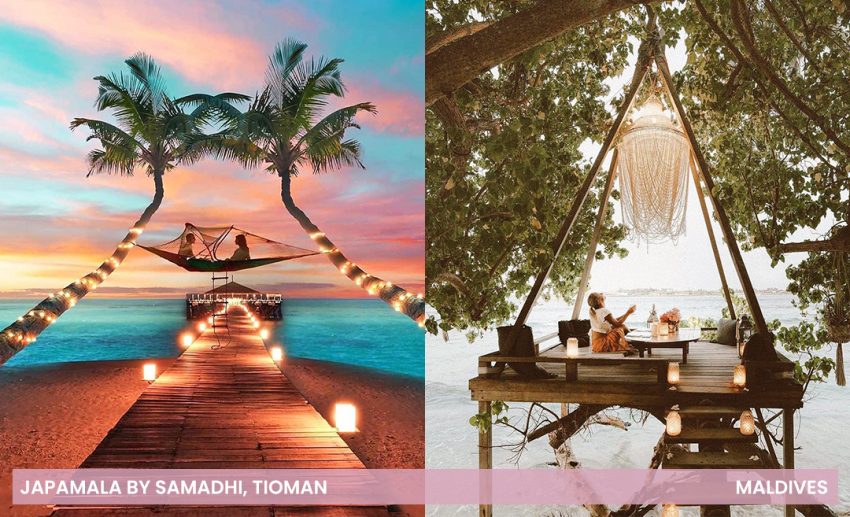 Situated off the east coast of Peninsular Malaysia in Pahang is the Japamala Eco Resort on Tioman Island. This resort and luxurious spa will have you feeling like you've hopped on a plane to the Maldives. Being an island resort, you can immerse yourself in typical island adventures, including scuba diving in the crystal clear waters and jungle trekking.
But if you are looking for a more relaxing alternative, book a session at the Samadhi Spa. Then, towards the end of the evening, sneak away to your private plunge pools and watch the sunset from your sarang (nest) or allow the staff to prepare you dinner for a meal under the stars.
Ipoh Bali Resort, Ipoh
Looks like: Bali, Indonesia
As its name suggests, this resort is a little slice of Bali set in the residential neighbourhood of Ipoh, Perak. From its interior decor to its spa treatments, every piece of this place has been fashioned to give you an authentic Balinese experience right in the city's heart. It is an ideal choice for those looking for a short romantic getaway without travelling outside of Malaysia.
Wind Paradise Mongolian Yurt, Kundasang
Looks like: The yurts of Mongolia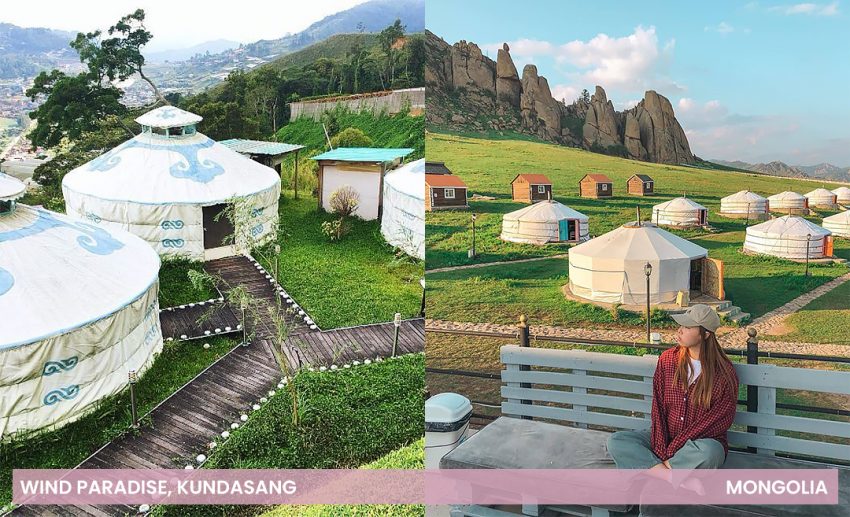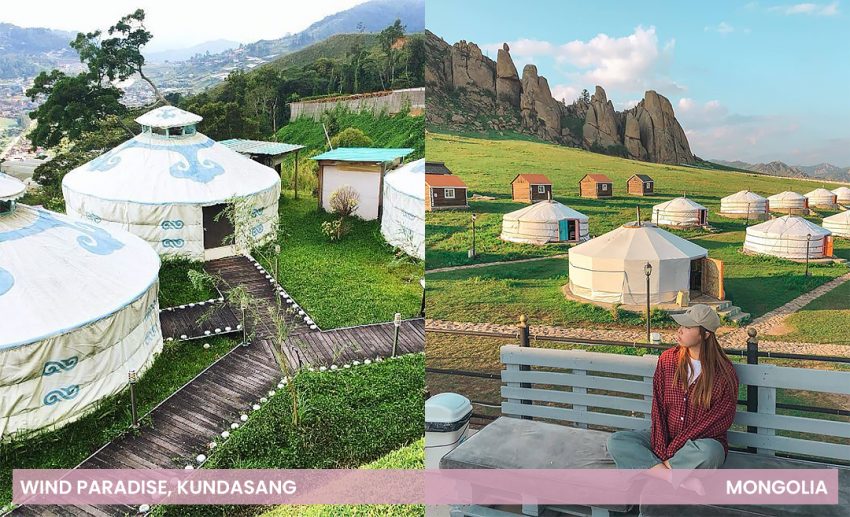 When you think of a holiday in Malaysia, a yurt isn't the first thing that comes to mind. Why would anyone want to stay in a Mongolian-themed accommodation in Malaysia? Perhaps a better question would be, why not?
Wind Paradise offers Mongolian yurts and wooden lodges located right by the Kinabalu Park in Kundasang, Sabah. Wake up to a spectacular sunrise and take in the view of the vast hills and farmlands that have a slight resemblance to the hills of New Zealand on the decks outside your yurt. The temperatures are much more relaxed here, and the air is fresh, making it the perfect escape for any city slicker.
Tiarasa Escapes, Janda Baik
Looks like: Magic Camps, Oman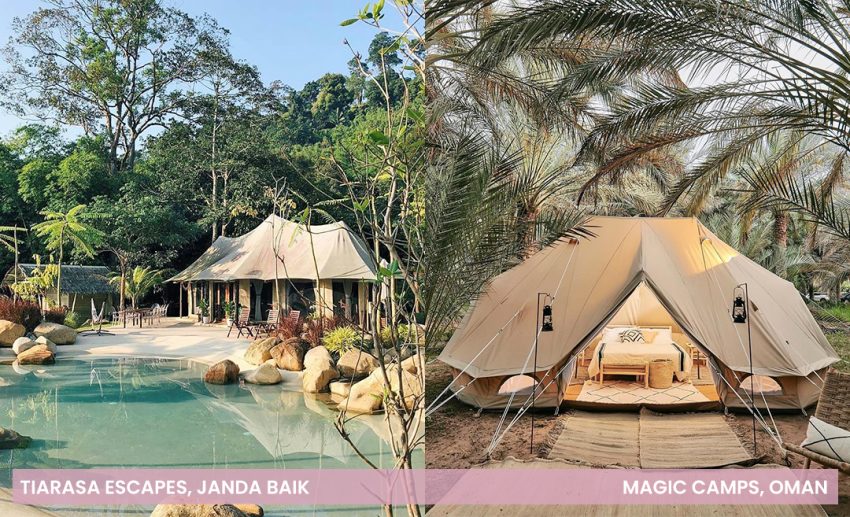 This hillside retreat in Pahang resembles the glamorous resort tents you'd find in the deserts of Africa or Abu Dhabi. However, instead of camels and sand dunes, you get to relish in cool, tropical temperatures as you dip in the freeform pool outside your tent at Tiarasa. With an in-room spa treatment, an outdoor cinema, and rangers attending to your needs on hoverboards, it is a glamping experience you'll want to share with family and friends.
Colmar Tropicale, Bukit Tinggi
Looks like: Colmar, France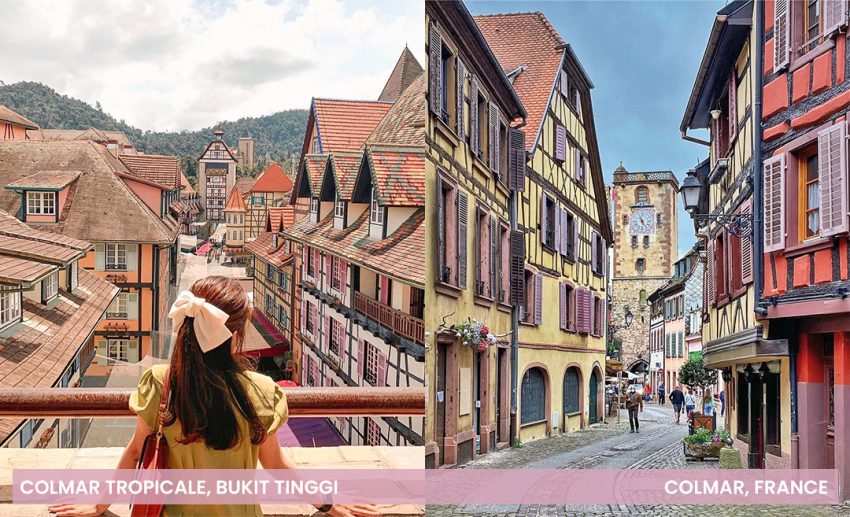 Take a trip to France by booking a stay at the Colmar Tropicale, a resort up in the hills of Pahang's Bukit Tinggi modelled after the streets of Colmar, a quaint town in Alsace, France. Stay in one of their 235 rooms and suites with plenty of dining options on-site. Saddle up for a day of horse riding, archery or enjoy a walk around their botanical gardens.
Just outside the property, you can take the time to slow down in the Japanese Village, a beautifully curated garden surrounding their Japanese Tea House and Tatami Spa, where you can spoil yourself with a massage. Then, visit Rabbit Park, where you might spend some time getting to know over 200 non-human, super cute, fuzzy friends.
Permai Rainforest Resort, Kuching
Looks like: The Amazon Rainforest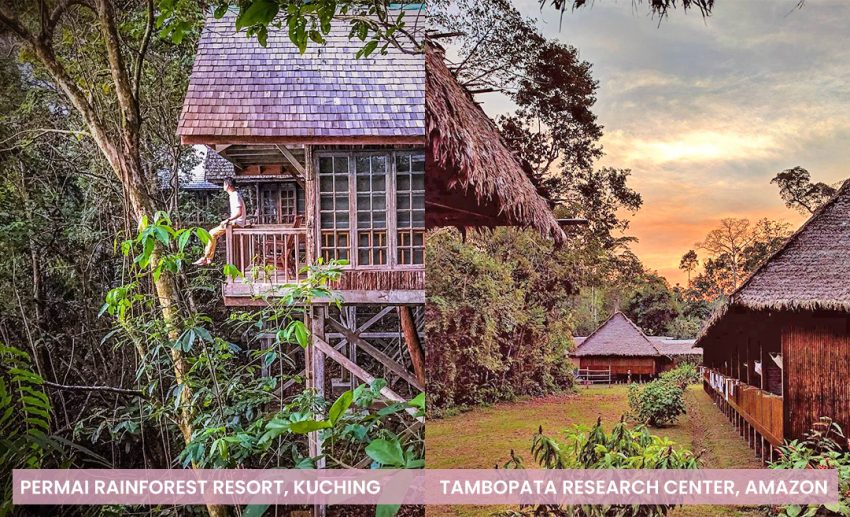 Skip the spas and candlelit dinners, and strap on your Nat Geo boots at this resort in Sarawak. This eco-resort was built to allow an untainted experience as you discover the adventure and wildlife of its natural surroundings. You can even expect to wake up to find some of the local nature right on your doorstep.
Explore the coast by kayak or SUP (Stand Up Paddleboard) and get to know the Irrawaddy Dolphins, local to the area. You can also opt for a guided tour to watch for crocodiles or spend your day bird watching! The Permai Rainforest Resort will have you feeling like you're exploring the jungles of the Amazon and yet offer you an experience that is quintessentially Malaysian.
Tadom Hill Resorts, Banting
Looks like: The Fujian Tulou, China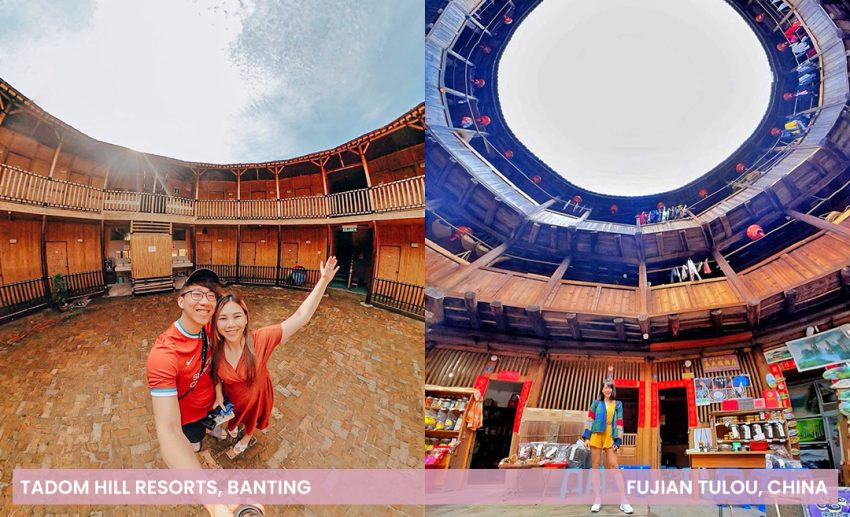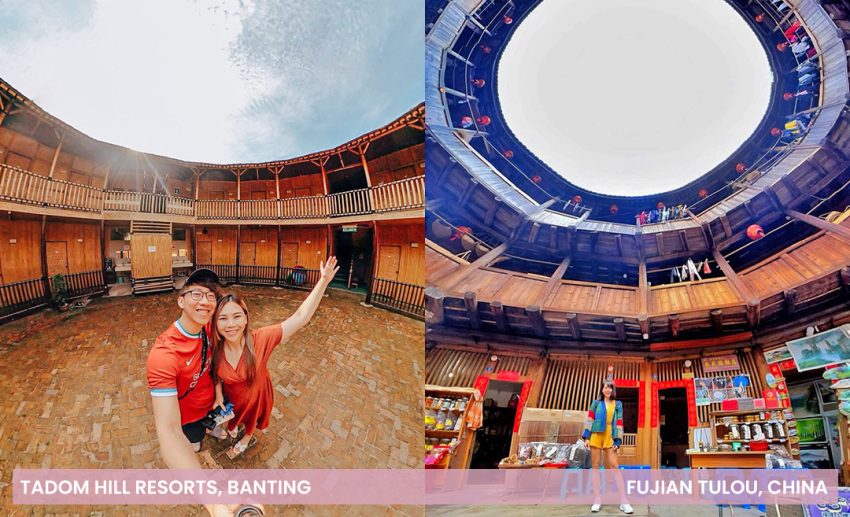 Resembling the Hakka architecture of the Fujian province of China is this bamboo tulou (communal earthen building) at the Hakka Village of Tadom Hill Resorts. While typically built from earth, sand, and limestone, the Tadom Hill Resorts' take on this ancient architecture is made entirely of bamboo, and is built to accommodate large groups of people. With air conditioning and hot showers, your stay here will be anything but ancient.
Humble Hobbit Home, Ranau
Looks like: Hobbiton Movie Set, New Zealand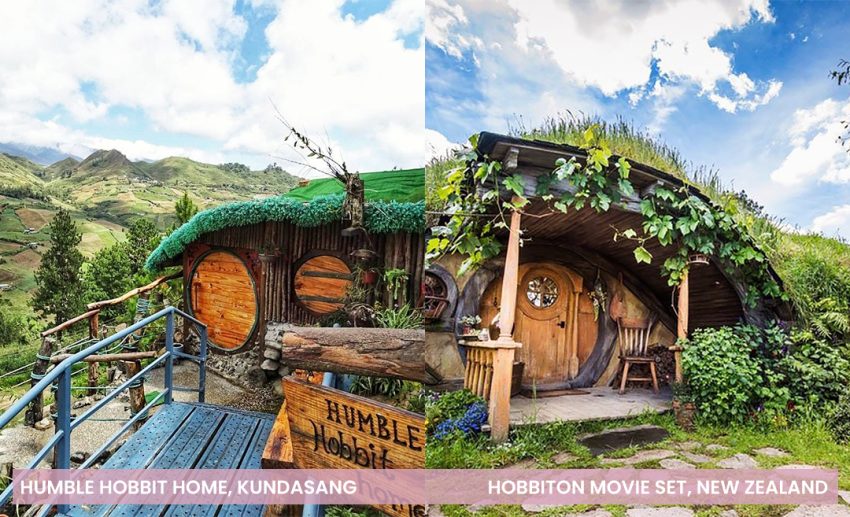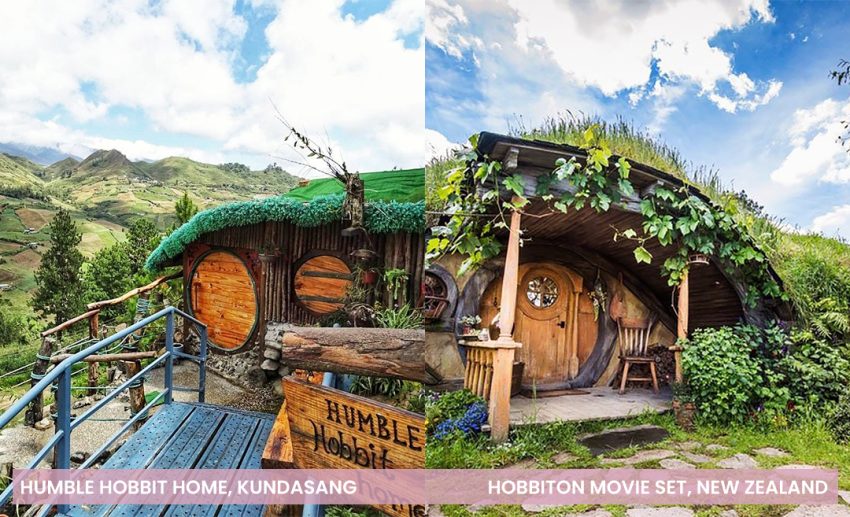 Up in the hills of Ranau in Sabah, you will find a quaint little home that looks like it came straight off a film set. The Humble Hobbit Home takes after the Hobbiton Movie Set in Matamata, New Zealand. It accommodates up to five guests, providing you with all the basic amenities you'll need for a comfortable getaway.
You could have breakfast in bed as you gaze at the beauty of Mount Kinabalu or have a barbecue dinner at the rock garden right outside the home. While it draws likeness to the "preciousss" dwellings featured in The Lord Of The Rings (pun completely intended!), the view from here is nothing short of spectacular.
Cameron Highlands Resort, Cameron Highlands
Looks like: Cottages in an English countryside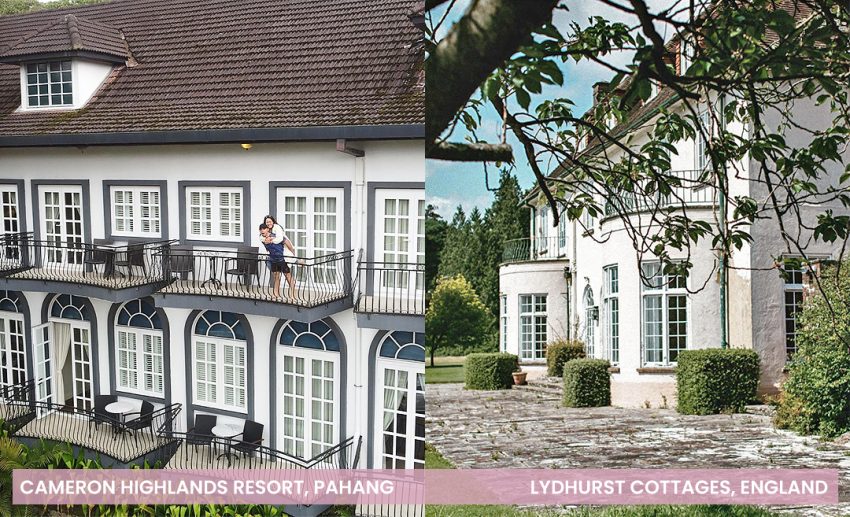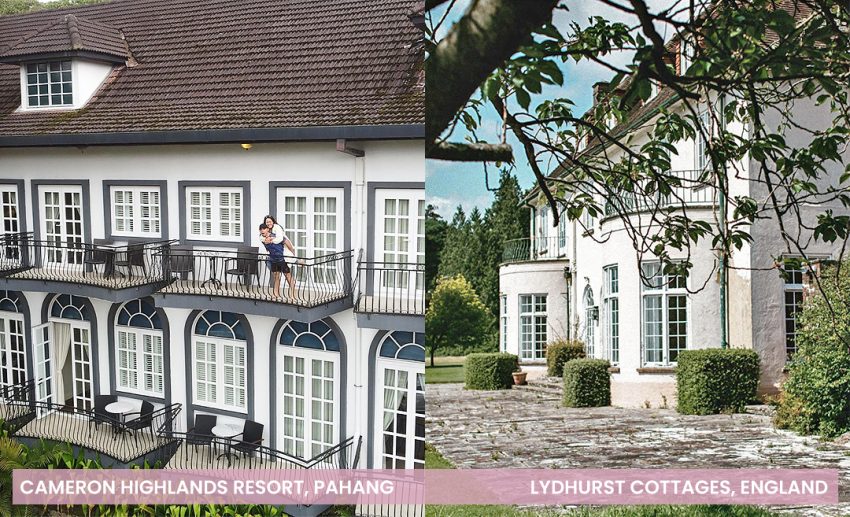 Built from an existing 1930s cottage is this elegant 5-star hotel — the Cameron Highlands Resort. With architecture influenced by its colonial era and hospitality that is simply Asian, guests can expect to fall head over heels in love with the charm, romance, and wonder of this place in a heartbeat. Steeped in history, this stunning property is a cooling escape in the highlands of Pahang.
Treat yourself to a session at the Spa Village followed by afternoon tea at the Jim Thompson Tea Room. Spend some time outdoors trekking the forest with a guided tour by Resident Naturalist, Madi. Allow the staff to prepare you a private dinner dining experience at a candlelit gazebo or by a warm fireplace. After dinner, head to the Highlands Bar for drinks, live music, and a game of snooker. Did I mention their Reading Room, that comes with a fireplace? That just might be the perfect way to end the night at this storybook-like destination.
The Amanjena Resort, Melaka
Looks like: Santorini, Greece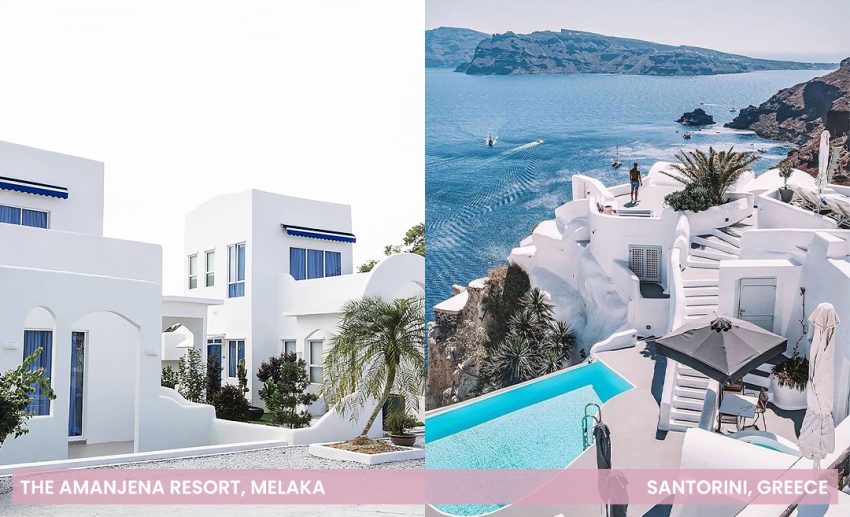 About an hour away from Melaka lies a little Santorini-esque escape. The Amanjena Resort offers you the same blue and white hues that the Greek island is known for, while the tropical sea wind breezes in from the Straits of Melaka! Plan your little escape here in this cosy resort and you'll never run out of things to do — there are ping pong tables and board games for your to enjoy with loved ones. There are also beach activities like banana boat rides, a fire pit (mmm, s'mores!), and a giant outdoor screen to enjoy in the evenings. There's even a sandpit for the kids!
All rooms have complimentary amenities like a TV, minibar, kitchenette, air-conditioning, and coffee or tea making paraphernalia. Their Pool View Executive room has a bathtub facing the outdoor swimming pool!
The Acres Resort, Bentong
Looks like: Eagles Nest, New Zealand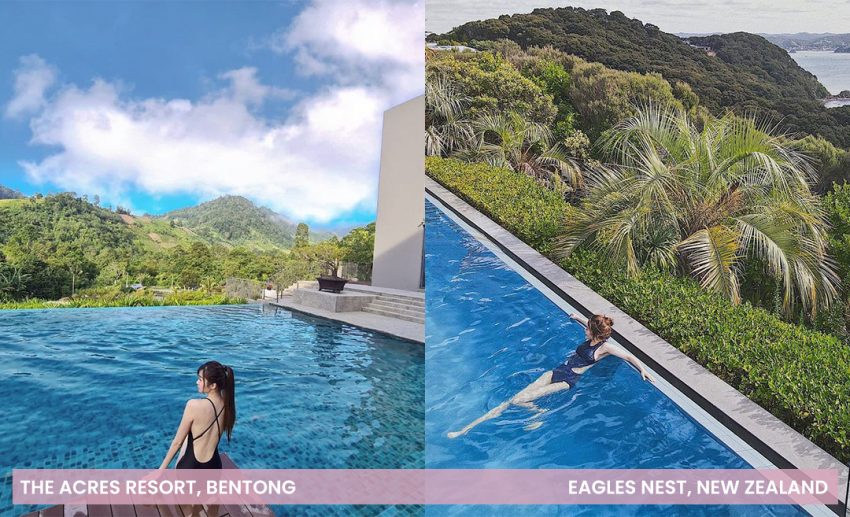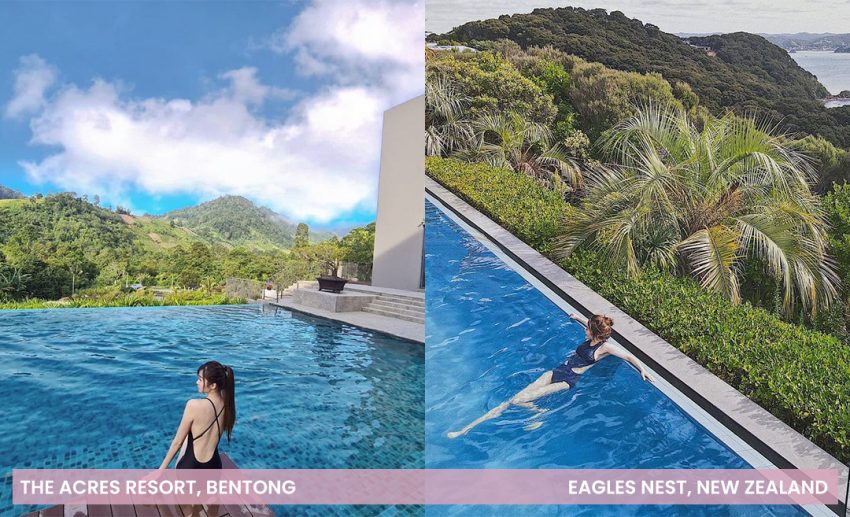 The Acres Resort is an eco-friendly resort situated in the valley of Kampung Bukit Tinggi, amongst greenery and chilly mountain breezes. Created for visitors to slow down and enjoy the beauty of nature, free bicycles are made available for cycling around the resort, where you can admire the impeccable gardens. Vegetables and fruits from their farm are served at the café — no pesticides and chemical fertilisers are used on the produce!
Their infinity pool overlooks the surrounding hills and their in-house mini zoo. Not a bad view, if you ask us! If you (somehow) find yourself bored of nature, sing your heart out in the karaoke room or bring the kids to the well-equipped playroom.
One&Only Desaru Coast, Johor
Looks like: The Chedi Muscat, Oman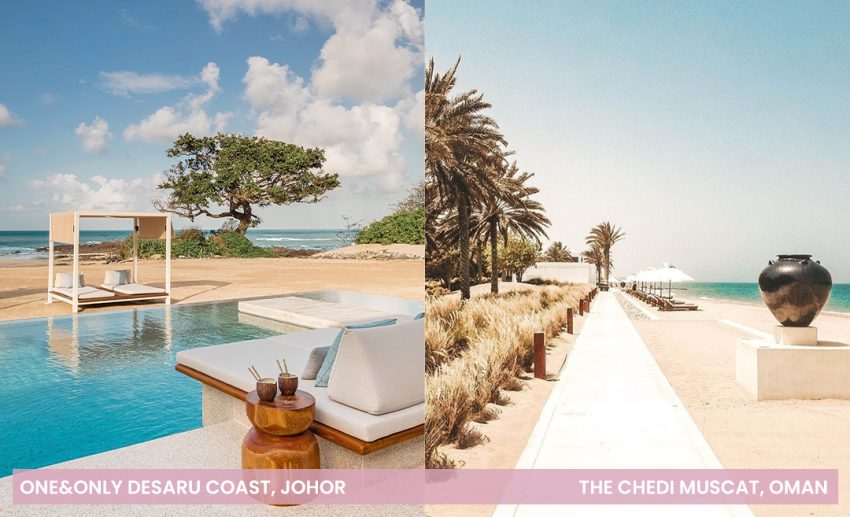 Tucked away in coastal Johor, sand and sea with a tropical touch awaits you. At the One&Only Desaru Coast, you'll find yourself in a curated and personalised getaway, with holistic wellness and epicurean feasts taking centre stage. A range of fitness activities awaits you, from tennis to Silat Melayu (traditional form of self-defence) class. Alternatively, explore the beauty of nature through a nature walk, or recharge your body at the Chenot Spa.
Sipadan Kapalai Dive Resort, Sabah
Looks like: The overwater villas of Maldives
Surrounded by crystal clear waters, this award-winning floating paradise is perfect for diving enthusiasts and those who enjoy the serene sounds of the sea. Lose sense of time sun-tanning on your chalet's private balcony as the sea breeze brushes your cheeks.
Many sea creatures await you if you decide to snorkel or dive at nearby dive sites. For those who prefer to stay on top of the water, rent a transparent kayak for some cool Instagram shots. If you do visit this gem, remember to leave only footprints!
Eastern & Oriental Hotel, Penang
Looks like: Historic English buildings
Known as the 'E&O' to seasoned travellers, this charming heritage building is steeped in British colonial history. Travellers from the Western world seeking to experience Penang would espouse E&O as their accommodation of choice.
The hotel still exudes the same English charm and grandeur today, boasting elegant suites with exclusive privileges and amenities. Take in picturesque views of the seafront from the luxurious Corner Suite, whether from the bathtub or on the balcony.
Mountain Valley Resort, Kundasang
Looks like: The mountains of New Zealand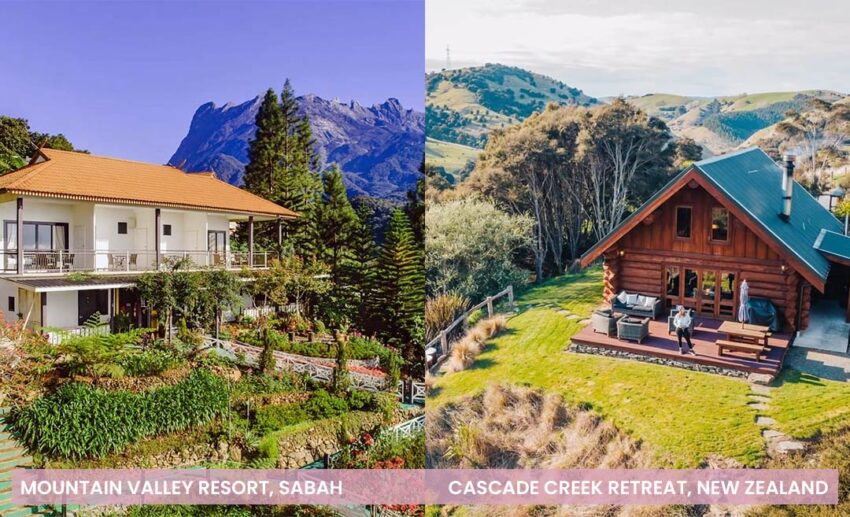 You won't be deprived of fresh air and stunning views here at Mountain Valley Resort. Situated at the entrance to the small town of Bundu Tuhan, the resort is a mere two minutes away from the entrance to Mount Kinabalu National Park.
This boutique resort aims to create a contemporary experience set in a serene environment; a chilly escape boasting great food and service. The best views to wake up to are from Room 11 and Room 15 — don't say we didn't share!
It's great to explore the world on its grand scale, but every so often, it's a privilege to bask in the beauty of our world without having to leave the home ground. Besides, if there's ever a time to discover new sides of Malaysia, it's right now.
Editor's note: This article was originally published on 03 December 2021 and has been updated to include more locations.