I'm all about treating oneself to a good session (read: day) of self-care, and honestly, why not? Life can sometimes get the best of us — there are countless responsibilities at home, work, trying to maintain a social life, and if you're a parent, you'll know how overwhelming it can all get. So, every now and then, we deserve a treat! It's also no secret how much I love massages, so when Zafigo was invited to experience the brand-new Serenity by POSH, I jumped at the chance.
A little background on POSH: It was founded by Serene Eng in 2010 and grew from its humble beginnings with one staff and a two-seater salon specialising in manicure and pedicure services. Fast forward two decades or so, POSH has three fully-equipped outlets and multiple grooming services. And now, they've hit another milestone — a spa in the sky.
With no expectations but plenty of excitement, I headed to Serenity for a well-deserved self-care day. Read on to find out how it went and why you should book your next massage here.
The space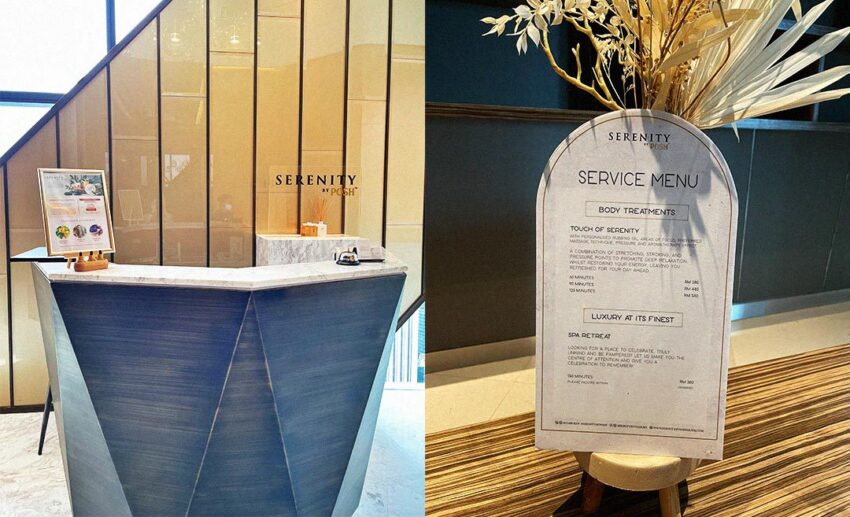 Okay, I have a fear of heights, so I'll be honest — when I heard it was up on the 39th floor, my stomach started doing cartwheels. But you know, in the name of self-care, I braved it anyway.
Tucked within Element Kuala Lumpur, the spa is easy to get to, and parking is plenty. Upon arrival, I was greeted by Flow, one of the masseuses at Serenity and immediately got the vibe that it was time to leave my stresses at the door. She helped me change into my indoor footwear (as most spas have them) and got me started with a welcome drink — POSH's very own ginger tea recipe. Yum!
Unlike many massage spas, which are often dark, Serenity is all about streaming in natural sunlight, but don't worry; they have blinds to dim the massage rooms. The floor-to-ceiling window panes gives guests an unparalleled scenery of what daytime Kuala Lumpur in all its glory looks like. White marble flooring gives the spa a sense of luxury, and the Earthy furniture tones evoke a homey feeling.
After enjoying my welcome drink, Flow introduced me to my masseuse for the day, Farah, who asked how I was feeling lately. Naturally, I replied, "Stressed, because I have children." I was half kidding. She then laughed politely and guided me through the options of essential oils: Calming and Focus — a blend of wild orange and rosemary, which helps to calm the body and mind, and insomnia. Hormonal Balance — made of ylang-ylang and geranium to help hormonal imbalance and improve it, and for better blood circulation. Lastly, there's De-stress and Relax, a lavender and peppermint concoction which promotes relaxation and helps with migraines, which was my choice for the day.
The experience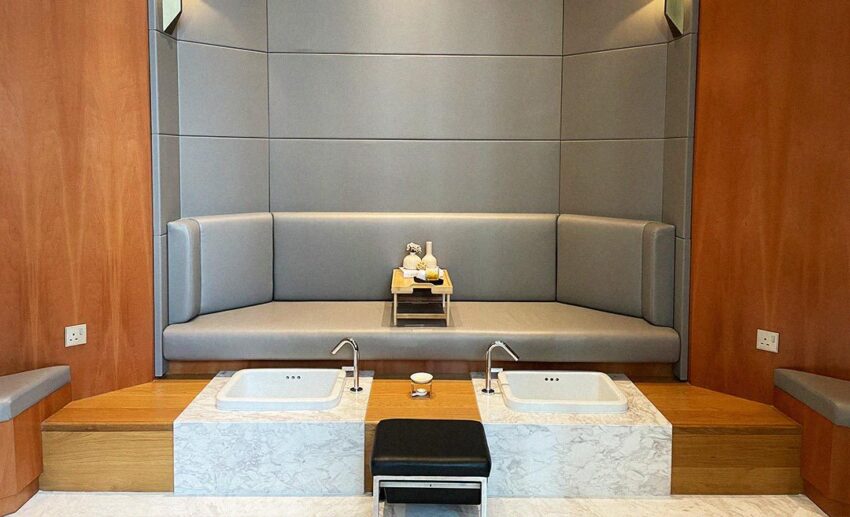 While the ladies at Serenity took their time to go through the choices of essential oils for the day, I sat down for a foot soak to get the session started. Something about soaking your feet in warm bubbly water that really gets the mood going. Flow reminded me that she would be nearby should I need help with anything else; and I have to point out, attentive services like this make all the difference when it comes to places of self-care. We spend so much time participating in the rat race that when it's time to slow down, it's nice to feel like we're being completely taken care of.
Off we go to the massage room!
Before getting settled into my private room, Farah took me on a quick tour of Serenity, which had four treatment rooms in total: three single rooms and one for couples or besties looking to indulge in a self-care day. Each room has an en suite bathroom equipped with robes, mineral water, towels, and toiletries. The VIP or couple room comes with a jacuzzi, and as much as I love a bubbly soak, I opted for the single room.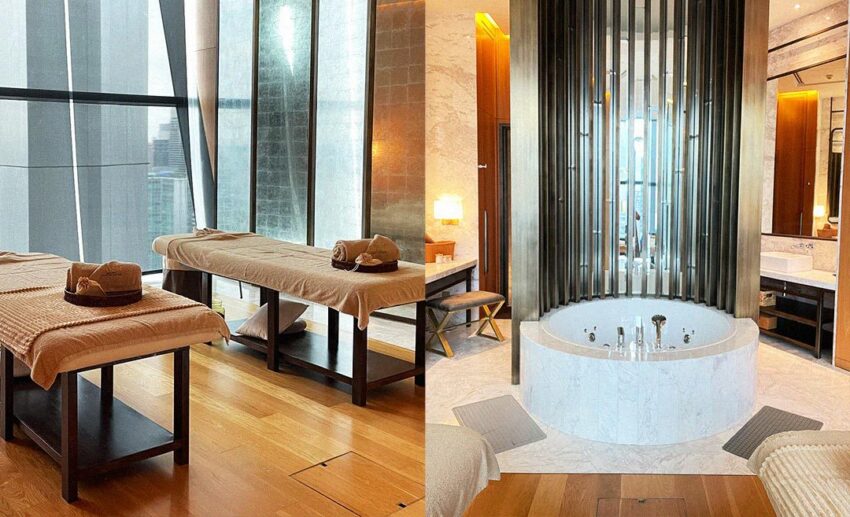 The treatment in store for me was Body Glow and Touch of Serenity for 90 minutes — I was ready! Farah started by getting me comfortable on the massage bed for a body scrub. The keto milky scrub is also a house blend, reminiscent of a beach holiday and helped prep my skin for the massage that was to come. As we know, most body scrubs also help remove dead skin cells, which my body needs! There was hardly any pressure being applied to my body as Farah rubbed the scrub all over in a circular motion, which wasn't necessarily a bad thing. The lack of pressure and repetitive movement on my body helped my body and thoughts slow down too. Once we were done, I was asked to rinse off in the shower and get ready for the massage.
Once all clean, I hopped on the massage bed again and prepared for my body to be kneaded and pressed on. We kicked off part two of the session with some breathing techniques to calm the body. As I breathed the essential oils in and paid close attention to my inhaling and exhaling, I instantly started to relax.
Farah then asked what parts of my body I'd like to focus on for the day, and seeing as I had a self-inflicted injury on my left leg, we concluded massaging only the upper body. As soon as she applied pressure on my back, I was in heaven. Farah's pretty firm, so if you're not used to that firmness, you may want to let her know, though she checks in occasionally to see if I am doing okay, which I appreciate. From the back, we moved on to my shoulders, arms, and eventually my head — and at every single part, I could feel that Farah was paying close attention to the knots in my muscles, which to her best ability, she tried massaging away.
Before I knew it, the session was over, and Farah gently reminded me that I could take my time getting ready. While I do love going for massages, most spas (or the ones I go to anyway) don't have shower amenities. So, while you leave the place feeling relaxed, you also feel like a frying pan — super greasy and could slip off any surface. At Serenity, the en suite bathroom came in handy because I could wash off the excess essential oil from my body and prepare for my next self-care appointment.
Once I was showered and groomed, I met with Flow again, and she served me a hot ginger tea this time; a goodbye drink if you will. And it's just as delicious. I thanked them for their services and promised I'd be back for another round of relaxation!
POSH Nail Spa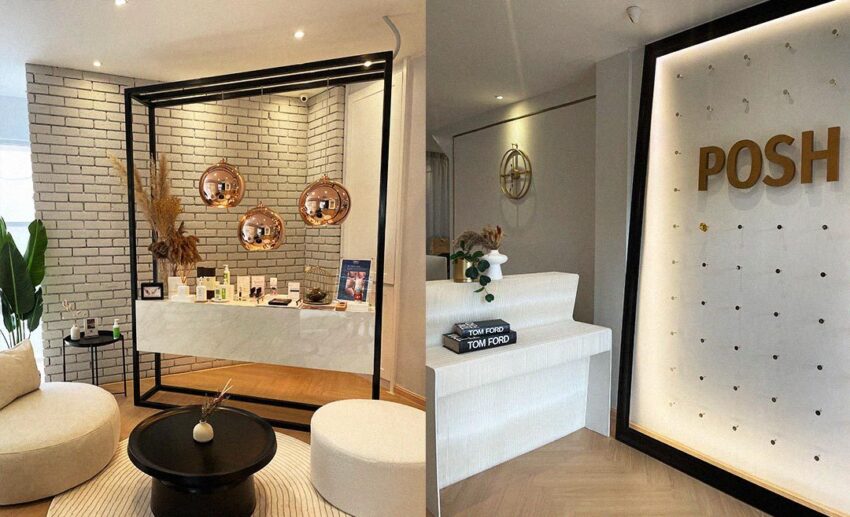 Now, there wouldn't be Serenity without POSH Nail Spa, and a self-care day isn't complete without a manicure and pedicure session. After making many wrong turns on my way, I finally arrived at the TTDI (Taman Tun Dr Ismail) outlet and was greeted by one of the few staff on shift for the day, who helped me get settled in my seat.
While POSH is mainly known for its manicure and pedicure services, customers can expect more than that — there are also waxing, makeup and hair, and eyelash services. If you wanted to host a pampering party, you could do it here or at any of their POSH outlets.
I'm no stranger to POSH and am a huge fan of their nail technicians' work. So, I knew ending my self-care day here would be the best choice, opting for the Indulgence Pedicure (RM80) for my feet and Gel Manicure (RM145) for my hands. The ladies here are committed to their craft (shoutout to Richelle!) and will choose quality work instead of a rushed one. So, expect your manicure and pedicure to last longer than usual! And if you want to jump on the glazed doughnut nail trend, they do that here too!
Their Gel Manicure beautifies your nails and strengthens them with seven layers of coating. Their pedicure features a 3-step regime: exfoliation (which I badly needed), trimming and shaping of the nails, cuticle treatment and callus removal — all the steps my feet are so grateful for. Leaving the nail spa, I felt a sense of rejuvenation, and I highly recommend both Serenity by POSH and POSH Nail Spa for anyone looking to add some serious recharging to their day.
Serenity by POSH
Address: 39th Floor, 8, Menara Ilham, Lorong Binjai, 50450 Kuala Lumpur
Contact: +6012 699 8219
POSH Nail Spa
Address: 31 Lorong Datuk Sulaiman 7, Taman Tun Dr Ismail, 60000 Kuala Lumpur
Contact: +6012 901 8219
*All images by Emma Mallaburn.