It's time! Ramadan is a special time in Malaysia, and one of the highlights of the month is breaking fast with a delicious meal known as iftar or buka puasa. Many hotels and restaurants throughout Kuala Lumpur (KL) and the Klang Valley offer special Ramadan menus throughout the month too. Luckily for us, we've been able to sample a heap, and have done the work of putting together a list of our favourite spots for 2023.
Here are some places to consider when looking for a place to buka puasa during Ramadan this year:
1. The Westin Kuala Lumpur's Citarasa Anak Kampung buffet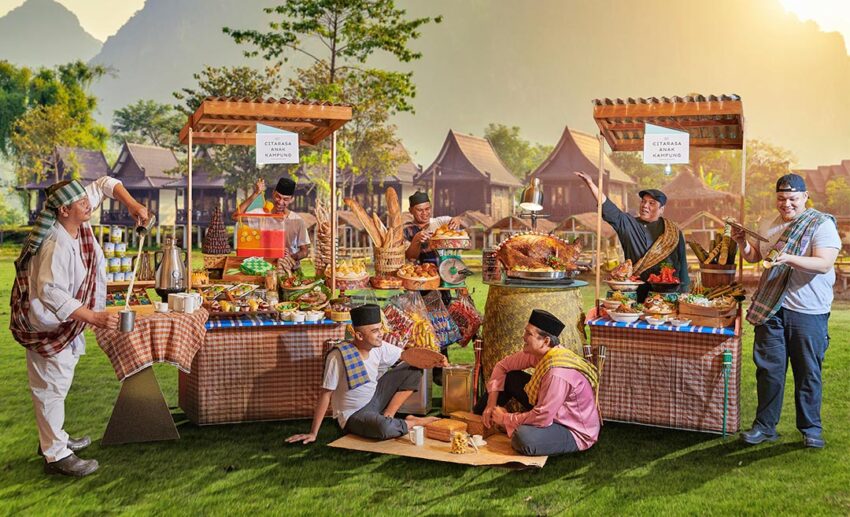 Enjoy the month with loved ones at the Westin Kuala Lumpur's Citarasa Anak Kampung buffet, available from 24 March to 19 April 2023. The spread features the regional flavours and home-cooked dishes of the seven chefs who are Chef Hamid Buyong, chef Syeriff Hafizal, Chef Hafizi, Chef Iqbal, Chef Firdaus Atan, Chef Emy Fairuz, and Chef Sheikh Muzaffar.
Together with the specialities of Anak Kampung, there are also soup counters, Chinese specialities, kid-friendly dishes, noodle stations, pastries, desserts, bubur lambuk, and many other mouth-watering treats. Our favourite? The kambing golek nasi briyani!
Prices start at RM158 per adult from 6pm to 10pm. For reservations, click here or WhatsApp +6012-3051715.
2. Freshable ready-to-cook meal kit
Here's something a little different if you're not particularly keen on heading out. Freshable are offering delectable and healthy selections for Sahur and Iftar meals, along with cash-back coupons and discounts on high-end cookware until 21 April 2023.
This year's special Ramadan menu includes a box of Medjool dates with every order of one of their 14 top-tier Middle Eastern main dishes and a single side dish. Their recipes include reduced carbs, lower sodium, lower calories, higher protein, diabetic friendly, vegan, and vegetarian options, making them suitable for a range of health concerns and diets.
3. Local fare with a twist at W Kuala Lumpur
W Kuala Lumpur's Bazar Malam returns this Ramadan and will feature Executive Chef Haznizam Hamzah and Sous Chef Suhalmi Md Tasir's delicious Malaysian delicacies. FLOCK, the all-day dining restaurant will be transformed into a bazaar-like buffet with several kiosks serving up local dishes with an international twist. Think roti John lobster rolls and satay sushi.
The Bazaar Malam will be available every day from 6:30pm to 10:30pm and priced at RM288 per adult and RM144 per child aged six to 12. Children under the age of five dine free with one paying adult.
4. Meat lover's galore with Maria's SteakCafe's Special Raya Set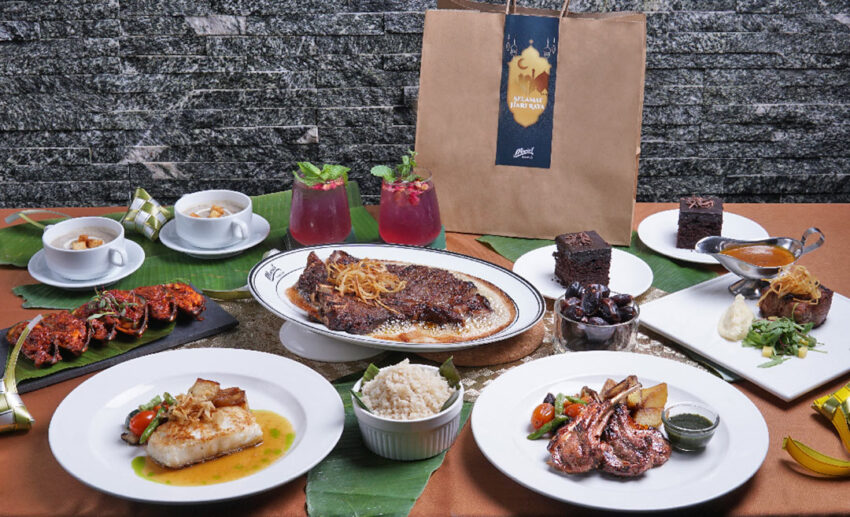 At Maria's SteakCafé, you can get a Raya Set for two with Raya Special Edition Percik Sauce for as little as RM290. Family dinners can be customised with a wide variety of beef and non-beef options, while steak enthusiasts can always choose to upgrade to premium cuts like Australian Black Angus or Japanese Wagyu A5 Miyazaki.
From 21 March to 30 April 2023, all guests who break their fast at Maria's SteakCafe or order their Raya sets will receive a free Ramadan Special Rose and Honey Lemon drink too.
5. Hidangan Tradisi at The RuMa Hotel and Residences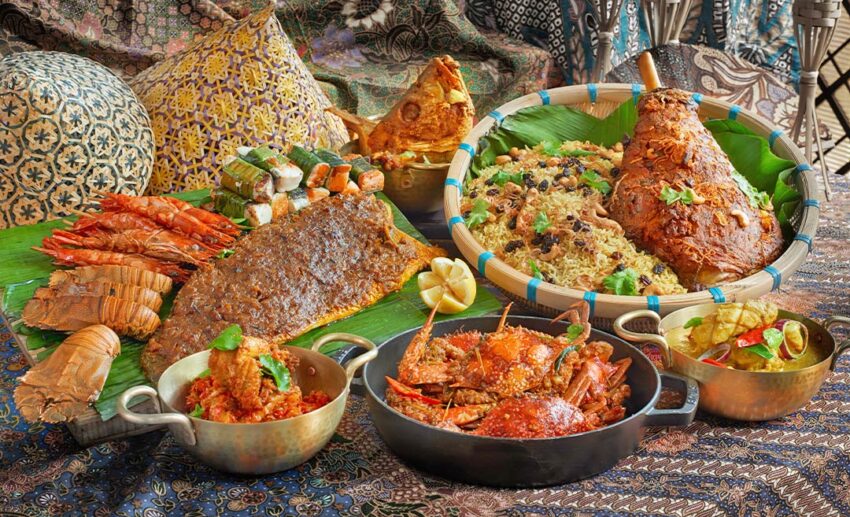 Gather with loved ones for buka puasa at SANTAI, where The RuMa Hotel and Residences' Chef de Cuisine of Production Kitchen, Mohammad Rizuwan, draws inspiration from the flavours of his youth. SANTAI's Ramadan buffet will include a wide selection of ulam-ulaman and kerabu for an injection of colour and vitality in addition to traditional favourites like lemang, daging serunding, satay, and ayam rendang. These classics are joined by modern Malay dishes including salmon bakar, slipper lobster percik, durian strudel, and pandan crème brûlée.
This unique gastronomic adventure will be available daily between 28 March and 21 April from 6:30pm and costs RM218 per person. WhatsApp or contact +603 2778 0614 for reservations and queries.
6. Feast like royalty at Le Méridien Kuala Lumpur
Expect to find no less than 150 classic and trendy dishes to enjoy when you dine at Current Recipe in Le Méridien Kuala Lumpur. These are Chef Budiman's top picks you simply can't miss!
The trademark Daging Tempayan is the restaurant's specialty, and it consists of beef that has been marinated in Asian spices and then cooked in a tandoori oven for nine hours. It's a feast fit for a king, served with traditional Biskut Lutut and a large selection of freshly-made bread. Another dish to try is the Racikan Ayam, which is topped with chicken and free-range eggs and cooked in a sous vide machine at 63o Celsius. It's made with the same sauce as the Daging Tempayan and is a delicious supper that you can enjoy by dipping bread into it.
7. Get your seafood fix at Four Points by Sheraton Kuala Lumpur, Chinatown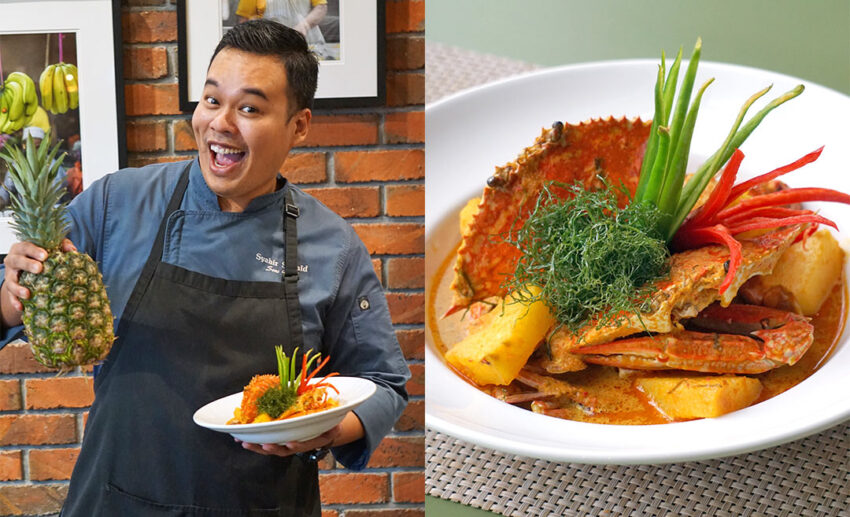 If you're a fan of seafood, you should head to the Four Points by Sheraton Kuala Lumpur, Chinatown to try Sous Chef Meor Muhammad Syahir Meor Sahaid's Ketam Bunga Masak Lemak Nenas Cili Api.
Chef Meor's affinity for fiery flavours and seafood shines through in this meal, which he says is inspired by his Minang upbringing and background. Inspired by Chinatown and employing traditional Nyonya techniques, he creates a rich and flavorful dish with his specialty crab dish by including premium Josapine pineapples in the preparation.
8. Sheraton Petaling Jaya Hotel's Thematic Buffets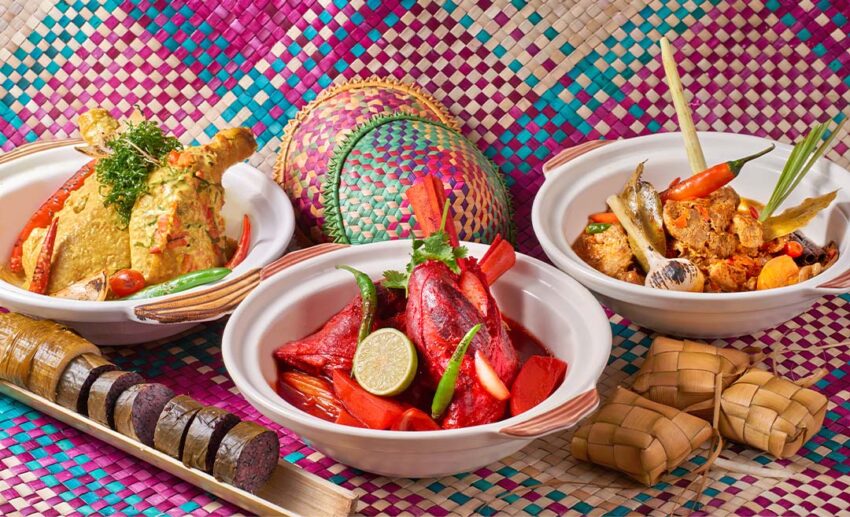 At the Sheraton Petaling Jaya Hotel, two themed buffets — Sajian Warisan at Feast and Iftar Nusantara in the Grand Ballroom — offer the best of Malay food throughout Ramadan.
Sup Merah Temasik Bengkulu is a spicy and sour soup made with bone marrow, oxtail, cow lung, cattle tongue, beef tendon, and mutton. Another family favourite of Chef Firdaus's is Ayam Masak Lemak Rebung Tok Mizi, which combines chicken, coconut milk, turmeric, chilies, and bamboo shoots. But be sure to also sample Chef Firdaus' classic Malaysian dish, Gulai Daging dan Nangka Ala Canggung — a savoury Malay curry prepared with soft beef cubes and jackfruit.
9. Shangri-La Kuala Lumpur's Sajian Istimewa feast
Here's a spread we look forward to each year! Until 21 April 2023, Lemon Garden will offer a lavish Sajian Istimewa Buffet inspired by Malaysian tradition and cuisines. Chef Mohamad Safe Adin and his team of skilled cooks have put together a feast that is sure to satisfy your appetite — specially with the unique indoor and outdoor warung setup.
Essentially, dishes that require an extra dose of wok hei — like char kway toew, your goreng-gorengan, lemang, barbecued meats and seafood, and the like feature in the outdoor warung area. Inside is where you'll find hot dishes served in your traditional buffet style including local fare and international cuisine for a mix of everything. Of course, an entire section dedicated to desserts is where you can end things on a sweet note.
The Sajian Istimewa buffet is priced at RM250 per person from Monday to Thursday and RM290 per person on weekdays and holidays.
In terms of gifting, whenever you decide to gift your friends and family with Lemon Garden's 2Go's Sajian Istimewa gifting collection, you're also supporting the hotel's effort in donating to Türkiye earthquake relief. It's a gift that keeps on giving.
10. 1001 nights with KFC's Arabian Spice Crunch
KFC hopes to spice up your traditional buka puasa and Raya cuisine with some Arabian-style finger lickin' good chicken this year. The new KFC Arabian Spice Crunch, powered by robust Arabic spices is available at all KFC locations across Malaysia for a limited time only.
And if you have a hankering for fried chicken in the wee hours of the morning, some KFC outlets nationwide will serve sahur, so you can get your Nasi Lemak KFC, Zinger Porridge, and KFC Hot Teh Tarik, starting at 4am (happening until 21 April 2023).
11. The best of Selangor's hotels
To kick off their Ramadan festival, Tourism Selangor will gather 16 chosen hotels in Selangor with the best buffets and consolidate them onto the Ramadan Buffet Directory Preview on its digital platform, Selangor. Travel. You can view the full listing here, that highlights delectable spreads from hotels in Putrajaya to Klang to Petaling Jaya.
12. Malaysian cuisine with a twist at Apollo Dining
Local fare, but make it elevated. If buffets aren't your thing, especially during fasting month, then this special dinner from Apollo Dining is just right for you. Available only for this Ramadan, the good people of Apollo Dining have created a casual degustation menu for anyone who enjoys Malaysian cuisine prepared using Western techniques.
Bringing together the best of both worlds, the fusion menu kicks off with a special kurma butter infused with Ajwa dates and lemon zest. Paired perfectly with slices of warm Krafcorn Bread, this was easily one of the highlights of the meal. You'll have an idea of how delectable this butter is if you're privy to how absolutely delish their best-selling otak-otak butter is.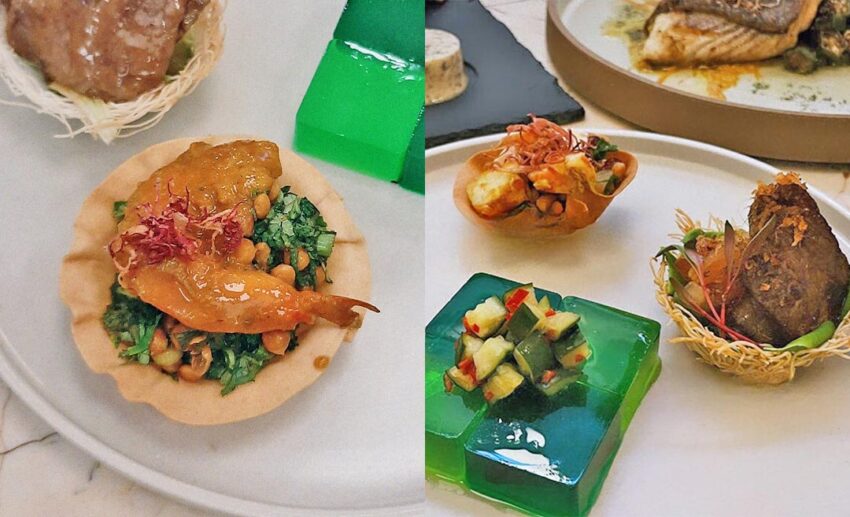 Next up, comes an appetiser duo — Lentils Asam Prawn and Braised Beef Kataifi. Both delicately nestled in crunchy pastries, the former really blew our minds with its medley of spicy, sour, and savoury. If you're wondering what the pandan jelly is all about, this palate cleanser gets your taste buds excited for more.
For the main event, you have a choice between the Chicken Minyak Risotto or the Pan-Seared Rendang Siakap, and boy are we glad we got to try both!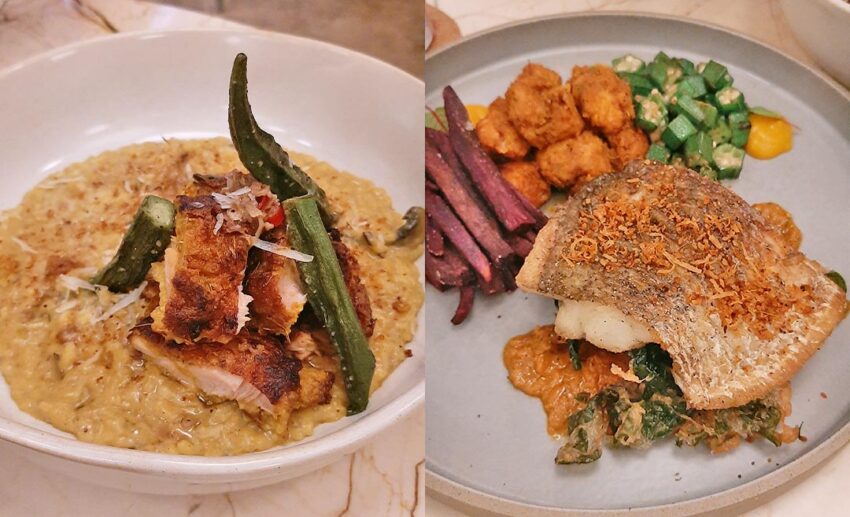 If you're the sort who needs nasi (rice) when they break their fast (and we totally get it), then the Chicken Minyak Risotto is a hearty choice. We can't get over how flavourful the 'nasi minyak' risotto was. Sitting atop is a salty Nyonya Fried Chicken along with grilled okras, sweet potatoes, and an infusion of more Ajwa dates.
The fish main on the other hand boasted a beautifully-cooked siakap (barramundi) accompanied by rendang cauliflower, kangkung, roasted orange potatoes, and dollops of pumpkin puree. We recommend getting at least one of each to try them both.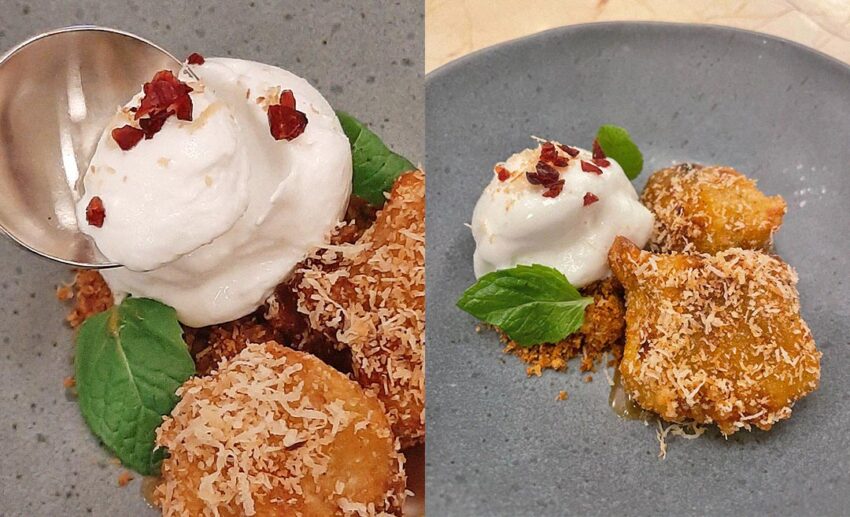 Finally, dessert is a spectacular affair — especially if you love jackfruit. The Lepat Ubi Cempedak consists of each jackfruit section being stuffed with an absolutely delicious pulut hitam and then battered and deep-fried. Accompanied by a scoop of coconut ice cream and a drizzle of sweet syrup, it's the perfect end to a spicy and hearty meal.
Each Ramadan set meal is priced at RM88 per person. You also have the option to order each of these special Ramadan dishes a la carte if you prefer to tuck into their usual mains.
13. Sunway Putra Hotel's Iftar 'Kuliner' Nusantara
This year, KL's largest and most popular Ramadan buffet at Sunway Putra Hotel Kuala Lumpur returns, and it's better than ever before! This year's Ramadan buffet — called Iftar 'Kuliner' Nusantara — will feature a delicious assortment of dishes from Malaysia and Indonesia.
More than 200 delectable dishes, including Rendang Tok from Perak, an Ikan Bakar station, a whole lamb to be roasted every day, and much more, will be available, making this buffet quite an epic feast! Our favourites include the authentic Soto Betawi from Jakarta, Tongseng from Central Java, Ayam Pop Minang from West Sumatra, the famed Nasi Goreng Kambing a la Kebun Sireh, and Mie Tek Tek.
You don't have long to indulge in the Iftar 'Kuliner' Nusantara dinner as it will only run until 19 April 2023 at the Coffee House on Level 9 of Sunway Putra Hotel. In terms of pricing, the buffet costs RM178 per adult while children 5 and under eat for free.
14. Sweet delights from Elevete Patisserie
To help you celebrate Aidilfitri, Elevete, a local bakery, has released a special seasonal collection filled with delicious holiday treats. While we reckon they make excellent gifts for others, you can also consider ordering a cake or dessert platter made of myriad kuih-muih for your own buka puasa or Hari Raya open house! They're taking orders until 6 May.
Pengat Nangka Entremet (RM110)
Jackfruit Sponge Cake layered with Coconut Jackfruit compote and Coconut Gianduja. Finished with a smooth layer of Coconut Mascarpone Cream.
Ondeh Ondeh Roulade (RM75)
This best-selling and crowd-pleasing roll of pandan sponge cake is light and airy, filled with layers of Swiss meringue coconut buttercream, and drizzled with gula Melaka syrup. Decorated with handmade chocolate truffles and dried coconut to mimic the look of traditional kuih.
Aneka Aidilfitri Sekeluarga (RM220)
A more substantial variant of the variety platter, this one features a mix of Ramadan and Raya treats. Specifically created for your gift-giving needs on this joyful occasion, served on a bamboo tray, and gift-wrapped with a batik cloth.
Meriah Treasure (RM 120)
The term 'meriah' denotes a great gathering that is joyful. For your party table, this treasure trove consists of a platter with six kinds of cake bites, each with six pieces.
15. Make a date with ZUS Coffee's kurma-flavoured drink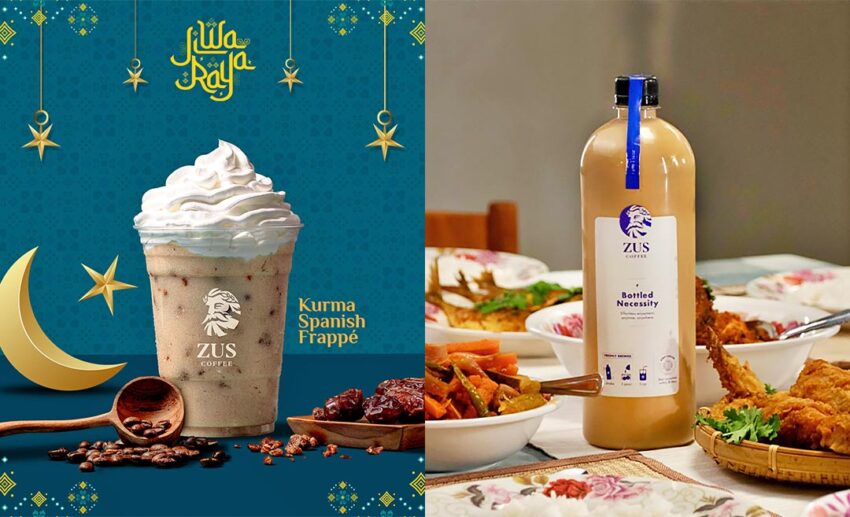 This Ramadan season, home-brewed local coffee chain ZUS Coffee is updating its menu to celebrate the spirit of Raya or #JiwaRaya by introducing a brand-new festive drink — the Kurma Spanish Frappé. And boy is it yum.
ZUS's most recent beverage attempts to mix dates, or buah kurma, buka puasa staple, into everyone's preferred cup of coffee. The rich and refreshing frappé is the perfect complement to the season's celebrations, combining the flavours of sweet dates with milk for a unique take on the traditional iftar meal.
The goodness doesn't end there. When you purchase the Kurma Spanish Frappé or Bottled Necessities (while stocks last), you'll receive free dates courtesy of ZUS Coffee's partnership with wholesale food chain Mahnaz Food!
*All images courtesy of respective hotels and restaurants, unless specified otherwise.
Editor's note: This article was first published on 16 March 2023, republished on 24 March 2023, and now updated to include more locations.