If you've seen our list of Kuala Lumpur (KL) hotel buffets to check out this Ramadan 2023 and are wishing you could go there but you'll be out of the Klang Valley, fret not. These hotels outside of KL have the best-curated food and excellent offers to treat your family and satisfy your appetites during buka puasa (the breaking of fast).
Spices of East Malaysia
Kota Kinabalu Marriott Hotel, Sabah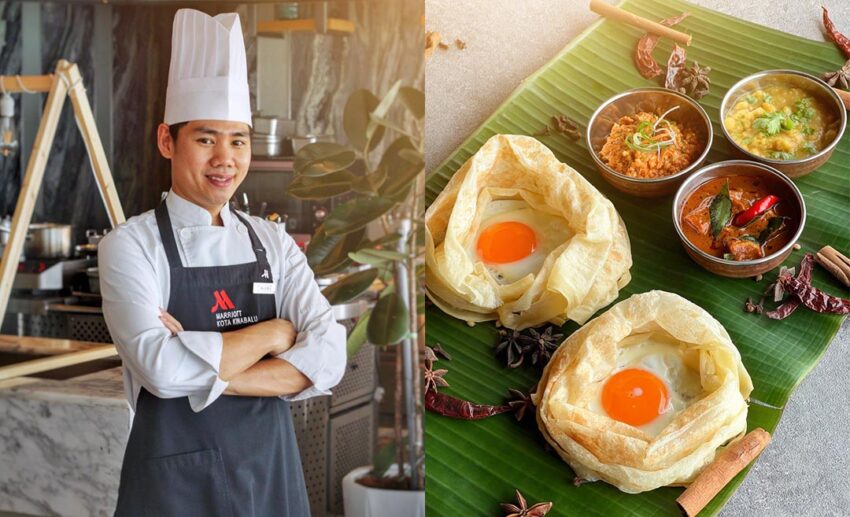 At the 'Taste of Borneo' dinner buffet at the Kota Kinabalu Marriott Hotel, Junior Sous Chef Wilson adds his native flavours to classic dishes. One of his Borneo-inspired takes on the classic Malaysian meal Roti Canai is the Eyes of Borneo, and it incorporates a runny yolk to enhance richness and flavour.
In addition to being offered a culinary feast of home cooked, traditional specialities against a stunning backdrop of the South China Sea, diners can also check out 10 stalls and live cooking demonstrations.
Fairfield by Marriott Bintulu Paragon, Sarawak
This Ramadan, Head Chef Justin and Sous Chef Muna at Fairfield by Marriott Bintulu Paragon have created a wide variety of traditional Malay and Sarawakian dishes for you to enjoy at KAVA. Ikan Bakar Sambal Petai, their speciality grilled fish dish, is not to be missed. The fish is marinated in a sweet, sour, and spicy sauce and wrapped in banana leaves before being grilled, creating a juicy and flavourful dish with a distinctly herby and smoky aroma.
Te'ong Udang Ikan, also known as Suman Lemantak, is a traditional native cuisine of the Melanau people of Sarawak and is another must-try. Wrapped in daun nipah (palas leaf), then grilled over hot charcoal, this dish features prawns and fish that have been prepared with grated coconut, spices, and sago flour. This meal is typically reserved for celebrations in Sarawak, so don't miss out on your chance to sample it during Ramadan!
Kuih Takir Berlemak, a traditional dessert from Sarawak, is sweetened with palm sugar (gula apong), rice flour, and coconut milk. This mixture is poured into banana-leaf bowls and cooked to create a smooth, velvety, and sweet dessert. Yum! These are just some of the treats you can expect on your visit.
Taste of Southern Peninsular
The Westin Desaru, Johor
The Seasonal Tastes Restaurant at The Westin Desaru is the perfect place to embark on a gastronomic adventure, with a menu that features both traditional Malaysian dishes and those inspired by the Mediterranean.
Delicious Middle Eastern dishes, such as Lamb Moussaka and Chicken Shish Tawook, can be found at the buffet. The buffet also serves hot and cold meze (appetisers). At the outdoor carving station, be sure to sample the freshly-cut Marinated Harissa Whole Lamb!
Popular Malaysian dishes including Lemang, Satay, Daging Rendang Minang, Ayam Masak Ponteh, Laksa Johor, and more. Of course, there's a buffet of desserts, including things like baklava and Turkish ice cream.
Four Points by Sheraton Desaru, Johor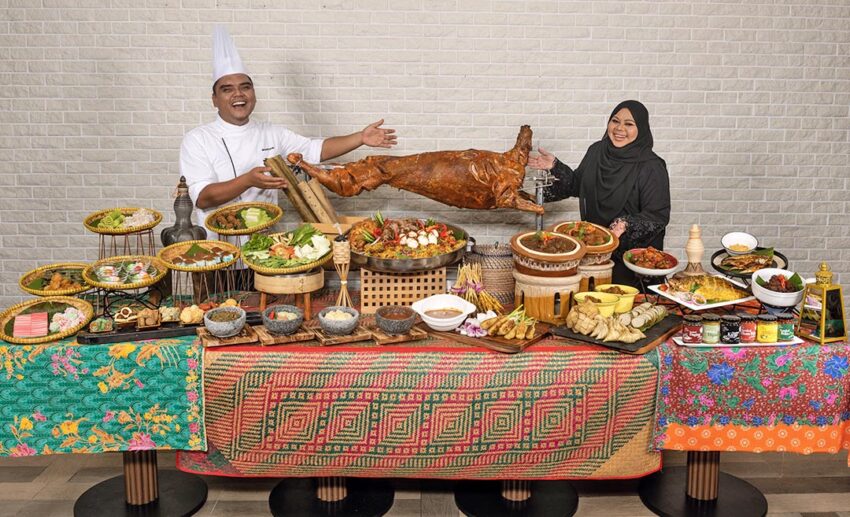 The Mesh Restaurant at Four Points by Sheraton Desaru has teamed up with renowned chef Yati Zainol to provide a delicious selection of traditional local favourites for Ramadan. Enjoy Chef Yati's specialty dishes that include Sambal Tempoyak with Ikan Goreng Garing, Varuval Chicken, Daging Dendeng, and Pais Tempoyak Cili Padi Ikan Siakap Bakar.
On 1 and 8 April 2023, diners will even get the chance to watch Chef Yati prepare a meal live!
Island flavours
The Ritz-Carlton, Langkawi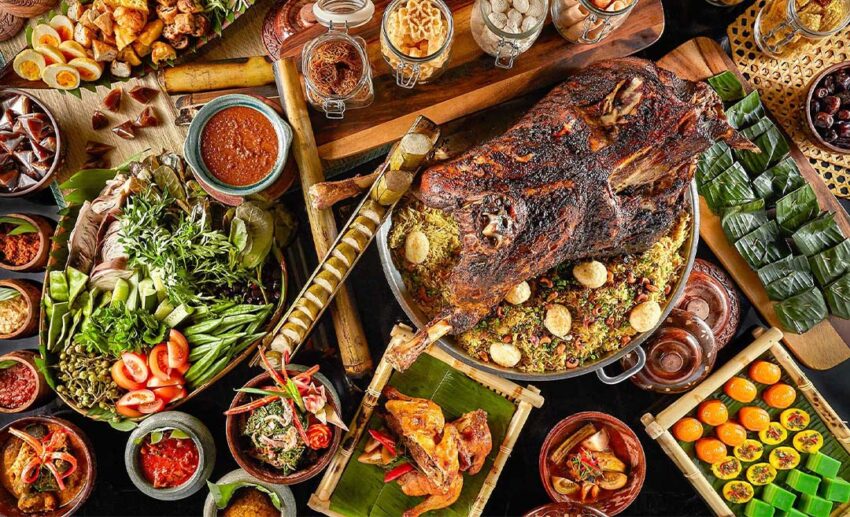 Now, we head over to the sunny island of Langkawi! Sous Chef Hazimin Ahmad and the staff at Langkawi Kitchen have crafted a true feast of authentic dishes from every state with Nostalgic Negaraku, drawing inspiration from Malaysia's rich culinary legacy.
Manok Pansoh, representing the state of Sarawak, is a festival delicacy among the Iban and Bidayuh peoples; it consists of chicken cooked in water in a bamboo stalk with seasoning and tapioca leaves till soft. Indulge in delectable side dishes like Hinava Ikan Kacang, a Sabahan specialty made of undersized barracuda (ikan kacang) preserved in lemon juice and salt with chillies and onions. Visitors will also enjoy the spicy Minang Salai cuisine, originating from the state of Negeri Sembilan.
Temple Tree Resort, Langkawi
During the holy month of Ramadan, the resort's new Head Chef, Shamsul, will be preparing traditional favourites for guests under the theme 'Selera Tradisi Bonda', which translates to 'Mother's Traditional Favourites'. He will use only the freshest and most sustainably obtained products from the island's local farmers and fishermen.
There's even the unique Ramadan Stay & Dine package (starting from RM499 per room per night) to avail of. The stay includes sahur instead of breakfast for those who are fasting, and the Ramadan buffet dinner for two adults.