Previously, we asked 13 women travellers with very different travel styles to show us what's in their luggage. They shared with us their top travel essentials and gave nifty advice on packing lighter, faster, and better. You can see the story here. 
Due to popular response, here is an in-depth look into our first interviewee, Datin Paduka Marina Mahathir.
Datin Paduka Marina Mahathir is a social activist and businesswoman. A frequent business traveller and the founder of this website, she has become an expert on travelling. She has tips for everything you need to travel like a pro, from beating jet lag, beauty hacks, to flying like a queen. She can even tell you which country has the best public toilets.
We ask Marina to tell us more about her travel must-haves: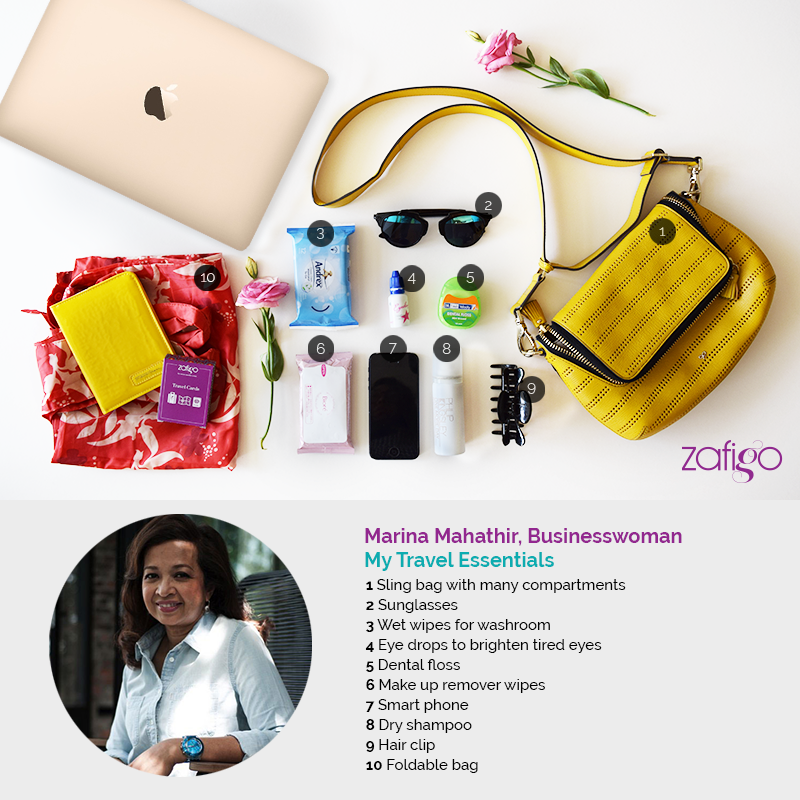 1. Anya Hindmarch Maxi Zip crossbody bag
This bag is compact yet is organised so that you can reach everything you need very easily. There's a compartment on the back for your passport or phone. On the front, there are compartments for coins and slots for your train ticket or bus pass.
2. Sunglasses 
I always need my sunnies except in very gloomy places or at night. Otherwise, I squint and give myself wrinkles.
3. Wet wipes
I always carry a pack of wet wipes to use in the washroom because in many countries they don't have hand bidets. In the UK you can get the type that is flushable so that's really handy.
4. Eye drops 
My eyes tend to get tired and dry, especially when I'm in a cold dry climate. Eye drops help to soothe and brighten my eyes before I go out.
5. Dental floss 
My dentist told me that if I don't floss, there'll be root canal work in my future. I'm so terrified of that that I make sure that I always have dental floss with me wherever I go.
6. Biore make-up remover wipes 
Since there are so many restrictions on liquids, aerosols and gels (LAGs) in your hand luggage when flying these days, I find the solution is to bring wet wipes in place of my cleanser. These Biore ones are great because they also take off your eye makeup.
7. Hair clip
I use the hair clip to keep the hair off my face when I'm washing my face or doing my makeup.
8. Phillip Kingsley One More Day dry shampoo 
I like using dry shampoo to quickly freshen up in case I don't have time to get my hair washed. This brand is by a well-known trichologist and it works really well. But most brands are fine too.
9. iPhone
On my iPhone, I use Citymapper a lot to figure out how to get from one place to another. I also check the weather on it to know how to dress for the day. I also sometimes use apps where I can book restaurants such as OpenTable or BookaTable. 
10. Foldable bag 
Because I tend to use a tiny bag for my essentials when I travel, an extra bag that I can tuck in it is really necessary to carry whatever I might buy or get given (souvenirs, conference papers). Nothing worse than trying to carry stuff in my arms while trying to get on a bus or subway.
For Marina's top packing tip for long flights and to see the original story, read '13 Distinctively Well-Travelled Women Show Us Their Travel Essential'.

Read more packing tips:
| | | |
| --- | --- | --- |
|    | | |
| | 10 Must-try Apps For The Travelling Working Woman | 11 Important Tips Every Businesswoman Should Know Before Travelling |
Get all the latest travel updates from Zafigo. Follow us on Facebook, Twitter, and Instagram.