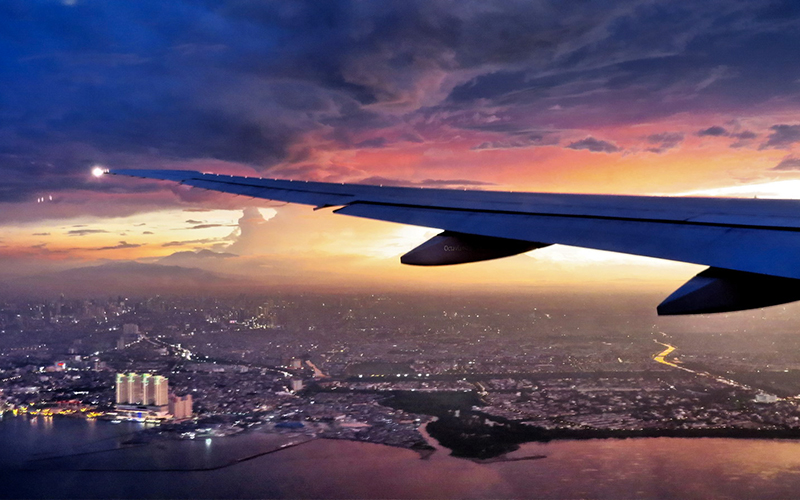 In a little over a month, I have logged 49,340 kilometres in a plane. If I were a pilot, I might now be able to fly a small aircraft. If those kilometres were calories expended, I would be very svelte today. Unfortunately, I am neither. Instead, I am a jetlagged and tired woman who really would rather stay put for a while until I get my bearings again.
Over the past few weeks, I have spent 10 days in London, followed by three days in Bangladesh, three days in Cambodia and then back to London again for another 10 days. You may ask why I have such a crazy schedule, not being an international businesswoman or a rock star, and I'm not sure how to answer it beyond saying that that's just how the scheduling cookie crumbles.
I go to London because my daughter is in school there and these days, schools are very demanding of parents. Despite their imperial past, the Brits don't seem to understand that some of the parents they eagerly court these days actually live very far away, often in their former far-flung colonies. Although I stop short of being with my daughter on her long weekend 'exeats', I still think that overseas parents who show up for various school events deserve some sort of recognition – perhaps in the form of ribbons in their child's house colours or a discount in school fees.
These are far from being holidays, of course. With our ever-improving technology, there is no respite from work, and time differences make it worse. I wake up in the morning to a slew of impatient emails because everyone back home has been at work for most of the day already. Or the reverse; I might ask a question in the afternoon (my time) and am met with dead silence until the next morning.
My other trips were also for work that happened to fall in between my longer ones. Bangladesh is a country I have visited often and although people there are very nice, Dhaka can be hard going. If you stay in a nice big chain hotel like the Radisson or the Westin, then it's very comfortable indeed. But once you get outside to go to your appointments, Dhaka hits you with its full force.
Let me put it this way: Remember when everyone talked about Bangkok, Jakarta or Manila as cities with nightmarish traffic? Well, they have nothing on Dhaka. Bangladesh is the most densely-populated country in the world. No, that's not quite right. There are nine other countries that are more densely-populated than Bangladesh but those are places like Macau, Singapore, Monaco and Vatican City – piddling little places with probably a bigger GDP per capita than all of India (Ok, maybe not the Vatican but you get the picture).
Bangladesh weighs in as the 10th most densely populated terrain on earth, with 1,112 people per square kilometre. And boy, does it feel like it! I once had to walk along a street to get to my friend's car to go to tea, after attending a conference. Unbeknownst to me, what looked like the entire population of Bangladesh was heading in the opposite direction towards some sale at the same conference centre. I don't think I have ever brushed against so many people before. I now know what it feels like to be a salmon swimming upstream.
It's not much better in a car. Although you may be cocooned in air-conditioned comfort, you will spend a long time in it and soon, even with an entertaining smart phone, you will get tired. I once fell asleep in the car on my way to what I thought was a short stop at Dhaka University before going on to another appointment. I woke up suddenly to find that the 'short stop' was actually a conference opening where I had to deliver a plenary address. I hope I made sense to the audience.
When I looked out the window of the car, I realised that negotiating Dhaka's traffic is truly a dog-eat-dog situation. There are very few new and clean looking cars in that city. The buses have rusty, scraped sides that are the result of too many close swipes with other vehicles. There was absolutely nothing shiny on the roads; if there were, you'd look very suspiciously at them. Yet Dhaka folk have no choice but to clamber onto these rust buckets and pray that they will reach their destination…at some point.
If you're visiting Dhaka, your best bet is to get a hotel car to take you around. Or your client should be able to send their cars for you. Don't be tempted to walk anywhere – that's only for savvy locals. Also, the tuk-tuks and trishaws aren't as charming as they might be in Bangkok or China. Passengers in trishaws are extremely exposed… to the elements and to possible bag snatchers. Tuk-tuks are grilled up to look like little mobile cages and there's a very good reason for that.
If you're visiting Dhaka, your best bet is to get a hotel car to take you around. Or your client should be able to send their cars for you. Don't be tempted to walk anywhere – that's only for savvy locals.
They are building highways and overhead bypasses in Dhaka to try and ease the traffic problem but it will be a while before the situation reaches anywhere near tolerable. So just make sure you budget enough time to get to wherever you want to go. This is not to say you should not ever visit Dhaka. The people are lovely and the handicrafts and textiles are beautiful and reasonable, but you need to be prepared for the monster traffic.
Phnom Penh, on the other hand, was a stark contrast. The streets are wide, the cars are all shiny and new, and there are numerous big malls, cafes and restaurants. Just like any other South East Asian city, along with its own South East Asian traffic and heat. It's probably another Bangkok in the making but hopefully they've learned the lessons of that city and are planning for public transport ahead of time.
One big difference between Dhaka and Phnom Penh is the number of women you see working in offices. In Dhaka, there are very few and the women are invariably from elite and middle class families. Cambodia has many more women working in office jobs, many of them young and well dressed. Remember, this is a country that lost one-third of its population to the Khmer Rouge so almost everyone you meet is young, having been born after the Khmer Rouge were ousted in 1979.
Getting around Phnom Penh is easy enough especially if you choose a hotel near the city centre, like the Sofitel. Generally the city looks and feels safe although one should never take anything for granted. My colleagues and I walked to a night market and were not harassed at all.
Lightning trips to these cities are of course not the best way to truly know and experience a city. I have been to Dhaka several times and I must say the only thing I really complain about is the traffic. The mobile phone coverage is pretty good so you can get a lot of work done while commuting in the car. Funnily enough, while Phnom Penh seems more advanced, their mobile service tends to drop a lot, which is hugely frustrating.
Meanwhile, having had a busy time at home since the end of my marathon travels, I am beginning to think that travelling is once again the antidote. At least on a long plane flight, nobody can disturb me… yet.

Read Next:
Get all the latest travel updates from Zafigo. Follow us on Facebook, Twitter, and Instagram.