If you're looking for a tropical paradise that's less crowded and more off-the-beaten-path than most of Thailand's more popular islands, look no further than Koh Tao (Tao Island). This small island (7km by 3km) is overlooked in favour of neighbouring Koh Samui or Phuket. Still, intrepid travellers who make the trip are rewarded with picturesque beaches, clear waters, and some of the world's best diving and snorkelling.
Perhaps its appeal is that it's not easily accessible, and there's no airport on the island. This meant a flight to Phuket, a change of planes for Koh Samui, and a boat journey to the island. But Koh Tao isn't just about scuba, snorkelling, sun, sand, and sea; it's also home to an engaging local community working towards a more sustainable future, cool cafes, and restaurants serving Thai and global cuisines.
Laid back and leisurely
Koh Tao (Turtle Island in Thai) is a speck in the Gulf of Thailand best known for its expansive beaches and clear waters supporting varied marine life. What sets Koh Tao apart from neighbouring islands is its laid-back atmosphere and relaxed pace of life.
Unlike its more popular neighbours, Koh Tao has retained its natural beauty and charm without succumbing to mass tourism. Whether you're looking to relax on the beach, explore the island's natural wonders, or immerse yourself in the local culture, Koh Tao offers numerous holiday opportunities.
An island of beaches
Koh Tao is home to some of Thailand's most beautiful beaches. Sairee Beach is the longest and Koh Tao's most popular expanse of sand, with a wide range of water sports and beachside bars. The beach stretches for more than 1.5km along the west coast and offers kaleidoscopic sunsets as a bonus.
Tanote Bay is a secluded beach on the eastern side of Koh Tao, known for its clear waters and excellent snorkelling and diving opportunities. Lush green hills surround the beach, offering a peaceful escape from the more crowded west coast.
Finally, Sai Nuan Beach is a secluded gem on the island's southern tip and is only accessible by foot or boat. It offers commanding views of the surrounding islands and is a great location for swimming and snorkelling.
The finest dive sites
Most visitors travel to Koh Tao to dive and snorkel, and it's no surprise why with over 25 identified dive sites around the island. Chumphon Pinnacle is one of the most popular dive sites on Koh Tao, known for its impressive coral formations and diverse marine flora and fauna. The site is home to schools of barracuda, giant groupers, and colourful reef fish.
Perhaps not surprisingly, Shark Island is home to several species of sharks, including blacktip reef sharks and whale sharks. The site also offers excellent visibility and a variety of coral formations.
Southwest Pinnacle is another recognised dive site known for its large schools of fish and dramatic underwater topography. The site features steep walls, swim-throughs, and large boulders covered in soft corals.
Out and about
Koh Tao isn't just about beaches and diving; there are plenty of other outdoor activities to enjoy on the island, such as hiking, rock climbing and kayaking. The island has several hiking trails that offer panoramic views that showcase the island's natural beauty. One of the most popular trails is the John-Suwan Viewpoint Trail, which takes you to the highest point on the island.
Koh Tao is also a popular destination for rock climbers, with several climbing routes available for all levels of experience. The island's limestone cliffs offer a unique and challenging climbing experience.
If you're looking for a more relaxing activity, kayaking is a great way to explore Koh Tao's coastline and hidden coves. You can rent a kayak from one of the many beachside shops and explore the island at your own pace. Mae Haad Pier is the main entry point to Koh Tao and a popular location for admiring the sunset. The pier is also home to several seafood restaurants and souvenir shops.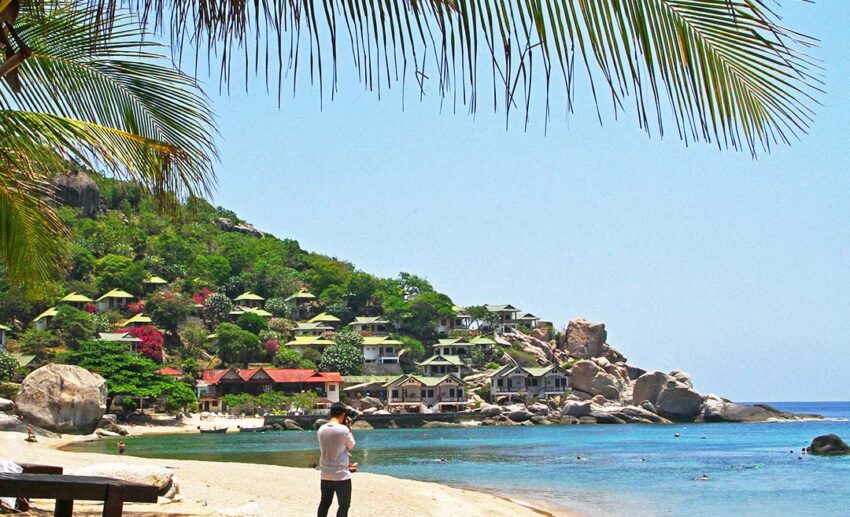 Visit Poseidon Resort on Tanote Bay for cooking classes using local ingredients. CoCo Tie Dye, using local coconut husks, is an exciting cottage industry that conducts classes on making tie-dye fabrics. Another activity that captured my attention was a jewellery-making class conducted at Baan Talay Resort and Yoga. Staff collect sand-blasted and eroded pieces of glass from along the beaches and then help guests create their own jewellery.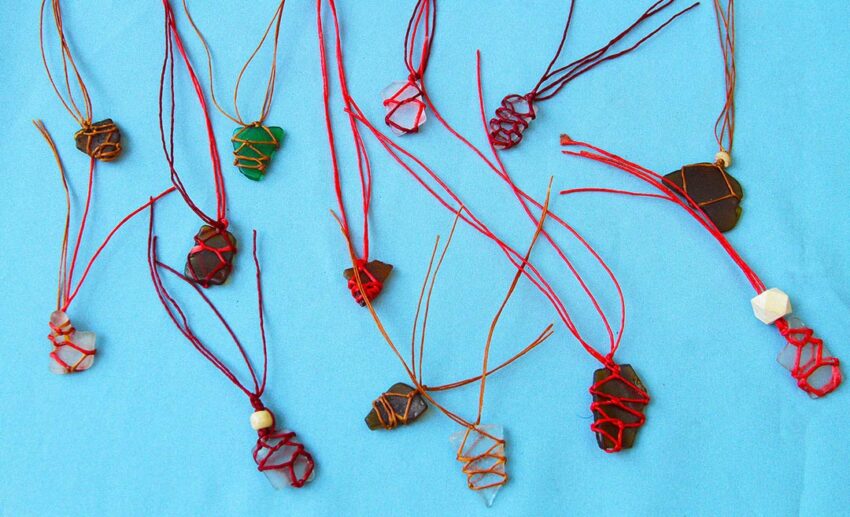 A night out
Koh Tao is home to a vibrant culinary scene, with cafes and restaurants serving delicious Thai and international dishes. Barracuda Restaurant is a popular seafood restaurant on Sairee Beach, known for its fresh catch of the day and stunning ocean views.
Just want a snack? Blue Water Cafe is a cosy retreat in Mae Haad with an impressive selection of coffee and homemade cakes.
Pranee's Kitchen is a family-run restaurant in Chalok Baan Kao Bay serving authentic Thai cuisine. The menu features classic dishes like pad Thai, green curry, and lesser-known specialities like tom kha gai and gaeng som.
For a spot of fun, Lotus Bar is a popular beach outlet on Sairee Beach, popular for its fire shows and live music. The bar also offers delicious cocktails and has a relaxed and friendly atmosphere.
Fishbowl Beach Bar is another lively bar on Sairee Beach, patronised for their bucket drinks and DJ sets, so it's mainly popular amongst backpackers and partygoers. If you prefer a beach bar that's more upmarket, Fizz Beach Lounge is a chic beachfront bar in Mae Haad, known for its stylish decor and upscale atmosphere.
I enjoyed Charcoal Bay Grill for its happy hour wine prices and Seaside Bar, and Restaurant in DD Hut Resort for its delicious seafood and impressive views.
Where to stay
Koh Tao offers a comprehensive range of accommodation to suit most budgets, from budget hostels to deluxe resorts. Ban's Diving Resort is very popular and was my choice as it is centrally located in the thick of the action, conducts PADI courses (more divers get accredited here than anywhere else in the world), is eco-conscious, and has a relaxing pool overlooking their hillside Pynrak Farm estate. Visitors can participate in a sustainable workshop here and learn how to make soap too.
Best time to visit
The best time to visit Koh Tao is between March and September, when the weather is sunny and dry, and the seas are clear and calm. During this time, temperatures range from 25o to 35oC, with occasional afternoon showers. While the weather in the high season from December to February is also suitable, you will have to contend with more tourists paying higher prices for the privilege.
However, during the low season from October to November can be a good time to visit if you're looking for cheaper accommodation and fewer tourists. But be prepared for more rain and rougher seas.
Koh Tao is off the main travel radar, but once there, it offers a place for total relaxation. It's a destination that's well worth the trip for those with time on their hands for travelling to and from the island. Whether you're looking to relax on the beach, explore the island's natural wonders, or immerse yourself in the local culture, Koh Tao has a lot to offer.
Getting there
There really is no easy way to access Koh Tao from Malaysia as it currently requires a flight to Phuket, then Koh Samui, and finally followed by a ferry to the final destination. Sadly, there's no longer a direct flight between Kuala Lumpur and Koh Samui.
Other possibilities are taking the train to Chumphon and then a ferry, or a flight to Bangkok and then to Koh Tao by train or ferry. The ferry from Koh Samui to Koh Tao takes about two hours. Those with time should take this as a positive as it means fewer tourists on Koh Tao.
Staying safe
Koh Tao is mostly safe, but a few precautions will make your trip more enjoyable. I was a little surprised as to how hot the island was in April (El Nino is real), so hydrate regularly, wear a hat, and use plenty of sunscreen. Many visitors use a motorbike to get around, but the occasional bandaged, walking-wounded suggest that you must take care and wear a helmet.
*All images courtesy of David Bowden.