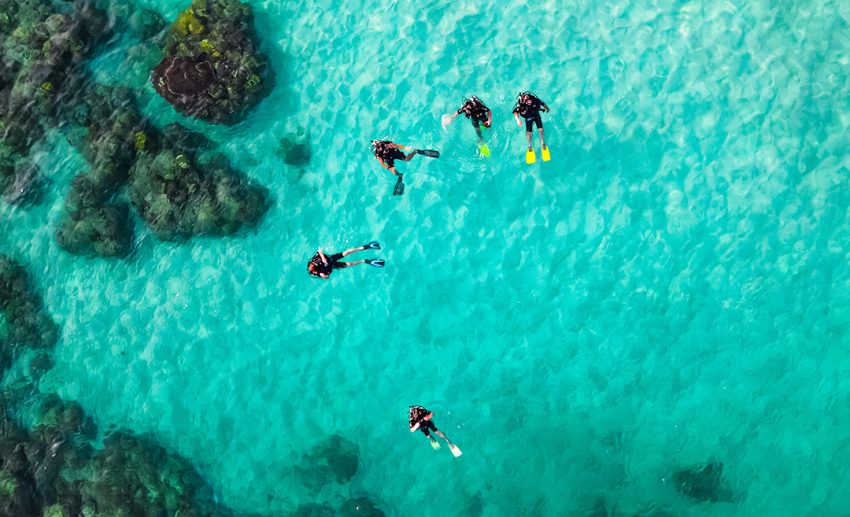 Subscribe to our new 

Telegram

 channel for the latest updates.



As Malaysia enters the COVID-19 endemic phase and travel restrictions are gradually lifted, it is without a doubt that you'll be looking forward to heading out of your house. And who could blame you? We've all been cooped up at home for months now. 
While, granted, we can't leave Malaysia (for now), there's still a plethora of water-related fun to be had across our fair nation. So head over to one of Malaysia's beautiful oceans, beaches, and lakes, for a dose of sun, fun, and adventure with these water-related activities. Water wonderful world, indeed!
1. Parasailing
 

 

View this post on Instagram

 
Having the urge to fly, but unable to as international borders are still closed? Give parasailing a go! Enjoy your parasailing experience on Cenang beach in Langkawi or Batu Ferringhi beach in Penang. 
Parasailing enables you to feel like you're flying, concurrently enabling you to have a bird's eye view of the area. Strapped to a harness and parachute, you will be lifted into the air in no time from the back of a high-speed boat. it's exhilarating to say the least!
2. Wakeboarding
 

 

View this post on Instagram

 
If you are afraid of heights and still want your share of the adrenaline rush, then wakeboarding is for you! Your feet will be strapped onto a board and as the boat accelerates, get up onto your feet, and enjoy the breeze. 
Wakeboarding is one of the handfuls of watersports that does not require you to drive too far away from Kuala Lumpur (KL). Putrajaya Lake Club and Mines Lake offer city dwellers a thrilling wakeboard experience. For folks based in Johor, have your fair share of wakeboarding experience at Tanjung Resang. 
3. Jet skiing
 

 

View this post on Instagram

 
Jet skiing enables you to enjoy the seawater droplets spraying onto your face and the wind in your hair. It is a fun family activity, as your kids can get in on the fun too. All they need to do is hold tight to you.
This is a fairly common water activity and holidaymakers can enjoy it at just about any popular beach stretch whether you're in Perhentian, Penang, Langkawi, or Redang. Adventure seekers will jet ski out to the Andaman sea and island-hop to the various islands to enjoy a snorkel, a swim or eagle watch. 
4. Kayaking
 

 

View this post on Instagram

 
For those who prefer to incorporate their long-overdue arm workout into all the fun, kayaking is a good choice. Kayaking requires you to paddle or row to wherever you'd like to explore, so don't anticipate a relaxing activity (although, yes, you can take your time if you wish to do so). 
Putrajaya Lake Club is again a great option for city dwellers for a fantastic kayaking experience. Alternatively, if you fancy the beach and ocean, check out one of the 64 islands at Seribuat Archipelago, just off the east coast of Malaysia, or one of the many islands in Langkawi. 
5. Snorkelling
 

 

View this post on Instagram

 
Sorely missed the sun, sand, and sea while staying safe at home? Then, snorkelling at one of Malaysia's many islands should be the next activity on your to-do list. You just need to learn two things. First, how to keep yourself partially afloat as you will be aided by a life jacket. And second, how to breathe through a snorkel. It's simple, really.
Snorkelling is a kid-friendly activity too, so do involve the little ones so long as they're good swimmers. Some of Malaysia's best locations for snorkelling are Perhentian Island, Redang Island, Pulau Payar Marine Park, and Tunku Abdul Rahman Marine Park. 
6. Scuba diving
 

 

View this post on Instagram

 
If the colourful corals and school of tiny fishes have not amazed you while snorkelling, opt for a scuba dive to explore the greater biodiversity at deeper depths of the ocean. Malaysia is dive-friendly all year round. However, avoid the locations that are going through a monsoon season. 
Lang Tengah and the Perhentian Islands are two of the best islands on the East Coast of Malaysia. If you can make your way to East Malaysia, enjoy the large schools of manta rays and hammerhead sharks at Sipadan Island, Mabul Island, and Semporna. And do follow these tips on how to be a sustainable watersports enthusiast. 
7. Surfing
 

 

View this post on Instagram

 
Is surfing an activity you thought you could only enjoy in Hawaii, Australia, or Indonesia? Well, believe it or not, but you can enjoy a surfing experience right here in Malaysia too! 
On the East Coast of Malaysia, surf on the waves at Batu Burok, Terengganu and Cherating, Pahang. If you prefer a more private beach to practice your surfing stance, travel southwards to Wild Boar Beach in Desaru, Johor. 
8. Bamboo rafting
 

 

View this post on Instagram

 
Immerse yourself in local culture through bamboo rafting, one of the traditional modes of transportation of our indigenous groups in Malaysia. The natives of Sungai Langat in Selangor, Temenggor Lake in Perak, and Sirin River near Kuching are excited to have you. 
They will guide you on how to build your bamboo raft, which is made up of 10 bamboo tubes tied with bamboo strips and ropes. Once your raft is ready to go, hop on, and get ready to enjoy a unique rafting experience. 
9. White water rafting
 

 

View this post on Instagram

 
Rafting is fun and exciting as you transverse strong rapids and calm waters. And as you do so, you'll be able to appreciate the unique flora along the river banks, which you otherwise wouldn't get to see. White water rafting on Hulu Selangor River in Kuala Kubu Bharu, Ulu Slim River in Perak, and Nenggiri River in Gua Musang, Kelantan has awarded adventure junkies with a remarkable experience. 
10. Fishing
 

 

View this post on Instagram

 
Last but not least, experience a relaxing fishing trip. After months of perfecting your fish recipes in your home kitchen during lockdown, enjoy your cooking with freshly caught fish from the wild. 
There are various types of fishing, such as fun fishing, game fishing, and deep-sea fishing. A couple of miles off the coast of Langkawi and Terengganu are great places to fish, especially after the exhilarating fun you've just had!