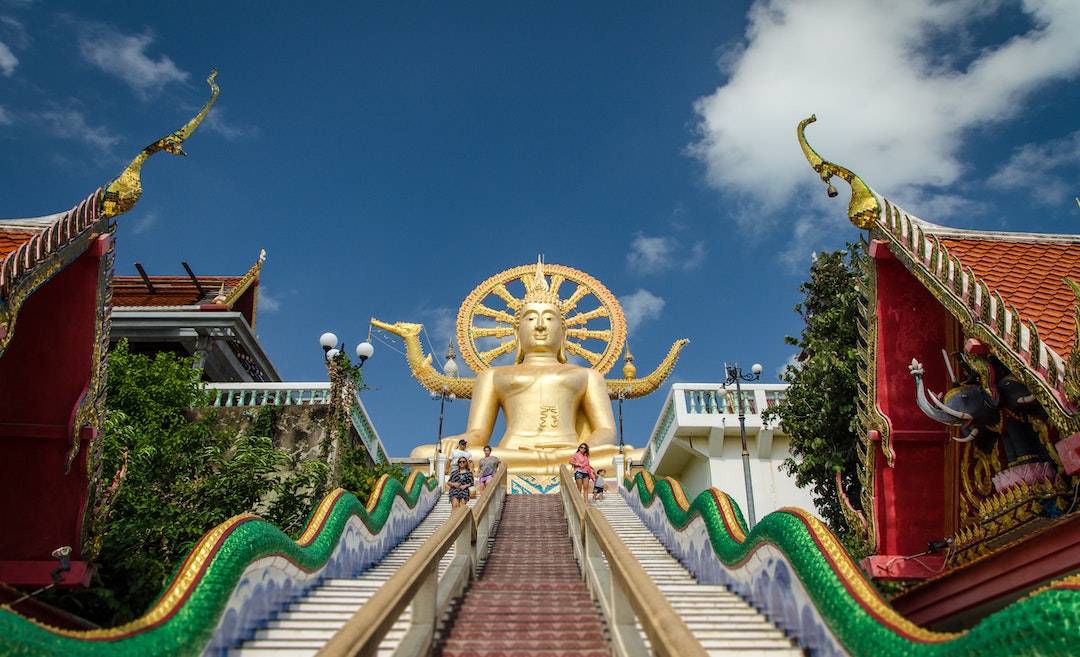 Thailand's islands are famous for their chilled out vibe, gorgeous beaches and a plethora of activities such as scuba diving, snorkelling, cooking classes and much more. Koh Samui offers all of the above and then some. Like much of the country, it's blessed with stunning locales, friendly locals, delicious food and something for every budget. If it's your first time on the paradisaical island, here are 10 things you should know before you head there.
1. Rent your ride
By car: Car rentals start at 500 baht per day and parking is easily available at all tourist spots. You can fill up on petrol at pumps or buy it in glass bottles from street vendors. A lot of the roads in Koh Samui are uphill and it rains sporadically, so keep your eyes and ears open at all times.
Note: You can also get taxis to get from point to point, but these are unmetered and more expensive than renting your own transport so fix a fare before getting in.
By bike: A motorbike is the easiest and cheapest way to navigate Koh Samui. A ring road runs around the island which connects Lamai, Chaweng, Bo Phut and Maenam. You can get a map at your hotel or use your GPS, since mobile connectivity is decent all over the island. Motorbike and scooter rentals range from THB150-400 per day depending on the season.
Tip: Do not hand over your passport to car/bike rental companies. It is best to organise rentals through your hotel.
2. Best places to stay
Chaweng: Crowded and lively, with happening bars, shops and travellers, it is easy to make friends and find fun things to do here. Pick South Chaweng to get access to a white sand beach and still be a stone's throw away from all the action.
Choeng Mon: If you're looking for a more laidback and intimate vibe, this is it. The beach is better but the selection of restaurants and bars is much smaller. The people are very friendly and always eager to strike up a conversation.
Bophut: This area is home to the island's most sophisticated shopping and entertainment spots. The beach, however, is crowded and there are many fishing trawlers that take away from the atmosphere.
3. Get your dose of Vitamin Sea
Koh Samui is home to some stunning beaches. Chaweng and Lamai in the east are famous for their 24/7 beach parties, shopping and other touristy experiences, while Bo Phut and Maenam are more laid back and better for relaxing alone or with friends. A must visit is Crystal beach, with its clear, warm waters and beautiful scenery. The crowd is sparse, mostly consisting of guests from the resort that's right on the beach.
Tip: Stay away from the beaches after dark to avoid drunk tourists and local troublemakers.
4. Go temple hopping
There are plenty of beautiful and unique Buddhist temples in Koh Samui to give you your dose of culture. Check out the Big Buddha temple in Bang Rak, which features a 12-metre tall statue of the Buddha. Admission is free and donations are welcome but not mandatory. The views of the surrounding sea are an added bonus. A few kilometers away lies the temple complex of Wat Plae Laem, where you can go camera-crazy taking pictures of the lovely pagodas and the turtles in the koi pond.
5. Celebrate the full moon
30 minutes away from Koh Samui lies the beautiful island of Ko Phangan, home of the original Full Moon Party. Thousands of revellers from across the globe descend on Koh Phangan every month around the full moon for nights of dancing and drinking. Accommodation prices shoot up at this time, so a better option is to book your hotel in Koh Samui and take the speedboat from Bo Phut to Koh Phangan. It costs THB1,000 per person (return) and gets you to Ko Phangan in half an hour.
Once on the island, make your way to Hat Rin beach via the crowded alleys lined with restaurants, bars and boutiques on either side. Change into neon attire and indulge in the body paints for some surreal pictures. When you are ready to return to Bo Phut, make your way back to the jetty and catch one of the speedboats that run all night long.
Tip: No full moon party is complete without purchasing a Thai 'bucket', a potent cocktail of spirits and Redbull served in a huge mug. Do NOT drink more than one of these however, because you WILL pass out and miss the entire party, or worst. People have been known to overdose and get robbed.
6. Trawl the night markets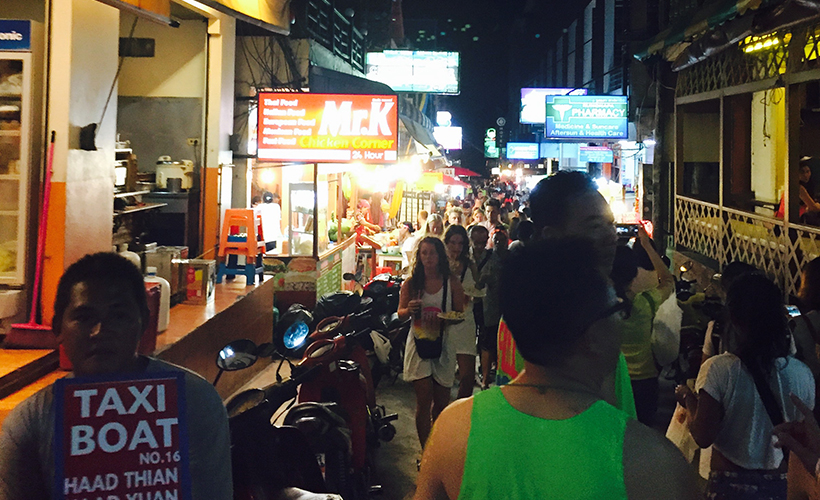 The biggest and most popular night market in Koh Samui is at Fisherman's Warf, Bo Phut every Friday evening. Buy colourful sarongs and swimsuits, have a cocktail or two at one of the many bars on the street, eat some delicious local food, and get a Thai massage or basic manicure for as low as THB200. Lamai beach also hosts a night market on Sundays (5-10PM).
7. Dine out on the streets
Thai food is out of this world delicious and there is something to cater to everybody's taste. You can eat very cheaply in Koh Samui by sticking to street food. Buy fried rice and curry for THB40-80 per meal from food carts, or pay THB100-200 for a three-course meal and a couple of drinks at any of the restaurants. You can feast like a queen on red, green, yellow, Massaman and Penang curries, papaya salad and sticky rice.
8. The convenience of convenience stores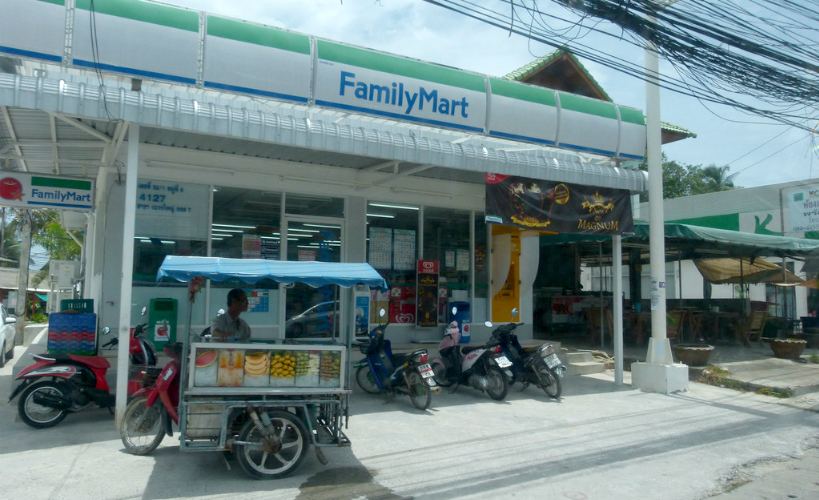 Koh Samui is brimming with 24-hour convenience stores, you'll find one at every corner, and they're well stocked with everything you could possibly need – from food to SIM cards.
Tip: Load up on bath salts, scrubs and face masks at these stores – they're very cheap, super effective, and also make for great gifts.
9. In case of emergencies
If you find yourself in need of medical services, be assured that medical facilities on the island are first rate. Samui International Hospital at Chaweng provides excellent care at very decent prices, and boasts of multilingual staff and top-notch facilities. The government hospital at Nathon, though not as modern as the private hospitals, is cheap and good for minor injuries and illnesses.
10. Money matters
ATM machines and FOREX booths are widely available on the island (most booths close by 10pm). ATM machines only dispense Thai baht, and there's a limit of THB20,000 per transaction. Also, a withdrawal fee of THB180 applies to every transaction. Koh Samui also has Western Union outlets and agents in all major areas of the island.