"Is it safe?" – this is the question that kept playing in my head before my visit. Looking up Kashmir on Google, you'll easily find news about terror attacks, political unrest, tortured children, protestors, and statewide lockdowns. So it's only natural that people see the region as a dangerous place to visit. Despite all that, I decided to go ahead and visit Kashmir to experience it for myself.
Despite safety concerns, the beauty of Kashmir is starting to make itself known throughout the world. Surprisingly, I met many fellow Malaysians when I was there. My tour guide in Kashmir mentioned that Malaysia is actually one of the top tourist contributors to the region for the past two years.
To go to Kashmir, you must hire a guide to bring you around for safety reasons. There are a few trip planners in Malaysia that offer packaged trips and you can find them on Instagram. I recommend Fakhrul Aizat, Azreen Omar, Kiwionearth, and Project Vacation. They will guide you through visa application and flight booking, and accompany you until the end of the journey. For now, here's a list of places to go to inspire you to get in touch with them: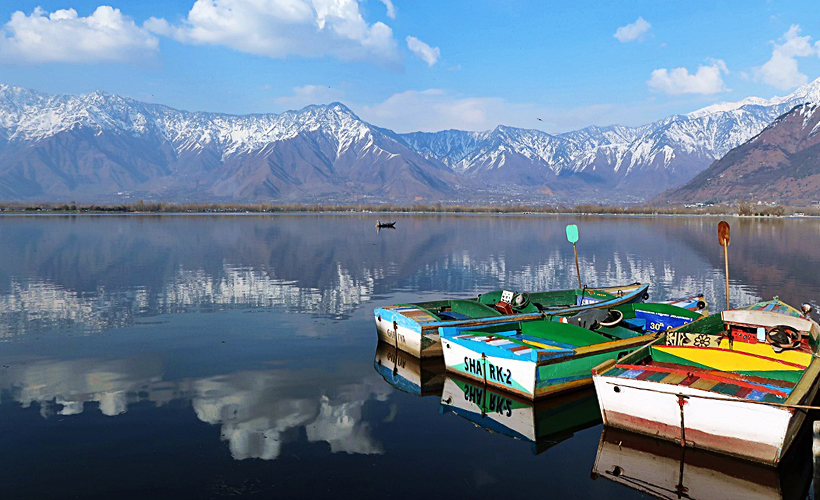 1. Srinagar
Have you stayed in a houseboat before? If not, then the city of Srinagar is the perfect place for you to try and experience Kashmir like a local. I was told that the cost to build a houseboat can reach up to RM1-2million (approximately USD241,000-482,000). It's insane! The three-bedroom houseboat we stayed in was equipped with an in-house heater, bath-tub, Islamic art carving, bohemian-style carpets, and traditional furniture.
The kitchen was smaller than I expected, but the experience was definitely worthwhile, as everything that came out of there was amazing. We were served local dishes from breakfast to dinner, such as lamb yoghurt curry, mohur pulav (rice with fruit, nuts, and ghee), khambir (thick whole-wheat local bread), and complementary kahwah (Kashmiri tea).
Dal Lake
Dubbed the "Jewel in the crown of Kashmir," Dal Lake is a popular location if you want to stay on a houseboat. Approximately 12 metres deep, Dal Lake is also integral to the city's tourism and recreation. Take a shikara (a non-motorised longboat) ride around the lake for 30 minutes to witness the daily routines of the locals. My recommendation is to take a ride in the evening to catch an unforgettable view of the sunset.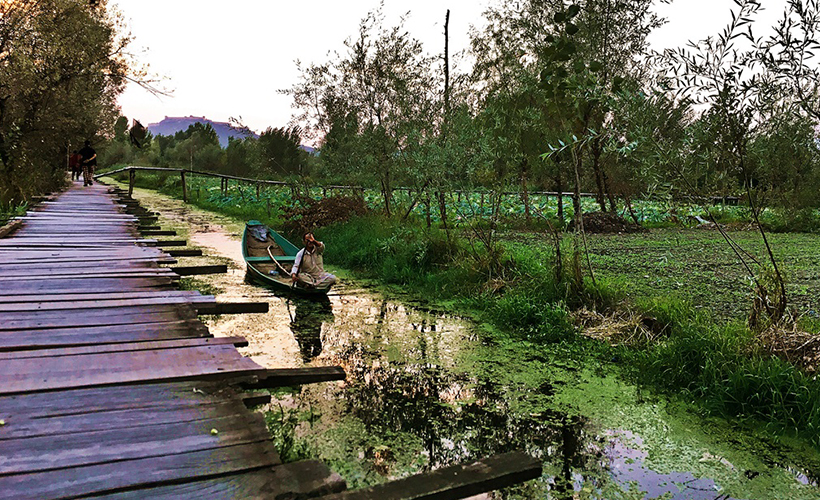 Hazratbal Shrine
One of the things that makes this Islamic shrine extra special is that it houses what Muslims believe to be Prophet Muhammad's hair. Unfortunately, the mosque can only be entered by men and not women (something I couldn't understand), so do consider that when visiting. On the upside, you do get to see a gorgeous view of Dal Lake against a mountainous background if you go to the back. It's picturesque enough for your Instagram feed.
Shalimar Bagh Mughal Garden
If you're visiting Srinagar during spring, Shalimar Bagh should be at the top of your list of places to visit. Known as the garden of love, this beautiful Mughal garden boasts four terraces separated by canals lined with polished stones running through its centre. It was built in 1616 and remains the most popular Mughal garden in the city.
Pari Mahal
With a lovely view of Dal Lake and Srinagar city, the ruins of Pari Mahal are known as The Palace of Fairies with its six terraced gardens that sit on top of the Zabarwan mountain range. During spring, the terraces will be filled with flowers, perfect for a drone shot. You can also rent traditional Kashmiri costumes here and pretend you're a local for photo opportunities.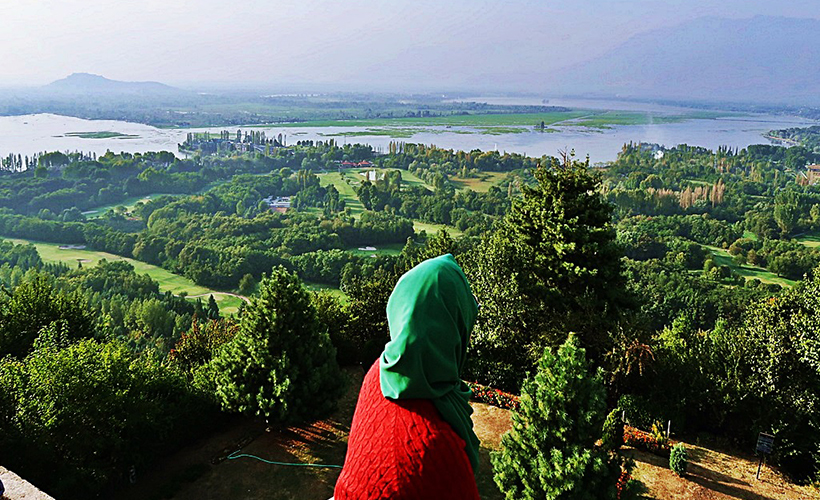 ---
For those of you wish to visit ecotourism destinations within India, you're in luck!
---
2. Pahalgam
When visiting this hill station and tourist town, don't skip the pony rides! However, they're not recommended for those who with back pain as the horseback riding up to the mountains can be quite strenuous. You can always opt for a hike through one of their many trails instead, but it'll take almost a day to complete the journey as the mountain is quite steep and slippery.
Baisaran Valley
There's little wonder this valley is referred to as the mini Switzerland of Kashmir. During summer, you experience lush green views of towering pine trees, and of course, a great panorama of the mountains right before your eye. Adventure junkies should try Zorbing and zip-lining for some fun. As for the winter season, the only available activity is skiing.
Aru Valley
If you've watched the film Bajrangi Bhaijaan starring Salman Khan, you will recognise the riverside view at Aru Valley. I used to draw sceneries from my imagination when I was a child, not knowing that lush verdant valleys flanked by snow-capped mountains really exist. So looking at the view here for the first time was surreal. Aru Valley is a stop along the way; there's no village in the surrounding area.
Betaab Valley
Just 15 kilometres from Pahalgam, Betaab Valley gives its visitors the paradoxical experience of a mighty blue river and nature's tranquillity. Okay, so the river's not blue if you look closely, but if you take a picture using the drone, you'll see beautiful azure shades. Do note, however, that the Betaab and Aru Valleys are closed during winter due to heavy snow and slippery roads. Time your trip well enough to not miss these beautiful valleys.
3. Sonamarg
Just when you thought that you had seen it all at Pahalgam, Sonamarg will blow you away with snowy mountains – even if you visit in the summer. I remember I couldn't feel my hands and feet when stepping out of the van. The temperature was -2°C during my summer visit, so always bring a winter coat when visiting Kashmir.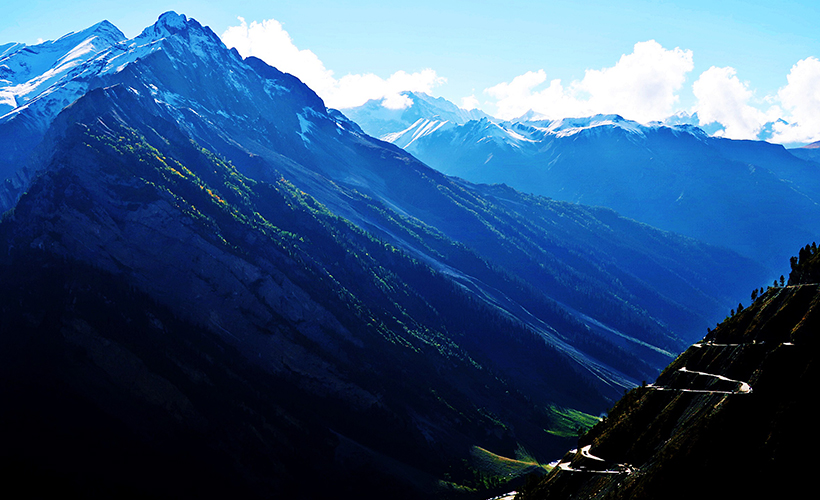 Zoji La Pass
If you're an adventurous person, challenge yourself to experience the Zoji La Pass, one of the most dangerous roads in the world. The road is connected to Leh, Ladakh that's about 317 kilometres from Kashmir; a 14–18-hour drive. I'm afraid of heights, but was able to sit by the window in the jeep that drove us 45 minutes to Zero Point. The mesmerising view along the way made me forget all about my fear. Take note that Zoji La Pass isn't open during winter.
Thajiwas Glacier
In summer and autumn, you can ride a pony to the Thajiwas Glacier. The pony ride isn't as extreme as in Pahalgam, as we went through a flat path rather than up steep mountains. You can only do this if you skipped the Zoji La Pass due to the time constraint. The curfew for tourists in Kashmir is usually before sunset, and if you miss it, the army will ask you or your driver a lot of questions when exiting Sonamarg. You'll feel like a sitting duck trying to explain things.
4. Gulmarg
My favourite place of all time is Gulmarg. This town, hill station, and popular skiing destination is packed with tourists in winter. I'm not good at skiing, so I chose a bicycle ride instead. Bicycle in the snow? Well, it's not the kind you're thinking – it's skiing with a seat (as seen below).
To truly experience Gulmarg's beauty, take the famous Gulmarg Gondola ride that has two phases (both of them a must). In the first phase, the cable car will take you to Kungdoor at 3,100 metres above sea level. The second phase of the ride is up to Apharwat at almost 4,000 metres high.
Apharwat Peak
During my visit, we hiked for about two hours to Apharwat Peak from the arrival station of the gondola's second phase for better views of the Himalayas. If you want to do the same, you'll need a guide for this short hike because the route can be confusing and tricky. There's a chance you'll get lost if you venture on your own. As the gondola closes at 5PM, you also need to be back at the gondola by 4PM or you'll be stranded. From Apharwat Peak, you can also see Alpather Lake that looks like a volcano crater. It was a beautiful culmination to a wonderful time exploring the breathtaking region of Kashmir.
All photos courtesy of the author.
[zf_post_boxes widget_hide_desc="true" num_post="3″ post_id="32104, 24065, 22935″]
Get all the latest travel stories from Zafigo. Follow us on Facebook, Twitter, and Instagram.