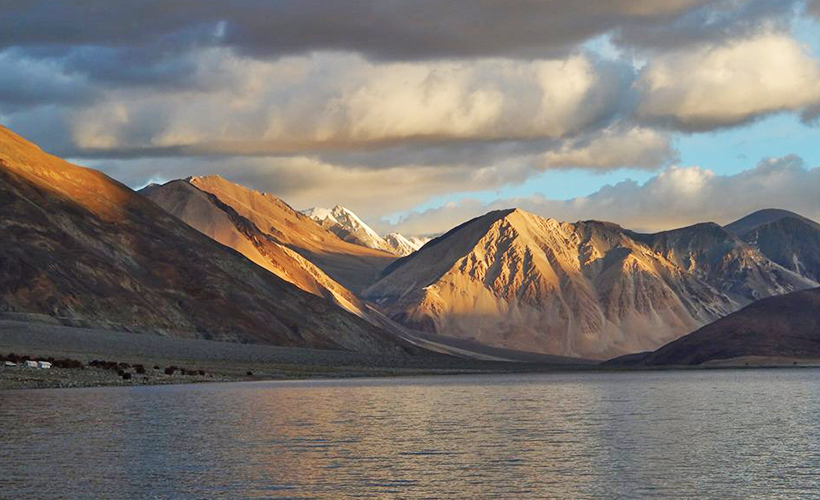 E[/dropca]very road in Ladakh has a story to tell and I'm so glad I got to create memories on them. Nestled in the Trans-Himalayas, in the state of Jammu and Kashmir in North India, Ladakh has – in recent times – become one of the country's most popular summer holiday destinations. Riding across high-altitude mountain passes, visiting monasteries, and camping by some stunning high-altitude lakes are what add to Ladakh's allure.
Besides spellbinding landscapes, Ladakh is renowned for its ancient Buddhist monasteries. Ladakh is often dubbed 'Little Tibet' as it shares an international boundary with Tibet and plays host to a sizeable population of Tibetan Buddhists.
The Leh-Ladakh road trip had been on our bucket list for a long time, and we finally made it in September 2016.
Day 1
We landed in Leh at around 7am and went to our hotel, La Buddha. The first day was supposed to be our acclimatisation day, wherein we didn't do anything, so we rested at the hotel and drank lots of water and honey ginger tea. In the evening, we went out to the nearby Ladakh café, strolled around for a bit, and looked for the cab that would be taking us on our epic trip around the Ladakh region.
Day 2
The next morning, all geared up, we needed to cover 145 kilometres in about five hours. Our first leg involved us heading towards Nubra Valley via the Khardung La mountain pass. The excitement was building up as we were about to cross Khardung La – the highest motor pass of the world. Upon reaching, we stepped out for a click, ate some Maggi instant noodles (a local staple), and moved further along. Please make sure not to stay there for long due to high altitude. Overall, the drive was breath-taking due to the contrasting landscapes.
A few hours later, we found ourselves near the Shyok River that flows parallel to the road and took a quick break there. We then pressed on to Hunder, where double-humped camels were waiting to take us on a desert safari.
Day 3
Our days here started bright and early. We took the same route back to Leh first thing in the morning. However, before starting our journey back to Leh, we went on a short trek to Diskit Monastery, where the beautiful Maitreya Buddha statue is situated. After some photo-taking, we continued to our next stop – Panamik – famous for its hot springs. While here, we got to chat with some Ladakhi folks and enjoy their songs too. By evening we were back at Leh.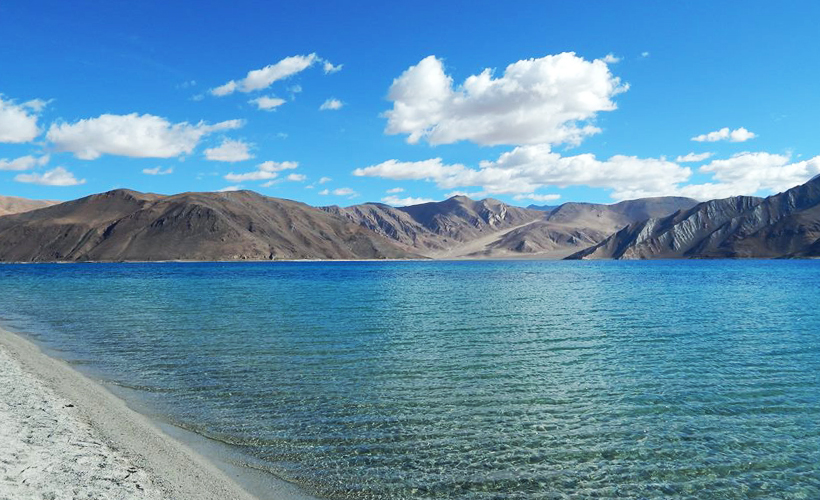 Day 4
Our fourth day in Ladakh saw us heading from Leh to the famous Pangong Tso Lake that's also popularly known as 3 Idiots Lake (as it was featured in the film 3 Idiots). The lake is so picturesque, and coming here would be incomplete without taking pictures. Don't forget to capture the beautiful migratory birds that come here too. On the way back, we stopped for a quick look at Hemis Monastery, also taking a small break at Chang La Pass.
At the Changthang Wildlife Sanctuary, we watched as yaks and horses grazed around. It was a lovely and relaxing sight. To top it off, we then watched a beautiful sunset and the changing colours of Pangong before heading to our homestay for the night. Evenings here are really cold, so make sure you are wearing sufficient layers and appropriate thermals.
Day 5
After watching the sunrise over Pangong, we drove back to Leh, and this time we were exhausted. We still did, of course, make a few pit stops along the way at Thiksay Monastery and the Shey Monastery and Palace. This monastery and palace complex is situated on a hill near Leh. There's a massive Buddha statue in the building and the entire aura was serene and calming. At the end of the day, we reached Leh on time and were so acclimatised that Leh felt like home to us.
Day 6
This was supposed to be our last day at Leh, so we made time for local sightseeing and visited Shanti Stupa, Leh Market, and Leh Palace. Shanti Stupa is not only famous for its spiritual significance but also the 360o degree view that it gives to its visitors of Leh Valley. Restaurants like Lamayuru and Summer Harvest are worth trying when looking for some grub.
Day 7
We began our journey to Tso Moriri. It was a long drive, but in the end, enjoyed the solitude at Tso Moriri and stayed at a homestay in Tso Kar.
Day 8
After a 14-hour drive that began early in the morning, we finally reached Sarchu. A precaution one should take while driving here is to try to reach Sarchu while there's still daylight to avoid accidents.
The Leh Manali Highway starts at Debring, crosses the Moore Plains, and finally ends at Sarchu. Along the way, the most adrenaline-pumping part en route are the Gata Loops – a series of 21 non-stop hairpin bends that increase the altitude by about 500 metres. Although the zigzagging made us dizzy, the view was phenomenal. It was like a picture postcard – mountains, valley, river, and blue sky.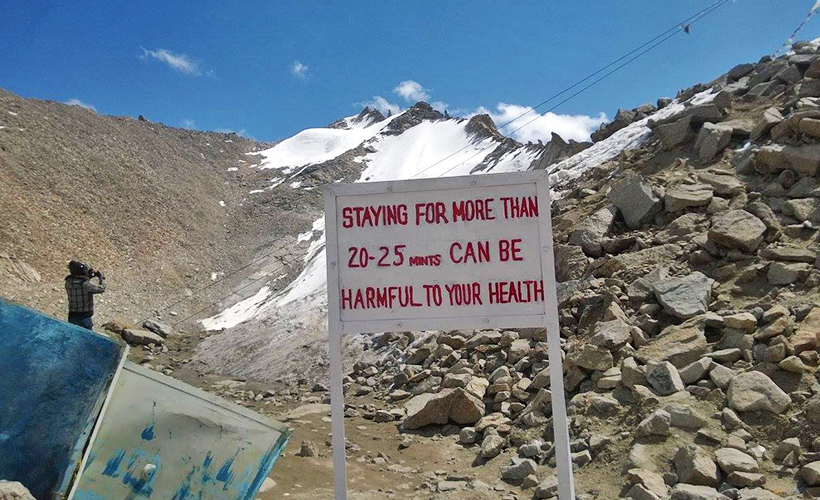 Day 9
On the way to Manali from Sarchu, we travelled through Keylong and the famous Rohtang Pass. The views from Keylong to the valley are mesmerising and you're forced to spend some time here. Rohtang Pass was the last amongst the five highest passes we came across during this epic journey. Do note that this place is also infamous for crazy traffic jams, but we got lucky as we pushed off early from Sarchu. That night, we headed from Manali to Delhi.
Needless to say, it was one hell of a trip and it was difficult for us to find one particular memory as our personal favourite. Even now, whenever we go through the pictures we took, we get all nostalgic and wonder when we can go again.
---
Feeling inspired? You don't want to miss out on this amazing list that includes Japan and Korea:
---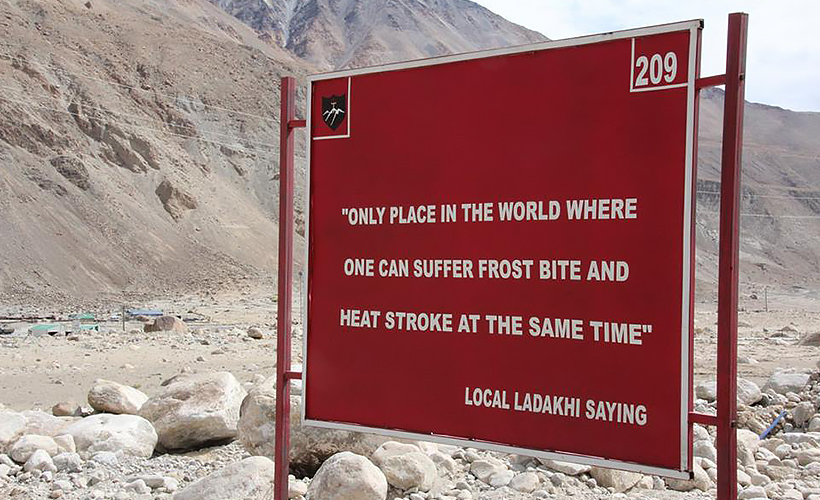 Packing essentials when on a trip to Ladakh
Clothing
One should bring clothes that can be easily layered, so if required (depending on the unpredictable weather), layers can be removed or added on. A lot of t-shirts and thermals along with at least two pairs of trousers/jeans is advisable.
Accessories and extras
Sunscreen with a minimum SPF30
Sunglasses, gloves, cap
Cold cream, lip balm, moisturiser
Water and snacks such as dried fruits
Medication in case of emergencies or altitude sickness
A power bank. Batteries die faster than normal in a cold environment
Emergency contacts on a piece of paper and keep it in your wallet
Medical insurance if any
Multiple copies of your Inner Line Permit which you can get in Leh
ATM availability
There are very few active ATMs in Ladakh. So it's advisable to carry cash. The last ATM you will find is in Leh market, although there's a chance that it is out of service or cash. Credit cards shouldn't be relied on as most places (like homestays and shops) don't accept them.
Mobile coverage
As with most parts of Jammu and Kashmir, only post-paid connections work here. In terms of network provider, BSNL and MTNL work best. Leh has complete coverage, but as you would move away from the city, connectivity lessens with hardly any of it in Pangong and Tso Moriri. Expect only small pockets of coverage while at Khardung La and Chang La.
How to deal with acute mountain sickness (AMS)
AMS is a direct result of exposure to a lower percentage of oxygen at high altitudes. As the altitude increases, the level of oxygen present in the air decreases. In order to accommodate this, our body increases its breathing rate. While here, take the precautions below to avoid AMS:
Stay hydrated by drinking plenty of water
Avoid smoking and alcohol consumption
Do not exert yourself and have sufficient rest
Use lavender oil and drink ginger honey tea
Take an appropriate dose of Diamox two days prior to going to Leh
Always keep an oxygen cylinder with you
*All images courtesy of the author.
Get all the latest travel stories from Zafigo. Follow us on Facebook, Twitter, and Instagram.