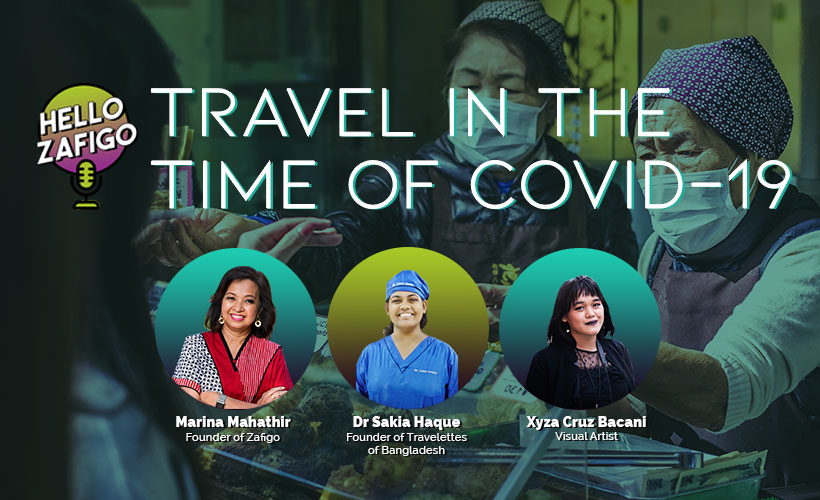 If there's one topic that almost every single person has been talking about all over the world, it's the COVID-19 pandemic. Thus far, more than one million people have been infected and some 70,000 have died. It's a gruesome scenario that has almost literally brought the globe to a halt.
This, naturally, has also affected Zafigo's plans for the year, unfortunately forcing us to shelve plans of another ZafigoX event. However, this change of plans has led us to evolve, birthing the idea of Hello Zafigo – a series of live online talks and panels where we speak to noteworthy women on a variety of relatable topics.
While most people have been staying home in order to either avoid or slow the spread of the disease, there are others who have had to run into the eye of the storm out of duty. Hosted by Zafigo founder Marina Mahathir, our inaugural panel session of Hello Zafigo took place on Zoom on 3 April. We talked to two ZafigoX alumni, Dr Sakia Haque of Bangladesh and Xyza Cruz Bacani of the Philippines. Here, they shared their experiences and thoughts on being up close with COVID-19.
A medical frontliner's ordeal
As it happens, not only is Sakia a frontliner, working in a small rural hospital in Teknaf district in southeastern Bangladesh, she was also almost a victim. As the founder of Travelettes of Bangladesh, a group she set up to empower young Bangladeshi women to travel independently, Sakia travelled to Germany in late February to speak on women and travel at the Berlin Travel Fair, one of the largest of its kind in the world. But like many big events, it was cancelled because of COVID-19. "Berlin was so quiet. I still saw posters of the panel I was supposed to speak on everywhere," she said wistfully.
Returning to Bangladesh proved to be an ordeal. She travelled to Greece and then was supposed to transit in Italy on her way home. By then, the epidemic in Italy was making headlines everywhere because of its severity and airports were closed. She was forced to re-route herself through Germany and the Middle East to get home, noting that every country had different anti-COVID regulations for travellers.
Reaching home, she had to self-quarantine for 14 days before reporting for duty in Teknaf. And there she found herself in a nightmarish situation. "We have no masks, no sanitisers, no personal protection equipment and no test kits," she explained to our gaping audience. "Yet so many patients were coming in with coughs and fevers. To be frank, I don't know if I've been infected or not."
[box color="#89c44c"]Yearning for more intellectual conversations? Then you'll love these travel-themed podcasts and playlists!: 7 Spotify Playlists & Podcasts To Help Ease Your Travel Itch[/box]
There's no escaping the pandemic
Such a tragic situation is not limited to Bangladesh. Xyza, our other panellist, had returned to her home country from Hong Kong where she is based, "to escape the virus," only to find that the virus was very much in the Philippines as well.
As a photojournalist, Xyza has been covering stories for CNN on the medical personnel working on the COVID-19 epidemic particularly in rural parts of Luzon, the biggest island in the Philippines. Like Bangladesh, they are poorly equipped with little more than masks and gloves to protect them.
View this post on Instagram
"I lived through the SARS epidemic in Hong Kong so it's normal for every household to be equipped with protective gear there. Here, I find myself apologising to the doctors and nurses I cover because with my N95 mask, face, and eye shields, and even a full hazmat suit should I need it, I'm actually better protected than they are," she says.
Both countries struggle to provide accurate information to their people. In Bangladesh, the lack of information makes people susceptible to rumours and hoaxes. Some thought the disease is sexually-transmitted and therefore refused to be tested for fear of the stigma. Others have taken to drinking hot tea in the apparent hope that it will kill the virus.

In the Philippines, there is better information and Filipinos have complied with the government's quarantine orders. But fake news abounds and violence towards quarantine violators has also occurred. Despite the many roadblocks to deter any movement, Xyza manages to get around to get the truth of the stories of ordinary Filipinos in the time of COVID-19.
Remarkably, both of our speakers have remained cheerful and upbeat as they go about their duties. To hear more of their stories, watch or listen to the recordings of Hello Zafigo: Travel In The Time Of COVID-19 panel below.
Enjoyed our first Hello Zafigo? Sign up with us for the latest updates and to stay informed of upcoming sessions.
Get all the latest travel stories from Zafigo. Follow us on Facebook, Twitter, and Instagram