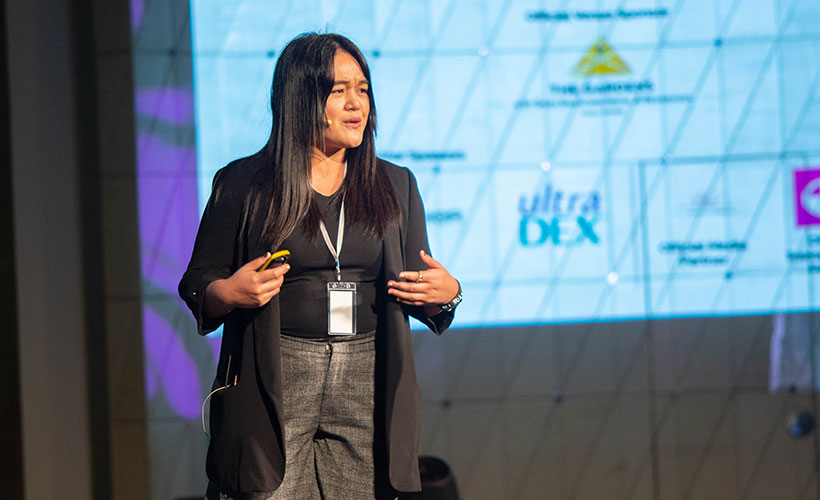 As an eight-year-old, Xyza Cruz Bacani found it difficult to understand why her mother left home in the middle of the night to go to another country. The idea of being a domestic worker wasn't one that she could fully understand and she felt abandoned, but who could blame her? As the child of a domestic, and construction worker, Xyza had to grow up faster than the next kid to help take care of her family.
She soon grew to see how difficult it must've been for her mother and many migrant workers to make such a decision; it's either we stay together in poverty or we leave our families temporarily to provide them with a better life.
At 19, Xyza followed in her mum's footsteps and became a domestic worker in Hong Kong for almost a decade. In that time though, she had picked up photography, mostly documenting her mother's journey and the impact it had on their family and would share her work online. This caught the attention of Rick Rocamora, a Filipino-American photographer who then sent her photos to the editors of Lens, and had a profile written on her in June 2014. That was the beginning of the rest of her career as a Photographer.
She continued to document her mother's life and shared stories of other migrant workers which received plenty of praise on social media, this helped her receive a grant from the Magnum Foundation for her project on Filipino human trafficking survivors which was published in Lens. She then moved on to her next story that was on trafficked migrant worked in Singapore, with a grant from Pulitzer Center on Crisis Reporting, plus a profile in the New York Times.
Xyza was flying high. From being a caretaker to her family, to taking care of 6 children who weren't her own for several years, to having been a domestic worker for almost 10 years, to now embracing the role of a lifetime; traveling the world to share the beautiful and sometimes painful stories of migrant workers from around the region.
But it's not all glamorous, as she reminds us. There are plenty of unpretty events that follow with travelling too: losing luggage, delayed flights, sleeping on airport floors, encounters with dubious men but for the most part, there's an immense sense of gratitude the entire room can feel from her.
Meeting different people and exploring new places has broadened her mind in ways she didn't expect it to. Xyza is currently writing a book to commemorate her experiences, and why wouldn't she? She's seen and been through a lot. But she didn't feel deserving of it initially, she was pressed with self-doubt. "Should I be doing this? I don't deserve it," and that's a feeling plenty of us can resonate with.
She worked through those doubts and decided to be her own hero. She's using this opportunity as a way to reclaim her space and to use her voice to speak on a matter that's close to her heart. Watch her set at ZafigoX 2018 entitled From Domestic Worker to International Photographer below:
ZafigoX returns on 21 and 22 September 2019. Tickets are being sold from RM350 for a single standard 2-day all-access pass. Buy them today at Zafigo.
[zf_post_boxes widget_hide_desc="true" num_post="3″ post_id="30661, 20167, 19682″]
Get all the latest travel stories from Zafigo. Follow us on Facebook, Twitter, and Instagram.