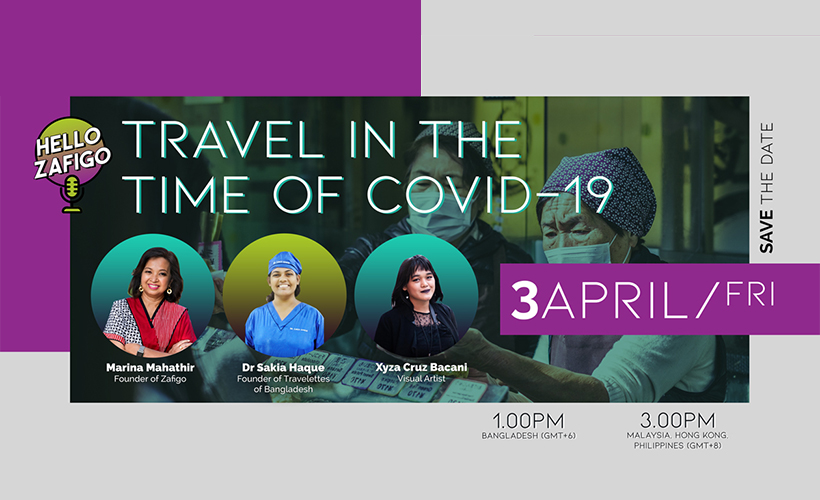 This 
Hello Zafigo session has concluded but you can read about it, watch it on YouTube, or listen to the podcast here.
As the COVID-19 spread continues to disrupt the everyday lives of people throughout the world, many are encouraged and required to stay indoors and limit social interaction.
We here at Zafigo have also been forced to relook at our plans for the year, and had to put several activities we had lined-up on the backburner. But as we heavy-heartedly shelved these plans, new ideas on how to stay connected with our readers and community (something very important to us) cropped up. One such idea is Hello Zafigo, a series of live online panels where we speak with past event speakers and other interesting women on a variety of topics.
For the first session of Hello Zafigo, titled "Travel In The Time Of COVID-19", our founder, Marina Mahathir will be checking in with ZafigoX alumni, Dr Sakia Haque in Bangladesh and Xyza Cruz Bacani in the Philippines on the current situation in their respective countries. The women will discuss how the pandemic is affecting them on personal, social, and occupational levels. They will also share suggestions on what can be done to overcome the sense of isolation that self-quarantine and a movement control order can bring.
Dr Sakia Haque is the founder of Travelettes of Bangladesh, a travel group of over 50,000 women who love travelling. Coming from a society that simply doesn't allow for women to travel the world, Sakia is helping her countrywomen explore their homeland as well as the world beyond. She is working to change her country, empower women, and inspire them to travel so that they grow to be free-spirited and independent.
Sakia, who was recently in Europe, just ended a two-week self-quarantine and is now back on duty. While the country is under lockdown until 4 April 2020, many are not adhering to the order and those who are unwell are not reporting themselves to medical centres. As of today, hospitals in Bangladesh are not equipped with the right testing kits to help doctors and nurses identify positive COVID-19 cases.
Xyza Cruz Bacani is a Filipina street and documentary photographer based in Hong Kong who uses her work to raise awareness about under-reported stories. Having worked as a second-generation domestic worker in Hong Kong for almost a decade, she is particularly interested in the intersection of labour migration and human rights. She has exhibited her work worldwide, won awards in photography, and is the recipient of a resolution passed by the Philippines House of Representatives in her honour, HR No. 1969.
Currently, Xyza is on assignment covering the COVID-19 pandemic in the Philippines. The country is under strict quarantine but it is believed thousands of cases remain undetected as many have no access to testing kits.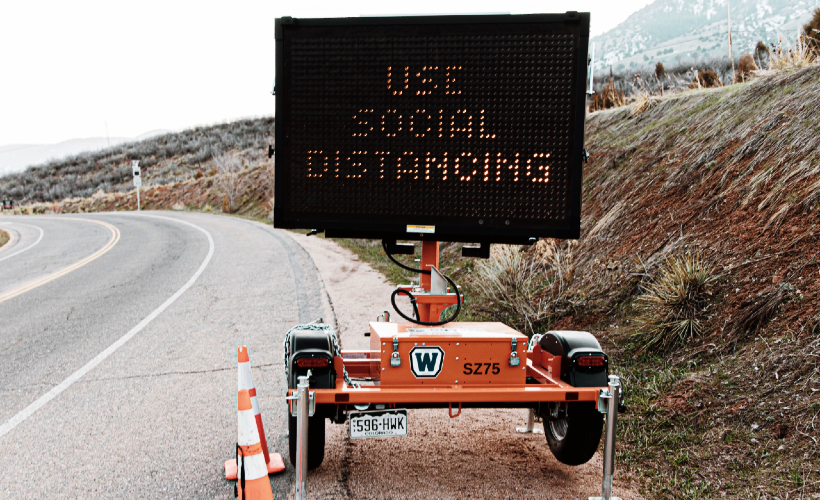 "Travel In The Time Of COVID-19" will be hosted on Zoom for free, and will be an interactive panel session where viewers can post questions they may have for Marina, Sakia, and Xyza to answer. Details of the web panel are as follows:
DATE:
3 April 2020 (Friday)
TIME:
1PM Bangladesh (GMT+6)
3PM Malaysia, Hong Kong, Philippines (GMT+8)
DURATION:
45-60 minutes
Register for the session on Zoom here: REGISTRATION FORM
An invitation to join the Zoom panel will be emailed to you at 10:00AM on 3 April 2020 (Friday). To join the panel, click on the URL stated in the email.
Please note that:
If you are joining the panel via your mobile phone, you will be required to download Zoom. Download the Zoom app here: Google Play Store (Android), App Store (iPhone).
The session is limited to 100 participants. After clicking the invitation link, if you are redirected to a Waiting Room, it means that the session is full. You can only join the session if a participant leaves the session.
Upcoming sessions of Hello Zafigo will be announced sporadically. To stay up-to-date on this and future sessions of Hello Zafigo, follow us on Facebook and/or Instagram.