It's not unusual for any yoga practitioner to want to practice in Bali's famous Yoga Barn or head to a silent meditation retreat in Thailand. But the reality now is this: the current state the world's in with COVID-19 sees us forcing ourselves to self-quarantine and has locked down countries almost completely, so now's not the time to take our practice out into the world. We can, however, bring some of the world into our practice instead, and we can do it wherever we are. After all, as any yogi knows, tiny adjustments can make a huge impact.
Here are four little ways to get a dose of the world in your practice:
Take a wild

carpet

mat ride
I know, I know. You're hooked and loyal to your classic rubber mat. But since we can't change the space that surrounds us right now, how about we take a trip on a travel-themed yoga mat? Check out the Dreams of Marrakesh collection by Sugarmat. The mats in this beautiful collection are replete with vibrant watercolour landscapes by artist, designer, and illustrator Rosie Harbottle whose art ethos is to evoke a deep sense of happiness and peace with her work. In Dreams of Marrakesh, she's inspired by all things Marrakesh, Morocco (naturally), and we simply love the variations like Desert Dreaming and Camels with Rugs.
Another noteworthy collection from Sugarmat worth checking out if you're more inclined to being inspired by the Far East is Chinoiserie. This particular series showcases exclusive artworks that took a whopping 100 hours to produce. There are even super cute mat carriers you can acquire for when this Movement Control Order (MCO) is lifted. Note: Unless you're willing to order from the main site, Sugarmat is also available to Malaysian residents at GoYoga.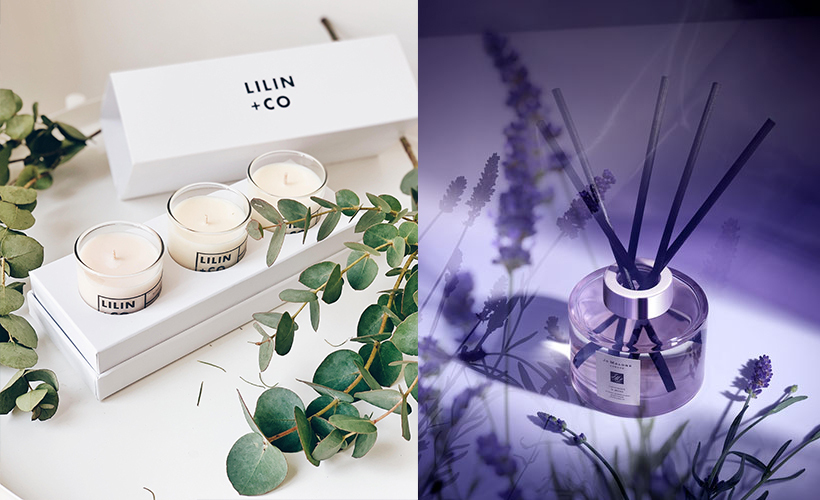 Sniff the scents of the world
One of the things that immediately brings to mind the hundreds of hours spent at a yoga studio is the scent of burning incense. Almost immediately, it induces a sense of calm and actually switches my energy to zen. If you're wondering how smells can have such an effect on one's psyche, it's because scent is evocative of emotions. Why? Simply because you correlate it to a memory.
The purpose of incense in yoga is to aid in the flow of the practice, so really, any aroma will do as long as you love it. Switch things up with this some beautiful candles or reed diffusers that will allow you to wax nostalgic on some of your best memories – those from your travels. Then set your intention on all the good things to come.
For an eco-friendly soy candle, look no further than Lilin+Co. Their olfactory delights include Black Tea & Lychee (from RM20) that's reminiscent of holidays by the beach. If you're missing days running about in fields of lavender, then Jo Malone's limited edition Lavenderland Lavender & Musk Diffuser (RM420) will be just the thing for you. Alternatively, check out the English Pear & Freesia Diffuser (RM397) too for an oldie-but-goodie to feel like you're in London.
Wear your travels on your pants legs
It's pretty common to see funky leggings in eclectic prints and/or electric hues, but what about workout wear that's everything you could want during a lockdown – artistic, travel-inspired, and most importantly, functional? Enter Fit Rebel. A home-grown Malaysian brand, Fit Rebel highlights the centuries-old tradition of batik for its fabric prints.
Working together with local batik artisans, the designs feature all sorts of things from underwater creatures (perfect for you beach bunnies and divers) to sakura and pandas (Japan, anyone?) to legendary female figures (for the culture vultures). Prices start from RM199. So go on and support local! You know you want to.
A world of instructors
Finally, looking as to how we can't travel the world and hit a retreat to be with our favourite yoga instructors for the time being, we can bring them to us instead. Yes, right in our living rooms. From Laruga Yoga in Sweden to LA-based Briohny Smyth to the Lafonds in Australia, you can find their classes all over the internet.
Or, to make things a lot easier, you can find them all on Alo Moves. This platform currently features scores of series by nearly 70 internationally-renowned yoga instructors. You name it, they've got it – Hatha, Ashtanga, Kundalini, Vinyasa, HIIT, Barre, Pilates, meditation, flexibility training, strength training, and more.
Alo Moves requires a paid membership, but if you'd like a taste to see what it's all about, sign up for their two-week free trial or hit up some of the community classes on their YouTube channel. Hopefully, it'll pique your interest enough to go for the real deal at some exotic location when things go back to normal. In the meantime, enjoy meditating and flowing right in the comfort of your own home. Namaste.
Get all the latest travel stories from Zafigo. Follow us on Facebook, Twitter, and Instagram