Visiting Malaysia but won't be staying for long? Well, if you're in Kuala Lumpur and are looking for a mini escape from the city, the tiny town of Bentong is just under an hour away. Situated in Pahang, Bentong is known for great street eats, street art, and the quiet life. It's worth considering if you don't have enough time to head to one of the country's many gorgeous islands.
Just a stone's throw from the tiny town of Bentong is a secluded resort with kampung-themed (village) villas and fun water features to boot. The WaterWay Villa is a rainforest retreat that's family-friendly and also popular among large groups. Zafigo checked in for a night to see what all the hype is about.
The room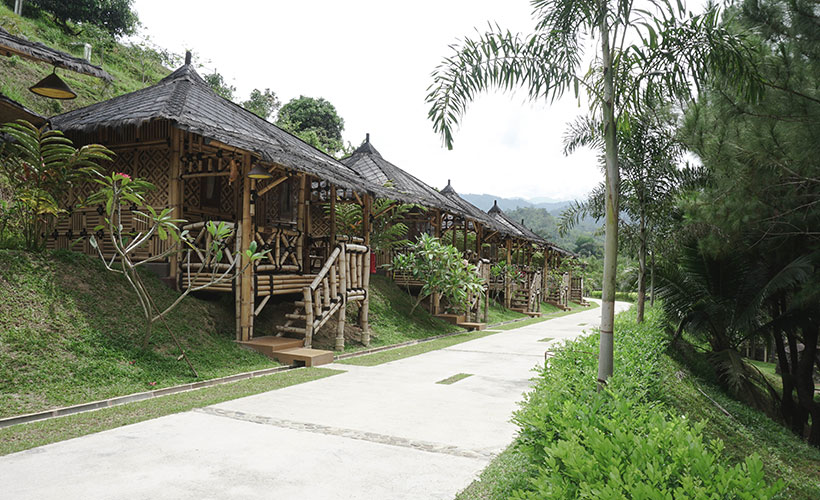 There are 12 types of suites and villas to choose from. Take your pick from the Bali Villas, Hill Villas, Bamboo Villas, and Family Suite Stone Villa. You'll definitely find one that'll suit your needs. We also noticed some yurts under construction on the way to our suite and were told they'll be ready by early 2019.
We got to stay in the First Floor Suite of the Glass Villa that's perched atop a hill. Perfectly-sized for four guests, the room comes furnished with two queen-sized beds and a balcony where you can enjoy Bentong's rolling hills just below. If you wish, the room can comfortably accommodate an additional two guests with extra mattresses for a fee.
In terms of décor, the interiors and finishing are best described as rustic. The room's also equipped with basic amenities including a small fridge, towels and toiletries, a hair-dryer and some cutlery. We do recommend bringing your own snacks though, as the mini bar is empty.
The hotel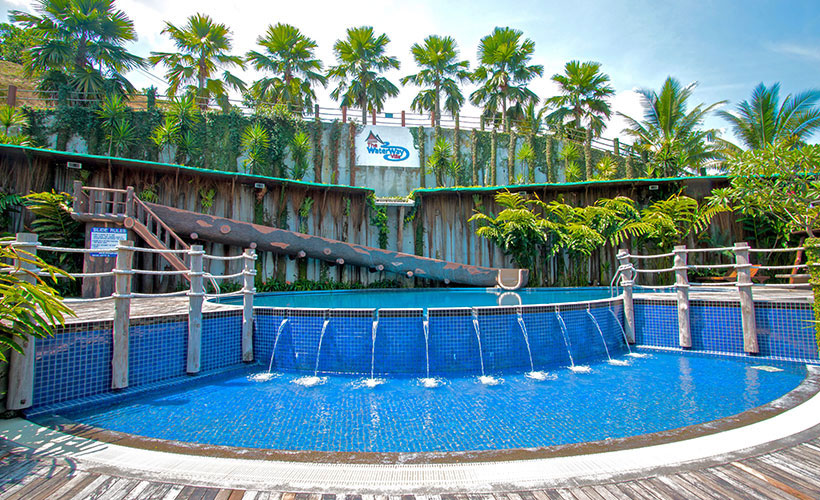 One of the great things about the hotel is that the stay is full board, meaning that breakfast, lunch, tea, and dinner are provided for. All meals are served buffet style in a communal dining hall near the main reception area. You may order other items not served as part of the buffet at a separate cost. Note that all the meals served are halal and if you're a fan of Chinese cuisine, you're going to love their dinner spread.
We can't write a review of The WaterWay Villa without mentioning the pool. It's one of the resort's highlights and has a waterslide the kids (and big kids) will enjoy. Smack bang in the middle of the resort, this 14-metre slide leads into a massive pool.
Other activities in the hotel include jungle trekking, river tubing, kite flying, and soft archery. Oh, and every night here is karaoke night during dinner. So while there may not be a live band, there's still plenty of live entertainment.
The hills that surround The WaterWay Villa also happens to be the hotel's own durian plantation. During durian season, guests can indulge in the sweet flavours of fresh Musang King. Be forewarned, though… durian isn't for the faint of heart.
Personally, another highlight of the hotel is its service. Walking up and down a steep hill to our Glass Villa was quite a trek, but the young chaps working at the hotel were always happy to give us a lift and ever so helpful with whatever questions we had. The only downside is that although the hotel has WiFi, it didn't reach our room that was a distance from the reception area.
The area
A 15-minute drive away from the hotel is Bentong town itself. Famous for its food, you'll be spoiled for choice, but do make sure you tuck into some wan tan mee, yong tau foo, and chee cheong fun. Breakfast at Thong Kee coffeeshop is a sheer joy with steamed or toasted bread served with kaya and butter. Other unique offerings include savoury or sweet donuts and croissant sandwiches.
For dessert, you have two options — ice cream or ABC. The latter is short for air batu campur (mixed shaved ice), a traditional local dessert that's perfect on a hot day. As for the former, you'll notice a number of cafes that serve homemade ice cream. Kow Po Coffee Shop has a mean selection of peanut butter, corn, pandan and other classic flavours such as vanilla, coffee, and chocolate.
When you're on your little food trail, don't forget to keep your eyes peeled for some of Bentong's street art. You'll find some of these beautiful murals depicting kampung life just around the corner from Restoran Ichiban Best that's a few doors down from Thong Kee.
If your palate is looking for something a tad more familiar, fret not. You'll find some of the usual suspects in Bentong too, such as KFC, Dominos Pizza, and Pizza Hut.
Besides the yummy grub, Bentong has other natural highlights. You can get up close and personal with elephants at the Kuala Gandah Elephant Sanctuary, learn about all sorts of animals at Deerland Park, or head to one of Bentong's waterfalls — Chamang Waterfall or Perting Waterfall.
Checking out  
A night or two at the WaterWay Villa is enough to recharge. The friendliness, the service, the fun, and of course, the food, are all what forms the basis of its appeal. What makes a visit here ideal is that while the resort itself is secluded, it's not too far from everything else. Our only word of advice is that a car or driver (if you don't drive yourself) will be a necessity.
*Photographs are courtesy of XinXin Lee.
Get all the latest travel stories from Zafigo. Follow us on Facebook, Twitter, and Instagram.