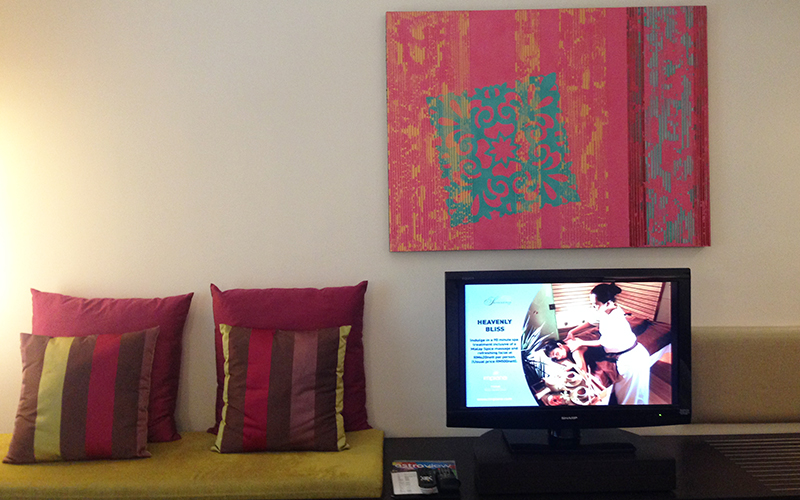 What do women want when it comes to the ideal hotel stay? In many respects, they don't differ that much from what a male traveller would find appealing: A strategic location that places one near key attractions and with the ease of getting around town, plus the creature comforts that make a 21st-century global nomad feel at home. Ladies, however, also tend to look for the minute details, small gestures and personable touches that tell us the hotel goes out of its way to welcome us. In Kuala Lumpur, the Impiana KLCC Hotel ticks all those boxes with its dedicated Ladies Room, located on the 16th floor (also known as the Orchid Floor).
In terms of layout, hard furnishings and general amenities (complimentary WiFi and a pillow menu among them) the Ladies Room are similar to the hotel's other rooms but as God is in the details, they differ in areas that matter to a woman – and which men would probably not notice anyway.
Soft furnishings in shades of olive green and magenta provide a vibrant lift to the room's neutral tones while casting it in a cosy ambience that make you want to snuggle in between the sheets drift into sleep right away. Or if you need to limber out the muscles and joints after hours on a flight, a Fitball sits near the bed while a yoga mat is kept in the closet. In the bathroom, a velvet pouch holds useful 'beauty SOS' tools including a nail clipper, tweezer and a hair claw. Granted, this has become something of an expected feature where hotel ladies rooms are concerned but Impiana KLCC's attention to detail doesn't stop there; for the in-room coffee and tea making facilities, the usual plain white ceramic cups have been thoughtfully replaced with China cups sporting pretty-in-pink floral motifs. Not that it makes the beverages taste any different but if you're going to have tea, you want to do it properly and feel like a lady while at it.
Altogether, the Ladies Room give off a warm and welcoming vibe that makes the solo woman traveller feel taken care of. You can even have private in-room check in upon arrival at the hotel, and not join the regular queue at the reception. Housekeeping and turn-down services are carried out by female staff.
When you're ready to leave what will quickly feel like a sanctuary, you may want to take a dip in the hotel pool that overlooks the city's core, including the Petronas Twin Towers diagonally across. A better view, though, would be from their Cedar 15 all-day dining restaurant, decked out in floor-to-roof windows and a semi-al fresco balcony. The view during the day is inspiring but head there in the evening if you want to see the twins sparkle.
Of course, there's nothing like seeing the pair up close and with its central location, Impiana KLCC is just a stroll from the Twin Towers and its adjoining Suria KLCC shopping mall. The best part is, you don't have to put up with the city centre's notorious traffic or our year-round tropical heat getting there as the hotel is smack in the middle of the KLCC-Bukit Bintang Pedestrian Walkway. Air-conditioned and with security guards stationed at certain spots, the overhead bridge is open from 6am-11pm daily.
Take the hotel lift to the second floor to access the Walkway; a hotel staff is always on standby here to guide guests. Turn to your left and you will be at the KL Convention Centre within five minutes or less and from there, you can walk straight through to Suria KLCC, Petronas Twin Towers and neighbouring mall Avenue K.
Turn to your right and you will end up at Pavilion Kuala Lumpur, one of the city's most popular malls and one of several major shopping bazaars that make up the Golden Triangle shopping strip. From Pavilion, you can reach the others on foot easily: Trendy Fahrenheit 88 is right across, next to upscale Starhill Gallery, which also owns Lot 10 a little further up. Across from Lot 10, institutional Sungei Wang Plaza has seen better days but still draws a regular crowd, including spill-over shoppers from digital mall Low Yat Plaza next door. From the latter, you can cross the street to get to Berjaya Times Square mall and if you don't feel like walking all the way back, hop on board the KL Monorail for a quick ride to Lot 10.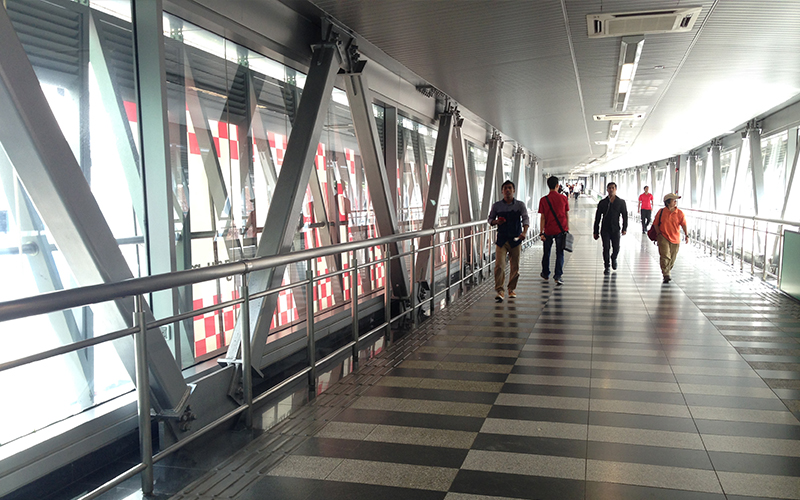 Kuala Lumpur's malls are open from 10am-10pm, so there's a lot of shopping you can fit in even if you have just one day to spare for it. If you find yourself overloaded with shopping bags, you can always leg it back to your hotel room and drop off your haul before heading out again.
A comfortable stay with all the essential facilities? Check. Close proximity to food, shopping and entertainment options? Check. The only caveat is that Impiana KLCC only has four units of their dedicated Ladies Rooms, so make your reservation well ahead of time.
Address 13 Jalan Pinang, Kuala Lumpur
Tel +603 2147 1111
Toll-free 1800 88 3100
Email [email protected]