Parents are unique beings because you'd have to be able to do multiple amazing things to keep little humans alive. And one of their most bizarre and admirable traits is having the courage to do all sorts of things to make memories with their little ones.
In Celine's case, she bravely travelled to Thailand with her entire family, including small children, by road. Those with kids reading, you'll understand what a challenge this can be, but is it as scary as it sounds? Celine takes us through her journey with her family to Thailand.
The beginning of everything
It was 8am on Boxing Day in 2022, and we were about to make the longest road trip of our lives together as a family of four to Thailand! The morning was all a bustle as expected, though we managed to load everything and everyone into our trusty steed, the Kia Carnival, by 9:30am. Advanced packing and storing most of our stuff in the car the night before helped move things along on departure day.
I know it sounds crazy choosing a road trip to Thailand with two little ones in tow, and you're probably wondering why? Firstly, the kids had an entire week off from school, and us with work, which is rare, so we wanted to maximise the time by going somewhere. So, Thailand it is!
The first destination on the itinerary was Hatyai, which was about an hour away from the Malaysia-Thailand border. According to Google Maps, the drive (without stopping) is about 6.5 hours, so we figured that was doable and would allow us to experience something new.
Boy, were we in for a journey! One of the main reasons we feel comfortable travelling long distances with our little ones is due to their superpowers to sleep for hours on the road. Oh, my mama heart couldn't be more grateful for this trait!
Around noon, we stopped by the Tapah rest area to eat our sandwiches for lunch, which I pre-packed just in case we couldn't stop at an R&R. Parents will get the importance of having snacks on hand. The Tapah R&R is a good space with many eateries, toilets, and parking. We spent a good 45 minutes eating and relieving ourselves before heading back on the road.
As we headed further north, this adventure started blossoming thanks to the metamorphosis of scenery. We went from the concrete jungle into the unfamiliarity of small towns and lush greenery.
A quick pit stop at Changloon
Our next stop was a small town called Changloon (or Changlun), where the purchase of car insurance was mandatory before entering Thailand. I repeat this is a MUST for every privately-owned vehicle passing through the border by land.
To do this, one canstop by any coffee shop to complete the entire process while sitting down and having a meal. When we arrived at one of the cafes, it was about 5pm, which meant we were ready to eat again. Some coffee shops even had money changer services too!
If you need more clarification, do some research online or ask around for a reputable place to purchase the insurance. Our total was about RM100, including getting them to fill up the immigration forms for each of us, as everything was in Thai. By around 5:30pm, we were back on the road, ready to embark on our adventure in Thailand.
The main entry point to Thailand from Kedah is Bukit Kayu Hitam, a 10- to 15-minute drive from Changlun. This is the part where I was thrown off a little. The rule is each passenger in a vehicle is to descend and enter Thailand by foot through the immigration office; the driver is to remain in the car and drive through the immigration instead.
I begrudgingly got out of the car while taking each kid in one hand and walked to the immigration office. The queue was surprisingly short, and the line moved quickly. To my surprise, we got through swiftly and waited on the other side for my husband to drive through. It took him only a short time to get through and park where we were.
The waiting game begins here: All private vehicles must be manually registered at the immigration counter. We stood in line for an hour before our documents were finally verified. Alas, we were finally in Thailand and heading to our first destination – Hatyai.
Adventures in Hatyai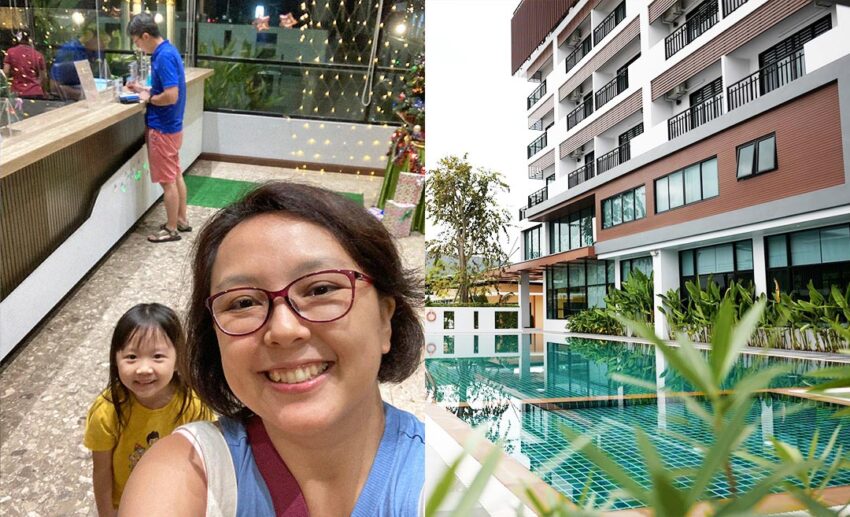 When we finally arrived at 7:45pm, I nearly kissed our hotel floor. Getting to the AC Sport Centre, where we would be staying for the next three nights, took 10 hours of travelling time. The hotel was about a 10-minute drive to the Hatyai City Centre, and if we didn't have our own mode of transport, getting to the city would be quite out of the way.
Despite the short distance from the main city centre, we still loved the hotel, mainly because it was clean, quiet, and had an array of sports facilities, including a nice pool and gym. We dropped our bags and headed straight for a delicious well-deserved dinner.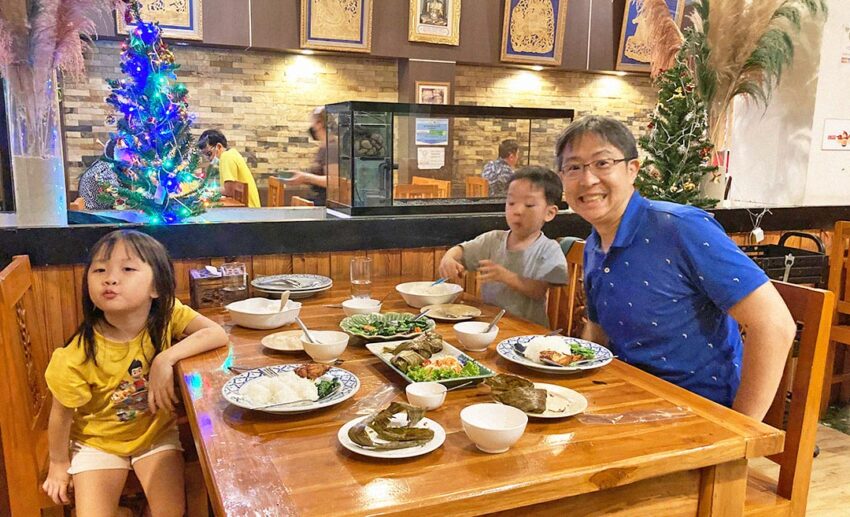 Thanks to our friends' great recommendations, we were spoiled for choice when choosing a restaurant. We ended up picking one just on the city's fringe. It was good to get some real food down in our stomachs; and not to mention authentic Thai food! We might have over-ordered, but we finished everything anyway.
The kids chowed down the entire omelette we ordered, and we're grateful for the hot soup that warmed our stomachs and souls. Then it was back to our place for a good shower and an even better night's rest.
Good sleep and a fun-filled adventure
After a long night's sleep, it's pool time! With the kids, we try and book places with a pool because who doesn't enjoy a dip? Secondly, it's not something we have direct access to back home. So, here we are, soaking up all the chlorine and morning sun we could get.
The adults enjoyed breakfast by the pool while the kids splashed around. We even met some interesting people who were also from Malaysia, which is always a nice thing when you're travelling away from home.
Following breakfast and clean up was a trip to the Princess Maha Chakri Sirindhorn Natural History Museum, nestled within the Prince of Songkhla University grounds. The place is kid-friendly and has a lot of information in English. Ticket prices were around THB30 (approximately RM3.80) for adults and THB20 (approximately RM2.60) for children above five years of age, while kids under five can enter for free.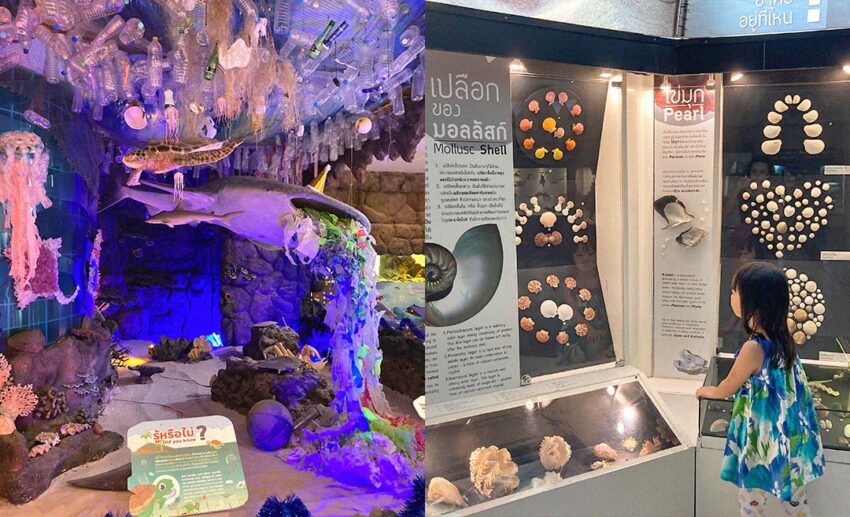 For history and nature lovers, this place is a must-visit within the city. Although not very large, we spent two hours there, roaming, playing interactive games, reading the information, and chasing the kids around to follow the course.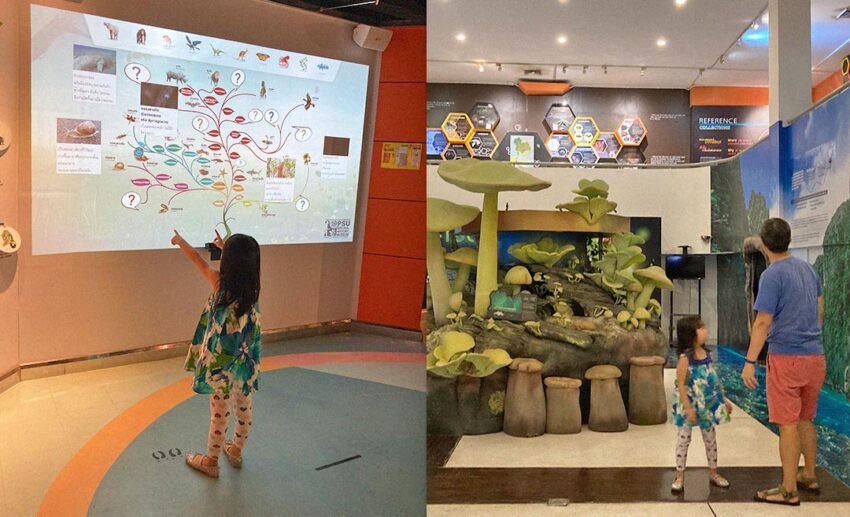 Needless to say, all of us had quite an enjoyable time. We grabbed a bite on campus amongst the university students, which to my surprise, all wore uniforms. I remember looking forward to the university days when we could don anything from our closet, so this was something different.
The importance of afternoon naps
Another routine we try to stick to when travelling with our toddler is his afternoon naps. While it's tempting to wing it and enjoy our vacation by being out all day, we know the repercussions of a no-nap toddler and all the crankiness that follows suit in the evenings.
For now, many of our activities work around this almost non-negotiable part of the day, so we headed back to the hotel for a nap and rest; and personally, I too, enjoy nap time. For our daughter, who no longer clocks in an afternoon sleep, we brought some games along with us on the trip to keep her busy.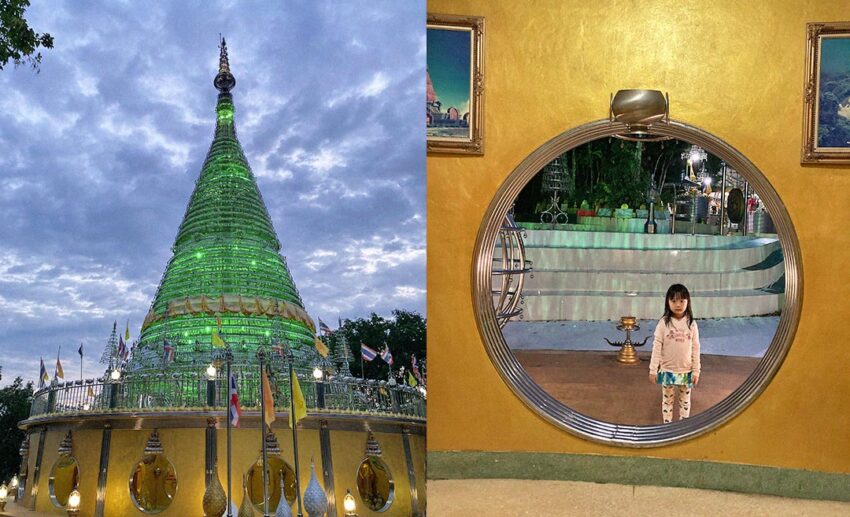 The rest of the evening was spent at the unique Stainless Steel Temple atop a hill. Quite the sight to behold, the interior proved even more impressive with every little detail and embellishment all made from stainless steel, exuding the vibe of a futuristic temple.
Dining al fresco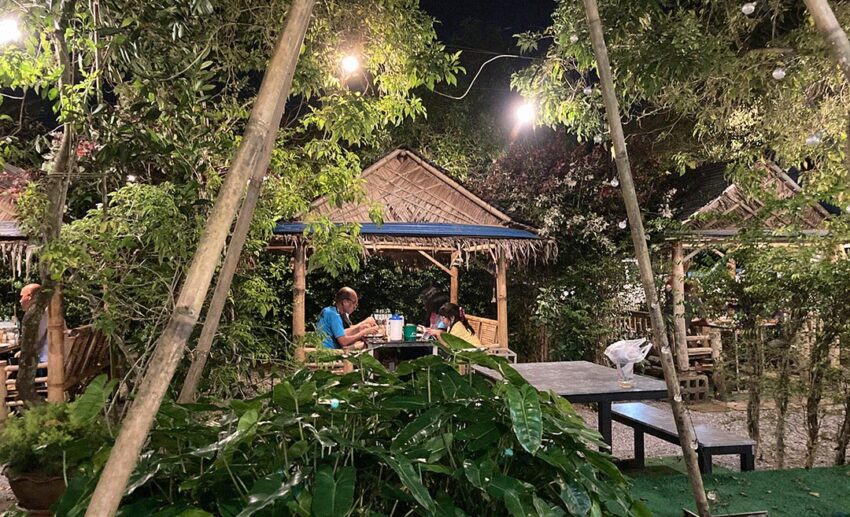 Dinner was an adventure! We wanted to go to a highly recommended place, but upon arrival, we realised that others might have found out about it too. Funnily enough, there were loads of Malaysian cars parked! So, we decided to skip the hassle of waiting in line and headed elsewhere, but where to? I literally shouted, "Let's go there!" as we passed a decent-looking place with al fresco seating under fairy lights.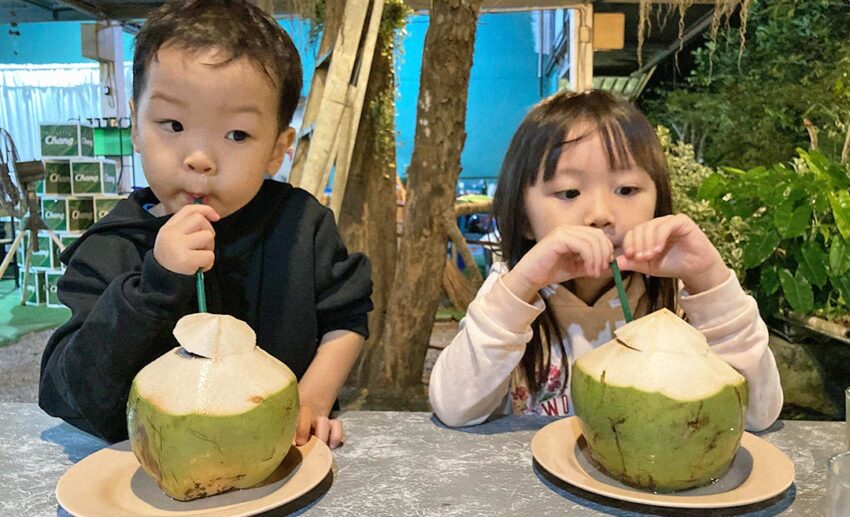 Dining under the stars beside a koi pond was a nice treat, and the yummy food completed the entire experience. I can't imagine how people used to travel to foreign-language-speaking countries without a smart phone or Google Translate. The locals at this place spoke hardly any English, so big thanks to translation apps!
Taking a break from authentic Thai delicacies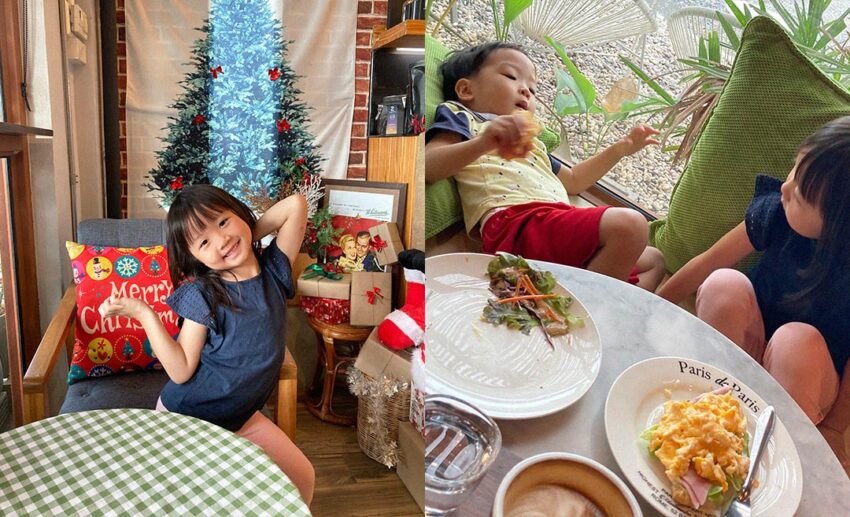 After our little spur-of-the-moment dinner decision, we suddenly felt more adventurous about trying other restaurants. The next day, we found ourselves at a cosy cafe a mere five minutes from where we were staying. It served pretty decent coffee and food! Honestly, it was nice to have a break from Thai dishes for breakfast; the kids surely missed their bread and croissants and I, my cup of cafe latte.
Then it was back to the hotel for our ritual swim before we took off for some shopping at Central Festival, which is the largest mall in Hatyai, carrying local and international brands. The scenery was bustling with tourists and locals just catching a break during the year-end holidays, and this was on a mid-week day.
There was even a local singing competition happening on a makeshift stage, which drew quite the crowd. My daughter was so taken by it that we spent a good hour and a half sitting at the food court watching from our strategic seats. There was also an indoor playground within the food court; as you may have guessed, the kids spent plenty of time there. We also ended our time there sweetly with some ice cream.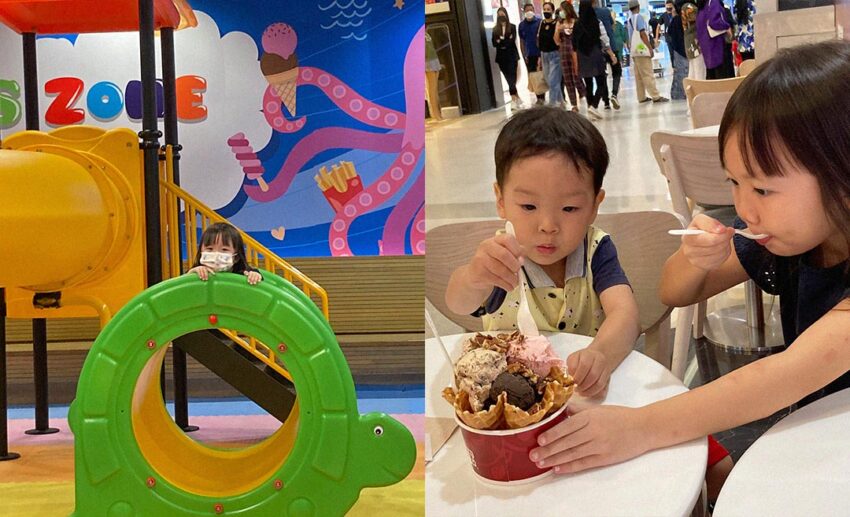 Of course, it was back to the hotel for a very late but much-needed nap for everyone. The evening descended upon us quickly, and it was out for dinner again in the city. We finally decided "no" to the long debate of whether or not we should attempt to join the night market, a popular tourist attraction in Hatyai that beckons the crowds.
Due to this very reason, we thought it best not to bring small children there because all four eyes would have to be constantly on them, therefore, being unable to experience anything else. Enough rest would compensate for a better, more enjoyable tomorrow.
Coffee, croissants, and cafes
I was pleasantly surprised to discover an array of small, hole-in-the-wall Instagrammable cafes in the city's heart. Hatyai is relatively small, so everywhere was within a five- to 15-minute driving distance, should you decide to change your mind last minute or the place you first chose was closed, which was precisely what happened to us.
In hindsight, this was a blessing in disguise, as the next place we went to had terrific croffles! I'm a fan now and can only dream of when I can go back and have the baked goods again. I know we have them in Kuala Lumpur (KL), but the first bite will always be memorable, so thank you, Hatyai, for this special experience.
Then it's back to the hotel to pack and leave for the next stop – Songkhla.
Our time in Songkhla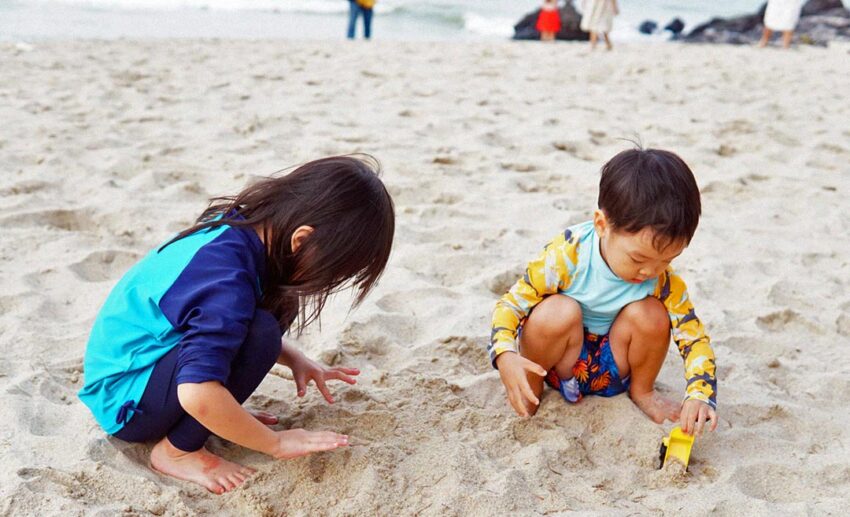 Songkhla is about 45 minutes from Hatyai towards the Northeast and is famous for its beach within the province, not to mention its signature golden mermaid statue. Our hotel was right on the beachfront, and it was a good thing, too, as we were there for just one night. And we wanted to maximise our time in the sand and sea.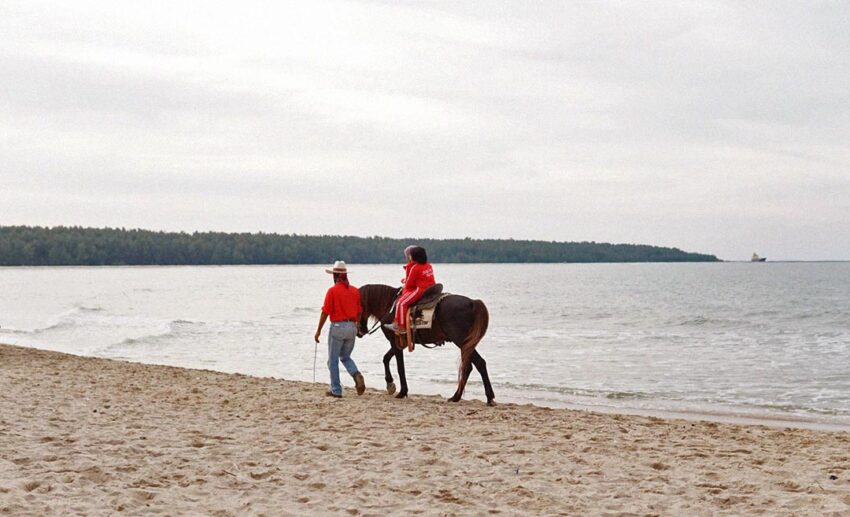 Popular is an understatement as the common areas outside the hotel, along the beach and the walkways, were strewn with people, both locals and tourists alike.
It felt festive, and there were even people offering horseback riding sessions.
The biggest attraction was, of course, the golden mermaid statue. I never thought something so still and from a fantasy world could attract such a crowd. She was like her own celebrity! Getting a photo with her the day we arrived was impossible, so we decided to try again the next day.
Instead, we dug our feet into the sand and enjoyed the evening sea breeze. The red flag signified the sea being too rough to swim in, so naturally, after some sand play, the kids immediately rushed for the pool to catch a few splashes before the sunset.
Getting our grub on once again
For our last dinner in Thailand, we decided to opt for one that was a 10-minute walk away from our hotel. The place had good reviews, but was also pretty obscure, and one can easily miss the entrance when walking past. Our growling tummies were ready for the much-talked-about seafood that Songkhla offers.
We didn't hold back and ordered to our heart's content, and boy, were we glad we did. The prawn dish was easily one of the best I've ever had. The kids entertained themselves on the beach (within our line of sight) while we ate the rest of our meal.
The walk back was a slow stroll, allowing our food to digest and the kids to pick up pretty seashells along the way. It was indeed such a good way to end our trip. My heart was full and ready to head home, bringing the memories and some shells with us.
Despite the monsoon season and flood reports just the week before, we were immensely blessed to have such fine weather throughout the trip. I didn't take to Hatyai instantly, but its charm grew on me and eventually won me over.
One thing I did miss terribly about home was petrol prices, as it's double the price in Thailand, so we made it a point to load our car up before making our trip.
Our journey home
We left Songkhla with heavy hearts but also much readiness to return to our motherland. We quickly stopped in Hatyai for one last lunch before returning to the road again. This time, it didn't take too long to reach the borders; getting through the Malaysian side set us back by nearly two hours.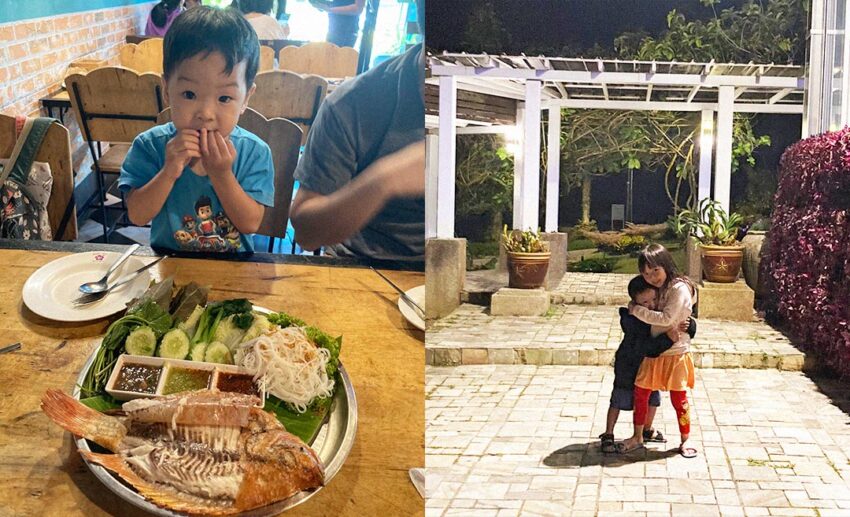 Ahh, it feels like home again! High five to my husband for agreeing to bunk somewhere for the night on the way back instead of trying to pull an eight-hour journey back to KL. By the time we had crossed the border, it was 7pm, and we were nowhere near our final destination.
I can't say if this is a typical Friday evening situation or just because it was the last weekend of the year that caused such a massive migration of people across borders. For us, it was still another hour and a half to Jerai Hill Resort. This part was another adventure altogether. By the time we had reached the resort atop Gunung Jerai, it was already 8:30pm, and time for dinner at the restaurant before calling it a night.
If only we had booked another night here, but alas, like anywhere during the school holidays and year-end wind-down, the place was packed, so we thought it'll have to be explored on another occasion.
The five-hour journey home didn't feel as long as we had thought it would, and after a good sleep, some coffee, and croissants, our hearts were homeward bound. After all, there's no place like home.