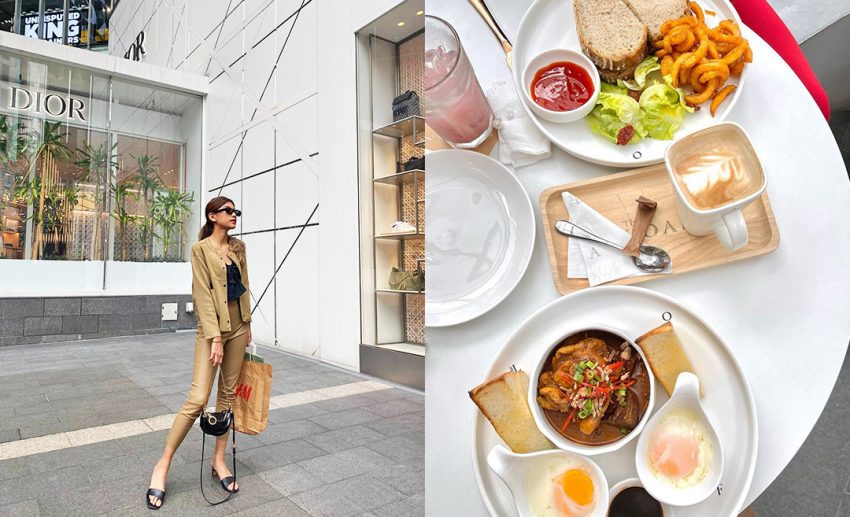 Subscribe to our new

Telegram

channel for the latest updates.



In Kuala Lumpur's (KL) vibrant shopping strip of Bukit Bintang, there is a shopping mall at every corner you turn. It can get overwhelming if it's your first time there with so much to see and so many things to do. Here's where we come in: we've prepared a list for you to get started on a self-guided tour of Bukit Bintang — all malls are within walking distance from MRT Bukit Bintang and no e-hailing is necessary.
Lot 10
From MRT Bukit Bintang, Gate D: 0-minute walk
Lot 10 Shopping Centre is one of KL's oldest but most prominent trendsetting malls. The catchphrase 'MEET.PLAY.#LOVELOT10' aims to be the trendsetter in fashion, dining, and lifestyle in our fair capital. The mall even has a basketball court on the third floor, which no other mall within Klang Valley has! On that same level, you can find all sports and streetwear shops. What a way to be on theme, Lot 10!
For other lifestyle shopping, visit Malaysia's first H&M flagship store (triple-storey in height), Isetan The Japan Store, streetwear brand Stoned & Co., and sports stores like Hundred% and Hoops Station. If that's not enough to satisfy your shopping needs, there are local boutique stores that you can check out. For musical instruments, there is Swee Lee, your trusted Southeast Asian music retailer.
When it comes to food, we've all heard of the viral Don Don DonKi — a Japanese brand speciality store. Lot 10 houses the first ever in Malaysia, and here you can find anything from food to household items. On the fourth floor sits a variety of Japanese restaurants. J's Gate Dining features 18 of Japan's best authentic cuisines, while The Table by Isetan features a cluster of high-end Japanese restaurants. One of them is The Tokyo Restaurant, and their famous burnt cheesecake is a must-try.
If you're craving local flavours, Lot 10 Hutong is where you should go. It houses many of Asia's heritage cuisines under one roof and is KL's Platinum Award-Winning Heritage Food Village.
Lot 10 has an al fresco dining stretch along the mall's front for outdoor dining, with many bites and refreshing drink stores like Machi Machi, Tealive, Yomie's Rice X Yogurt, and Molten Chocolate café among many others.
---
Farenheit88
From MRT Bukit Bintang, Gate D: 2-minute walk
The name Farenheit88 came from the conversion from Celsius to Fahrenheit of the average temperature in Malaysia. As another trendsetting contender, this mall is home to the world's largest Sephora outlet at 17,000 square feet (makeup lovers can go crazy here!). The beauty giant carries over 100 brands, eight of which are exclusive to this retailer in Farenheit88.
Take some time also to explore (and shop) the three-storey UNIQLO store, a flagship in Malaysia. Other fashion and accessories outlets include Brands Outlet, Lovisa, Skechers, and Aldo to name a few.
For book lovers, there is BookXcess and Sun@Mag. Remember not to get stuck here, bookworms! There's a city to explore on your itinerary right now.
There's plenty to choose from with food, but we are going to share a little secret: there is a hidden café in Farenheit88 called KITA Coffee that serves fluffy Swiss rolls, meat-free food, and speciality coffee that's sure to delight you. Watch this Instagram video to help guide you to this hidden spot. Keep in mind that they're closed on Tuesdays, so, plan your trip to avoid getting disappointed!
---
The Starhill
From MRT Bukit Bintang, Gate D: 5-minute walk
Previously known as Starhill Gallery, The Starhill is now newly renovated and even more ritzy than before — even their concierge uniforms are designer-made! Rebranding themselves with the phrase 'The Home of the Tastemakers', they house some of the world's most luxurious brands. Some of the first in Malaysia luxury brands include Shiatzy Chen, Balmain, and Paul&Shark.
Dining at The Starhill will feel like a day of self-pampering and indulgence. Treat yourself to fine food from a wide variety of cuisines at Shook!, and enjoy an afternoon tea at The Alchemy bar and lounge.
---
Pavilion Kuala Lumpur
From MRT Bukit Bintang, Gate D: 7-minute walk
With seven floors and six different shopping zones to explore, you can find almost all your favourite designer brands under one roof. These brands are mostly found along Couture Pavilion — the building section facing the street — within its elegant double-storey facades.
The centre court of the mall is where you'll find events like KL Fashion Week happening, and over-the-top festive decorations every season (we love them!). They once had a Swarovski Christmas tree for Christmas as part of the main decoration, which makes for great photo opportunities with the family during the holidays. For high street brands like Aesop, Zara, Calvin Klein, and Timberland among others, visit Fashion Avenue on Level 2 and 3.
Level 1's Gourmet Emporium boasts numerous restaurants like Teppanyaki, Go Noodle, Ichiban Boshi, and Subway for a culinary adventure. There is also the Food Republic (a food court) for the indecisive!
On the east wing of Level 6 is where you'll find Tokyo Street — a Japanese-themed part of the mall that houses Japanese restaurants, snacks, and souvenir stores. Our favourite dessert here is the Japanese Green Tea ice Cream from Matcha Hero Kyoto, a Japanese green tea store speciality. If you're craving a refreshing drink, try their Matcha Latte with Green Tea Ice Cream Float!
---
Jumpa @ Sungei Wang
From MRT Bukit Bintang, Gate D: Head towards Monorail Bukit Bintang, go up the escalator and walk straight until you reach the end of the bridge. There, you will turn right and see the Jumpa @ Sungei Wang Level 1 Entrance. This is about a 4-minute walk.
For you budget savvy folks, this mall is your ultimate destination. The outlets and food at Jumpa are affordable and wallet-friendly. Some shopping highlights are Daiso, Outside (an outdoor-lifestyle concept store), Pet Lover's Centre, Giordano, Bata, and Yubiso.
Food and snacks are abundant with stalls like Big Apple Donuts, Dunkin Donuts, Auntie Anne's, DubuYo, and other affordable eats. Entertainment-wise, there is Camp5 (a bouldering park), niche toy stores for the kids, and unique trinket shops that are worth the visit.
---
Low Yat Plaza
From MRT Bukit Bintang, Gate D: 7-minute walk
Your day trip to Bukit Bintang is incomplete without a glimpse of Malaysia's largest IT lifestyle mall. This mall is the place to go for all your IT needs as it's equipped with all the technology brands you can think of. Be aware, though, as not all stores are genuine store brands! If you're looking for authentic products, go for the stores with the brand logo as its main signage.
When you need a break from all the gadgets, visit their food outlet that offers restaurants like Bungkus Kaw Kaw, Starbucks (that has an al fresco area), Burger King, Hong Kong Food Culture, and Kopi Club.
Once you're done with all the malls, consider exploring the surrounding lanes and area that really comes to life at night. Happy exploring!
Follow Zafigo on Instagram, Facebook, and Twitter. Sign up for our bi-weekly newsletter and get your dose of travel tales, tips, updates, and inspiration to fuel your next adventure!