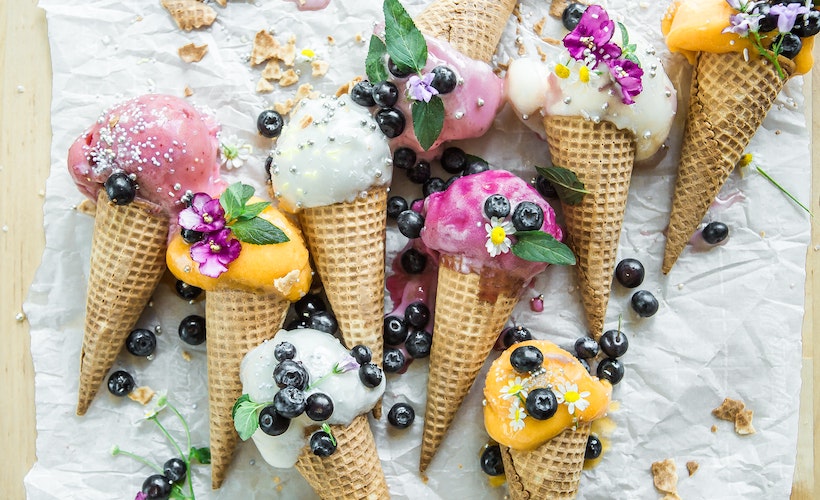 Cup, cone, stick, or sandwich, this is a written homage to what's arguably the best dessert ever – ice cream (fight us on it). With traversing the globe becoming more and more frequent – even travelling specifically to eat – any novice or well-seasoned foodie traveller will know that different countries have their own renditions of icy desserts to help beat the heat of a hot, sunny day. 
Think the classic ice cream of America, Italy's 'healthier' gelato, Turkey's almost-chewy dondurma that practically never melts, the syrupy sweetness of Malaysia's ais kacang, the yam ice-cream topped shaved ice dessert halo-halo of the Philippines (which is ice cream-ception if you ask us), the delicate-yet-flavourful sofuto kurimu of Japan, and myriad wonderful iterations of Korea's own patbingsu. The list goes endlessly on! 
While, yes, these classics are nice, sometimes, vanilla can just be a bit too… vanilla. So go on and treat yourself to something unique and worth the calories. There are flavours out there that can be deemed the icy sweet equivalent of travelling off the beaten path – odd, unexpected, but totally worth trying!
Whatever kind of ice cream or frozen dessert you choose to indulge in, from soft and creamy to saccharine and icy, here are eight quirky yet thoroughly enjoyable ice cream flavours from around the world. Why? To celebrate International Ice Cream Day that falls every third Sunday of July. 
Malaysia: Nasi lemak

We're starting this list with a local 'flavourite' – nasi lemak! Malaysia's national dish, nasi lemak, is an indulgent breakfast made up of coconut rice, fried anchovies and peanuts, spicy sambal, a slice or two of cucumber, and perhaps a fried chicken or rendang (spicy stewed meat) add-on. So how on earth would this translate into an ice cream?
Well, a fair number of cafes and restaurants have actually created their own Frankenstein-like iterations of the nasi lemak ice cream. This includes fast-food chain Marrybrown, Cielo Dolci, and Skream. Even down south in neighbouring Singapore, Cold Stone Creamery boasted a nasi lemak ice cream. 
Japan: Seaweed

Easily among the most important elements in Japanese cooking, you'll see nori (seaweed) featured in most of Japanese cuisine. While seaweed definitely isn't a strange ingredient, it sure is an unusual one when in ice cream! For those of us who aren't Japanese, anyway. Sometimes, you might even find regular flavours topped with sprinkles of kombu or nori, giving this frosty treat an oceanic twist.  
It's also worth mentioning that Japan's ice cream scene is generally filled with eccentric flavours. Some other ones include wasabi, snake venom, squid ink, raw horse meat, and garlic. Of course, we can't vouch that any of these are enjoyable, but to each, their own. 
England: Truffle and pistachio

By truffle, we mean the aromatic mushroom, not the spheres of ooey-gooey chocolaty goodness. Normally used as a luxurious topping and pricey addition to fine-dining dishes or chopped and churned into (some really fancy) butter for more depth of flavour, truffles are normally paired with a savoury fare. Over at the Harrods Ice Cream Parlour, you can find a hint of this precious ingredient infused into their ice cream and paired with pistachio – and trust us when we say it's good. 
Don't worry though, you don't need to go all the way to London town for this delectable treat as there's a Harrods Ice Cream Parlour in Thailand. While there's plenty to do in Bangkok, swing by the Harrods Ice Cream Parlour in at Emquartier Mall, where you can experience this indulgent flavour. Do bear in mind, however, that it's a seasonal scoop.
United States: Pear and blue cheese

This sweet and savoury union is a match made in dessert heaven. While many may attest to liking pear and blue cheese in a salad, they may cringe at the idea of having it in an ice cream. However, as strange as the combination sounds, it's actually quite a hit. A simple Google search will turn up numerous recipes, but if ever you're in the land of the free, you can just head over to Salt & Straw for a taste. This ice cream parlour based in Portland, Oregon uses a base of candied local Bartlett pears and then folds in "cave-aged crumbles of Rogue Creamery blue cheese (voted best in the world) for a bold thwack." We're sold on the idea. 
France: Foie gras

For those of you with an expensive palate, you're going to love this controversial flavour! Imagine this: the creaminess of an ice cream merged with the richness, decadence, and umami of foie gras. When in France, head over to Philippe Faur – a purveyor of artisanal ice creams that sometimes delves into the unusual. Besides offering just foie gras ice cream, the good people at Philippe Faur have kicked things up a notch by topping their steaks and crème brûlée with a small scoop of the stuff.
Essentially, this is a duck or goose liver ice cream, and an acquired taste. Wherever you choose to try this gastronomic experience, consider pairing your foie gras ice cream with something sweet or acidic to cut the richness if your scoop doesn't already come with such an accompaniment. 
Philippines: Crocodile egg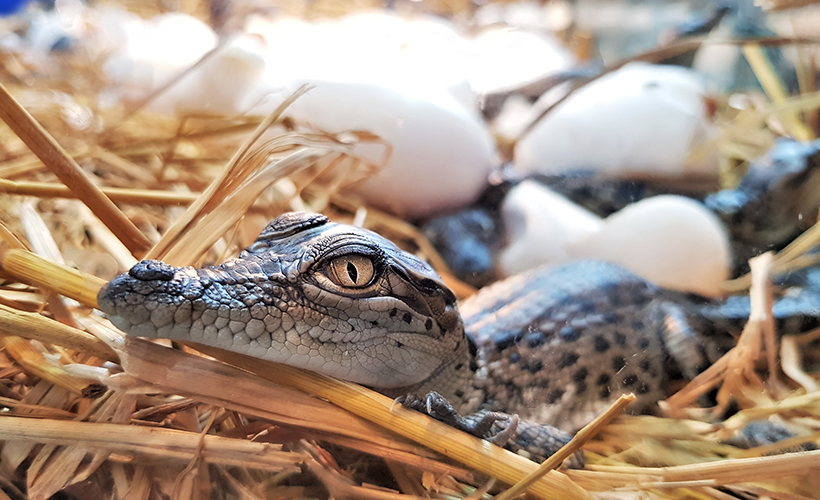 Truth be told, the Philippines is another country where you can find myriad ice cream oddities thanks to their propensity for turning everyday dishes into the frozen dessert. The strangest flavours of the lot include champorado and dilis (chocolate porridge with fried anchovies), lechon (suckling pig), and tilapia. The real kicker – and a tourist attraction in its own right – is the Crocodile Ice Cream at Davao's Sweet Spot Artisan Ice Cream. Don't worry though, they use the eggs and not actual crocodile to concoct this wacky flavour (if it makes you feel any better).
Indonesia: Nasi uduk

Spicy, heavy, rich, flavourful – nasi uduk is a popular dish of steamed coconut rice served with whatever viands you want such as fried eggs, tempeh, and meat that can be found throughout the country. It's clear to see why nasi uduk makes for a hearty meal, but a dessert? To celebrate their second anniversary, renowned dessert specialist Eskimomo created the nasi uduk ice cream. It's a perfectly balanced treat of soy sauce ice cream sitting over a bed of coconut rice pudding, sprinkled with peanuts and slivers of fried anchovies, coupled with a smear of sweet chilli jam, and topped with an emping manis chip for a crown. It's really as delightful as it sounds. 
South Korea: Gochujang chocolate

If chili and chocolate works as a bar, then it sure as hell works as an ice cream! Gochujang is a fiery fermented red chili paste that's very commonly used throughout Korean cooking that can be insanely spicy. Sticky Ricky's is a dessert joint in Seoul, South Korea, that serves up Philadelphia-style ice cream. Here, they've given the classic pairing of chilli and chocolate a local twist as Gochujang Chocolate. Yummy and chocolaty with just a hint of spice that comes through at the end. They also feature other localised flavours like Tteokbokki (spicy stir-fried rice cakes) and pride themselves on showcasing local ingredients. 
It needs to be said that Seoul has many weirdly wonderful cafes, and the local ice cream scene is in no short supply of parlours featuring fascinating flavours. So, choosing gochujang chocolate was honestly a tough call, as you can give flavours such as mugwort injeolmi (rice cake) from Scooper Gelato, matcha (green tea) cheese from Cold Recipe, basil tomato from Gelataria Dangdo, and truffle olive oil from Fell + Cole a go. There's even a ham gelato croissant sandwich at The Martin that's, yes, a buttery flaky croissant stuffed with parma ham, vanilla gelato, and a dash of black pepper.
Some of these flavours may no longer be in production but that shouldn't stop you from trying out new ice cream flavours wherever you are. If you're looking to celebrate International Ice Cream Day in Kuala Lumpur, visit Piccoli Lotti, Waka Waka, Inside Scoop.
Follow Zafigo on Instagram, Facebook, and Twitter. Sign up to our bi-weekly newsletter and get your dose of travel tales, tips, updates, and inspiration to fuel your next adventure!