While it's an outdoor experience everyone should experience, camping is even better when you don't have to sacrifice comfort for nature. Honestly, it's less stressful, too! so it's little surprise why glamping has become the outdoor activity of choice over recent years.
It wasn't until the tail end of 2022 did I discover the beauty of glamping, and I've fallen in love ever since. Unwinding in nature peacefully without worrying about bringing my camping essentials — that's a real treat! So was my recent visit to Gopeng Glamping Park in Perak. Let me tell you all about it.
The drive to Gopeng Glamping Park
Located in the heart of Perak, getting to Gopeng Glamping Park is a 2.5-hour breeze of a drive from the Kuala Lumpur City Centre. Its long scenic route means you better have an accompanying playlist ready.
Along the way, if it's in season, you'll find plenty of durian stalls, which for durian lovers, is a must-stop. If you have Waze on (and who doesn't these days?), you should get to the destination with no hiccups!
The accommodation options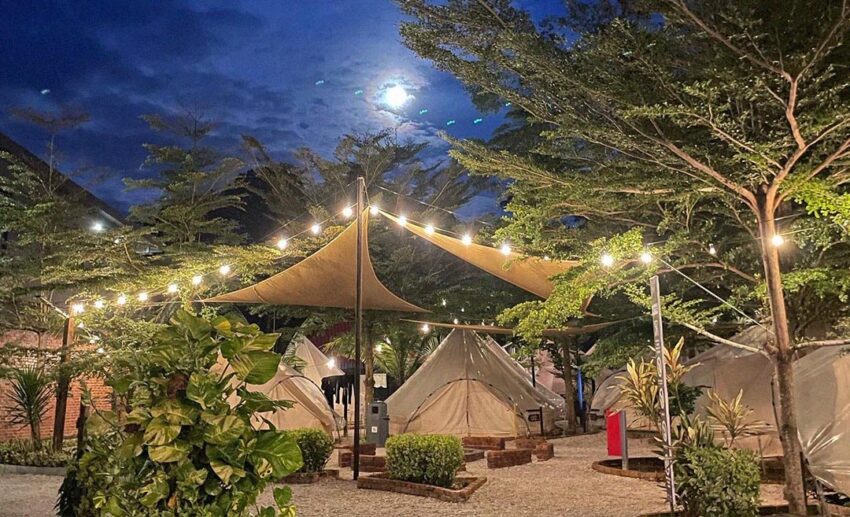 This family-run business set within the lush greenery of Perak offers its guests three tent choices: Double Tent — fit for two people; Quad Tent — fit for four people; and the largest, Deluxe 8 Tent, which can accommodate up to eight pax. Only 2-day-1-night packages are available; and there's a weekday and weekend rate.
Prices for the glamping package start at RM178 per person for a weekday rate, which includes air-conditioned accommodation and breakfast for two. Level up your stay by booking a weekend package, where RM218 per adult will get you an air-conditioned tent, breakfast, lunch, hi-tea, and BBQ dinner. All meals are served buffet-style too! As if that's not enough, weekend rates include a fire show and live band performance.
The bathrooms here are shared, but there are plenty around, so you don't have to worry about queuing up.
The amenities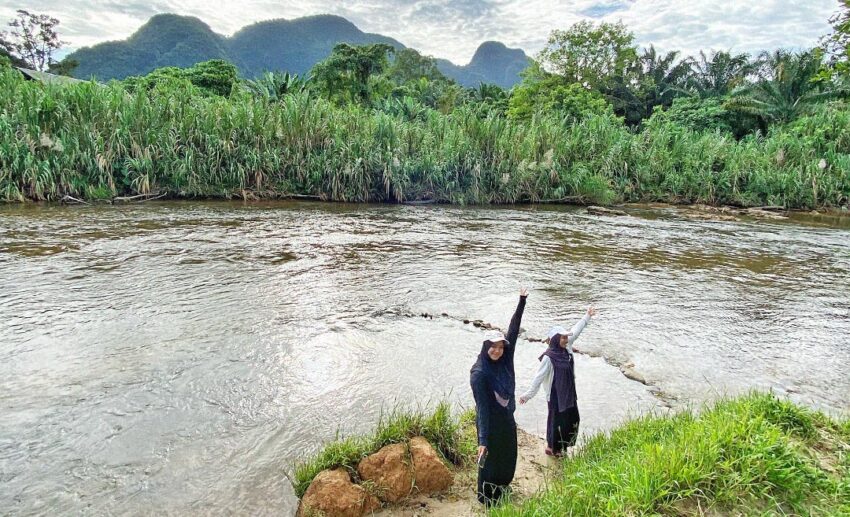 While we love fancy pools, over here at Gopeng Glamping Park, a crystalline stream awaits. Situated nearby the property's cafe, the gentle river is perfect for swimming any time of the day. If you're really looking to reel in the serenity factor, there's also a meditation spot up in the tree house.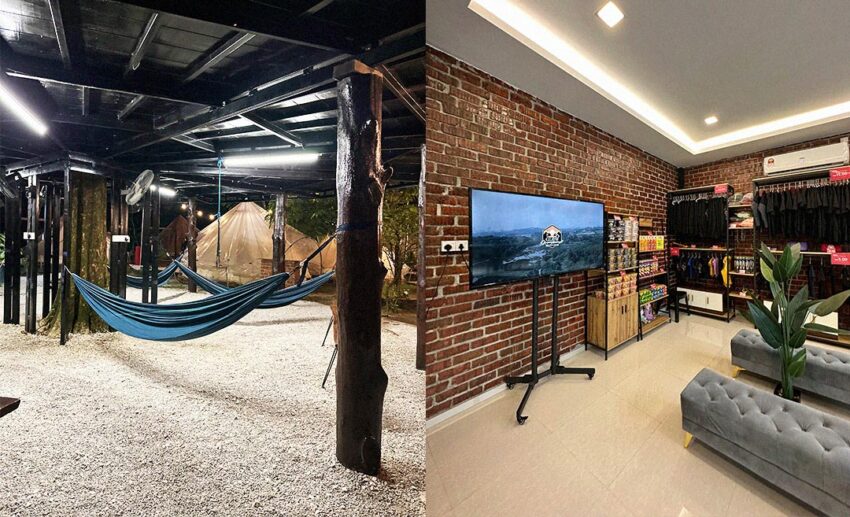 You'll also find hammocks dotted around the property if you want to do nothing but relax. And don't forget to stay hydrated, sis — free-flow filtered water is available, so bring your water bottle! Wanting to disconnect, but not really? There's WiFi available too.
The food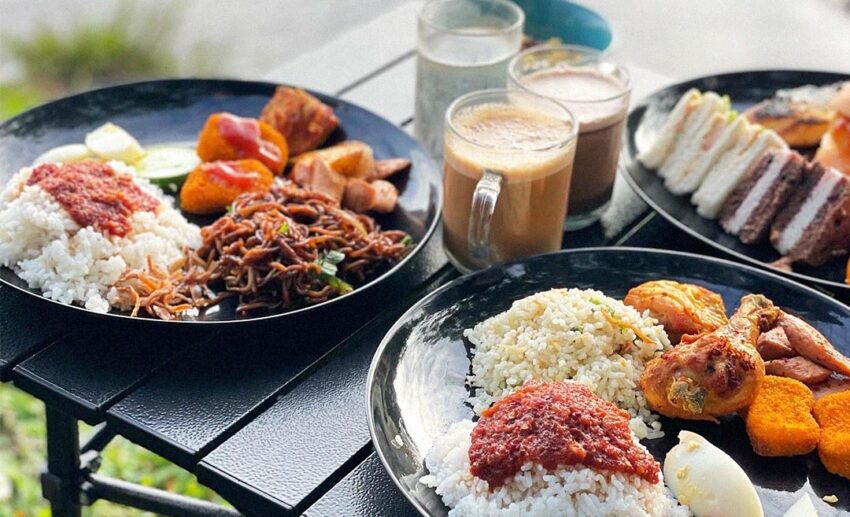 As mentioned above, the world is your oyster here when it comes to food. With buffet-style breakfasts, lunch, and dinner, it's an all-you-can-eat affair. Insider tip: the best brekkie spot is the one closest to the river, where views of mountains and lush greenery can accompany your first meal of the day.
I'm not too much of a fussy eater, so I'll say their food is a solid nine out of 10. Expect the usual Malaysian fare during mealtimes with foods like fried noodles, nasi campur, fried rice, and more. During dinner, you can find an assortment of grilled food!
What to do at Gopeng Glamping Park?
Worried that all you'll be doing is too much of nothing? Don't worry, because Gopeng Glamping Park has got you! There are tonnes of activities to get busy with during your stay; all you need to do is plan in advance and make the necessary bookings. For a fun, untamed, but safe ride in nature, be sure to sign up for the ATV ride (RM100 per person or RM150 per two people), which lasts about an hour.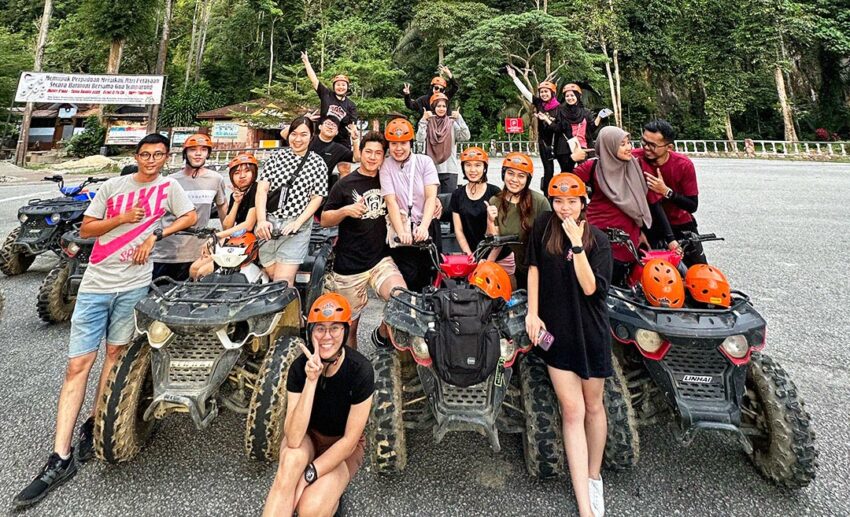 There's also archery if you want to ignite your inner Princess Merida (Brave), and it's free — just give the reception staff a heads up. Too slow-paced (albeit challenging) for you? Want to squeeze in a game of paintball? It's located right by the ATV sign-up spot.
If your stay is more than a 2-day-1-night trip, dedicate a day jam-packed with activities guaranteed to give you an adrenaline rush. Start with white water rafting (RM150 per person), which will take up 4.5 hours, and then move on to an ATV ride through the jungle. There's also Cave Exploration (RM55 per person), a three-hour excursion of underground secrets, tunnels, ancient caves, and even little cave creatures. You can also give waterfall abseiling (RM90) a go.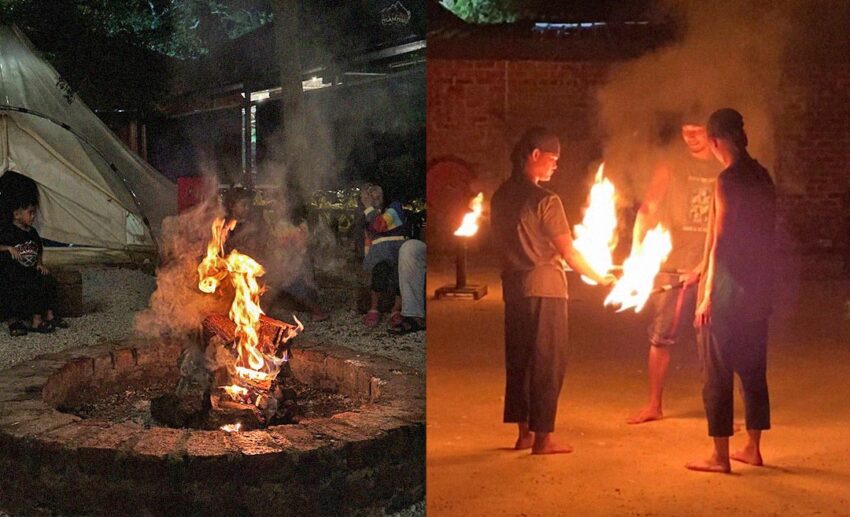 Once the day of adventure is done and dusted, wind down with your group and other glampers with a spectacular fire show and a bonfire if it's a weekend. Better pack them marshmallows!
What else is there in Gopeng?
Don't waste your drive to Gopeng, Perak, and check out some things to do nearby, like hiking to Batu Putih Hill for the evening, which is a mere 15-minute drive away. The hike itself will take roughly around 1.5 to two hours.
As I've said previously, there are plenty of durian stalls nearby. We even spotted Dusun Durian D24 Azlan along the way but didn't get the chance to try them, as bringing this (stinky) fruit inside the camp is prohibited. But you can always have them in the parking lot. Where there's a will, there's a way!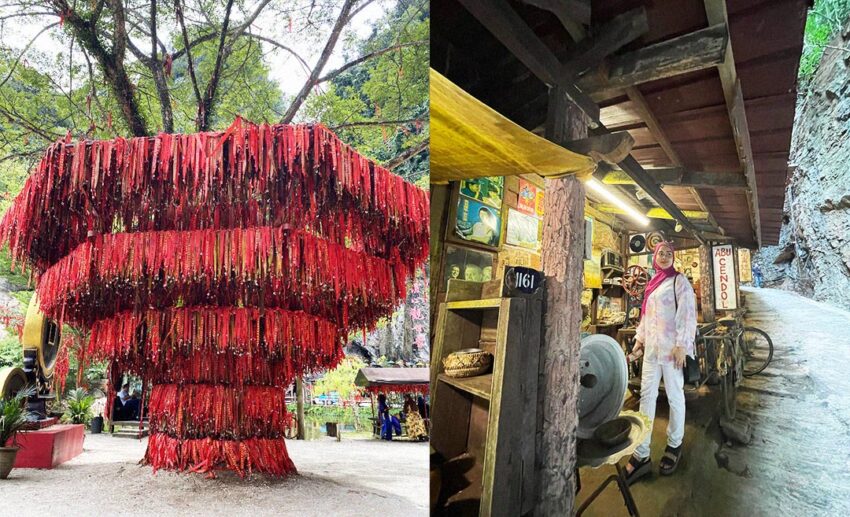 Check-in at the glamping park is at 3pm, so if you arrive early, check out Qing Xin Ling to kill some time. The leisure and cultural village has become the talk of the town, thanks to its unique representation of old Malay, Indian, and Chinese villages.
There's also the Wishing Tree here, where you can write your wish on a red ribbon and hang it on a banyan tree. There are even old shops up that hill that resemble those in Japan.
There's so much to do around Gopeng if you know where to look!
Address: LOT 10846, Jalan Besar, Kampung Chulek, 31600 Gopeng, Perak
Contact: +6013 240 8857
*All images courtesy of author.