Have you ever tried testing your bravery with white water rafting? This extreme sport can bring excitement and at the same time be a great way to bond with family and friends. To successfully manoeuvre around the gushing water doesn't necessarily require impeccable paddling skills, but more so the vital communication of the team referred by the instructors.
Despite how it looks (and it looks pretty extreme), this sport is open to novices (even for kids below 12 years) to paddle into. Plus, the ability to swim is not mandatory (though probably useful) as you'are equipped with gears that are essential for keeping you afloat.
White water rafting courses may differ and can get trickier as the levels advances. Beginners will usually venture from Level 1 to Level 3, but an experienced rafter will opt to try for Level 4 and above to push the adrenaline rush further.
Gather your squad and brace yourselves for the drop at these five best places for white water rafting in Malaysia.
Selangor
Just an hour's drive away from Kuala Lumpur, Kuala Kubu Bharu (KKB) comes up tops for all water sport enthusiasts. The 8km ride of thrills and chills at Hulu Selangor river is known as one of the best rapids routes in Southeast Asia. It offers courses up to Level 6 with non-stop excitement! The ride suggests a typical course, admiring the scenic waterfalls, passing through the lazy river, and slowly encountering the chicken drop that can make your raft fold into two.
The excitement doesn't stop there, as you embark on the hydraulic adventure, causing a spinning raft, you will go through a few more rapids before ending in a calm river at the finishing line. After the exhilarating ride, you can take a dip at Cenderong, Chilling, or Lata Medang waterfall for post-rafting relaxation.
From as low as RM150 per person, adrenaline junkies can choose from operators like Raft Malaysia, XVenture, and Malaya Outworld.
Raft Malaysia
Price: From RM180 per person
Address: 44000 Kuala Kubu Bharu, Selangor
Contact: +6019 645 8615
XVENTURE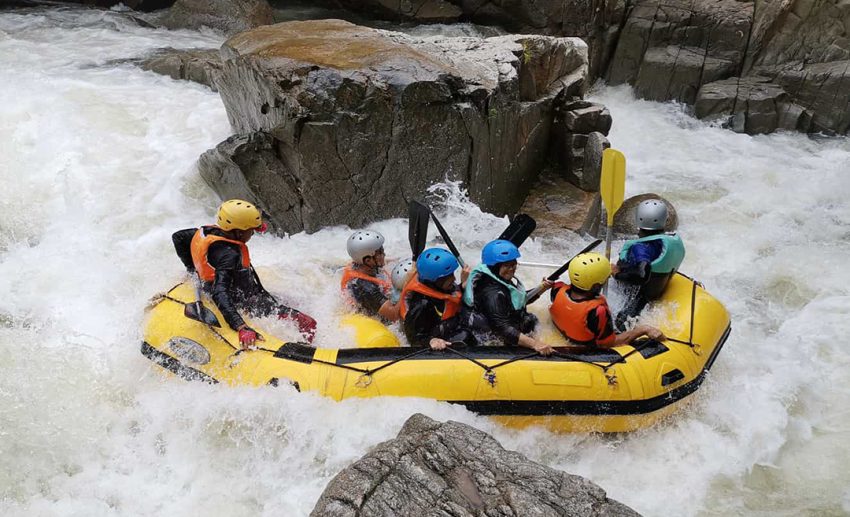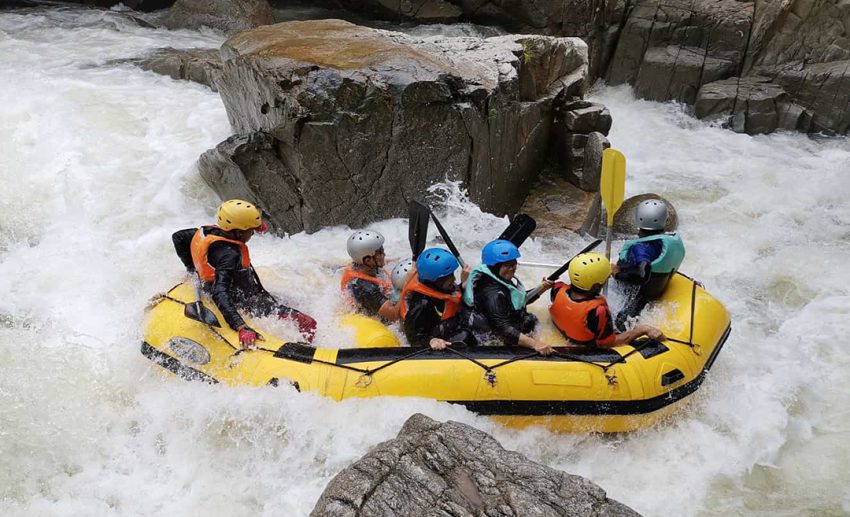 Price: From RM150 per person
Address: No 1032, Kampung Jelutong Tambahan, 44100 Kalumpang, Selangor
Contact: +6012 465 3307
Malaya Outworld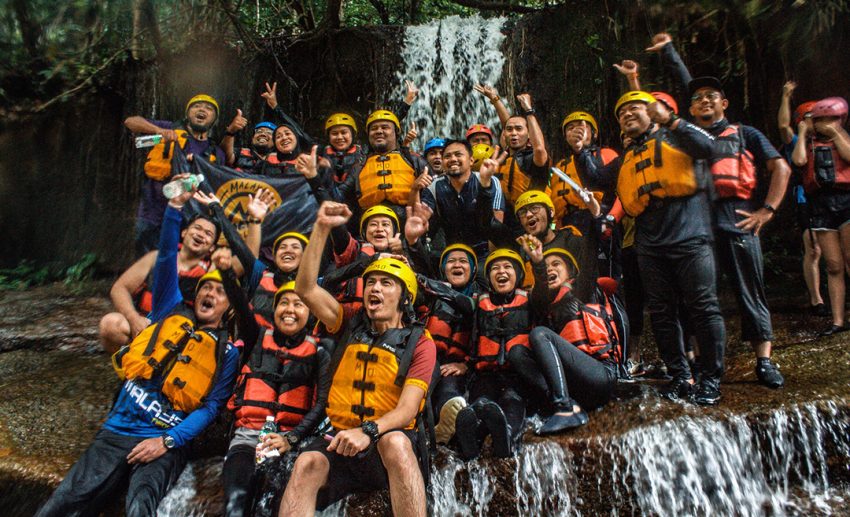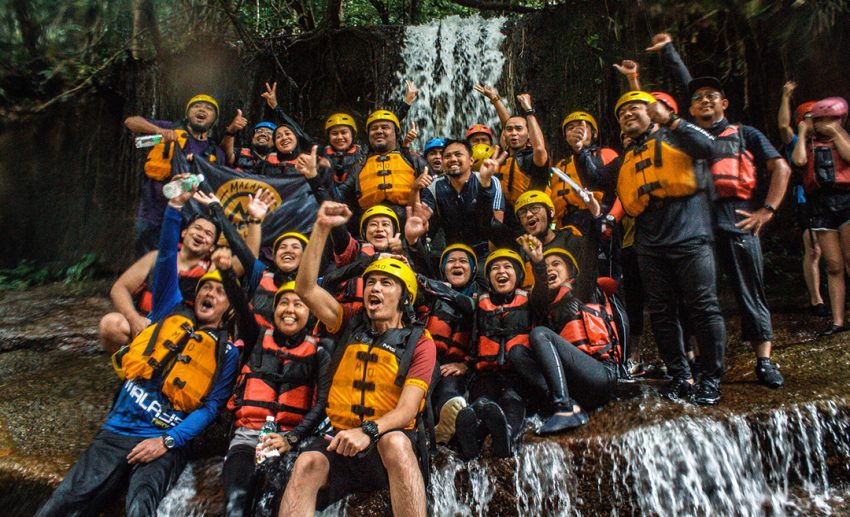 Price: From RM170 per person
Contact: +6011 1229 7330
Perak
The second spot on our list is Perak. With multiple locations to choose from, such as Ulu Slim River and Kampar River, the courses are slightly different from KKB. Through Gopeng, we have the well-known Kampar River, where courses go from Level 1 to Level 3 with up to 22 rapids of 7km distance depending on water levels during the visit.
You will start your journey down Kampar River with the serene beauty of clear water that passes by an old mining spot before the panic sets in. While navigating big rapid obstacles, the twists and turns of the ride will make your adrenaline skyrocket.
Then, Ulu Slim River offers courses from Level 1 to Level 4 with up to 30 rapids to pass through. Pretty much an endless roller coaster ride! Row in harmony through the 7km ride with your squad along the riverbank until the 'take-out' point at Kampung Pos Berseh. At the end, you'll have the opportunity to meet the super friendly Semai Tribe Orang Asli or hit the Ulu Slim River Hot Spring to unwind your tense muscles.
From RM135 per person, you can book your slot at Riverbug Asia, Nomad Adventure, and Klook.
Riverbug Asia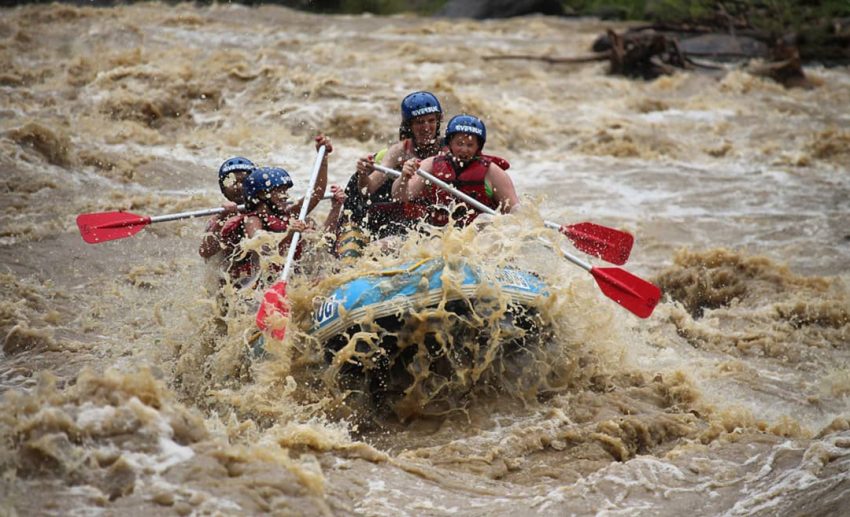 Price: From RM135 per person
Contact: +6012 313 1006 or email here.
Nomad Adventure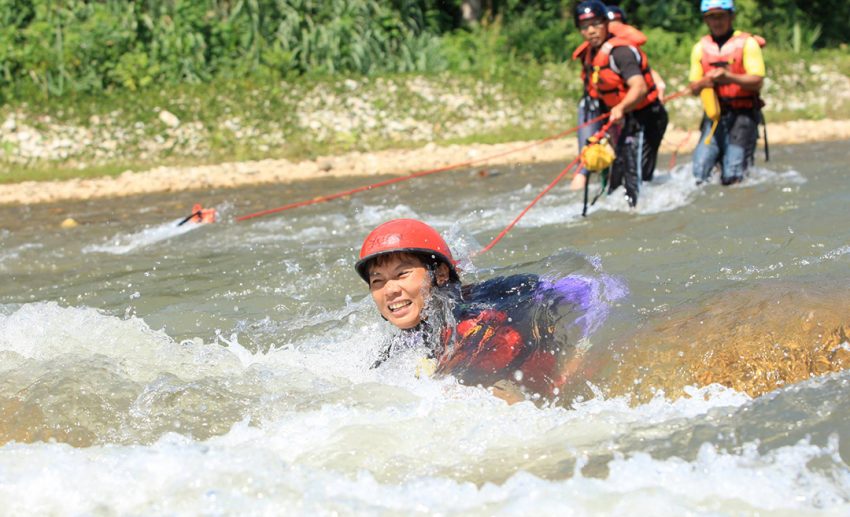 Price: From RM159 per person
Address: Lot 17525 Kampung Chulek 31600 Gopeng, Perak
Contact: +6016 201 1219
Terengganu
The Bumbung Raja Nature Reserve holds one of the largest Cengal trees in Malaysia, where the Loh River is located. They offer white water rafting activities from Levels 1 to 4 and are pretty challenging. One of the many things to love about this spot is the Lata Chemerong emerald-green pool, which is a calming touch of nature added to its already existing beauty.
Bamboo rafting is also a thing in Terengganu; however, it's much more adventurous than the usual rafting. But hey, if you're up for it, give it a try! Besides, it is only two hours away from Cherating, so if you want a beach escape, you can easily head there.
Book your trip at Impressions for a two days and one night expedition at RM600.
Impression
Price: From RM600
Contact: impressions@impressions.my
Pahang
In Pahang, there are several spots for water activities such as tubing, canoeing, bamboo rafting, and last but not least, white water rafting. You can choose from Telom River, Kuala Perahu, and Jeram Besu.
Have you ever considered rafting in Cameron Highlands with the cool weather and the sights of tea plantations surrounding you? Then, don't miss out the white water rafting experience at Telom River. The rapid level here is from Level 2 to 4 and is approximately 20km to Kuala Perahu. If you're not up for the distance, you can opt for the usual 7 to 8km ride to suit your preferences.
Jeram Besu is a rafters' favourite despite the various rapids from Level 1 to 3, and the scenery of encountering many species along the course with a few recreational sites is always a treat. Before proceeding with rafting, there will be water confidence exercises – jumping from a cliff, floating, and handling a capsize if it were to happen. All of these heart-pumping practices will warm you up before the rafting begins.
Rest assured, your journey will end with the tranquillity of lush green views accompanied by the Oriental Pied Hornbill if you're lucky. You can book your slot with Adventoro, Greenleaf, and Who Adventures.
Adventoro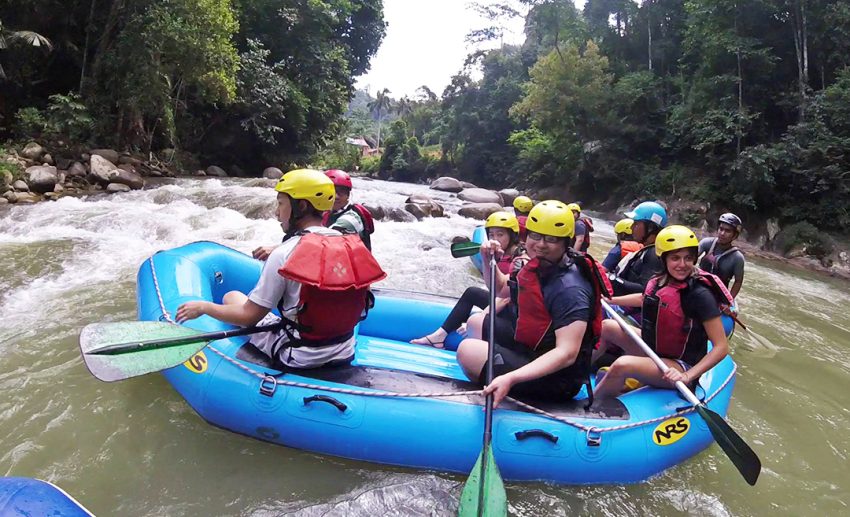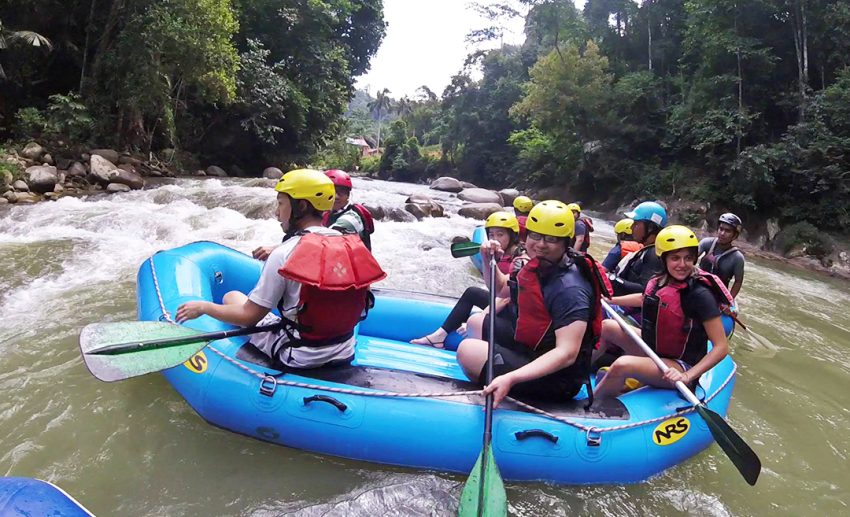 Price: From RM220 per person
Contact: +6010 468 8011
Greenleaf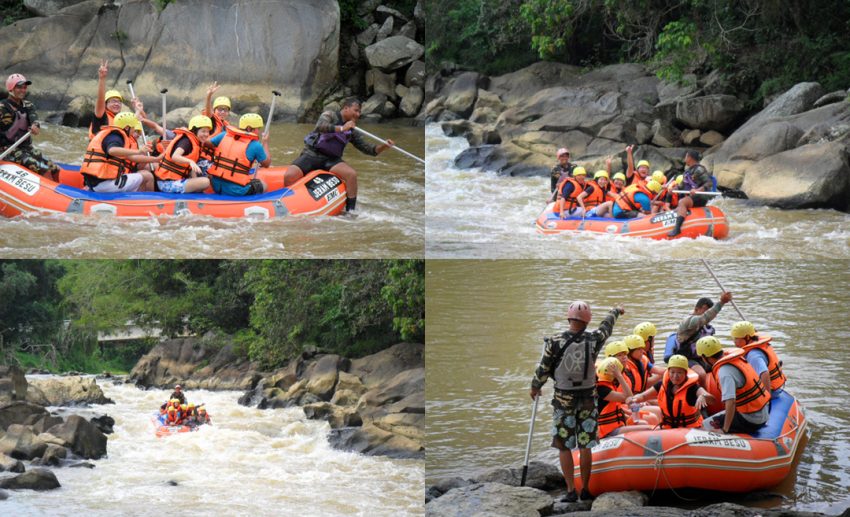 Price: From RM170 per person
Contact: +609 267 2131, +6019 313 1240, +6013 928 1219
Who Adventure
Price: From RM160
Sabah
Sabah has two different rivers you can venture to if you're looking to go white water rafting. Kiulu River is perfect for beginners even though it can cover a distance of up to 15km – one of the longest in Borneo and provides rafting experiences for Levels 1 to 3. On the other side, the Padas River is way more challenging with Levels 3 and 4. As it is only accessible by train, rafters will usually board from Beaufort to Pangi.
The rapids you will encounter are Merry-Go-Round (where you get a spinning raft), BreakPoint (a roller coaster ride), Scooby-Doo, Cobra (left and right swing), and Curve (sharp turn) — enough to challenge your survival and paddling skills.
White water rafting is often referred to as controlled chaos, where the rapid can be unpredictable, but it's also up to you to take hold of it. Brave enough to take the challenge? Book your slot at Riverbug Asia, Klook, or Amazing Borneo.
Riverbug Asia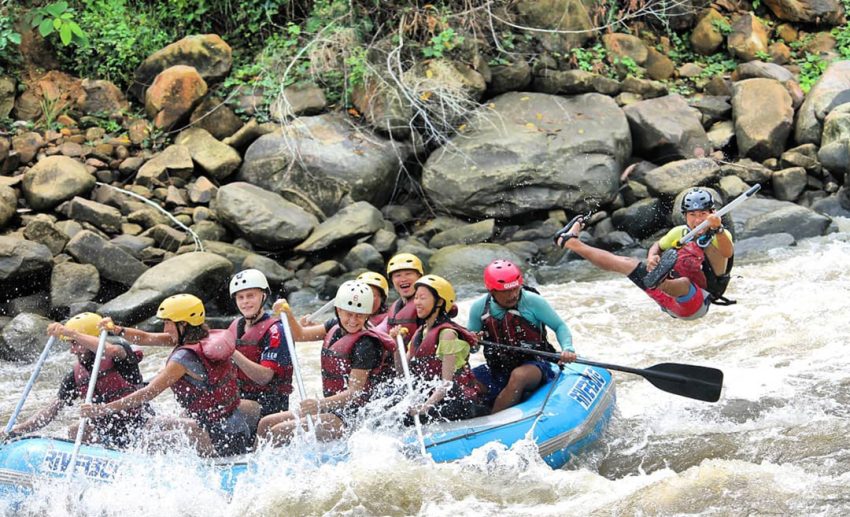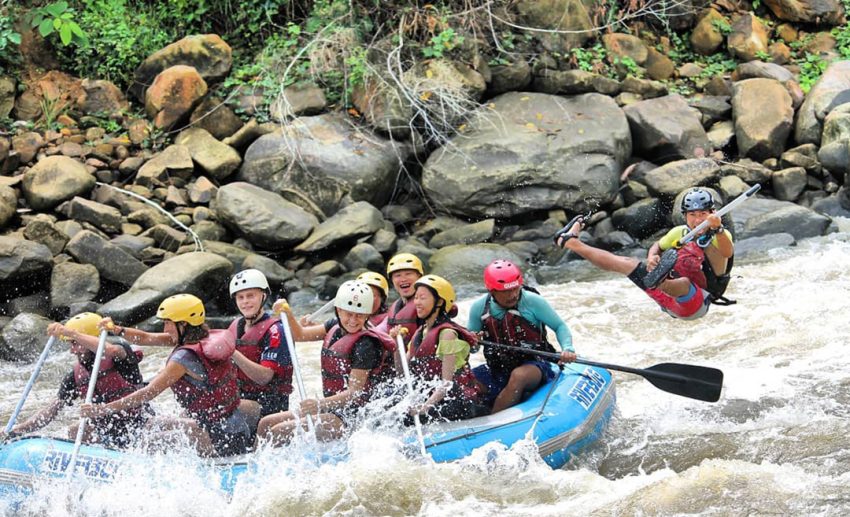 Price: From RM235 per person
Contact: +6088 381 621 or email here.
Amazing Borneo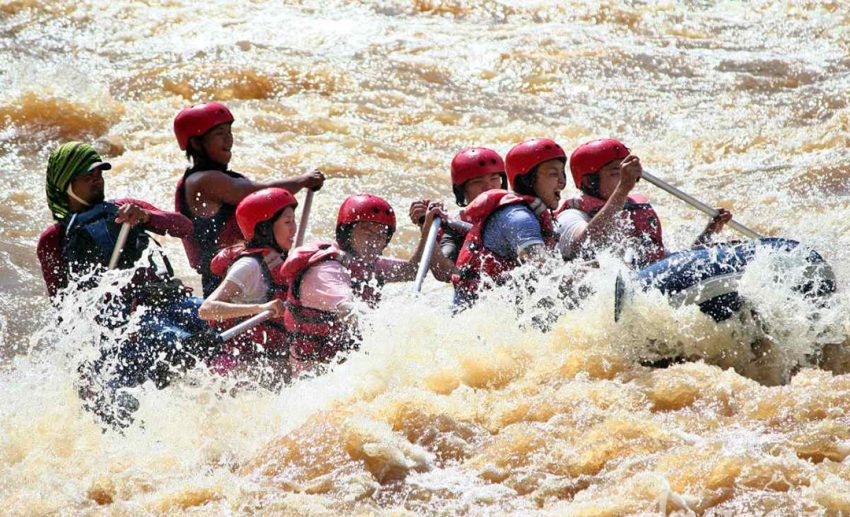 Price: From RM215 per person
Address: Lot 1-39, Kompleks Asia City, 1st Floor, Jalan Asia City 88000 Kota Kinabalu
Contact: +6088 448 409