Negeri Sembilan is well known for its gastronomic offerings, but it's also famous for palaces, beaches, and nature parks. Did you know that most private villas with lush nature as its surrounding are nestled in Negeri Sembilan?
After living through multiple arduous lockdowns, my friends and I thought it was time we treated ourselves to a vacation. We deserve it after all! With so many on the list to choose from — like The Shorea, Awanmulan, Cabinz Ecottage Retreat, and Kairos Villa — we decided on Sembayu Villa. The fact that it was wrapped around nature was one of the reasons, but they also have a special rate if you book a stay before the year ends.
The drive
With WAZE's navigation to Sembayu Villa, the two-hour journey from Kuala Lumpur to Pantai Hill allowed us to discover villages, museums, and local delights along the way. And with a few of us having varying mobile networks, those with Celcom and UMobile seemed to have the best 4G connection, which was important to have, considering we had no idea how to get to Sembayu Villa.
During our drive, the radio was kept turned off and we better enjoyed the sound of nature when the windows were rolled down. While the drive up to the villa itself proved to be slightly challenging, it was worth it as the reward was an incredible view at the top.
The facilities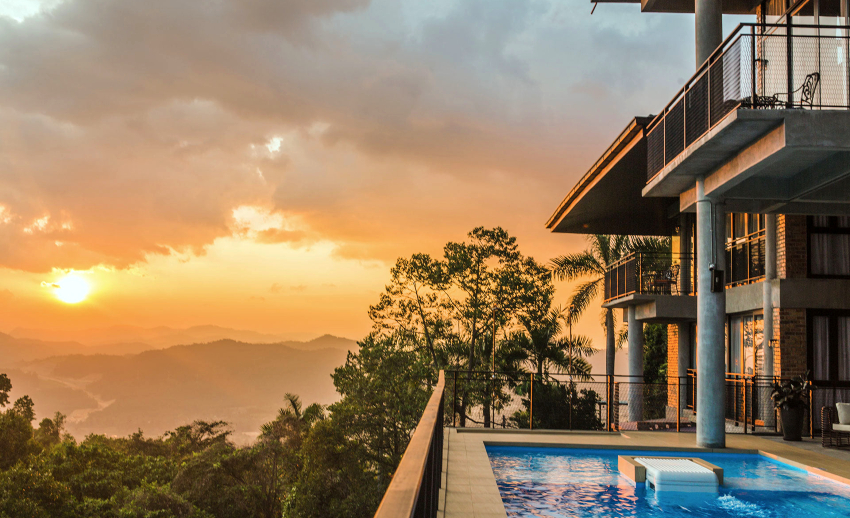 The atmosphere that greeted us was nature's mellow sound and an impressive view of the Berembun Forest after a heavy downpour. At check-in, guests can enjoy the foosball and snooker area, accompanied by misty views of the forest. As the staff walked us to our rooms, we took in a breathtaking panoramic sight of the sunset, and couldn't help but notice the pool too!
Other facilities include an exercise bike at the pool area and a multi-purpose hall below our room for private functions. For those looking to upload Reels on Instagram, you'll be glad to know there's free Wi-Fi.
The rooms
You'll be glad to know that the villa offers seven room types that can cater to all sorts of travellers from honeymooning couples to a large family or groups of 12, and the price ranges approximately from RM1,200 to RM6,900 per night.
The Panoramic Room with Balcony is a perfect choice for couples looking to spend a romantic night in and de-stress. The largest room there, Surian, comes with a built-in kitchen, entertainment, living, and dining area that makes the perfect space for family bonding.
However, we chose the Kulim room with a loft concept, equipped with movies, a rain shower, and beds to accommodate five people. The rooms at Sembayu Villa are scattered on different floors, which was a great workout opportunity!
The surroundings
Getting to the villa may come off a little worrying for some if you're not used to off-roading because the roads aren't well preserved. But, despite the challenge, we thought it should remain as is, as it maintains this hidden's gem's mystery. Besides the magnificent views of the mountains, our morning was a concert of birds chirping, geese honking, and chicken clucking.
Some of the things we did during our stay were:
Lata Berembun Waterfall
If you're searching for a refreshing adventure, book a guided trek to Lata Berembun, which is only a 45-minute hike from the entry point. There were no shuttle services, so we had to make a short drive to the entrance ourselves. A quick tip: make your booking three days in advance!
Gunung Berembun
Bird-watching lovers can head to Gunung Berembun from Lata Berembum Waterfall, and if you feel like exploring the forest further, challenge yourself by climbing up to the peak. There, you will also come across remnants of a plane crash that happened in 1945, majestic trees, unique insects, and streams along the way.
Haw Kee Durian Orchard
If you visit Negeri Sembilan during the harvest season, stop by Haw Kee Durian Orchard to feast on tropical fruits like durians and mangosteen. It's located about eight minutes away from the villa, and a booking should be made before going.
Kampung Kolam Air
We took a dip in the natural pool, located only 10 minutes away from the villa. Some of us in the group who didn't see the excitement in hiking ended up relaxing here instead.
The food and services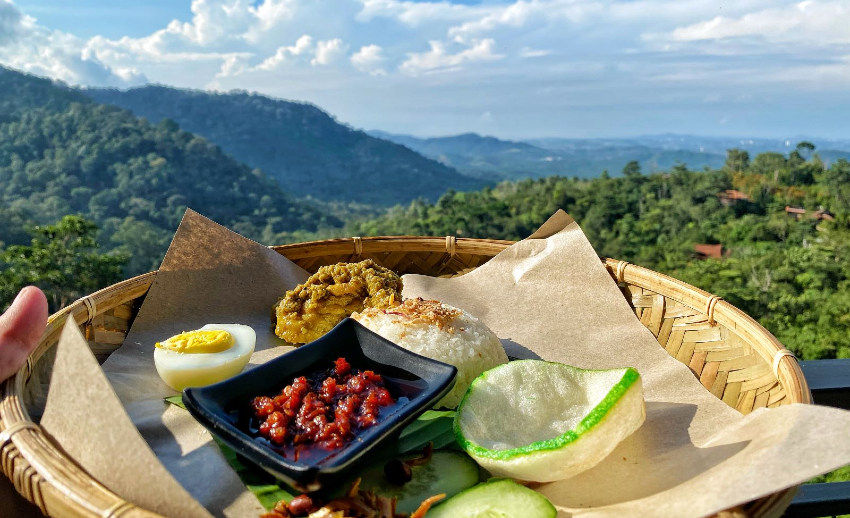 There's plenty to eat at the Akasia Cafe, conveniently located right next to the lobby. Their menu offers both Asian and Western dishes that come in three sets to choose from. At breakfast, there is a free flow of coffee, tea, and biscuits. However, for convenience, we ordered fast food for lunch!
Our stay at Sembayu Villa was made even more delightful thanks to the friendly staff. A special shoutout to Anish, who helped meet our needs during our visit, and Agnes for assisting us with our car troubles! It's safe to say that we left feeling recharged and will most definitely come back.
Check Sembayu Villa out for yourself: