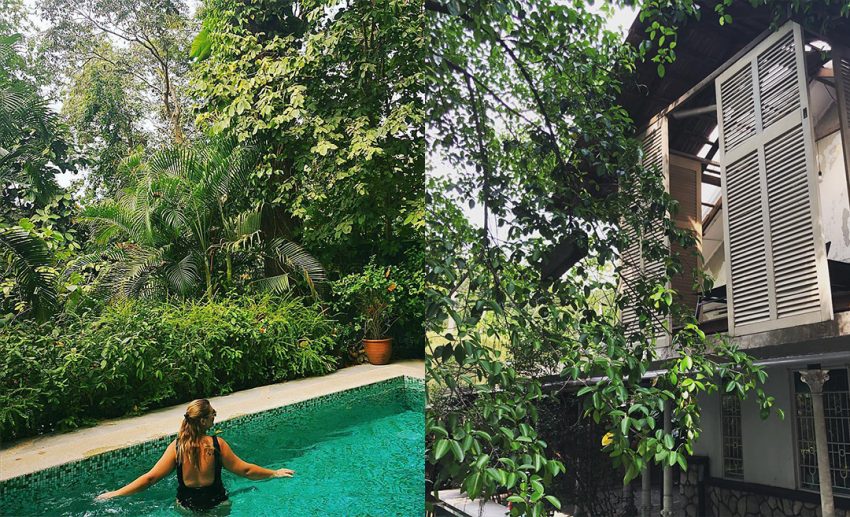 We're on Telegram now too! Subscribe to our channel for the latest updates.
With state borders reopened and a new year upon us, it's as good a time as any to plan that long-postponed getaway. But with the pandemic far from over, social distancing practices are a given. So, if you're looking to stay away from crowds, book a vacation at one of these secluded (but not any less idyllic) destinations to convalesce in nature. After all, it'd be a shame to let all that natural beauty go to waste…
Sekeping Jugra, Selangor

The Sekeping locations are never far from mind when seeking a cosy retreat. The latest addition to the Sekeping homes is tucked not too far away from central Kuala Lumpur (KL) in a quiet neighbourhood along Old Klang Road. A single-storey house built in the 1950s, Sekeping Jugra is split into a few living and working spaces interconnected via narrow alleyways, courtyards, and gardens. The rustic space is simple-yet-serene for those looking not to venture too far, and with a rooftop garden where guests can harvest their own food, we call it a perfect little nook to recharge the mind, body, and soul.
Templer Park Rainforest Retreat, Selangor

Spanning over a hectare of land, Templer Park Rainforest Retreat allows guests to immerse themselves in the wonders of what Templer Park Rainforest has to offer – including but not limited to gorgeous natural landmarks such as Kanching Falls, Batu Caves, and Selayang Hot Springs. Just 30 minutes away from KL, you can book one of the two available chalets made from merbau wood and teakwood. With amenities such as a jet spa, outdoor kitchen, as well as an infinity pool that overlooks the majestic Bukit Takun (and all without losing connection to the digital world with free Maxis Wi-Fi), this is one home away from home well worth a visit.
Ambong-Ambong Rainforest Retreat, Langkawi, Kedah

You may have seen Ambong Pool Villas tagged in many 'gram snaps featuring luxurious private pools and hot tubs with incredible views – and you can read our thoughts about all that here. Perhaps you've heard a story or two about exquisite sunrise and sunset views even. But we bet you haven't heard about its sister property, the equally-dreamy Ambong-Ambong Rainforest Retreat. While Ambong-Ambong Rainforest Retreat units don't come with private pools or hot tubs, there's an adults-only common pool that overlooks Tengah Bay framed with lush greenery. And if you feel the urge to stretch your legs a little, Tengah Beach is also less than a 10-minute walk away. Escape from the modern world into this jungle-y hillside.
Mangala Resort & Spa, Pahang

Nestled within the large expanse of a palm plantation, exotic flower and herb gardens, fruit trees, and undisturbed wetlands, Mangala Resort & Spa in Kuantan was transformed from what was once a barren land to a breathtaking gem. Think: nature-inspired villas that combine privacy, tranquillity, and luxurious flair. Now, that's a modern day retreat fit for a queen
The Shorea, Negeri Sembilan

If you're looking to trade the bustle of work from home (or work from hotel) days for the slow rainforest life, a stay at The Shorea might just be what the doctor prescribed. An eco-friendly retreat situated in Negeri Sembilan's Berembun Forest Reserve, expect access to private pools, farm-to-table dining, and a new floating breakfast experience. The ultra-luxurious double-storey villas and suites currently only accommodate up to 13 guests at a time, keeping with safety guidelines, so you might want to get on this quick!
Sunbeam Villa, Sabah

Looking to the east for a tropical retreat? When in Sabah, soak up the sunny rainforest vibes at the Kudat Riviera over at the Sunbeam Villa. A two-bedroom luxury villa that's just a short walk from the beach, Sunbeam features a full kitchen setup, catering (should guests prefer not to cook), as well as private balconies from both bedrooms that overlook the garden and swimming pool.
Lato Lato Resort, Sabah

Looking to be a little closer to the water? Lato Lato Resort sits on stilts just above the crystal clear ocean off the coast of beautiful Semporna. The private chalet and the resort have 360o views of the Tun Sakaran Marine Park's clear blue waters, corals, and sea life just beneath your feet. While there's no internet or Wi-Fi connection, there's plenty of access to water sports such as scuba diving, snorkelling, swimming, and if you're feeling a little lazy, sunbathing just outside your front door. Your stay at Lato Lato is sure to rejuvenate. After all, as Audrey Hepburn once said, "Water is life, and clean water means health."
Get all the latest travel stories from Zafigo. Follow us on Facebook, Twitter, and Instagram.