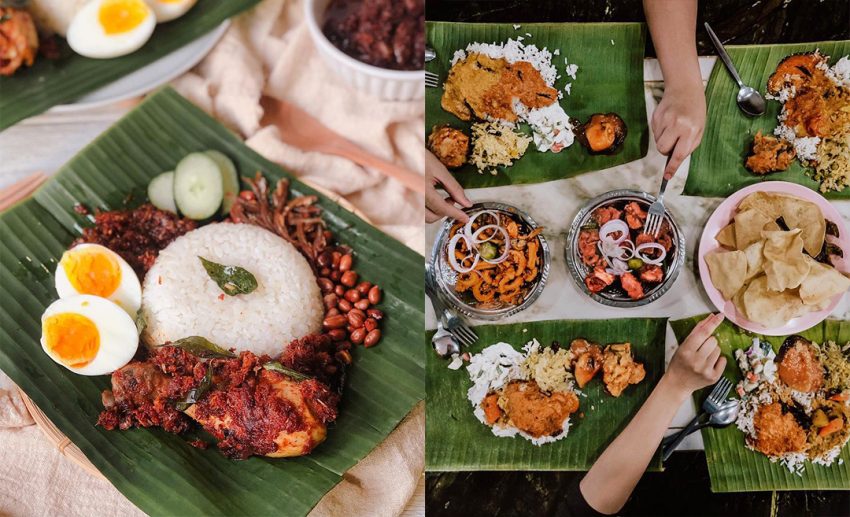 Subscribe to our new

Telegram

channel for the latest updates.



It's a universally acknowledged truth that you've missed an integral part of Kuala Lumpur's (KL) culture if you visit the capital city without trying the incredible array of street food. KL's street food culture is different from other Southeast Asian countries in that these dishes are no longer limited to roadside stalls; many can be found in local kopitiams and restaurants with their own unique take.
In a bid to not overwhelm anyone, we have come up with a mini-guide to help you navigate through some of the city's favourite food. In this guide, you will find seven of the best street food choices, and where you can find them because some are tucked by bustling streets and others in crowd-pulling establishments across the city.
1. Nasi lemak
As Malaysia's beloved national dish, nasi lemak is bound to be on your list of things to eat in KL! A perfect meal for any time of day, this aromatic rice dish cooked in coconut milk is typically served with spicy sambal (chilli paste/dressing), crispy anchovies, hard-boiled egg, and peanuts.
Suppose you just want to try it with no fuss and frills. In that case, most roads or mamak stalls sell them in small banana leaf pyramids. But if you're looking for the locally-approved and what many consider the best nasi lemak in town, take a detour to Village Park Restaurant. Famed for its Terengganu-style coconut rice, it's served with a big slab of fried chicken that's crispy on the outside and juicy on the inside.
You can also head to Nasi Lemak Antarabangsa in Kampung Baru, where this famous national dish is offered with a myriad of mouth-watering side dishes such as sotong sambal (squid), rendang (spicy slow-cooked meat), curry, and vegetables. For something out of the box and non-halal, give Nasi Lemak Peel Road's Chinese rendition topped with wild boar curry a try.
Village Park Restaurant
Address: 5 Jalan SS 21/37, Damansara Utama 47400 Petaling Jaya
Opening hours: Monday to Saturday, 7am to 7:30pm; Sundays, 7am to 6pm
Nasi Lemak Antarabangsa
Address: No 4 Jalan Raja Muda Musa, Kuala Lumpur 50300
Opening hours: Daily, 8am to 8pm
Nasi Lemak Peel Road
Address: 92, Jalan Peel, Maluri, 55100 Kuala Lumpur
Opening hours: Friday to Wednesday, 11am to 8pm; closed on Thursdays
---
2. Satay
Best eaten fresh off the grill, satay is skewers of seasoned and marinated meat that'll leave you gobbling down more than you intended. They're usually served with rich peanut sauce, ketupat (rice), and fresh cucumbers.
Satay Station is arguably one of the top places in the city for melt-in-your-mouth satay. They have the quintessential chicken and beef skewers; but splurge on their Wagyu Satay for a fancier meal, made with Australian wagyu.
Another seasoned contender is Satay Capitol 1951 — a neighbourhood veteran of over 70 years. Their grilled satays are herb-infused, flavourful, and fresh — all the qualities that have kept loyal patrons coming back for more.
Satay Station
Address: 55, Jalan Pandan Kemajuan A, Kampung Pandan Dalam, 55100 Kuala Lumpur
Opening hours: Daily, 4pm to 10pm
Satay Capitol 1951 Warisan
Address: 25, Jalan Raja Uda, Kampung Baru, 50300 Kuala Lumpur,
Opening hours: Monday to Saturday, 2pm to 10pm; closed on Sundays
---
3. Char kuey teow
Amazing char kuey teows don't come easy. More often than not, this seemingly simple noodle dish winds up average-tasting at best. For this flat noodle dish to be magic, it needs to be stir-fried with shrimps, Chinese sausage, eggs, bean sprouts, cockles, and a dash of wok hei — a complex smoky flavour derived from the 'breath of the wok'.
For a bite of arguably the best, make your way to very popular Brickfields Char Kuey Teow. Currently open only for takeaways, don't underestimate this humble roadside stall. You'll notice many foodies flocking here for their aromatic char kuey teow, and it gets especially crowded during lunch.
Pudu Wai Sek Kai is another well-known spot for this delightful street food with complex flavours. While the street itself is not short of hawker stalls selling the beloved dish, most people prefer the salted egg yolk version this place offers, more so because of its generous sprinkle of grainy salted egg.
Brickfields Char Kuey Teow
Address: Brickfields, 50470 Kuala Lumpur
Opening hours: Daily, 12pm to 8pm
KL Pudu's Wai Sek Kai
Address: Jalan Sayur, Pudu, 55100 Kuala Lumpur
Opening hours: Daily, 12pm to 8pm
---
4. Rojak
Call it an appetiser or comfort food, rojak is a Malaysian-Indian street food you can't afford to miss on your list. While there are many varieties in the country, rojak often comes with a mixture of vegetables, fruits, and fried prawn or dough fritters drenched in a thick and tangy gravy.
Ask locals for the best rojak in KL, and many will swear by Rojak Bellamy. You can opt for their popular Rojak Sotong, topped with juicy squid and spicy peanut sauce. If you're hungry for more, tuck into their Bellamy Rojak Mee Ayam, a heartier and unusual version that is served with noodles and fried chicken.
There's also a lesser-known foodie gem in Setapak called Famous Rojak Special. Run by an uncle at a roadside stall, he whips up fresh fruit rojak upon order, and tops it off with toasted peanuts, along with his signature fragrant homemade sauce.
Rojak Bellamy
Address: Jalan Bellamy, Bukit Petaling, 50460 Kuala Lumpur
Opening hours: Monday to Friday, 8am to 6pm; Saturdays, 8am to 5pm
Famous Rojak Special (opposite Pasar Jalan Genting Klang)
Address: Jalan Prima Setapak 1, 53000, Setapak, Kuala Lumpur
Opening hours: Tuesday to Sunday, 11am to 3pm; closed on Mondays
---
5. Cendol
Cendol is the perfect accompaniment for a quick refresh on a warm day in sunny KL. The shaved ice dessert features a satisfying trinity of custard-like pandan (screwpine) jelly, coconut milk, and palm sugar. Modern concoctions are loaded with an imaginative variety of ingredients such as durian, red beans, or pulut (glutinous rice).
Those with a sweet tooth must try this refreshing dessert at Ah Keong's ABC & Ice Cendol Stall, run by a husband-and-wife duo behind YMCA in Brickfields. Their homemade cendol and air batu campur have become icy neighbourhood staples — and they often run out by noon. So, make your way early!
Feeling adventurous and peckish for bold flavouring such as durian? Give your taste buds a ride with durian cendol at Durian King TTDI. We say having a creamy dollop of our national fruit on an all-time favourite dessert elevates it even further. You can choose the mixed durian topping or go all out with the Musang King variant.
Ah Keong's ABC & Ice Cendol Stall
Address: 21A, Jalan Padang Belia, Brickfields, 50470 Kuala Lumpur
Opening hours: Daily, 8:30am to 4pm
Durian King TTDI
Address: 179, Jalan Wan Kadir, Taman Tun Dr Ismail, 60000 Kuala Lumpur
Opening hours: Monday to Saturday, 1pm to 12am; Sundays, 1:30pm to 12am
---
6. Banana leaf rice
No street food list in Malaysia would be complete without banana leaf rice, with all its vegetable sides, spice, and heavenly South Indian curries plated on a giant banana leaf. It doesn't get any more 'street' and Malaysian than that.
For banjir-worthy (flood) banana leaf rice in KL, Sri Nirwana Maju in Bangsar takes the lead. One of the most famous spots for banana leaf rice in the city, this place requires patience as there's always a long line waiting for their tables. Pair your selection of tender meats and flavourful curries with either plain white rice or biryani rice.
Devi's Corner is a good fight within the same upscale district, with its noteworthy Kerala fish curry and crab curry. Both have their own legion of loyal customers, so we leave that for you to decide!
Sri Nirwana Maju
Address: 43, Jalan Telawi 3, Bangsar Baru, 59100 Kuala Lumpur
Opening hours: Daily, 10am to 1:30am
Devi's Corner
Address: 14, Jalan Telawi 4, Bangsar Baru, 59100 Kuala Lumpur
Opening hours: Daily, 8am to 10pm
---
7. Bak kut teh
Eating bak kut teh feels like getting a warm hug from your belly. Best served piping hot, this local comfort food packs a punch when it comes to flavours. It all comes down to how you like the herbal pork broth — some prefer it rich and meaty, while others like it lighter.
Although Klang is famously known for this dish, you can still find some decent ones in the city. Ban Lee Bak Kut Teh is an old-timer, which serves authentic KL-style bak kut teh cooked the traditional way. The broth is heated in a clay pot over a charcoal fire, giving it a darker and more pungent aroma. Local tip: there's a sweeter, lighter variation made from blanched fresh ribs, but this special bak kut teh is only available in the evening and runs out fast, so we suggest calling beforehand and asking for the sang kuat bou.
Did you know that vegetarians can also join in this soupy craze? Kheong Kee Bak Kut Teh offers delicious vegetarian bak kut teh, and regular ones but with a milder take, ideal for those who aren't too keen on overwhelming flavours.
Ban Lee Bak Kut Teh
Address: 222, Jalan Sultan Azlan Shah, 51200 Kuala Lumpur
Opening hours: Daily, 8am to 3:30pm, 5:30pm to 8pm
Kheong Kee Bak Kut Teh
Address: 70G & 70A, Jalan Pandan Indah 4/6b, Pandan Indah, 55100 Kuala Lumpur
Opening hours: Daily, 10:30am to 8pm
Follow Zafigo on Instagram, Facebook, and Twitter. Sign up for our bi-weekly newsletter and get your dose of travel tales, tips, updates, and inspiration to fuel your next adventure!